Best Long Distance Running Shoes
In a
Hurry? Editors choice: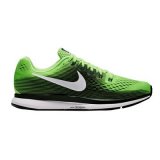 Test Winner: Nike Air Zoom Pegasus 34

Everyone loves to be outdoors, but it takes a special kind of athlete to be passionate about long-distance running. This sport requires dedication, endurance, and a passion for running to put in the miles for long-distance running. Seeing as how the minimum distance of a long-distance run is 1.8-miles(3km), you're going to need a
great pair of running shoes
to get you through it.
A great pair of professional running shoes will keep you comfortable and going at a steady pace while putting in the miles. Luckily for you, we have done the research and listed the ten
best long distance running shoes
and why they made our list. We have also listed some criteria to keep in mind when looking for your perfect pair of long-distance running shoes.
Standout Picks
Criteria Used for Evaluation
Support
When a person is running, especially over longer distances, making sure that your souls are properly supported can mean the difference between an exhilarating and satisfying run, or one riddled with pain and frustration.
The first area that is often cited as being important in maintaining good overall support is making sure the arch area of the foot gets the attention that it needs. Providing adequate support for arch area is essential, especially for those with fallen arches or flat feet. In addition, having proper arch support can make it easier for the skeletal areas in the foot ankle and lower leg to properly align while running.
Proper support also helps in long-distance running because it can prevent your feet from overpronating (turning from side to side when you run). Pronation is a natural foot movement, that is designed to help absorb the shock of the impact, but too much of it can be a problem and will throw things out of alignment.
Fit
Not surprisingly, how long-distance running shoes fits is also an important thing to consider when making a purchase. In this case, the fit isn't just about shoe size, but rather how the shoe conforms to your foot. If you think about it, even people with the same shoe size can have remarkably different shaped feet. By finding top long distance running shoes that properly fits you, you can help to prevent a lot of different injuries, such as blisters, strained tendons, and foot muscle cramps.
A well-fitting long distance running shoes will also help you fight fatigue, which is certainly important when running over great distances. If the shoe conforms properly to your feet, it will not only offer better protection from a jarring impact but also provide a feeling of lightness while you run. One way to think of it is that shoes should fit well enough to make it feel like you're running with a cloud supporting you, not dragging a piece of the cloud with you.
Protection
In addition to offering your feet ultimate support and comfort, they should also be substantial enough to protect you from any debris on the road that could inhibit your strides. Along with this, best long distance running shoes will help to protect your lower joints by keeping everything in proper alignment. Quite a few injuries happen, not because of any real mishap, but because the ankles, knees, and hips aren't properly aligned, which can lead to significant wear and tear on the joints.
Second, running shoes for long distance will protect your feet and legs from the sharp impact of hitting the ground with significant force time and time again. This is accomplished through proper fit, the right support, and the right amount of cushioning in the right areas.
Comfort
If you had to worry about your comfort while running, chances are you might not do it as often. This is where the shoes cushioning comes into play. Running shoes, as a rule, tend to have more cushioning and support in the shoe as a whole than other athletic shoes do, and there is a good reason for this.
If you think about what you're actually doing while running – even properly running – the force of the impact of each time you hit the ground with your feet can send shock waves up through your body quite easily. Cushioning, besides making the foot feel more comfortable, helps to absorb some of that shock, the same way the struts on your car help you navigate those small potholes that litter the city streets.
Drop
As the name implies, the heel to toe drop, or heel drop, is the amount of vertical change between the heel of the shoes and the toe of the shoes. For the most part, when it comes to running, you'd want high mileage running shoes that have relatively low heel drop. The reasoning behind this is that if the heel drop is high, the heel of the foot would strike the ground too soon, sending shock-waves up into your lower body. Essentially, a low heel drop means that there is less of a chance that your gait will cause problems with pain and fatigue as you travel the distance.
Top Ten Long Distance Running Shoes
Subscribe to our Newsletter