Best Blister Treatments
In a Hurry? Editors choice: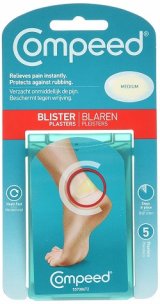 Test Winner: Compeed Cushions

There is something about sore feet that cause the entire body to be unhappy. When your feet are sore your back might hurt, and you might just feel all around tired. For these reasons you want to be sure you wear good socks and shoes that fit well, but even then, it might not be enough. If you know you're going to be walking for long hours or you will be wearing new shoes that you haven't broken in yet, you should be aware of some nasty blisters that could pop up.

Blisters can cause a lot of pain and discomfort, and when left untreated, there is always a possibility of blood poising which can turn into a bigger problem than just the blister alone. Always have a plan to protect the areas of friction in your shoes. You can choose a treatment that will apply directly to your shoe or skin to prevent the blister before it occurs.
Standout Picks
Criteria Used for Evaluation
Top 10 Picks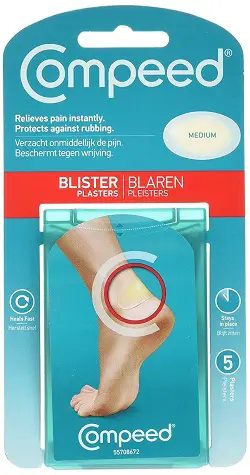 You never know when a blister will pop up, so that's why you should consider these soft cushions to protect and heal before it's too late. You can keep them in your pocket and pull them out when you need them.
Read more
Brand Recognition
Originally created in Denmark, Compeed has been designing gel plasters for years that treat blisters, cracks, cold sores, and corns. Although these gels continue to be made by Coloplast, Johnson and Johnson have since purchased the brand.
Features
These amazing blister cushions are waterproof and made to stay in place for at least three days. They are designed to protect your feet from a nasty outbreak of blisters and they will aid in the healing if you've already developed some blisters. They would be the perfect cushion inside your new shoes and they will work great with your hiking boots. The convenient container can be refilled, and it's compact enough to carry in your pack, purse, or pocket.
Ease of Use
Easy to apply, these cushions can be placed directly on the blister and will stay on during showers or while you are in the pool. When the blister heals, simply peel off the cushion, it's that simple.
Durability
These blister cushions are soft and comfortable but will last for at least three days without peeling off. Durable enough to do the job, yet you won't even know you're wearing it.
Summary
Durability and dependability come in this small package and they do the job exactly as they are intended. Knowing they're waterproof, compact, and comfortable is all it takes to know why these are on the list.

2

. Spenco Circles Protection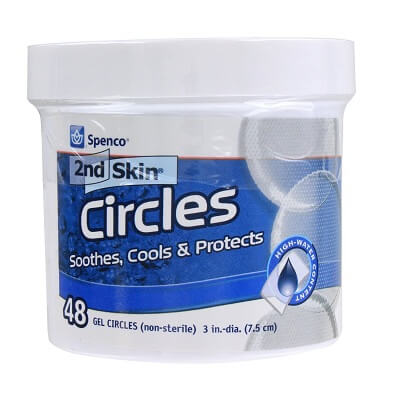 Be prepared with these circles that will fit right over your blisters, and they won't stick to your skin, so you can expect relief all day.
Read more
Brand Recognition
Since 1967, Spenco has been satisfying customers with comfort and protection in foot care and first aid. Now, over 50-years and the company still satisfy, spreading relief throughout 84 countries across the world.
Features
These gels come in the shape of circles and are intended to fit over your blisters, cuts, and hot spots. They won't stick to your skin and they come in a convenient airtight container to keep them fresh and new. They are compact enough to store in a ziplock bag, so you can throw them in your backpack or first aid kit.
Ease of Use
You will find these circles easy to apply. Remove the backing to expose the gel side and apply it directly to the spot. You will need to secure the circle with a strip of first aid tape to assure it will stay in place for hours. When you are ready to remove the circle, just pull it off, it won't stick or damage your skin.
Durability
These are durable enough to encounter even the longest of hikes, and training will be less painful with these gels accompanying you. They are comfortable and will stick all day.
Summary
With a company that has been around for over 50-years, you should have all the proof you need when it comes to the quality of the product. If that isn't enough, think about the comfort and relief your feet will get when you apply one of these gel circles directly to your blister, cut, or hot spot. Add to all this the fact that they are easy to apply, convenient to store, and they won't stick to your skin. What more could you ask for from a quality product such as this?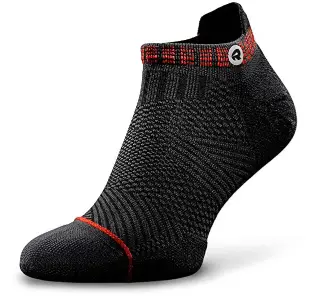 Nice to see Rockay socks which offer very high protection against blistering and also help promote recovery and healing from blistering.
The key to the sock's performance for protection and support along with aiding healing from existing blisters is all down to the use of the best high-quality Organic Merino Wool and the innovative designing throughout the sock structure.
Read on and see how these socks will aid recovery from blisters and why you should keep wearing them to prevent blisters.
Read more
Brand Recognition
These socks are made from Organic Merino Wool which when used to make socks it will give very high protection against chafe/friction and the blisters which result from chaffing/friction. Rockay socks carried out in-depth research and tested these socks to ensure they achieve the following.
Features
These socks are constructed from a material which serves to prevent the conditions under which painful blisters form. The Organic Merino Wool construction also helps to bring relief, give protection from further damage and promote recovery from blisters which have already happened.
If blisters have already formed due to a previous wrong choice for sock and shoe combination, Rockay socks are designed with extra cushion style padding in the toe and the heel areas where blisters most commonly happen. This means that the level of protection given will not cause more problems with the formed blisters and will work towards healing and recovery.
Organic Merino Wool allows breathability and wick so that moisture does not build up in the sock to a level where wetness and friction will occur and result in blisters.
The position of the foot and good blood supply are vital in the prevention and recovery from blister damage and this sock has arch support which gives extra compressive support. For overall consistent blood supply, the whole sock also gives supportive compressive support.
Ease of Use
Being socks, this blister treatment is incredibly easy to use. Just wear them as you would a regular sock.
Durability
Everyone knows how strong merino wool is. The purchase of these supportive and protective socks sits at a mid-range price while offering high quality, durability, comfort, protection, and value for money.
Summary
What could be more simple than wearing something that you already plan on wearing to prevent blisters? Between the materials, ease of use, and features of this sock, there's no reason not to give this unconventional method a try.

4

. Dr. Scholl Moleskin Plus


Another mattress for your feet comes in this role of moleskin comfort. Just roll it, cut it, and apply it, your worries will be over when you are sporting this protection in your shoes.
Read more
Brand Recognition
As we established earlier, the name Dr. Scholl's is highly recognized for foot and first aid care. With over 1000 products in Dr. Scholl's line, you can be sure you will be getting a quality product no matter which one you need.
Features
These soft pads are made of moleskin, and if you're prone to blisters, then you probably know that moleskin is one of the most common forms of protection against blisters. These pads come in a roll that can be cut to fit your blisters no matter where they show up on your body. They are water-resistant and made to stay on, so the water can hit the blister without the pain. They're thick enough to protect yet thin enough for comfort. They won't leave a sticky mess and they will stay on all day.
Ease of Use
Easy to apply, just roll it out and cut it to size. Peel off the back and stick it directly to the sore spot or you can even secure it inside the part of your shoe that rubs your foot. Simply peel the pad off when you're finished. It isn't messy, and it won't hurt.
Durability
It's thick and soft offering all-day protection without fear of it slipping off the spot. The gel is tough enough to stick to your shoe and it won't come off when it gets wet.
Summary
Another great product with the name Dr. Scholl's says it all. It's moleskin that's made to last all day. It's water-resistant and can be cut to size. Even though you know you have to carry scissors for cutting, this shouldn't stop you from purchasing this blister protection, after all, you can cut it to the perfect size every time.

5

. Adventure Medical Kits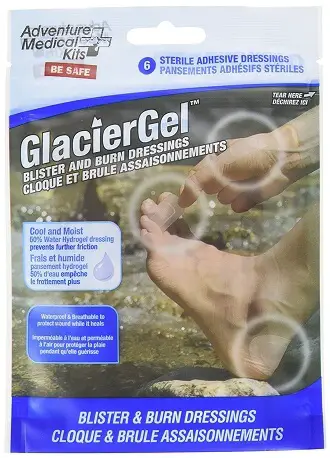 Imagine how great your blisters will feel when you have this gel treatment in your first aid kit. You will be amazed at how easy these pads apply, and the best part is that they are waterproof and will last for several days.
Read more
Brand Recognition
This glacier gel is manufactured by the Tender Corporation. Tender has been producing insect repellents, survival supplies, and first-aid kits since 1973. They pride themselves on the quality of their merchandise, every production is safe for the environment, and they package their products for the best convenient use.
Features
These look like ordinary band-aids, but they are made for the purpose of healing and protecting open blisters, hot spots, and burns. The gel on the pad helps to keep your wound cool and it will stay moist to aid in the healing process. They are thin, but the strong flexibility assures comfort and they will stay in place for up to four days without worry. They are packaged in a paper pouch, so they can be easily stored in a first-aid kit, backpack, or purse.
Ease of Use
These apply like a band-aid directly to the blister or hot spot. When you're finished, just peel it off and throw it away.
Durability
Although they are thin, they are built with the durability that you would expect from this company. It's strong enough to withstand an open blister and reliable enough to keep a new blister from forming. They are made to last for days without it falling off.
Summary
With its durability and performance, you can see why this one has proven to be one of the best on our list. Add to all this the convenient pouch they come in, along with the thin comfort they offer, you might have a winner with this one.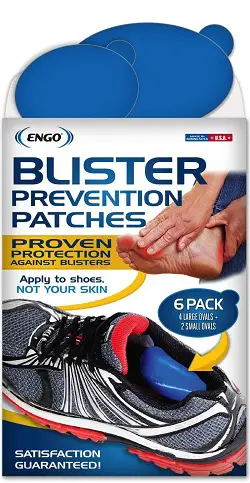 When it comes to breaking in new shoes, it isn't always pleasant, but with these blister patches, you will get relief from those nasty blisters from the moment you stick them in your shoes. You can find comfort from blisters on your hands too if you apply them directly to your sports or lawn equipment.
Read more
Brand Recognition
Tamarack Habilitation Technologies have been producing great products since 1990, and these blister patches are no exception. Tamarack is a small, family-owned business housed in Minnesota. They strive to invent the best solutions they can create that will provide comfort and mobility to their customers.
Features
These patches come in an easy to open the package with a variety of four large and two small-sized ovals. The patches look like disks and they are intended for use directly on to your shoes or gear rather than your skin. They are thin, so they won't get in your way and they will relieve an existing blister on contact.
Ease of Use
Peel the paper off the patch and stick it directly to the troubled spots on your shoes or equipment. Unlike the others, these patches are not intended for use on the skin. They are easy to apply and when you're finished, they're just as easy to peel off.
Durability
These are tough enough to conquer those blisters before and during their appearance. Although they are not waterproof they will last for days. Don't let the thin feel of these patches fool you, they will provide the protection you're looking for.
Summary
Extremely thin for comfort, yet strong enough to stick, these patches have everything you could want in blister protection. They don't stick to your skin, so you don't have to worry every time you wash your hands or shower. Overall, this is one of the best choices on the market, that's why they are on our list.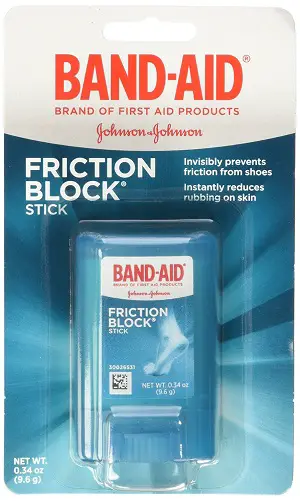 For a different twist in the blister treatment department, try this roll-on block that is used the same as your deodorant. It's simple to use and convenient to tote, not to mention the relief you will get from its positive results.
Read more
Brand Recognition
Probably at least one time in your life you have experienced the feeling of a band-aid brand bandage. Whether it's a strip for a cut, gauze for a burn, or blister prevention, since 1920, Band-Aid has never left us with disappointment.
Features
Just like their other brands, Band-Aid delivers excellent performance with this friction block treatment for your blisters. Much like a deodorant stick, this block rolls on your skin to protect your feet from those areas where blisters occur. Not only is it for your feet, but you can apply it anyplace you experience burns and blisters from friction. It helps block odor and will keep out the sweat. It's convenient enough to throw in your purse or glove box or keep it on your desk to keep your feet free of blisters from your heels.
Ease of Use
This rolls on like deodorant and won't cause a mess or stains. Keep it sealed when you are not using it and you should get long use from this block.
Durability
Made with durability and reassurance, this block will last if you follow the directions properly. Use caution as it could melt if it's stored in a hot place.
Summary
Overall, Band-Aid is still one of the best when it comes to first aid care. This blister treatment is different from the rest in that it is used as deodorant. It helps to control odor and sweating, and it will last when used properly. With all this in mind, it's easy to consider this as one of the best blister treatments on our list.

8

. Band-Aid Adhesive Bandages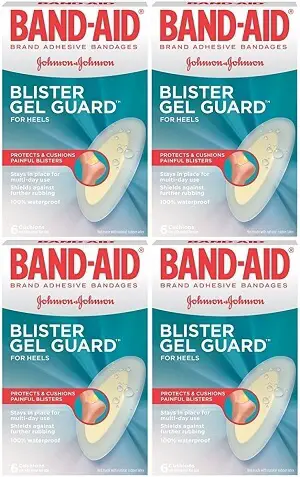 Your sore blistered hands can make you feel as grumpy as your miserable feet. With these bandages, you can fight off blisters before you get them. If you're planning to do heavy lawncare, you might want to consider these before you begin to work. Place them on your hands and feet, and you will be prepared to work for hours.
Read more
Brand Recognition
As mentioned earlier, Band-Aid has been producing quality first aid care since the 1920s. Once you have used one of their products, you can understand how the brand sells itself.
Features
These blister gels work just like a band-aid, but they provide you with a gel that will help to protect you from blisters and they will offer immediate relief of your existing blisters. Not only will these work well on your feet, but they will protect and heal your hands too. They are waterproof, so you can wash your hands or shower without worry and they will stay on for days.
Ease of Use
These work like an ordinary band-aid and can be applied directly to the blistered area. You can apply them to any spot where the potential of a blister could happen. When you're finished, it will peel off without any pain or a mess.
Durability
Just like other band-aid products, this one will hold up for days against water and sweat without peeling or falling off. It's made with durable padding to provide enough space between the area of friction and your skin.
Summary
The name Band-Aid sums it up for this one. It's simple to use, it's painless to remove, it will last for days, and it's waterproof. There is no good reason this blister treatment shouldn't be on our list.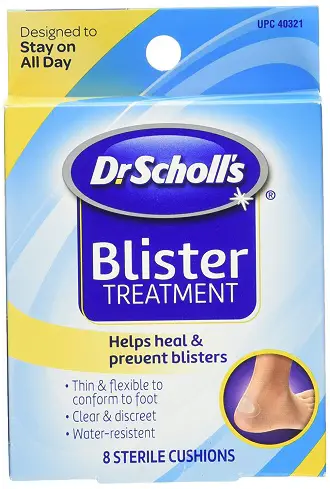 Imagine that it's your wedding day and you have waited a long time to walk down the aisle. The last thing you want is blisters at the end of the day to dampen the honeymoon. Prepare yourself with these almost invisible pads. They will keep your feet happy and they won't come off when you start to sweat. They will last throughout your entire week to come.
Read more
Brand Recognition
We have already drawn the conclusion that Dr. Scholl's foot care treatments are made of high quality and trust with each product manufactured and this is just another one of the thousands of great products offered by the company today.
Features
Dr. Scholl created these blister treatment cushions to protect and comfort your blisters for the whole day. They are made to fit the area snug, so you don't have to worry about them curling up or falling off. The corners of the cushions stick securely to the blister to give it extra padding and help in the healing process. They are sterile, so they won't hurt a popped blister and they are water-resistant, so they should last up to seven days. Each cushion comes individually packed so you can easily add them to your first aid kit.
Ease of Use
These cushions are extremely easy to use. Just open the package, peel off the backing and stick it on to the affected area. When you are finished, peel it back to stretch it right off. If the cushion is securely stuck to the area, it is recommended that you soak it in warm water before removing it.
Durability
As with all Dr. Scholl's products, these blister cushions are made with outstanding durability that will last for several days. They are soft and comfortable, so you won't even know you have them on. They are waterproof, so you don't have to worry it will come off while you're in the water.
Summary
Another great product with a trusting company, this blister treatment has everything you could ask for. From the soft padding that sticks all day, to the fact they are waterproof, there is no reason you should ignore the possibility of this cure for your blisters.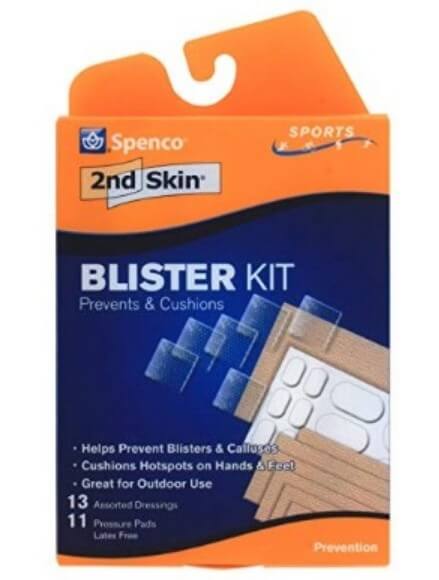 For large or small blisters, these strips will cover them all. Since every situation is different, this kit is made so you can customize each use. In just a couple of simple steps, you will be protected against those irritating blisters.
Read more
Brand Recognition
Knowing that this company has been going strong for over 50-years says a lot about their products. Each one is packed with the same amount of pride as the other. No two products are the same, but each one is unique in their own way.
Features
This blister treatment kit is a little different than the others. This one comes with pressure pads that are meant to go under the dressing in just the right spots for comfort and the moist pads will help in the healing process. They are non-sterile, so they might not be as convenient for the first aid kit as some of the others, but that doesn't mean you can't take them with you in the original package. These are great for people who have oddly shaped toes and even on your hands. Unlike some, they are not waterproof, so they might need to be changed more often, but that doesn't stop the cushions from protecting the blisters.
Ease of Use
There are a couple of steps to applying these cushions. You will notice the pack comes with pressure pads that are designed to protect you from friction. The moisture pads are there to help with the healing and soothing, and since not every blister is the same, the small and large pieces are included to get a comfortable fit in every spot. Just cut the adhesive strips and apply them gently to the affected area.
Durability
While these cushions stand up to the blistering fight, they are not waterproof, therefore they might not last as long as some of the other ones on our list. They will keep you comfortable for hours, so you can run an extra mile or climb that last rock wall with ease.
Summary
These are a little different from the rest, but different isn't always a bad thing. The fact that you can custom fit these for your individual needs is a plus in itself. You can conveniently take them with you in their original package, so you have them with you when you need them. This Spenco blister kit is worth trying no matter what your needs.

Subscribe to our Newsletter