Best Running Shoes For High Arches
In a
Hurry? Editors choice: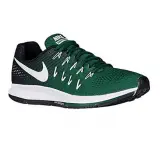 Test Winner: Nike Air Zoom Pegasus 33

There is almost something magical about a
great pair of running shoes
. Running is one of those activities that can be done nearly anywhere, in any condition, and you really don't need more than your body, your mind, your soul, a comfortable outfit, and a great pair of shoes. Unfortunately, for those who have high arches, finding that great pair of shoes can be a little bit daunting. It can be tough to find the right balance between support, comfort, flexibility, and durability. Below we have lent a hand and listed the top ten pairs of running shoes for high arches to make your life a little easier. We also have explained what is important to look at when buying a new pair of running shoes, so after you are done reviewing this guide you will be
enjoying the outdoors again.
Standout Picks
Criteria Used for Evaluation
Fit
It's little wonder why the overall fit of the shoe was one of the first things we considered when making this list. An ill-fitting shoe, especially for those who have high arches can mean that a normally long and enjoyable run becomes a very short and painful one.
The fit is especially important when you consider that the shoe overall can affect how you run, and how your joints fare overall. If your foot is uncomfortable due to a bad fit, your ankle, leg, knee, hip, and even your back will often try to adjust to make up for it, throwing everything out of alignment.
Materials
In most cases, the material used in the best running shoes for high arches consists primarily of synthetic materials that allow for great support and flexibility overall. While there are shoes on this list that feature natural material, modern technology and innovations have allowed for the creation of materials that are not only more affordable, but also more durable and long-lasting.
While it may seem trivial to take a look at what type of materials are used in particular running shoes, it's important to remember that the quality of the material used will often indicate the longevity of the shoe. After all, you're buying your next pair of running shoes, and chances are you plan on using them to run quite a bit. So finding a shoe that is well made, with quality materials is essential.
Traction
The tread, if you will excuse the cliché, is where the rubber meets the road. Depending on how and where you run, it can make all the difference when it comes to turns, stops, and overall performance. A good tread on the great shoes will provide the traction you need to keep going and help to prevent accidents, slips or falls, even in less than ideal running conditions.
For the most part, when we took a look at the treads of the shoes we considered, we focused on a number of different features. The first was the overall gripping power, or the ability to prevent skidding or sliding. Thankfully in most cases, these shoes proved not only the best choice for high arches but for running safety as well. The second thing we considered was how fast, or slow, the tread was likely to wear out. After all, if a tread was reported to be in top form even after a dozen miles, chances are it would be good for the long haul. And finally, we considered the amount of variation in the tread on the shoes themselves. The amount of variation or one type of tread to another often indicated whether or not it could operate in a larger number of running environments.
Flexibility
The final criteria that we considered when making this list were the overall flexibility and quality of the shoes in question. We are defining flexibility as the ability of the shoe to bend and move, allowing for your feet to bend and flex in a natural way as your run.
In most cases, the flexibility of shoes is directly tied to its overall stability and support. When a shoe is extremely flexible, the materials used don't always offer the most support, so a balance between the two factors must be found in order to produce the best running shoes for high arches.
Top Ten Running Shoes for High Arches
Subscribe to our Newsletter