Best Waterproof Running Shoes
last updated:
Feb 21, 2020
A little rain never hurt anyone, right? Wrong. Running in the rain, or through puddles, with the wrong pair of sneakers will not only cause discomfort to the runner, but it will also deteriorate the running shoes quicker. With a pair of waterproof running shoes, you don't need to worry about the fit that Mother Nature threw last night or the tears she may rain down on us today. With so many different technologies and protective waterproof coatings, it can be difficult to know what really works and what doesn't. Check out our list to find a pair that will work best for your untraveled terrains.
This is the best product on our list that is currently in stock: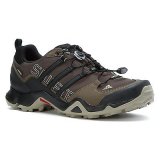 Adidas Terrex Swift
Why is it better?
For added durability, there are TPU overlays
An excellent speed lacing system
Features a durable ripstop upper section
In a
Hurry? Editors choice: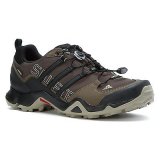 Test Winner: Adidas Terrex Swift

13
Researched Sources
1,865
Reviews Considered
14
Hours Researching
17
Products Evaluated
Water Resistance
Comfort
Stability
Breathability
Style
By Default
Criteria Used for Evaluation


Water Resistance
It is only fitting that a guide that is centered upon waterproof running shoes would begin with analyzing the waterproof technology that goes into them. After all, if you are taking the time to invest in this type of running shoes, then it is wholeheartedly because of their waterproof nature. Honestly, however, you could simply rename this section too, "do the shoes integrate Gore-Tex technology to achieve their waterproofness?" There may not be another technology in the world of waterproofness that is more efficient and advanced as Gore-Tex.
The makers of this material, Gore, backup any products that utilize their Gore-Tex with a Guaranteed to Keep You Dry promise. Simply put, if you notice that running shoes integrate this technology then you are guaranteed a waterproof shoe.
However, not every single pair of running shoes that secured a spot on this list utilize
Gore-Tex. That is okay as it is not the only membrane in the world that provides protection against the elements. Granted that the running shoes have some sort of shell, membrane, or coating to create a waterproof shield you should be good to go.


Comfort
Running surely is not the easiest activity in the world. In fact, it can put loads of pressure on your body and cause terribly aching pains to your feet if you do not have a good pair of running shoes on. Their ability to repel water is one thing, but comfort is an entirely different beast altogether. When it comes down to it, there are two huge factors to take into consideration.
Firstly, is the amount of cushioning and padding that is designed into the shoes. For example, analyze how much cushion is present on the EVA midsole and also the insoles. There may also be a Gel technology integrated, which is tremendous for comfort.
Secondly, you need to pay attention to shock absorption. No matter how comfortable a pair of running shoes are, they can cause aching pains to your feet if they do not absorb an impact when your feet land on the ground. If you happen to fall from a great distance, this will not help too much. But, during a run, your feet will make a heavy and instant impact on the ground frequently. Shock absorption technology can aid tremendously in alleviating this pain.


Stability
On a given afternoon, you never know what kind of terrain you will be running on. In addition, the weather may tamper with your plans by spitting rain or dropping snow. In either one of these scenarios, you will want a pair of running shoes that provide you with a superb amount of stability and traction. The traction you receive is solely dependent on the design of the outsole.
For example, if the outsole is designed with deep flex grooves, an aggressive lug pattern, or with rubber (or any combination of the three) there is a strong likelihood that no matter the terrain you are traversing on, you will have enough traction to run on it. Efficiency, on the other hand, is a little different and is mostly focused on gait efficiency.
Runners should know what this term means, but if you do not, a gait (or human gait) is the locomotion that is achieved through the movement of your limbs. In running, an efficient gate can translate into faster and superior running. Thus, you may see manufacturers implement specific design features to enhance the efficiency of your gait.


Breathability
As runners know, running is not a seasonal activity and can be done at any time in any climate. In bitter cold climates, you will probably not be too concerned with overheating but this can come into play for evaporating the perspiration caused by your feet.
But, this will also come to the forefront in instances where you are running in the blistering heat. During the entirety of this list, you heard it several times but it cannot be overstated enough. Not only does Gore-Tex technology aid in waterproofness it is also a highly breathable membrane. It optimizes breathability so your feet do not feel clammy and evaporates excess moisture.
However, there are also additional design integrations that can be made to achieve an optimal amount of breathability. As a great example, how about mesh upper sections? With mesh, the ventilation is enhanced and your toes will not feel trapped. Also, keeping the shoes as lightweight as possible can play a huge factor.


Style
Besides all their design integrations and various technologies, probably the best aspect of all these running shoes is there are typically versions for both men and women. This way, no one is left out and everyone can enjoy. That is, as long as the seller provides you with the size option that suits you best.
There is not much you can do otherwise, so be sure to take that into consideration. As far as color, it may not be as important as size but everyone has a different way of expressing themselves. When expressing oneself, style is often at the forefront. No matter how masterfully a pair of shoes is crafted, they may not suit you if the color options appall you.
Expert Interviews & Opinions
Most Important Criteria
(According to our experts opinion)
Experts Opinion
Editors Opinion
Users Opinion
By Default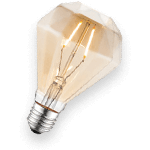 Break-In Period
With every new pair of shoes that you ever own, there is going to be a break-in period unless the designers use a specific technology to avoid it. But, just expect the first few runs to be a little stiff. Hence, it does not take a doctor or physical therapist to inform you that you should keep your runs shorter than usual when first breaking in a new pair of shoes. So, for the first few times that you go out for a run, be sure to make it less than five or six miles. If you push it, you may risk injury to your feet.
Waterproof Socks and Pants
As we all know, puddles splash. Even if your shoes are waterproof, the rest of your outfit could get wet from splashing. To make this less of an annoyance, you may want to invest in waterproof socks or pants. Aside from this, if the weather permits, you could also wear shorts while running in wet terrain.
Other Factors to Consider


Durability
The durability of a shoe is always something to keep in mind, as well. With this specific type of shoe, we have two different durabilities to look at. The durability of the shoe overall and the durability of waterproof technologies used. To start with, the durability of a running shoe depends on a few different factors but typically comes down to the materials used, especially in the sole of the shoe.
As a general rule, most running shoes have a life of about 400 miles. This would mean that if you run two miles a day, or 60 a month, the shoes would last you about seven months. It is good to be realistic and keep this in mind while shopping. Consider if quality, price, or longevity is more important to you, however, many times these features go hand in hand. As far as the durability of the waterproofing element, this varies. Many shoes are finished with a Gore-Tex treatment, which is quite durable. As long as you follow washing, drying, and general care instructions, this treatment will outlast your shoes.
Other shoes combine a blend of synthetic and textile fabrics that are naturally waterproof. In some cases, the waterproof coating of a shoe can "wash-off" or simply stop functioning as well as before. In this case, you can buy a treatment that you either wash or spray on to the shoes. If you run often, the soles of your shoes are more likely to die before the waterproofing treatment.
Frequently Asked Questions
q:

How do you clean this type of running shoe?

a:

Before this question is answered, it is worth noting that this method is intended for Gore-Tex material. However, it will still suffice for other types of waterproof running shoes. Anyway, getting that small disclaimer out of the way, here is how you should clean your shoes. Thankfully, the process is very simple and all you really need to do is clean the exterior of the shoes with a brush or a cloth in conjunction with lukewarm water. If the manufacturer recommends any other sort of treatment method, you can abide by that as well.

However, especially with Gore-Tex, you should never apply bleach to the shoes as that can damage the coating. As far as the inside, simply shake away excess dirt and gravel that happens to be inside. When you are content, allow them to air dry in moderate temperatures. But, do try to avoid direct heat.
q:

How often should you wash your running shoes?

a:

You now know how to wash these types of shoes, but how frequently should you do so? Honestly, most of the time it is merely personal preference. But, it is worth noting that excess dirt and debris can negatively affect the performance of the waterproofing of your shoes. Dirt does attract moisture so riding the shoes of it is ideal.

However, when running in the summer, you may find it necessary to wash them weekly. With raging hot temperatures outside, on long runs, your shoes are most likely going to come back sweaty and appalling. At times, they can have a vomit-inducing smell that is unbearable.

For the most part, just do yourself and others a favor and when your shoes begin to smell like death itself, take the time to clean them. Of course, if you notice your shoes are not repelling water as well as they should it is time to wash them.
q:

Should you wear running shoes for fitness walking?

a:

This question is not necessarily focused on the waterproofing aspect of shoes, but rather the running shoes themselves. The answer to this question may surprise you a bit but wearing running shoes for fitness walking is more ideal than wearing walking shoes. But, when you break it down it becomes clear why this is the case.

Think about it for a second, is there much difference in fitness walking and running? Outside of the speed, both activities force your feet to need proper flexing, support, and impact absorption as they are constantly causing force.

But, why would not walking shoes suffice, then? Most walking shoes, generalizing them for a minute, are strictly designed to provide you comfort in work areas. While this is great, they do not feature the support and flexibility that most running shoes do (which aids in fitness walking).
q:

Is there a life expectancy to Gore-Tex?

a:

Given that Gore-Tex is plastered all over this list, it deserves its own question here. Gore, the makers of the fantastic technology, have a frequently asked questions section of their webpage and they address this question that pertains to the life expectancy of their Gore-Tex membrane. As they state on their website, the Gore-Tex membrane itself is not going to deteriorate over time so there are no worries there.

However, as long as you take proper care of the shoes, they will last over time (this means not abusing them and cleaning them when dirt has taken over the outside affecting the performance). But, just because of this, as will soon be addressed, this does not insinuate that the running shoes are going to last you forever.
q:

How often should you replace your running shoes?

a:

Alright, so the waterproofness (specifically with Gore-Tex) is not going to deteriorate over time. Though, the same statement cannot be uttered for the running shoes themselves. Over their shelf life, your running shoes will take more abuse than probably anything that you own. Through no fault of your own, they make contact with rugged and tough terrains throughout the entirety of their lifetime. But, the specific shelf life will vary from person to person as certain dynamics (such as weight and foot strike) play a role.

Instead of placing a timetable on when you should replace them, analyze a few areas to determine if it is time. Firstly, run your thumb over the midsole to conclude how much cushioning has been worn out. If it does not compress very much when you push it down, the cushion has faded. Another area you can test is your feet.

After runs, do they tend to hurt more than they used to? If so, get your wallet out. Lastly, you can simply compare an old pair of running shoes with a new pair to see if they are vastly superior in comfort (granted your original shoes were comfortable, to begin with).
Subscribe to our Newsletter