The Best Waterproof Jackets Fully Reviewed
In a Hurry? Editors choice: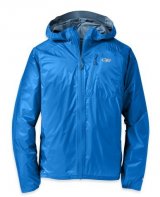 Test Winner: Outdoor Research Helium II

If you're planning on being active
outdoors
during the winter, then you'll want to consider purchasing a decent waterproof jacket to keep you protected anytime you're outside. With a waterproof jacket, you'll be safe from the
rain
and snow, no matter what you decide to do. Considering the wide choice on the market today, it is discouraging to shop for a waterproof jacket. There are various brands on the market that offer different quality and features that not every potential user understands. For this reason, we are presenting you with the
ultimate guide for shopping
for a waterproof jacket. We have listed the top ten best waterproof
jacket
in the market today. We are also offering suggestions which we have concluded are the best
waterproof
jackets out there.
Standout Picks
Criteria Used for Evaluation
Style
The most important thing you should consider about design is how is your jacket going to fit you. Even though it is recommended that a jacket is not too large, there should be enough space for you to wear base layer clothes under the jacket. Your shirt should also be breathable; otherwise, there is no use of the breathability of your jacket. If your shirt is not breathable, it will absorb the moisture from your body and you will be wet throughout the whole trip. This is exactly what you should be trying to avoid by buying a waterproof jacket.
It should also be long enough so that it covers your back at all times. This means that it should cover your back even when you lift your hands.  You should also be able to move freely without any restrictions. This is highly important, even though you are looking for a jacket for light activity such as walking. Being uncomfortable and movement restricted could cause you to lose your desire to practice the sport.
Cuffs are additional features which might be left out, but they sure are nice to have. They could be fastened at the wrist and there are various fastening technologies available. You should choose the one which you find most convenient.
It is also good if your zipper is long enough so that it covers your throat. This way, you would be protected from the wind and harsh weather conditions without carrying any extra equipment with you.
Materials
These materials are covered with a layer of polyurethane on the inside of the jacket. Polyurethane is a highly versatile elastomer which is often used in the manufacturing process of sports clothes. These coated waterproof fabrics usually have a high load-bearing capacity in both compression and tension. This means that it is less subject to damage due to sharp objects. It is also highly resistant to tearing which go with its high tensile features.
However, the main reason why the coated materials are used on the inside of the waterproof jackets is because of its mold and fungus resistance. This also means that they also smell resistant which is a valuable feature of every sport outwear. Coated waterproof fabrics also show a great performance in harsh weather conditions. They are very resistant to temperatures changes and extreme weather conditions, meaning the material degradation due to harsh weather conditions is something you should not worry about.
Coated fabrics are named differently by every manufacturer and the only difference is whether they come in two or more layers of construction.
Weather Resistance
Keeping in mind that the waterproof fabrics used in the manufacturing process of the jacket are the most important feature; we are going to take a closer look at this subject when discussing fabric quality below. Although there are many brands which import their manufacturing waterproof fabrics or they are producing them themselves, they all have the same four characteristics. When it comes to waterproof fabrics, they could be coated, paramo fabrics or membranes. Although there are various types of membranes and laminates, they all have the same function. They are thin layers of fabrics which are always water resistant and they are attached to a fabric surface. They are usually composed of several thin layers and every one of them is waterproof.
The main difference between waterproof membranes fabrics is UV stability. There are some of them which are UV stable and others are UV resistant. It is clear that if your activity involves you staying under the sun for a longer period of time, you should get a UV resistant waterproof membranes fabric. Otherwise, the UV stable one is more than enough.
Features
Gore-tex is a waterproof material with breathability properties and a specific structure. It is constructed with numerous small holes which are making the material breathable and allowing the water to evaporate. However, the holes it is consisted of are so small, so that not a drop is allowed to get inside. This is creating the waterproof property of the material. There are three types of Goretex materials and they all have slightly different properties.
The daily Gore-tex which is very durable and it is also windproof is intended for daily use and lower sports activity. You should choose this Gore-tex material only for walking, hiking or other sports activities which doesn't require much effort.
The Gore-Tex active shell is also windproof and it is very lightweight. The main difference from the daily Gore-tex is that it is more breathable than it. It is intended to be used by runners, climbers or cyclists.
The Gore-Tex Pro, however, has an extremely durable fabric and it is highly breathable. It is recommended that you use this Gore-tex material for extreme sports which require a lot of efforts, such as mountaineering and climbing. It is a completely air permeable Gore-tex option.
Top 10 Picks
1

. The North Face Dryzzle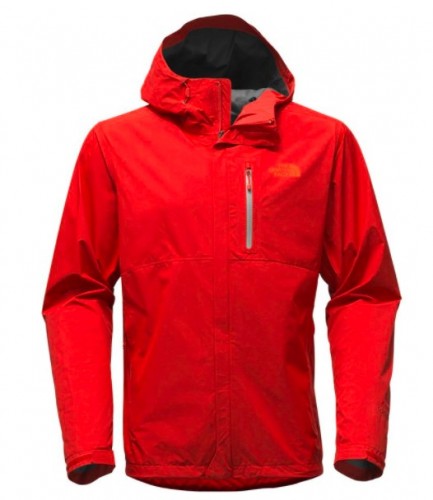 The North Face Dryzzle offers you a high-quality, versatile jacket with some of the best weather protection on the market today. It's lightweight, breathes very well, and offers a lot of great features.
Read more
Style
Featuring a totally seam-sealed design for extra weather protection, you also get a high-quality and durable outer Gore-Tex waterproof protection designed into this jacket. However, the jacket can bunch up at times, which can be a bit annoying.
Materials
This jacket is designed to be lightweight and is made up of synthetic materials. The sleeves on this jacket do tend to pull up from the wrists, which can leave your wrists exposed to the rain, and it could offer better flexibility. However, it still offers a high-quality design.
Weather Resistance
Designed with Gore-Tex Paclite on the shell of this jacket, you get plenty of wind and water protection. In fact, the jacket is fully waterproof, breathes well, and brings you a lot of versatility.
Features
This jacket brings you an excellent hood design which is designed to keep you warm and dry and easily adjusts to fit your head. Plus, this jacket is also machine washable, which is a handy feature to have.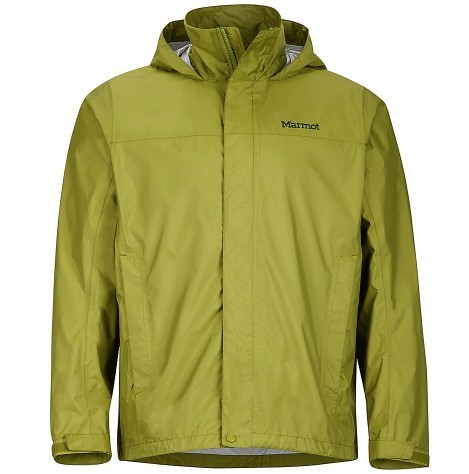 If you're looking for an affordable option in waterproof jackets and still want something that's high quality, then you'll love all the value packed into the Marmot Precip Jacket. This jacket is lightweight and features a great ventilation system, so you'll always feel comfortable when you wear it.
Read more
Style
Made to be stylish, the Marmot Precip Jacket is very comfortable and brings you a lot of ventilation to help you out while you are on the move. The wrist cuffs are also manufactured to adjust easily so that you won't need to worry about exposing your wrists to the rain.
Materials
Made from 100% nylon ripstop, this jacket is built to last and is very durable and abrasion resistant. Plus, it's waterproof coating features help add to the durability and weather protection.
Weather Resistance
Designed with Marmot's own NanoPro waterproof coating, this jacket does an excellent job of repelling water and snow so that you always stay dry. Also, the hood is easy to adjust and seals easily around your face to keep your head dry.
Features
You get an adjustable storm hood with this jacket, and the ability to use armpit zippers when you need extra ventilation. It also comes with a zip front and a button flap.

3

. The North Face Resolve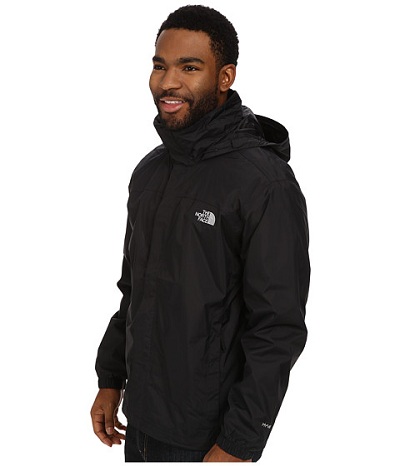 The North Face is an outdoor brand which specializes in manufacturing high quality outwear with great properties. However, North Face is not a cheap brand, although it doesn't categorize in the highest price range either. They are one of the leaders in their industry and every item which carries their logo is a state of the art technology. In other words, the North Face logo is a guarantee for quality.
Read more
Style
This North Face men's waterproof jacket is available in various designs and colors you could choose from. They have a wide range of designs and you will definitely find a jacket that matches your taste. Although the design is not tight to your body, it is pretty stylish and it looks great. It is very spacious and you are even able to wear a sweater or down jacket underneath. This is good because you could wear it with comfort in winter as well as summer temperatures. You don't have to buy different waterproof jackets for every season.
Materials
The outer shell of this product is made entirely out of nylon material, which is completely waterproof and doesn't require any water-resistant treatments. Its main downside regarding the quality of the fabric is of course that it is not a Gore-tex but a cheaper substitution of its properties. However, if you don't want to spend as much on a Gore-tex or a material with similar properties, this waterproof jacket is the right choice for you. It is very lightweight and it will keep you from the moisture and rain. As far as breathability goes, it has a nice ventilating system which would not allow you to get sweaty under the jacket.
Weather Resistance
This is definitely an advantage because the water-resistant treatments are only effective for a certain amount of time and washings. After that, the treatment should be redone or you would end up with a jacket which is not water resistant. This North Face jacket wouldn't cause you that problem. It is also machine washable which is an often underestimated feature and it could mean a lot. This is a product which is usually purchased by people who put an accent to the clothes underneath your jacket instead of the jacket itself. This jacket wouldn't keep you warm, but it won't let you down, not even in the heaviest rain.
Features
As you can see from the picture provided in the link, this jacket has an elastic cuffing system which would not allow the water to come inside your sleeves. The sleeves are not short so that you are wrists are not covered at all times, as in some of the competitive jackets. This North Face jacket has two side pockets which are closed with a zipper in order to protect the items kept inside. The zippers are running smoothly and they are covered with a waterproof material in order to keep the moisture outside. That same material which is covering the zippers and protecting you from the rain and the wind could sometimes be considered as a downside.
4

. The North Face Venture 2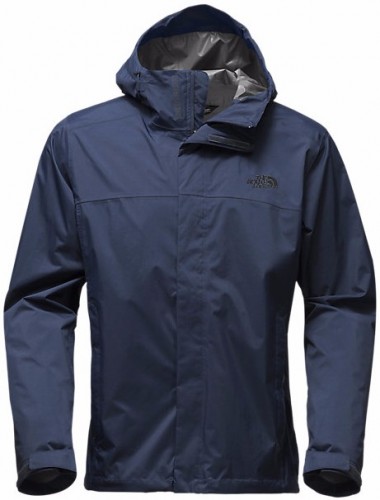 The North Face Venture 2 is a great all-around jacket at a very affordable price. It's comparable to some of the higher-priced jackets on our list, and it offers a lot of durability.
Read more
Style
For its price range, the design of this jacket is very good, although it doesn't offer a lot of bells and whistles. It will, however, do a very good job of keeping the wind and rain out.
Materials
Made from a nylon and polyester twill, this jacket is very durable and high-quality considering how affordable it is. It's made to last, and also has plenty of waterproof protection.
Weather Resistance
For this jacket's affordable price, the DWR coating on the outer part of the jacket lasts a very long time and works very well. You'll get waterproof protection you need, as well as plenty of wind protection.
Features
With this jacket, you get covered, secure zip-pockets and a good hood. This jacket also comes with additional pit vents for you to use as you need them.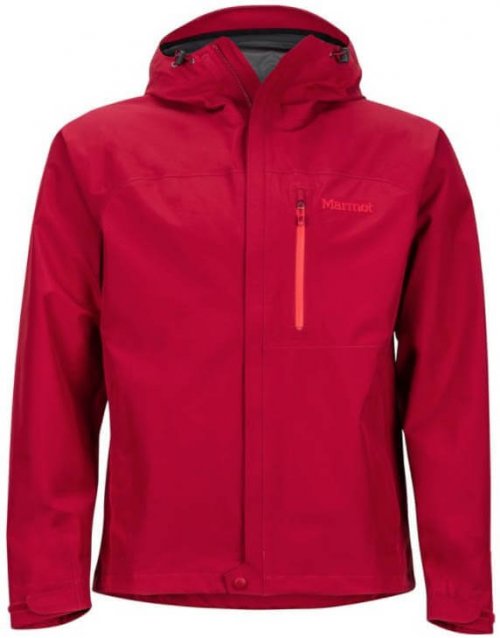 The Marmot Minimalist is an excellent waterproof jacket with a lot of versatility. You'll get flexibility and freedom to move with this jacket, a great hood, and a high-performing lightweight jacket.
Read more
Style
The Minimalist is a great jacket for harsh conditions. This Paclite is a 2.5-layer design, similar to many budget and lightweight model. But, the exterior holds up noticeably better in long bought of rain, snow, and wind. The DNR coating also helps shed moisture and will continue to for a long time. The hard-shell style protection is impressive for its small price tag.
Materials
The strong exterior fabric is coated in Gore-Tex waterproofing to keep you dry even in the wettest conditions.
Weather Resistance
Like stated above, the minimalist hits all the marks when it comes to protecting you from the elements. Along with the great fabric quality and DNR, and GoreTex additions, the tall collar does a great job of protecting you from driving rain and will stay in place in heavy winds.
Features
The hood, which is easy to tighten, comes with a sizable bill to help protect your face. The sleeves have storm flaps that secure with Velcro. They have a hook and loop system to keep out the cold and wet.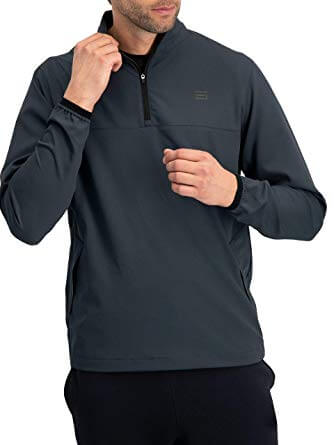 This Jolt Gear Mens Windbreaker Jackets - Half Zip Golf Pullover Wind Jacket is known for its stretch fabric that happens to move with your body. This waterproof jacket is made with four-way stretch fabric and soft material. This jacket is designed to contract and expand with your body which will allow you to have great mobility while wearing it and stretches to your movements.
Read more
Style
This Jolt Gear jacket comes with a great vented back to help with breathability and helps with a great maximum performance. This Jolt Gear special use is for golf and works great to keep your tees in the front pocket and the elastic cuffs help with your swing.
Materials
This jacket is great for any outdoor activity or sport as it is very flexible and allows you to move without feeling uncomfortable.
Weather Resistance
Great for providing you a shield from the wind. With the ability to handle a light amount of rain. It can provide a level of warmth on cloudy days. The ventilation provides breathing points in the event the sun decides to show.
Features
This jacket has wonderful features which include a zippered hand pocket for you to keep your personal belongings in and has elastic cuffs to make sure your sleeves do not keep sliding and interfering with any movement.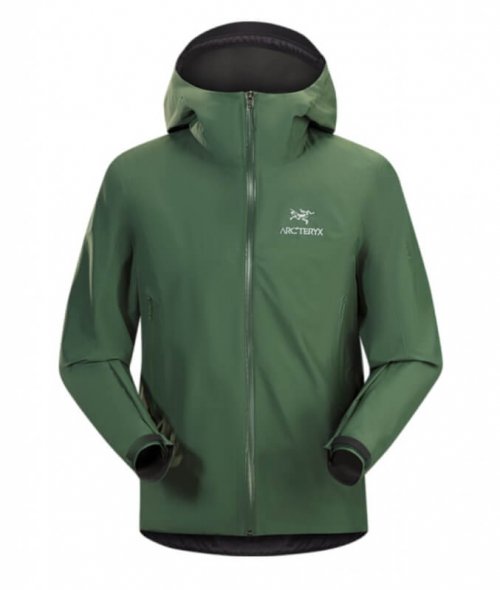 The Arc'Teryx Beta SL is a new favorite for waterproof jackets. It's highly durable, low-weight, and versatile, putting it high on our list.
Read more
Style
The design is tight and it follows your body shape. It is spacious enough yet it doesn't look like a waterproof sack around you. Even though it is tight, the elastic material which is attached inside allows you freedom of movement in every direction. The colors are complementing each other quite nicely, but the jacket comes in only one color design.
Materials
The Beta SL uses 40 denier outer nylon fabric that holds up well in rough conditions. It's great for outdoor activities and allows for great breathability and weather protection.
Weather Resistance
It provides durable waterproof protection because of the density of the fibers. The Gore-Tex Paclite is lightweight and breathable while not stinging on weather protection. The jacket's watertight zipper and internal storm flap help to keep water out even in the wettest conditions. The Durable Water Repellency is a great addition to this jacket.
Features
The hood design on the Arcteryx Beta SL is one of the reasons it's such a great jacket. The cinch toggles on both sides of the hood allow you to easily adjust the hood to fit, which helps you to easily keep your head dry.

8

. Outdoor Research Foray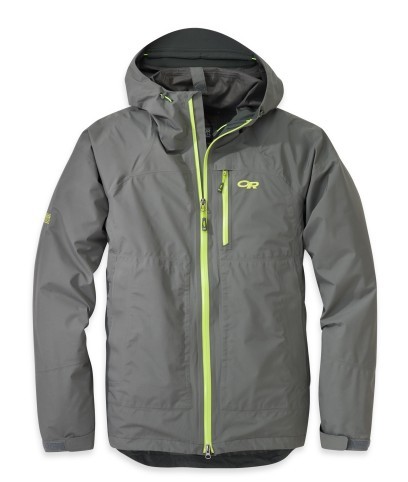 If you're looking for a great waterproof jacket with a lot of versatility, then you'll love the Outdoor Research Foray Jacket. Designed with Gore-Tex Paclite fabric, you'll get an excellent jacket that will keep you warm and dry during all of your outdoor activities.
Read more
Style
While the Outdoor Research Foray is a bit heavier than some other jackets on this list, it's very durable and comes with a stylish design. This jacket has a poncho-style look to it that helps make its ventilation system excellent.
Materials
Made with ripstop nylon fabric on the outer shell, you'll get a lot of abrasion resistance and durability with this jacket. Plus, it's Gore-Tex waterproofing system is also another factor that adds to the durability of the fabric.
Weather Resistance
Made with Gore-Tex Paclite technology, the outer shell of this jacket is fully waterproof, so you'll never have to worry about rain and snow getting into the jacket. You'll be able to stay warm and dry each time you use this jacket.
Features
The TorsoFlow side zippers that are built-into this jacket offer some controllable extra ventilation when you need it. Also, you have the option of purchasing the cap and jacket bundle when you buy this jacket.

9

. Outdoor Research Helium II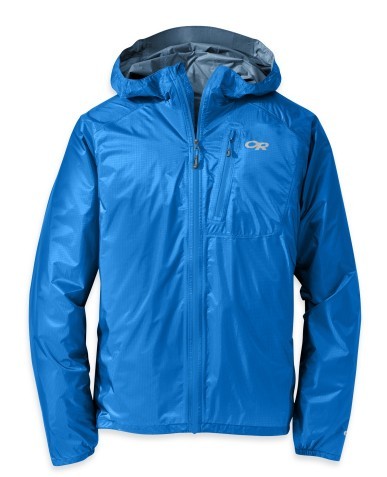 If you are in the market for an extremely lightweight and versatile jacket, then you'll love what the Outdoor Research Helium II has to offer. You'll get excellent water protection from this lightweight, durable jacket that brings you many high-quality features.
Read more
Style
This jacket brings you a lightweight, versatile design that offers a lot of flexibility while you are active, and it also has a stylish look. It's not quite as durable as some other jackets on the market, but it is very lightweight and offers a high-quality design.
Materials
Made with two very breathable fabrics designed into this jacket, you'll get a lot of breathability. Plus, you'll get plenty of weather protection from the jacket's DWR coating.
Weather Resistance
The Outdoor Research Helium II is designed to be both wind resistant and water resistant, so you get a lot of weather protection with this jacket. It's also very packable, which is another nice bonus.
Features
This jacket is very comfortable and offers you a lot of mobility from the design. It also comes with a well-designed hood.

10

. The North Face Men's Thermoball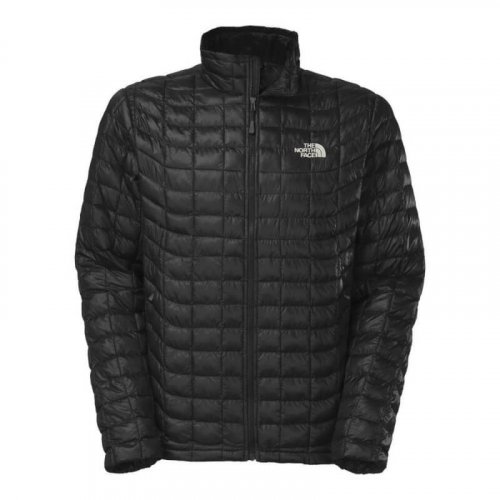 This North Face Men's Thermoball waterproof jacket is in the middle price range and it is a very nice option for the features it has to offer. It is one jacket that you will not need to replace as it has a very long lifespan with its durable materials. The North Face are well known for their high-quality and strong build. This jacket is made from 100% nylon to make sure the jacket is waterproof and can stand any weather condition.
Read more
Style
As far as its design goes, it is available in a variety of different color variations and it fits nicely to your body. It is comfortable and very spacious. For those who prefer space over elastic materials, this is the right waterproof jacket choice for you. It has the logo on the left side and it doesn't have any chest pockets.
Materials
This material gives incomparable waterproof features to the jacket. However, if you are looking for a more pleasant on touch option, you might want to look at some of our other suggestions. Other of its features include tear resistance, which could be very convenient if you are hiking in a tree dense area.
Weather Resistance
In the production of this waterproof jacket, a 100% nylon fabric is being used. This is nylon waterproof fabric which has been used for the production of raincoats, waterproof backpacks, and waterproof jackets. If it is used directly on the skin, it has a plastic unpleasant feeling.
Features
This North Face Men's Thermoball has 2 side pockets and zippers which focuses on the ventilation where it is most required. The zipper seals do not allow the moisture to get inside which keeps you nice and dry and warm. This waterproof jacket also has pockets inside which are very convenient for storing small items such as a compass or a map. Since they are zipper-sealed, they wouldn't get wet at all. You could also use the pockets as hand warmers. The cuffs are adjustable to your wrist and the sleeves are long enough so your wrists are not uncovered.

Subscribe to our Newsletter