The Best Waterproof Jackets Fully Reviewed
In a
Hurry? Editors choice: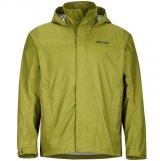 Test Winner: Marmot Precip Jacket

If you're planning on being active
outdoors
during the winter, then you'll want to consider purchasing a decent waterproof jacket to keep you protected anytime you're outside. With a waterproof jacket, you'll be safe from the
rain
and snow, no matter what you decide to do. Considering the wide choice on the market today, it is discouraging to shop for a waterproof jacket. There are various brands on the market that offer different quality and features that not every potential user understands. For this reason, we are presenting you with the
ultimate guide for shopping
for a waterproof jacket. We have listed the top ten best waterproof
jacket
in the market today. We are also offering suggestions which we have concluded are the best
waterproof
jackets out there.
Standout Picks
Criteria Used for Evaluation
Style
The most important thing you should consider about design is how is your jacket going to fit you. Even though it is recommended that a jacket is not too large, there should be enough space for you to wear base layer clothes under the jacket. Your shirt should also be breathable; otherwise, there is no use of the breathability of your jacket. If your shirt is not breathable, it will absorb the moisture from your body and you will be wet throughout the whole trip. This is exactly what you should be trying to avoid by buying a waterproof jacket.
It should also be long enough so that it covers your back at all times. This means that it should cover your back even when you lift your hands.  You should also be able to move freely without any restrictions. This is highly important, even though you are looking for a jacket for light activity such as walking. Being uncomfortable and movement restricted could cause you to lose your desire to practice the sport.
Cuffs are additional features which might be left out, but they sure are nice to have. They could be fastened at the wrist and there are various fastening technologies available. You should choose the one which you find most convenient.
It is also good if your zipper is long enough so that it covers your throat. This way, you would be protected from the wind and harsh weather conditions without carrying any extra equipment with you.
Materials
These materials are covered with a layer of polyurethane on the inside of the jacket. Polyurethane is a highly versatile elastomer which is often used in the manufacturing process of sports clothes. These coated waterproof fabrics usually have a high load-bearing capacity in both compression and tension. This means that it is less subject to damage due to sharp objects. It is also highly resistant to tearing which go with its high tensile features.
However, the main reason why the coated materials are used on the inside of the waterproof jackets is because of its mold and fungus resistance. This also means that they also smell resistant which is a valuable feature of every sport outwear. Coated waterproof fabrics also show a great performance in harsh weather conditions. They are very resistant to temperatures changes and extreme weather conditions, meaning the material degradation due to harsh weather conditions is something you should not worry about.
Coated fabrics are named differently by every manufacturer and the only difference is whether they come in two or more layers of construction.
Weather Resistance
Keeping in mind that the waterproof fabrics used in the manufacturing process of the jacket are the most important feature; we are going to take a closer look at this subject when discussing fabric quality below. Although there are many brands which import their manufacturing waterproof fabrics or they are producing them themselves, they all have the same four characteristics. When it comes to waterproof fabrics, they could be coated, paramo fabrics or membranes. Although there are various types of membranes and laminates, they all have the same function. They are thin layers of fabrics which are always water resistant and they are attached to a fabric surface. They are usually composed of several thin layers and every one of them is waterproof.
The main difference between waterproof membranes fabrics is UV stability. There are some of them which are UV stable and others are UV resistant. It is clear that if your activity involves you staying under the sun for a longer period of time, you should get a UV resistant waterproof membranes fabric. Otherwise, the UV stable one is more than enough.
Features
Gore-tex is a waterproof material with breathability properties and a specific structure. It is constructed with numerous small holes which are making the material breathable and allowing the water to evaporate. However, the holes it is consisted of are so small, so that not a drop is allowed to get inside. This is creating the waterproof property of the material. There are three types of Goretex materials and they all have slightly different properties.
The daily Gore-tex which is very durable and it is also windproof is intended for daily use and lower sports activity. You should choose this Gore-tex material only for walking, hiking or other sports activities which doesn't require much effort.
The Gore-Tex active shell is also windproof and it is very lightweight. The main difference from the daily Gore-tex is that it is more breathable than it. It is intended to be used by runners, climbers or cyclists.
The Gore-Tex Pro, however, has an extremely durable fabric and it is highly breathable. It is recommended that you use this Gore-tex material for extreme sports which require a lot of efforts, such as mountaineering and climbing. It is a completely air permeable Gore-tex option.
Subscribe to our Newsletter