Best Waterproof Boots – 2021 Buying Guide
In a
Hurry? Editors choice: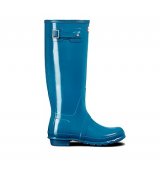 Test Winner: Hunter Tall Gloss

River crossings, unexpected puddles, dreaded rain, swamps. If your shoes will be susceptible to getting wet, it is convenient and smart to have a pair of waterproof boots.

There are many factors to consider when purchasing a pair of waterproof boots though. So we tested dozens of the top models so you don't have to.

Peruse our list of the top waterproof boots below.
Standout Picks
Criteria Used for Evaluation
Comfort
While these criteria are not necessarily ordered in terms of significance, you would think that the first section of a guide about waterproof boots would reference, well, waterproofing. That will be addressed in a minute, but how about comfort? Last time someone checked, waterproof boots are worn on your feet and can be there for a significant amount of time. As such, comfort may even be more important than their ability to repel water. When you begin to analyze and research how comfortable a specific boot is, keep these factors in mind.
First off, is there cushioning and shock absorption present in the insole? These are both very important as, during violent jumps and motions, you want the waterproof boots to absorb as much of the blow as possible. Past this, are there design features such as a contoured tongue and open-cell polyurethane to provide comfort and breathability? Also, if you plan on wearing the waterproof boots in colder climates, what kind of insulation is present to keep your feet warm? All these factors play a pivotal role in determining the comfort of a boot.
Weather Resistance
Arguably, this entire section could have been retitled, "how well the boots hold up against water". After all, this is a guide dedicated to waterproof boots. But, the weather may be a more appropriate term as waterproof boots need to provide protection to not only water and rain but also snow (which is water as soon as it melts). Either way, you want to slice it, it all comes back to their ability to repel and resist water. No matter how the manufacturer accomplishes their waterproof nature, and you will see different integrations, as long as it performs it at an excellent rate you are good to go.
A few examples that you may run into are leather and rubber boots. Rubber is more common as the material is waterproof by itself. Hence why you will see several with rubber construction. With leather (which is partially waterproof on its own), you may see manufacturers treat it with a DWR finish to repel water with special stitching and sealing the seams. While your decision should not be solely based on the material, leather is resistant to dry abrasion and fungal attacks.
Features
Comfort and protection against the weather are without a doubt the two biggest factors when buying a waterproof boot. But, it certainly does not end there. In fact, you should look at the design as a whole. Boots come in various sizes and shapes, with different types of finishes. Do you prefer a matte or gloss finish? Would you prefer a long or small length waterproof boot? These questions are important because you want to look good too, right?
Other design features can also come into play. Take, for example, the traction that it gives you on slippery surfaces. There is a high probability that you plan on wearing this type of waterproof boot in the winter. If so, from time to time, you will come across the ice and probably do not want to slip and fall on your face. Boots that are crafted with outsoles that are designed with slip-resistant properties are always good to look out for. They may not keep you upright when facing black ice, but even the best tires in the world sometimes can't do that. Also, subtle features such as a steel safety toe for protection and elastic side panels for ease of entry can be weighed for significance.
Overall Fit
It comes up in every buying guide we do in regards to garments and shoes and it will never stop. Simply put, your feet are one size and one size only. These types of waterproof boots are not going to be adjustable, in terms of sizing, and you need to be aware if they will fit you. Of course, you can go by your normal shoe size and see if they have that option available. However, unfortunately, not all shoes will fit the same. Some waterproof boots will run small and some will run large, even if they're from the same manufacturer.
This is one of the hardest aspects of ordering online. But, one surefire thing to do to ease your mind is to see if customers have complained about the sizing in any way. For example, some have complained about the narrowness of some of the waterproof boots on this list. If you are worried about this, maybe you should order a size up or order a wide size (if they are available).
Subscribe to our Newsletter