Best Waterproof Boots
last updated:
May 25, 2021
River crossings, unexpected puddles, dreaded rain, swamps. If your shoes will be susceptible to getting wet, it is convenient and smart to have a pair of waterproof boots. There is nothing worse than going on a long hike or camping trip and stepping in a puddle or crossing a small stream and your boots get soaked which can cause you to be quite uncomfortable. Waterproof boots will not only keep your feet from getting damp and soaked but also will ensure you have the comfort to continue on your journey without delay. Now when looking for a great pair of waterproof boots, there are many factors to keep in mind such as the terrain you'll be in, how deep the water level will be, what the weather will be like, and most importantly comfort.
In a Hurry? The test winner after 10 hrs of research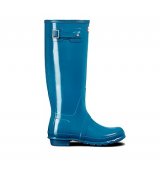 Hunter Tall Gloss
Why is it better?
It is crafted handmade from over 20 parts
It fits snug and is well proportioned to your feet
Features an attractive glossy finish
In a
Hurry? Editors choice: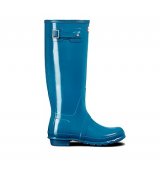 Test Winner: Hunter Tall Gloss

12
Researched Sources
13k
Reviews Considered
10
Hours Researching
15
Products Evaluated
Comfort
Weather Resistance
Features
Overall Fit
By Default
Criteria Used for Evaluation

Comfort
While these criteria are not necessarily ordered in terms of significance, you would think that the first section of a guide about waterproof boots would reference, well, waterproofing. That will be addressed in a minute, but how about comfort? Last time someone checked, waterproof boots are worn on your feet and can be there for a significant amount of time. As such, comfort may even be more important than their ability to repel water. When you begin to analyze and research how comfortable a specific boot is, keep these factors in mind.
First off, is there cushioning and shock absorption present in the insole? These are both very important as, during violent jumps and motions, you want the waterproof boots to absorb as much of the blow as possible. Past this, are there design features such as a contoured tongue and open-cell polyurethane to provide comfort and breathability? Also, if you plan on wearing the waterproof boots in colder climates, what kind of insulation is present to keep your feet warm? All these factors play a pivotal role in determining the comfort of a boot.

Weather Resistance
Arguably, this entire section could have been retitled, "how well the boots hold up against water". After all, this is a guide dedicated to waterproof boots. But, the weather may be a more appropriate term as waterproof boots need to provide protection to not only water and rain but also snow (which is water as soon as it melts). Either way, you want to slice it, it all comes back to their ability to repel and resist water. No matter how the manufacturer accomplishes their waterproof nature, and you will see different integrations, as long as it performs it at an excellent rate you are good to go.
A few examples that you may run into are leather and rubber boots. Rubber is more common as the material is waterproof by itself. Hence why you will see several with rubber construction. With leather (which is partially waterproof on its own), you may see manufacturers treat it with a DWR finish to repel water with special stitching and sealing the seams. While your decision should not be solely based on the material, leather is resistant to dry abrasion and fungal attacks.

Features
Comfort and protection against the weather are without a doubt the two biggest factors when buying a waterproof boot. But, it certainly does not end there. In fact, you should look at the design as a whole. Boots come in various sizes and shapes, with different types of finishes. Do you prefer a matte or gloss finish? Would you prefer a long or small length waterproof boot? These questions are important because you want to look good too, right?
Other design features can also come into play. Take, for example, the traction that it gives you on slippery surfaces. There is a high probability that you plan on wearing this type of waterproof boot in the winter. If so, from time to time, you will come across the ice and probably do not want to slip and fall on your face. Boots that are crafted with outsoles that are designed with slip-resistant properties are always good to look out for. They may not keep you upright when facing black ice, but even the best tires in the world sometimes can't do that. Also, subtle features such as a steel safety toe for protection and elastic side panels for ease of entry can be weighed for significance.

Overall Fit
It comes up in every buying guide we do in regards to garments and shoes and it will never stop. Simply put, your feet are one size and one size only. These types of waterproof boots are not going to be adjustable, in terms of sizing, and you need to be aware if they will fit you. Of course, you can go by your normal shoe size and see if they have that option available. However, unfortunately, not all shoes will fit the same. Some waterproof boots will run small and some will run large, even if they're from the same manufacturer.
This is one of the hardest aspects of ordering online. But, one surefire thing to do to ease your mind is to see if customers have complained about the sizing in any way. For example, some have complained about the narrowness of some of the waterproof boots on this list. If you are worried about this, maybe you should order a size up or order a wide size (if they are available).
Expert Interviews & Opinions
Most Important Criteria
(According to our experts opinion)
Experts Opinion
Editors Opinion
Users Opinion
By Default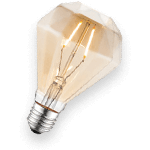 Take Care
Caring for waterproof boots is important - especially drying them properly. There are a few methods that you can use to dry them. You will want to remove the insoles to allow them to dry separately. You can simply rest them upside down on the floor and allow them to dry at room temperature. If you want them to dry a little faster, you can place them near a fan and have it blow room temperature air into them. Do not place them on a heat register or in direct contact with the sun. If you do not have a fan, stuff some newspaper into the boot as this will absorb the moisture and dry them quicker.
Fit
When trying on any shoe, you should also try it on with the type of sock that you plan to wear with it. In the case of waterproof boots, you may opt for a pair of waterproof socks, if you are really looking to stay ahead of the weather. Or perhaps these will be used on extremely cold days, you will want to try them on with a thick pair of insulating socks. Boots should have a fitted feeling, without slipping off or causing blisters.
Other Factors to Consider

Color
In the same token of sizing, you can say the same exact statement about color and design options. While this may not be a big deal to some, for other people it's a large factor in their choice. For example, black may go with everything as the saying goes, but you may be interested in a brighter color, or you may want boots with a reflective surface for better visibility at night. Brighter colors may also get dirty easier, so if that's a concern for you a darker color may be best for your needs.

Durability
Knowing how long a product will last you is important. Who wants to invest in a pair of boots that won't last more than six months? To determine the durability of boots, you should look at the materials used, the stitching, lacing system, and the brand's reputation overall. Whether you are walking around town or through the mountains, there's no doubt that your waterproof boots will endure some abuse. Besides all of the available seller's information, it's also a great idea to check out the customer reviews. This way you can get a look into how the boots have held up over time. Additionally, some manufacturers offer warranties. That's always a good sign and gives you peace of mind when investing.
Frequently Asked Questions
q:

Does mink oil waterproof leather?

a:

This is a common question that gets asked and if you know anything about mink oil, then you already know the answer before reading any further. Among all the oils in the world, mink oil may be the best for preserving leather. Because it has a lot in common with the natural organic nature of leather, it is a perfect solution to apply to them. No matter the type of leather that you have, whether full-grain, smooth finished, oil-tanned, etc., it will work on nearly all of them.

But, will it waterproof them? The short answer is yes, it will. Not only will it waterproof them, but it is fantastic for guarding them against salt, mold, mildew, and various other bacteria and debris.
q:

How should I wash mold from waterproof boots?

a:

Unfortunately, mold isn't limited to that bag of produce you left in the back of your fridge for too long. It can also impact your waterproof boots. Poor ventilation, hot temperatures, and humidity can all aid in allowing mold to grow and form. Thankfully, there is a solution if your waterproof boots do succumb to it. However, instead of mixing a bowl with water and a dishwashing soap you will need something a bit stronger. Instead, swap out the soap with vinegar.

You want to create a solution with one part vinegar to four parts water. For example, you could mix a cup of water with a quarter cup of vinegar. Just as you did when cleaning your waterproof boots, take a toothbrush and dip it in the solution. From there, scrub away the mold and rinse and repeat until it is removed. Afterward, be sure to rinse off the excess vinegar solution.
q:

How do you waterproof leather boots?

a:

Leather seems to be the fabric that is most asked about when it comes to waterproofing it; in specific, when addressing boots. If the time has come where you need to reproof your leather boots or you want to waterproof a previously non-waterproof pair, the process to do so is rather soothing. However, before you plan on proofing it, ensure that you have thoroughly cleaned them. Applying a coating to dirt and mildew will be rendered useless.

To begin, invest in some dubbing wax. This is one of the best coatings for waterproofing leather. Once you get your hands on it, apply a very small amount to a cloth and begin to spread it on the boots. If need be, you can soften the wax if it is too hard to apply. However, when finished, let the boots naturally dry and do not apply direct heat to it (as this can cause the leather to crack).
q:

How do you wash waterproof boots?

a:

As you have probably figured out during your lifetime, washing boots can be a rather complex process. That isn't to say that it is difficult; rather, it's a process. Don't expect to be able to throw them in the washing machine on a random cycle; it doesn't work that way, and you're likely to ruin either the washing machine, your boots, or even both. The first step in washing them is to remove any removable insoles and the shoelaces (if they have them). From there, use an old toothbrush to begin scrubbing away dirt and grime from the surface of the waterproof boots. You don't need to use much force for this.

Next, mix together mild dishwashing soap (or a specialty cleaner specifically for boots) and water. You don't need too much, just enough to dip your toothbrush into. Just as you did before, begin to firmly scrub the surface of the boots with the toothbrush. Rinse and repeat until all the dirt and debris has been removed. If you see mildew or mold don't panic; we've outlined care instructions a little further below for those situations.
q:

When do you waterproof your boots?

a:

This may seem like an unnecessary question as, after all, this guide specifically documents boots that are waterproof. However, those of you that know a thing or two about waterproof apparel, they do not retain their properties to repel water forever. There may come a moment where you realize that your waterproof boots are no longer keeping your feet dry. This is the moment, and the only one quite frankly, when you should reproof them. You will soon find out how to reproof leather boots, but as long as they continue to keep your feet dry from the inclement weather then there is no need for you to reproof them. After all, in most cases reproofing your boots is going to cost some extra money.
Subscribe to our Newsletter