Best Rain Boots
In a
Hurry? Editors choice: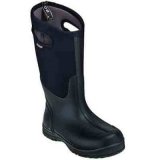 Test Winner: Bogs Classic Ultra High

You get up early, work out, eat a healthy breakfast, and get dressed for the day. It's a great start to the morning, and you are feeling fantastic. But then, you hop out of your car to head into the office. And guess what?

You step directly into an icy cold puddle. Not only are your feet wet, but you don't have anything dry to change into. Alas, you must spend the day with icky, uncomfortable, wet feet. How can such an annoying occurrence be avoided? Quite easily.

All you need to do is invest in a pair of quality rain boots. Now, we aren't saying that you need to slog around in the heavy yellow boots you would have worn as a child. Luckily, there are many fashionable and effective rubber boots for you to choose from on the market today.
Standout Picks
Criteria Used for Evaluation
Use
There are three basic types of boots for rain, all of which are designed with different uses in mind.
Casual Boot
Casual boots are meant for walking around town on a rainy day. They are great for keeping your feet dry but are not well suited for outdoor work. They tend to be comfortable enough for walking around, but have less cushion on your feet than the more useful options. The material may also be thinner and less sturdy; however, this also makes it lighter weight. Boots for rain that only reach your ankle are more often found in this category since people who need casual boots don't often find themselves standing in thick mud or a foot of water. These rubber boots are popular options for a warm and dry shoe.
Work Boot
Rain shoes that are designed for work can be heavy and bulky, but they also provide comfort all day long. For other models of waterproof boots, read our guide. These boots tend to have thick,well-cushioned, well-cushioned insoles, and high shafts to protect your entire lower leg from the elements. They are designed to stand up to consistent wear and tear and are perfect for those who work in the agricultural, landscaping, fishing (click here if interested in boots for fishing), or construction industries. They can also be a good choice for doing yard work and walking through the woods, although they don't give the type of foot support needed for longer, uphill treks.
Casual Work Boot
Some of these boots are stylish enough for casual wear, yet sturdy enough to be work to work. Lighter weight work boots tend to fall into this category since super heavy shoes can be an unnecessary hindrance while running errands. Some examples of this type of boot from this list are the XTRATUF Legacy Series and the Hunter's Original Tall Rain Boot. Both these rubber boots offer an attractive look that wouldn't be out of the place in the mall while also being excellent choices for muddy manual labor.
Insulation
Rain boots are typically thought of as suited for warm rainy days in the spring, summer, or fall. However, there are also plenty of rubber boots on the market that is designed to not just keep your feet dry but also warm. Before purchasing a pair of boots spend some time thinking about what types of temperatures you will be using them in, as well as what activities you will be doing in these temperatures.
If you know that you will primarily be using your boots in the winter, investing in a pair with extra insulation is a good call. This will ensure that your feet stay warm even in below-freezing temperatures or when there is snow on the ground. Insulated footwear will be to warm when the temperatures begin to rise. If the rainy season where you live is during the rainy boots, an uninsulated pair is probably a good call.
When choosing the warmth of your boot, it is also important to note that uninsulated boots can be adapted to work in the winter, while the vice-versa is not true. Thick socks (best merino-wool socks will give you a list of options) can make this model of boot much warmer, providing some of the insulation that a summer boot lacks.
However, insulated boots cannot be easily adapted to summer temperatures. Even rubber boots with removable linings don't work well since the rain boot without its lining will become much too large on your foot.
Comfort
Finding a rain boot that is comfortable is very important, especially if you are going to be on your feet your hours at a time. Whether walking or working, there are some special considerations that need to be made when finding the right fitting rain boot for you.
Boots for rain are meant to be easy to take on and off, and therefore have a shape that is less catered to your foot than most other shows. Some slippage is normal, especially with uninsulated boots. As long as they remain comfortable, a little extra room is nice, since it allows you to wear heavy socks. It also makes it easier to add insoles if you require a bit more support under your foot.
A major comfort issue for taller boots is not having enough room for one's calf. One solution to this is to size up, however, this can then make the actual shoe portion to large and is therefore counterproductive. Unfortunately, the reality is that a nice fitting, tall rain boot can be difficult to find if you have muscular low legs. They do exist though. From this list, the Kamik Icebreaker and the UGG's are examples of great boots that can easily fit large lower legs.
Value
More than just the price of the rain boot, we want to know that they will last for many years. For the value of each boot, we considered the brand, the materials, the durability, the overall fit, and lastly, the price. It is true that some big-brands will charge more just because their name is on the product.
For this reason, you will notice that we have included a few lesser-known, but strong contenders, brands on this list. The only thing that you should be cautious with when buying from a smaller brand is the customer service/exchange/return/warranty policies. Whether it's praise or complaint, sometimes they can be more difficult to get a hold of.
Durability
Unless you live in Seattle, you only need one pair of boots. So it is best to make sure that the pair you invest in is durable and will last you through many rainy seasons (for additional rain gear you can read our guide). A few things that you can look at to determine the durability of a boot is the overall construction and materials used.
Some boots have separate panels that are sewn or fused. While this does give way for different styles, materials, and colors, it can also be an area of the shoe that weakens over time and lets in water. Boots that are made from one solid panel tend to be the most durable. Additionally, those that are made from rubber or latex are typically of higher quality and waterproofness. There are cheaper versions that are made from polyurethane. If you are looking to save money and only use the boots for one season, polyurethane is fine.
However, if you are looking for a pair that you won't need to replace for years to come, you'll want to avoid it. The weight of the boots can also tell you something about the durability. Rubber weighs more than polyurethane (or other thin, cheap materials). In the end, it depends on your preferences- how much money you'd like to spend and how long you plan to have the boots.
Subscribe to our Newsletter