Best Rain Boots
last updated:
Feb 14, 2020
You get up early, work out, eat a healthy breakfast, and get dressed for the day. It's a great start to the morning, and you are feeling fantastic. But then, you hop out of your car to head into the office. And guess what?
You step directly into an icy cold puddle. Not only are your feet wet, but you don't have anything dry to change into. Alas, you must spend the day with icky, uncomfortable, wet feet. How can such an annoying occurrence be avoided? Quite easily.
All you need to do is invest in a pair of quality rain boots. Now, we aren't saying that you need to slog around in the heavy yellow boots you would have worn as a child. Luckily, there are many fashionable and effective rubber boots for you to choose from on the market today.
In a Hurry? The test winner after 10 hrs of research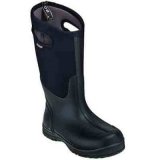 Bogs Classic Ultra High
Why is it better?
Great for work
Extremely warm
Comfortable
100% waterproof
In a
Hurry? Editors choice: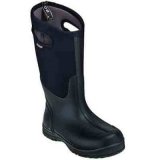 Test Winner: Bogs Classic Ultra High

26
Researched Sources
2,198
Reviews Considered
10
Hours Researching
14
Products Evaluated
Use
Insulation
Comfort
Value
Durability
By Default
Criteria Used for Evaluation

Use
There are three basic types of boots for rain, all of which are designed with different uses in mind.
Casual Boot
Casual boots are meant for walking around town on a rainy day. They are great for keeping your feet dry but are not well suited for outdoor work. They tend to be comfortable enough for walking around, but have less cushion on your feet than the more useful options. The material may also be thinner and less sturdy; however, this also makes it lighter weight. Boots for rain that only reach your ankle are more often found in this category since people who need casual boots don't often find themselves standing in thick mud or a foot of water. These rubber boots are popular options for a warm and dry shoe.
Work Boot
Rain shoes that are designed for work can be heavy and bulky, but they also provide comfort all day long. For other models of waterproof boots, read our guide. These boots tend to have thick,well-cushioned, well-cushioned insoles, and high shafts to protect your entire lower leg from the elements. They are designed to stand up to consistent wear and tear and are perfect for those who work in the agricultural, landscaping, fishing (click here if interested in boots for fishing), or construction industries. They can also be a good choice for doing yard work and walking through the woods, although they don't give the type of foot support needed for longer, uphill treks.
Casual Work Boot
Some of these boots are stylish enough for casual wear, yet sturdy enough to be work to work. Lighter weight work boots tend to fall into this category since super heavy shoes can be an unnecessary hindrance while running errands. Some examples of this type of boot from this list are the XTRATUF Legacy Series and the Hunter's Original Tall Rain Boot. Both these rubber boots offer an attractive look that wouldn't be out of the place in the mall while also being excellent choices for muddy manual labor.

Insulation
Rain boots are typically thought of as suited for warm rainy days in the spring, summer, or fall. However, there are also plenty of rubber boots on the market that is designed to not just keep your feet dry but also warm. Before purchasing a pair of boots spend some time thinking about what types of temperatures you will be using them in, as well as what activities you will be doing in these temperatures.
If you know that you will primarily be using your boots in the winter, investing in a pair with extra insulation is a good call. This will ensure that your feet stay warm even in below-freezing temperatures or when there is snow on the ground. Insulated footwear will be to warm when the temperatures begin to rise. If the rainy season where you live is during the rainy boots, an uninsulated pair is probably a good call.
When choosing the warmth of your boot, it is also important to note that uninsulated boots can be adapted to work in the winter, while the vice-versa is not true. Thick socks (best merino-wool socks will give you a list of options) can make this model of boot much warmer, providing some of the insulation that a summer boot lacks.
However, insulated boots cannot be easily adapted to summer temperatures. Even rubber boots with removable linings don't work well since the rain boot without its lining will become much too large on your foot.

Comfort
Finding a rain boot that is comfortable is very important, especially if you are going to be on your feet your hours at a time. Whether walking or working, there are some special considerations that need to be made when finding the right fitting rain boot for you.
Boots for rain are meant to be easy to take on and off, and therefore have a shape that is less catered to your foot than most other shows. Some slippage is normal, especially with uninsulated boots. As long as they remain comfortable, a little extra room is nice, since it allows you to wear heavy socks. It also makes it easier to add insoles if you require a bit more support under your foot.
A major comfort issue for taller boots is not having enough room for one's calf. One solution to this is to size up, however, this can then make the actual shoe portion to large and is therefore counterproductive. Unfortunately, the reality is that a nice fitting, tall rain boot can be difficult to find if you have muscular low legs. They do exist though. From this list, the Kamik Icebreaker and the UGG's are examples of great boots that can easily fit large lower legs.

Value
More than just the price of the rain boot, we want to know that they will last for many years. For the value of each boot, we considered the brand, the materials, the durability, the overall fit, and lastly, the price. It is true that some big-brands will charge more just because their name is on the product.
For this reason, you will notice that we have included a few lesser-known, but strong contenders, brands on this list. The only thing that you should be cautious with when buying from a smaller brand is the customer service/exchange/return/warranty policies. Whether it's praise or complaint, sometimes they can be more difficult to get a hold of.

Durability
Unless you live in Seattle, you only need one pair of boots. So it is best to make sure that the pair you invest in is durable and will last you through many rainy seasons (for additional rain gear you can read our guide). A few things that you can look at to determine the durability of a boot is the overall construction and materials used.
Some boots have separate panels that are sewn or fused. While this does give way for different styles, materials, and colors, it can also be an area of the shoe that weakens over time and lets in water. Boots that are made from one solid panel tend to be the most durable. Additionally, those that are made from rubber or latex are typically of higher quality and waterproofness. There are cheaper versions that are made from polyurethane. If you are looking to save money and only use the boots for one season, polyurethane is fine.
However, if you are looking for a pair that you won't need to replace for years to come, you'll want to avoid it. The weight of the boots can also tell you something about the durability. Rubber weighs more than polyurethane (or other thin, cheap materials). In the end, it depends on your preferences- how much money you'd like to spend and how long you plan to have the boots.
Expert Interviews & Opinions
Most Important Criteria
(According to our experts opinion)
Experts Opinion
Editors Opinion
Users Opinion
By Default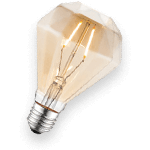 Value
Most high-quality boots can be purchased at a price the falls around $80. Work boots tend to be more expensive, which makes sense since the material that they are made from is tougher. In general, if you are paying more for a pair of boots, this is a reflection on the quality, and they are worth the price. Beware of paying too little for boots as inexpensive shoes are typically made of weak rubber that will start to break after very little wear.
Versatility
Shoes that keep your feet dry are an essential part of any wardrobe, and unsurprisingly rain shoes have a corner on this market, what is surprising though is how versatile this type of shoe is. They are on the market for every occasion and need, from going to the movies on a date to deep-sea fishing off the coast. Furthermore, this footwear isn't just for rain but can be very useful in all the elements – a good pair will keep out snow, sleet, mud, and even the waters of a river if you are trying your hand at fly fishing.
Where You Plan to Wear Them
Thinking about what types of activities you will be doing is also essential when choosing footwear with the right amount of insulation. For example, you may primarily be wearing your boots in the winter, but only to run errands around town or as a quick, slip-on option to wear before putting your ski boots on. In this is the case, an uninsulated boot will do just fine, and maybe better since it can be comfortably worn year-round. On the other hand, if you like to hunt or fish, or work outdoors during colder months, the extra warmth in your footwear for rain will save your toes on frigid days.
Fit
Some people say that you should buy rainboots a size larger than you usually wear. While this is a matter of opinion, a size up will leave plenty of room for a cozy pair of wool socks. Your boots should fit slightly snug without cutting off circulation to your feet. If you are wearing the boots for fashion, a larger boot will also leave a larger opening around your calf, making your calves look skinnier.
Other Factors to Consider

Style
For some, a stylish pair of rain shoes that will complement your outfit on a rainy day is far more important than having a rugged pair of rubber boots that can stand up to some serious wear.
There are plenty of boots for the rain that fall into this category, coming in all shapes and styles, and featuring almost any pattern imaginable (for women – men's footwear tend to favor less bright colors). If the style is your primary concern, finding a rain shoe that keeps your feet dry and looks good while doing it is easy.
What is more difficult is finding a working boot that also looks nice. They do exist, but you may have to dig a little deeper to find the right product. Moreover, if your needs are very specific, you may just have to settle for that ugly, yet comfortable and hard-working rain boot.
Frequently Asked Questions
q:

What materials are these boots made of?

a:

They are made from rubber, neoprene, or a combination of both. Rubber is a naturally occurring substance that comes from the juice of different trees and plants. Neoprene is a synthetically made alternative to rubber, that has similar texture and consistency and superior flexibility.
q:

Why is traction important in a rain boot?

a:

Traction is an essential feature of work boots and winter boots. A higher level of traction will ensure you don't have to worry about stable footing as you go about your day. At work, especially doing the types of manual labor that boots are usually used for, this is important since any extra things to think about can get in the way of efficiency. Wintertime means icy paths, so if this is when you will be wearing your rubber footwear traction is vital to avoid dangerous falls on ice, or maybe a great option would be one of the models from the ice boots list.

Work boots tend to have higher quality traction than casual ones. This is by design since less stability in footing is required when walking around town than when manning a fishing vessel. Still, traction varies shoe by shoe, and it's possible to find casual footwear that is less slippery than some work boots. If traction is crucial to you, make sure to do your research before making a purchase.
q:

Why use insulated rain boots in the winter?

a:

While there are many kinds of shoes that are designed to be worn in the cold and the snow, these boots offer certain advantages that traditional cold-weather rubber boots don't. Firstly, rain shoes are made of easy to clean natural or synthetic rubbers. They also don't have laces or any other frills where dirt might get stuck. If you work in a muddy environment all winter long, insulated footwear is a very logical choice.

The second reason to choose these type of boots for cold weather use is how easy they are to put on and take off. When there is snow on the ground, taking your shoes off immediately is crucial to keeping a clean house. They are hassle-free, slip on and off options.

Finally, cold weather waterproof boots make more sense than snow boots for people who live in more mild climates. Maybe you get a little bit of snow, but most of the time wintertime precipitation comes in the form of cold rain and sleet. An insulated pair will work perfectly for keeping your feet warm and dry in this type of environment.
q:

What are some potential problems with these boots?

a:

The primary purpose of a pair of these boots is to keep the water out and your feet dry. Anyway, that water can find its way into your boots not only defeats that purpose but can turn a pleasant walk miserable. One of the most common ways this happens is that the rubber near the two of splits.

Typically only an issue with cheaply made rubber boots, this can also occur if you repeatedly twist a stiff boot in the same direction. To ensure this doesn't happen to you, think carefully about how you plan to use your footwear, and the types of motion that these activities require.

For example, gardening requires a lot of up and down movement, so you can expect to be flexing your toes quite often. If this is what you will be doing, find a pair that has a lot of extra give to the material or check the models of the best gardening shoes. If all you will be doing is walking, you probably don't need to think about this at all.

Some rubber boots leak because of design flaws in the seams. If this happens to you, contact the retailer asap to see if you can get a refund. Another way that boots can get wet is through the top. This is more of an issue with ankle-high boots, but it can also be a problem with unusually wide boots for rain. Try to find comfortable rain footwear, yet snug against your leg to make sure water won't come in from above.

Besides the issues of non-waterproof boots, the also major problem that can be found with these types of shoes is a difficulty when putting them on or taking them off. Usually, this problem is rooted in a too-tight space around the ankle when moving your foot through the boot. Sometimes this can be solved by moving up a shoe size, but that doesn't always work and can make the shoes fit worse.

Typically, this problem is only an issue while the shoes for rain are being put on or taken off, and has no reflection on how comfortable they actually are. Therefore, for some, this issue is not actually that problematic and can be tolerated. However, easy on and off action is one of the main draws for rain boots. If the boots you like have this problem think carefully about how important slip-on shoes are to you.
q:

Can I use my boots in the snow?

a:

Yes and No. The answer to this question isn't entirely clear because there are so many factors that come into play. Are there already inches of snow on the ground? Is there snow currently falling? How slick are the roads and sidewalks? Easily put, yes, you can protect your feet from getting wet in the winter by wearing boots for rainy season or snowshoe boots.

However, the typically pure rubber construction of rain boots tends to have a large opening at the top (where snow could fall in) and aren't usually insulated. Another factor to consider is the traction. Generally, snow boots have much more intricate traction on the soles, helping to keep you from slipping or falling on slippery snow. If the snow is packed down, these boots will not offer enough traction.

If the snow is starting fall and you need to run an errand, sure, you can throw on a thick and warm pair of socks and head out. However, when the conditions start to worsen, it may be time to invest in snowshoes.
Subscribe to our Newsletter