Best Fishing Boots Reviewed & Tested
In a Hurry? Editors choice: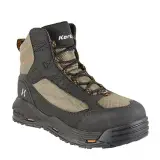 Test Winner: Korkers Greenback

When you think of fishing, you may think of a relaxing
boat
ride, a few beers, and a nice
sunny
day. However, this isn't always the case. Sometimes fishing involves standing in the mud, walking through ankle-deep water, and not having a rod holder for when your arms get tired. For this type of fishing, you will need to appropriate
gear
, starting with your shoes. Fishing boots are the
best accessory
to keep you comfortable, dry, and less smelly in these situations.
Standout Picks
Criteria Used for Evaluation
Top 10 Picks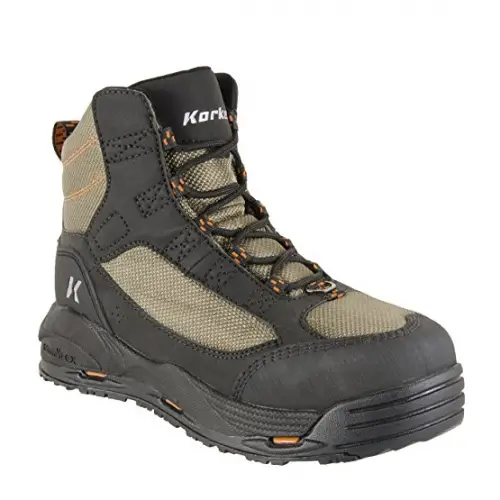 This all in one pair of boots come with strap on soles. This means you can have these shoes whichever way you like. If you feel like fishing in flatwater, you can wear it without the sole. If you are feeling more adventurous and want to fish in rocky or muddy waters, and want to venture further into the unknown areas where you do not know what little creatures await you, you can put the soles on the shoe and set out on your adventure.
Read more
The strap on soles provide you with arrays of options. This shoe may as well be used as a regular pair of boots. All you have to do is take the sole off.
The water flows through internal channels of the shoe and then flows out of the midsole. This means that the shoe does not store water for too long, and you will not be weighed down by the weight of the extra water stuck in your shoe sole. This will allow you to move quickly, and get on with your fishing expedition. The material used to make this pair is hydrophobic, which means that it dries off very fast. This will not only provide you with comfort, but also decrease the chances for the spread of invasive organisms and species that resides in the waters.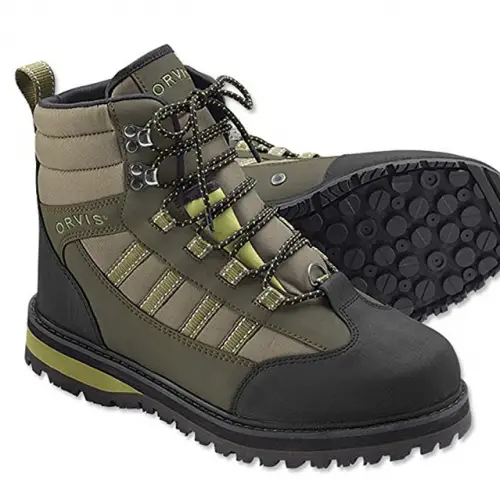 The Orvis Encounter Wading boots is the right choice for you if you are someone who is to fish in rocky waters and muddy uneven surfaces. The specially designed sole of this pair of shoes contain various spikes which help you get an amazing grip on the ground. Also, if you are to be walking in muddy areas, this sole will help you to navigate through that without being stuck to the ground. These shoes include toe protection, therefore your toes will be safe from various impacts and accidental bumps. This means you can run, jump and walk long distances without having to fear any toe ache.
Read more
Also, this shoe is suitable for long wear. The shoe has padded collars so that your ankles get support and you can adjust the fitting of the shoes according to your own comfort. The upper portion of the shoe is made of synthetic material. This means that it will dry off easily, and is comfortable to wear for long durations. The synthetic material makes it easy to clean the shoes, so that they remain looking good while still being purposeful.



The Hodgman Neoprene Wade Shoes are the perfect combination of comfort and purposefulness. These shoes are lightweight and comfortable to wear on warm weather as well as cooler weathers. Also, these shoes have specially designed soles which help you walk on flat surfaces as well as uneven surfaces. Another great aspect of this pair of shoes is that they are suitable for long time wear.
Read more
These shoes are suitable for fishing in either flatwater or uneven grounds. Also, the shoes have zippers on the upper front area, as well as durable cuff adjustments around upper heel. You can decide how tight you want the shoes to be. These boots provide amazing traction, helping you to remain standing on your toes even in unfavorable ground conditions. They help keep you feet dry and warm, and ensures that you have an enjoyable fishing experience.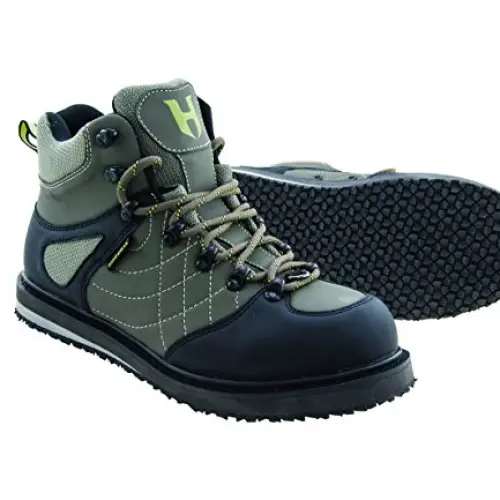 The Hodgman H3 Wading Boots are your first choice boots when it comes to fishing. These boots are specially comfortable yet highly durable. The specially designed sole of these boots provide just the right level of traction and help you to achieve a greater grip on the ground. Unlike most traction boots, the soles of this pair of boots are not studded. Therefore, you can easily wear this pair on flat surface as well as on rocky and uneven surface.
Read more
Fit for all sorts of ground, and all sorts of fishing expeditions, this model of boots also contain mesh drainage ports on side panels which ensure that your boots get dry as fast as possible. The midsole of the boot is made of EVA material, which absorbs lightweight shocks.
Also, this boots have a padded collar and tongue which provide further support and ease of use. The outer construction of the boots is made of abrasion resistant material. Therefore, your boots will last you ages and resist all weather conditions and surfaces.

5

. Compass 360 Port O'Connor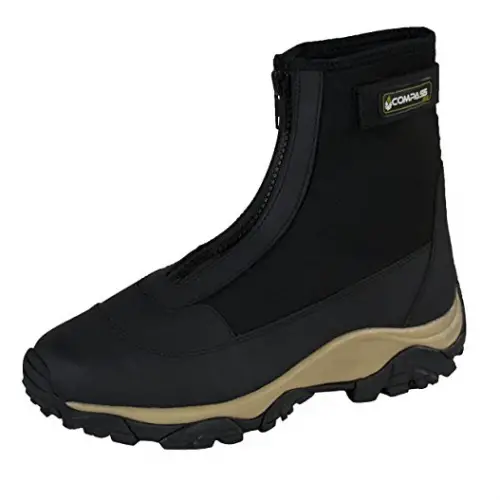 Best for fly fishing, this pair of wading boots provide ease of movement and comfort in doing so. This pair have specially designed soles which help you to get a greater grip overs surface. It is specially suitable for flat grounds and somewhat uneven grounds. However, it might not be the most suitable choice for rocky grounds.
Also, unlike most wading boots, the 360 Port O'Connor does not have shoelaces. Rather, it uses a heavy duty zipper. You do not have to spend any time trying to detangle your shoelace and tieing it up. The boots have neoprene lining, this means that they dry up easily and are easy to wash compared to other materials. The upper material of the boots is made of various materials : PVC, neoprene and Polyester.
Read more
This is a pair you can run or jump in. It is particularly appropriate for fishing as it provides you ease of movement.
The smart design of the boots make it lightweight and easy to wear. Unlike most boots, thse are extremely lightweight and will not weigh you down and slow your speed.
The sole is made of rubber, thus it can easily absorb more shock and cause less hurt to your feet. However, rubber soles also mean that the sole is going to wear away faster than other materials.

6

. Frogg Toggs Hellbender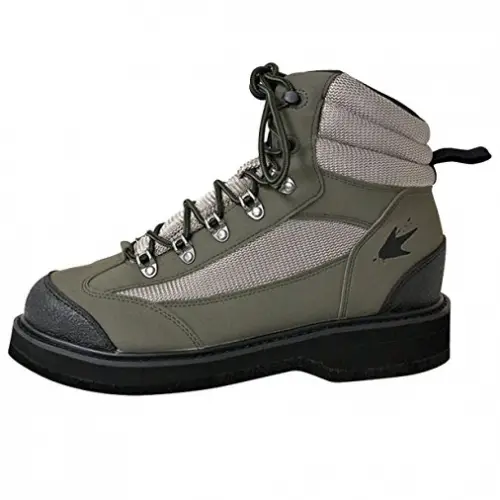 This heavy duty wading boot pair is simple and abundantly purposeful in the way it has been designed. First of all, the material the shoe is made of is highly durable. It has high quality mesh and PVC outer skin which prevents it from wearing off easily, and provides it a long life. In addition, this pair has a speed lacing system. It saves you the hassle of having to needle your shoelace through numerous shoelace whole. Also, the shoelace itself is of superior quality and is not likely to wear off easily from rough usage.
Read more
The outsole of the shoe is replaceable. Thus you can use the same pair of boots for years on by only having to pay for an extra pair of soles. The padded ankle collar of the boot is there to provide you with better support and greater fitting. There is also a nylon heel pull, so that you can wear your pair of boots with ease and comfort.
Suitable for various ground conditions and various water flow, these boots help you get an enjoyable fishing experience.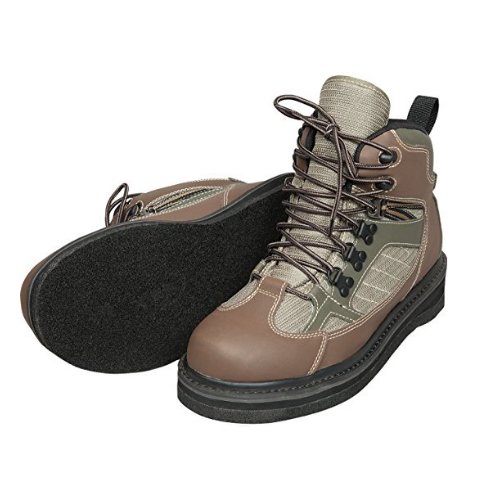 This simple pair of wading boots fulfill all the necessary requirements you might have from a fishing boot. It is suitable to use for long wear. However, the flat sole of the boots make them unsuitable for rocky and uneven grounds. The sole of the boots have a rough surface, therefore it might provide good grip over mossy or muddy surfaces.
Also, the boots are designed for comfort. They have a padded ankle and tongue for the comfort of its wearer. The midsoles of the boots are made of EVA material, thus they are able to absorb shock. This means that if you suddenly step on a hard piece of rock, the shock from that will be absorbed by the midsole of the shoe and its impact will not hurt you as severely as had you been wearing regular boots.
Read more
The upper part of the shoe is made with mesh and synthetic material. This not only facilitates quicky drainage of liquid, but it also helps your wet boots to dry off faster. This means that the weight of water is not likely to speed you down when you are wearing this pair of boots.
To add more to the convenience, this pair also has a speed lacing system. You will have minimum fuss with tying your shoelaces.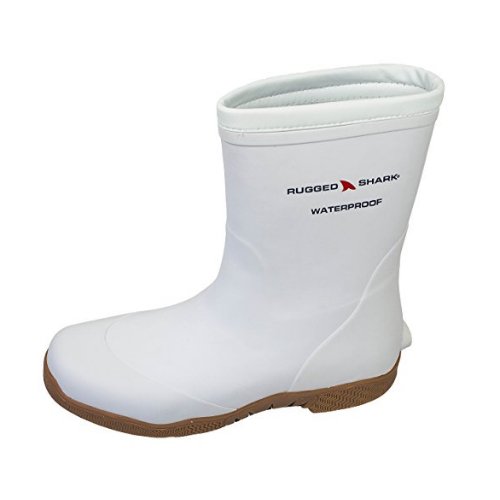 Fishing can be done either from the ground or from the deck. Specially keeping that flexibility in mind, the Rugged Shark Premium Fishing Deck Boot was designed. It can be worn on both deck as well as the shore. However, this boot is not suitable for mossy, muddy or rocky grounds.
Read more
The sole of the shoe is made of rubber to provide its user comfort and flexibility. It is suitable for heavy duty and long wear, but only on smooth or even grounds. Also, heavy walking on these boots might cause them to wear off easily since their sole is made of rubber. The boots have a removable cushioned water friendly footbed, therefore your
foot will have great comfort.
The rubber sole is specially designed and is slip resistant. Also, the simple yet elegant exterior design of these boots make them appear stylish, while they are still highly purposeful. However, these boots are slightly on the heavier side, therefore they might slow you down a little. If you are someone who is used to wearing heavy shoes, that might not be of great inconvenience to you.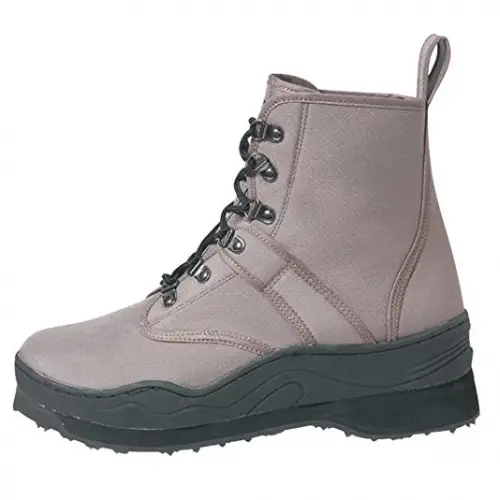 This pair of wading shoes is all about providing comfortable support. It has cushioned sole, which makes walking in these shoes extremely comfortable and convenient. Therefore, this pair of shoes is perfect for long time usage. If your fishing expedition is keeping you on your feel for a very long time, you know which shoes will keep your standing on your toes without hurting your feet.
Read more
Also, the shoe has reinforced toe and heel. This ensures that your feet never hurt. The sole is designed to provide traction and allow you to walk in various kinds of surfaces. The ground be mossy, muddy or rocky, you can always keep standing on your feet with these shoes on without the fear of slipping down. The shoes are made of high quality and durable polyester material.
The speed laces in the shoes make it easy to wear the and take them off. This not only provides convenience, but also saves time.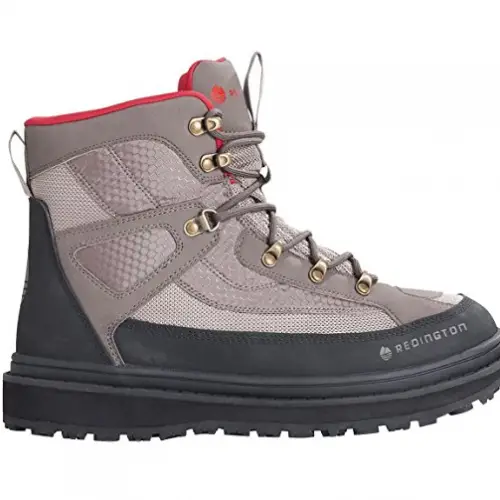 These boots are specifically built to provide comfort, support and durability to its users. The studded sole of the boots provide ease of walking in rocky or uneven grounds. Also, it helps to navigate around muddy surface. The mesh panels on the shoe help quicken the pace of drainage and helps the shoe to get dry very fast. It is comfortable to wear for long hours, and has webbing pull loops which makes wearing the shoes extremely easy and convenient.
Read more
Also, the shoe has padded collars which provide ankle support, and the rubber toe cap provides greater resistance to scraping. These wading boots may not only be used for fishing, but can be used on many other occasions as well. Be it hiking or walking in the woods, this pair of boots is multifunctional and supreme in quality.