The Best Fishing Waders
last updated:
May 06, 2021
When looking to do some fly fishing or perhaps some river fishing, a necessary accessory every fisherman needs is a pair of fish waders. This important piece of clothing not only keeps you dry, while waiting for that big fish to take the bait but also allows you to access some areas in the river you could not without waders. On top of that, keeping your feet immersed in water is not great for your feet or the skin, as it can cause some damage that you do not want while fishing the rivers. So, you need to consider a level of protection from the cold water whether the weather outside is warm or cold. Check out our list of the best waders available on the market today and get out on the water safely and comfortably.
This is the best product on our list that is currently in stock: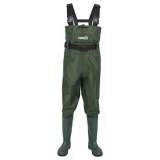 TideWe Bootfoot Chest Wader
Why is it better?
Lightweight
100% waterproof
All-purpose designed to keep you dry and warm
In a
Hurry? Editors choice: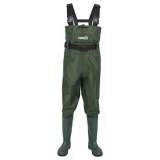 Test Winner: TideWe Bootfoot Chest Wader

15
Researched Sources
2.3k
Reviews Considered
15
Hours Researching
19
Products Evaluated
Features
Style
Materials
Weather Resistance
By Default
Criteria Used for Evaluation


Features
Look for fishing waders with these features:
-Lightweight
-Sturdy boots
-Comfortable for sitting in the boat
-Easy to walk in
-100% waterproof
-Stockingfoot system
-Sock made of neoprene in cold weather
-Goretex material for hot weather
-Boots with slip resistant sole
-Compatible with a wader belt
-Comfortable straps


Style
Booted vs Stocking Feet
Boot waders have the boot attached to the wader. It sounds like the best option, no need for extra boots, just jump into the waders and wade into the pond. However, it is not really as great as that. The boot that is welded to the waders is really a rubber boot, one, for example, you might use in the garden, which is great at being waterproof but not the most comfortable of footwear. Also, they are not great if you are wading on rocky and uneven ground as the boot is not as securely attached to your foot as a standard boot, meaning you may loose your footing. Also, waders are sized for your leg length, the boot is not sized, if you have big or small feet you may find that for waders that fit your legs, the boot is too big or too small.
Stocking feet waders have a, usually, neoprene sock welded to the end of the wader for your foot. With these waders, you need to wear a boot over the wader sock. It is best to have boots that are designed to be worn in water for a long time. These types of boots are similar in design to good walking boots, the only difference being the fact they are designed to be submerged in water. This means that they offer good ankle protection and a better grip on rocky surfaces. Stocking feet waders give you more versatility, you are not limited to only one type of boot, you can change boots depending on the type of swim, the boots will be a better fit, and if the weather is hot, you can just skip the waders and just wade out in your shorts and boots. Also, you can put stocking feet waders in your washing machine, booted waders just destroy your washer. We prefer stocking feet waders for these reasons.
Hip Waders vs Chest Waders
Hip and chest waders refer to the height of the wader, either to hip level or chest level. Both will keep you dry, but with the hip level you have to be aware of the water level and if there are waves. You don't want water rising above the top of the waders as you stand the chance of your waders filling with water which will make you unbalanced and movement difficult. I prefer chest waders, not because you can wade deeper, that is not the reason and you should not wade deeper than thigh height anyway, as there is no need to, just cast to the deeper water. But chest waders just offer you that extra height of wader so that if there is a wave or you stumble a bit the chance of water getting over the top of the wader and into the wader is less. Also, most chest waders have a handy pocket to store stuff in on your chest.


Materials
This depends on when you will be using them. If you only ever fish in cold water, cold climates, or winter fishing, then non-breathable waders are probably best. If you are a spring, summer, or find you will be fishing in warmer climates, then breathable. But what is the difference, you ask?
Neoprene vs. breathable
Neoprene is the same type of material used in wetsuits. It is semi-breathable and semi-permeable. What that means is that you kind of get wet from sweat when you wear them (hence the name WETsuit). That sweat forms a layer that gets heated by your body temperature thereby keeping you warm. You actually feel dry in them and they do a great job at keeping you warm. What you gain in warmth, you lose in maneuverability though. This means they are not the best waders if you will find yourself walking far distances up or downstream. But they do come in varying thicknesses and if you find you will need more maneuverability, the thinner weight will be the ones you want to look into.
These are very durable waders and are easy to patch if they get punctured. Though, it is very difficult to puncture them. For fishing in cold waters, they are ideal. They can make you overheat if the water temperature is not that cold, however. Breathable material like Gore-Tex is lightweight and allow for greater mobility, they allow the vapor created in the waders to escape, while still preventing water from entering. They also keep you dry and comfortable and are ideal for warmer waters. If the water is cold but not too frigid, with the proper layering underneath, you could still use breathable waders rather than neoprene. Having that kind of mobility makes it a great option if you need to walk from spot to spot and don't want to take your waders on and off when moving around.
Non-breathable fabrics
Non- breathable fishing waders made out of materials such as neoprene, PVC, nylon, and even rubber are 100% waterproof and are designed to keep you warm. They are great for cold waters and cold climates, but beware that if you are wearing non-breathable waders in spring, you will feel great whilst in the water but as soon as you leave and walk to the shore your will start to sweat and feel the heat. Non-breathable waders are generally less expensive than breathable and more durable, but not as easy and comfortable to walk in.
Neoprene waders are great for very cold waters and active anglers, it is a synthetic rubber, usually, 5mm thick, and are waterproof. Neoprene fishing waders also have the advantage of being very durable and rarely rips or tears, but if it does, is actually very easy to repair. PVC and Nylon fishing waders are often more affordable than neoprene and lighter, but not as suitable for very cold waters, although you can always wear thermal pants under these waders.
Breathable Materials
Breathable waders are in general more versatile and comfortable, and many fly fishermen swear by them in all seasons. For many reasons, the fabric on breathable fishing waders is generally thinner than non-breathable fishing waders, which means you can wear them as you walk from your car to the fishing site, which sometimes is not as close as you would like. There are several different manufacturers of breathable but waterproof fabrics; Gore-Tex, N2No, Vapour-Tec to name a few, they all work on very similar principles.
Gore-Tex is the oldest and possibly the world leader in breathable waterproof fabrics, which makes gore-tex fishing waders a great option if you are leaning towards a more breathable option. All breathable and waterproof fabric works great for fishing waders because they prevent and repel water from entering your fishing waders, but at the same time allow perspiration vapor to escape allowing for the body to maintain a good temperature via the evaporation of sweat. To do this, the fabric is coated or laminated. The coating is liquid chemical solutions which have been applied to the inside of the fabric. Laminates are another material, it is a waterproof and breathable membrane that is applied to the fabric wall. Similar to covering your kid's school books with sticky back plastic or a cellphone screen protector. The laminates are either a stretched PTFE (polytetrafluoroethylene), or Teflon to use DuPont the paint and chemicals companies brand name, PU (polyurethane) film or Polyester film.
PTFE Membranes
Gore-Tex fishing waders use a PTFE membrane laminate. If you were to look at this PTFE membrane under a very high powered microscope, you would see millions of holes. Now wait a minute, why would we want to use a material that is a membrane that is literally full of holes and how does that allow them to be waterproof? Well, it works because the holes in the membrane are too small to let liquid water molecules through, but large enough to let water vapor molecules out. This means that the only way in which liquid water can penetrate through a PTFE membrane is either the PTFE becomes contaminated or damaged in some way, or the water is pushed at high pressure onto the membrane, in excess of 13psi. The current of even fast rapids is nowhere near this level of pressure so gore-tex waders will be your best defense against water getting into your waders.


Weather Resistance
If you are fishing for salmon in Canada, for instance, and the air temperature won't go up past 40 degrees and the water temp is a hair above freezing. Thick neoprene waders are ideal. Especially if you are standing in one spot for a while and don't need much mobility. Say you are fishing where the air temperature is warm and the water is cold but not freezing. A pair of Gore-Tex waders with a layer of insulated long underwear underneath would do the job nicely. So do the research and figure out where you will be spending most of your time, then once you figure that out, you will know which fishing waders to start looking into.
Expert Interviews & Opinions
Most Important Criteria
(According to our experts opinion)
Experts Opinion
Editors Opinion
Users Opinion
By Default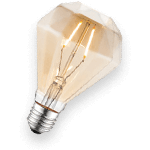 Safety is Key
There is really no need to wade any deeper than thigh deep. Thigh deep is deep enough for most fish and wading deeper you will, in fact, be scaring more fish away. Wade to a spot where you can cast to the water deeper than thigh deep. If you can stay in the shallows and cast to the deeper water do so, for one its safer, and two you will not be scaring away the fish you are trying to catch.
Frequently Asked Questions
q:

Is neoprene the better material to purchase for fishing waders?

a:

Neoprene isn't necessarily the best material, but it's a popular one and it is quite durable. The main reason you find it present in fishing waders is that it is the same type of material you'd find in wetsuits. You get a semi-permeable membrane with neoprene, so you do get decent breathability. One of the main reasons why this material is so popular is because it is easy to patch if it gets a hole in it, so neoprene has the ability to be fixed and reused, and you won't have to get rid of your fishing waders.
q:

How might weather and climate affect my choice?

a:

Depending on when you plan on doing your fishing and where you'll be dealing with various types of climates. Some of the selections on our list come with insulation, and if you tend to fish often where the weather is very warm, that wouldn't be an ideal selection for you. So, make sure that if you are in hot weather often, you purchase something breathable and without insulation. If you plan on fishing often when the weather is colder, then consider getting something with insulation.
q:

Should I get felt soled boots so I don't slip?

a:

If you never plan to wear your waders in fresh water then, sure. But many states are making it illegal to wear felt soled boots in fresh water since they transmit invasive species from one waterway to another. It's my opinion that you should stay away from felt soles entirely.
q:

What if my waders start to leak?

a:

There are patches available that are easy to put on neoprene waders.  That's if they get punctured. If a seam fails, you need to send them back to the manufacturer to be replaced or repaired. If you are under warranty you are covered. If not you might need to buy new ones. Perfect time to upgrade to those other waders you have been wanting!
q:

How can I pick the right size wader?

a:

The general rule of thumb is to buy waders that are 2 inches longer than your actual inseam. Check for the dimensions before you buy. Sometimes Large, XXL or whatever don't tell you much about if they will fit or not.  Don't go too big, however as you don't want them to be too baggy.
q:

Should I get waders with boots?

a:

That's really a matter of personal preference. If you already have a good pair of waterproof boots, then you won't need to worry about the bottom area of your waders and can probably save some money. And if you prefer boots, then you won't need waders with boots. It's really up to you if you need the whole package.