Best Kayak Fishing Accessories
In a
Hurry? Editors choice: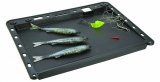 Test Winner: Scotty Bait Board and Accessory Tray

Fishing from a
kayak
can be one of the most relaxing activities you can do this summer, as there is nothing like paddling downstream and casting into the river while listening to the sweet sounds of nature around you. Now, if you are planning on going kayaking
fishing
this summer and are just getting into the sport, you are probably trying to get your gear together so you have everything you need when it is time to hit the
lake
. As you probably know, when it comes to fishing there is quite a bit of gear that you can get, all is not necessary but many pieces of gear on the market will make your fishing experience more enjoyable and give you the edge when it comes to catching fish.
Standout Picks
Criteria Used for Evaluation
Durability
When engaging in any type of outdoor activity, accessories and gear must be durable first and foremost. Nature's elements are constantly changing and are unpredictable. Outdoorsmen need to hope for the best conditions but prepare for almost any. When making an investment in gear it's important to seek out high-quality products that are proven to hold up in harsh environments, rugged conditions and a good deal of transport. Is it made of reliable and well-made materials? Is it a marine or military grade? Is it galvanized or stainless steel? Is it thick and abrasion-resistant? Make sure your accessory choices are built to last so that your energy is spent reeling in a keeper, and not on faulty equipment.
Another way to ensure that you are getting a quality piece of gear that you will be adding to your kayak fishing gear is to check the customer reviews. If you check the customer reviews of a product, you will be able to get real first-hand accounts of how the product performed in the field and if it is worth your time and money. When it comes to ensuring you are getting a great product, the customer reviews are where you want to start.
Size
Using a kayak for fishing is an excellent choice for accessibility, cost and simply transport. Space, however, is limited and therefore kayak fishermen must consider the size and weight of all extras on board. The goal of accessories is to create ease and increase productivity. Consider the added experience value and productivity before loading a kayak with add-ons. Adding an item that is more than a few pounds may become a weighty hazard and chore to transport. Also, consider the width and length of your particular kayak and the width and length of the item you're considering. Choose carefully as your space is limited.
Ease of Use
One great thing about kayak fishing is its simplicity. You want your gear to follow suit. Do you need it to be adjustable and is it so? Do you have all the tools and parts that are required for install? Does it require a great deal of set-up with each use? Is it simple to uninstall or store when not in use? Well-made accessories will include thorough, easy-to-follow set-up instructions, excellent customer service, and useful add-ons.
This factor is important as when you are out on the lake, you have limited room in your kayak and do not want to fuss around with your gear which could cause an accident. Rather, you want a piece of gear that will do the job it is meant to do easily and efficiently with little effort.
Weather Resistance
It goes without saying that a kayak fisherman and his gear will spend much time near or on the water. Fishing accessories are often made of water resistant material or coating to ensure a long-lasting product. Furthermore, storage containers are typically equipped to keep water OUT for extended in water is durable and what should be out of water remains precisely so. This is important as you do not want to invest a good amount of money in your gear and it is not waterproof. When you are on a body of water it is safe to have as much as your gear as possible to be waterproof as you never know if an accident or overboard situation may occur and it is better to be prepared than not.
Top Ten Kayak Fishing Accessories