Best Outdoor Pizza Ovens
In a Hurry? Editors choice: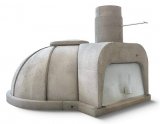 Test Winner: Cuore Ovens

I think everyone has had the urge to get some dough and throw it in the
air
and make their very own homemade pizza, as they are sick of the same old delivery pizza taste. Most use their
home
oven to create their delicious creation but it does not give you that authentic pizza taste. Now, what if you could enjoy the beauties of your backyard while making some delicious pizzas. That is where an outdoor pizza oven comes in, and not only looks beautiful in your backyard but also will allow you to create a beautiful array of pizzas for you and your
family
.
Standout Picks
Criteria Used for Evaluation
Durability
Anytime you are thinking about throwing hundreds of dollars at a particular product, you are going to want to take the build quality into mind. But, this is significantly enhanced with products that are designed to be outdoors as they need to withstand the harsh elements that persist outdoors. As such, it only seems right to start this off by addressing the overall build and durability of outdoor pizza ovens. It became a common theme very quickly with the top models on this list as most of them are made of stainless steel. This is not a sheer coincidence; let's just say that right now.
Stainless steel is a very strong metal with enhanced fire-resistance that not only looks good but is easy to clean. But, the gauge of the steel also comes into play. It seems backward but the more the gauge increases, the lower the thickness. Clearly, you do not want flimsy metal so be wary of that. Although there are other great materials out there for pizza ovens, such as cast iron, stainless steel may be the best.
Breathability
Though this section did not get addressed first, it may be the most critically important. While it is important for an oven to be able to generate heat, it is even more essential that it can retain the heat it manifests. This is accomplished with a specific lining that adds necessary insulation. That is the key to this equation, the insulation. For top-end models, you will see them lined with ceramic bricks and then insulated with steel after that. Oftentimes, as well, the steel will be double-walled to enhance the insulation even further. In addition to this, the floor needs to be designed in a way to literally bounce the heat back up. This is typically accomplished with a refraction system and this evenly distributes the heat for superior efficiency.
It may not seem like a big deal at first but when you consider how many times you will open the oven door, it quickly begins to sink in how important the insulation is. If you lose upward of 100 degrees each time you open the door, your end results may not be as good as they could have been.
Size
There is a major question you need to answer before you move forward in the buying process. Are you looking for a pizza oven that can make dinner for an army or are you simply looking to feed your small family? The reason this is such a critical question to answer is it will determine if you are looking for a portable model or not. It is not rocket science as the larger the internal area of an oven, the more difficult it will be to transport. Provided that some can reach beyond 500 pounds, some will simply be designed to stay at home.
But, if you are worried about quantity, this can work out perfectly as you can shoot for a larger backing chamber and a larger pizza stone. If you want to make multiple 16-inch pizzas, a small and portable option may not suffice for you. Then again, having the luxury of taking the oven with you on weekend trips could be worth it for you.
Materials
For a lot of you, this next section is going to be a deal breaker. In regard to what outdoor pizza ovens burn to create heat, some people will settle for nothing less than wood-burning models. Given the fact that many of the top models on this list burn wood, it is arguably the way to go. Besides their ability to reach searing temperatures oftentimes creeping past 900 degrees, you can have a direct implication on the flavor of your pizza. See, depending on the type of wood you burn, it can emit a different aroma and create a brand-new flavor.
For the most part, hardwoods (such as cherry and maple) will be better as they are heavier than softwoods and can burn much longer at higher temperatures. Then again, softwoods will emit less smoke so keep that in mind. But, not all outdoor ovens will burn via wood. Some will utilize standard propane as their main power source. While you can never use these inside, they are capable of reaching blaring temperatures but you will not receive the flavor advantages of wood.
Top 10 Picks
1

. ilFornino Professional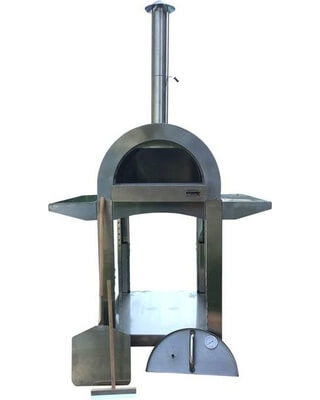 The ilFornino Professional Plus is simply in a class all its own and it is actually an upgrade over the original Professional model. Headlining this amazing machine is its high-density insulation.
Read more
Build Quality
The Professional Plus is built with 430 stainless steel and features an improved gauge. As compared to the original, this manages to be even more durable.
Heat Retention
As compared to the traditional pizza oven, this advanced model will keep your oven five times more insulated with its high-density insulation that is layered between double-walled steel.
Power Source
Instead of burning gas, this is a wood oven which is designed to burn just that, wood. Plus, as it is economical, it will require less wood to burn.
Size and Portability
Let's just say that this is a home-based model that will most likely never be moved from location to location. The 1007-square inch cooking surface should be proof enough of that.
Performance
The 1.5-inch thick refractory pizza stone flooring used in this oven is the same used in commercial models. Plus, it can cook your pizzas in less than 70 seconds.
Overall
Top to bottom, it just does not get superior to this. From the unbelievable insulation to the rugged construction and even the massive cooking area, this is the best in the business.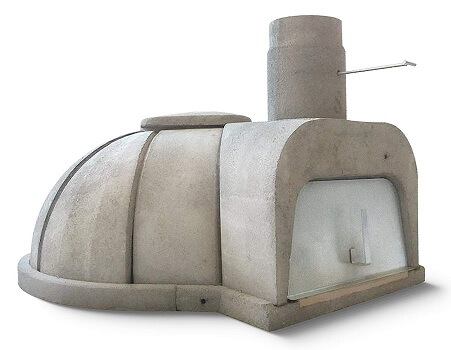 Speaking of massive, how about this next model from Cuore Ovens? Weighing in at nearly a massive 700 pounds, it is safe to say this will not become a companion on your weekend trips.
Read more
Build Quality
All in all, this consists of seven refractory prefabricated sections and is massive in size. Due to its insane construction and size, there should be very little to worry about in regard to the build quality.
Heat Retention
Thanks to the thermal insulation blanket and the interior design, the heat is allowed to permeate through the oven and stay inside for maximum heat efficiency.
Power Source
As with the last model, this utilizes one of the best ways to cook, wood. This type of power source will deliver a richness and aroma that can't be replicated.
Size and Portability
Okay, so you already understand that this is not portable in any sense of the word. However, on the contrary, the 36.2-inch interior diameter gives you a ton of space to work with.
Performance
While this does take a while, oftentimes past an hour, to preheat it will reach searing temperatures of up to 700 degrees. Indeed, the wait will be worth it.
Overall
Let's just say that this entry is not for everyone. Due to its massive weight and slow startup, it may not be what you are looking for. Then again, its performance is phenomenal.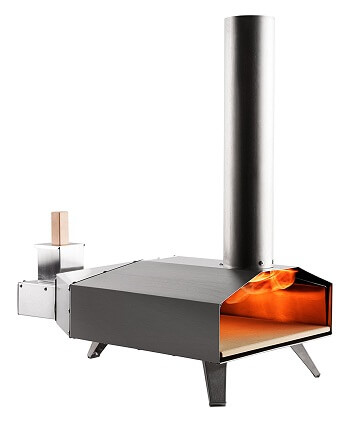 Alright, so perhaps you are more so looking for a portable unit. Well, if so, you need to take a look at the Uuni 3. But, despite its portability, it still packs a powerful punch with a max heat rating of 932 degrees.
Read more
Build Quality
As this is made with gorgeous 430 brushed stainless steel, it will weather and age over time while retaining its quality.
Heat Retention
All you need to know about the interior of the Uuni 3 is that it is heavily insulated to maintain maximum heat efficiency. Given it can reach blaring temperatures up to 932 degrees, heat is not an issue.
Power Source
There are no additives or hidden extras needed as this unit is powered by wood pellets. These are very similar to real wood except for the fact that they are compressed.
Size and Portability
The maximum pizza size you can cook in this oven is 13 inches. But, the new chimney clip allows this unit to easily be packed up and moved to another location.
Performance
In a mere 60 seconds, with a scorching temperature of over 900 degrees, this can cook crisp and delicious pizzas. Oh yeah, and the wood pellet burner enables superior temperature control.
Overall
Once you are able to get accustomed to this unit, which admittedly takes time, you can begin to enjoy rich and flavorful dinners. Even if you do not want to make pizza, it works great for other foods.

4

. Deeco Consumer Products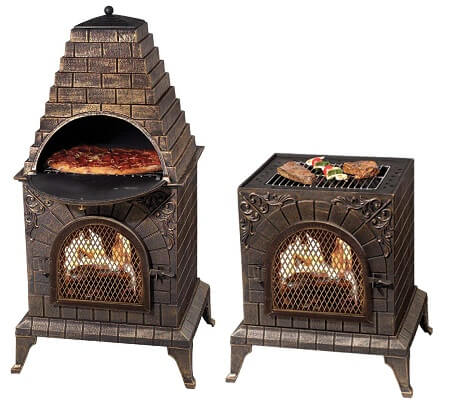 For the most part, most of the models so far have been made primarily of steel. Yet, Deeco takes a different approach with their DM-0039 and decided to comprise it mostly of cast iron.
Read more
Build Quality
Even though the grate is made of stainless steel, the main body is comprised of the aforementioned cast iron. But, be aware, the attached door is a bit flimsy.
Heat Retention
On top of the cast iron, Deeco integrated fiberglass lining in the interior of the pizza oven. This is to better lock up the heat and keep it from releasing.
Power Source
Below the oven, itself, is a separate compartment and it holds the primary power source, the wood.
Size and Portability
The interior of the DM-0339 is capable of cooking pizzas 14 inches in diameter. As for the portability of the unit, let's just say it will be much easier to keep it in a static location.
Performance
In addition to the radiant heat that is created, there is also a ton of direct heat as well. All this adds up to is pizzas that are perfectly crisp and bursting with flavor.
Overall
If nothing else, the aesthetics of cast iron may appeal some of you to this model. Some slight flaws aside, it is a masterful design that will add both functionality and style to your yard.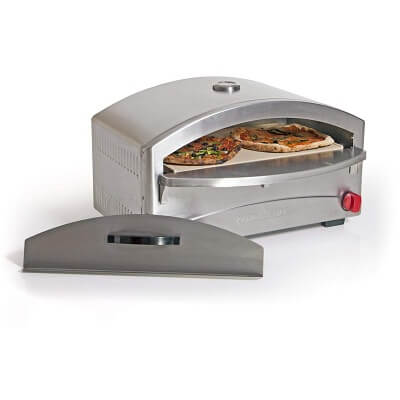 Now, we reach one of the most portable models on this entire list. Again, as with others, do not presume that this signifies a poor design as the double-layered ceiling adds necessary insulation.
Read more
Build Quality
As you can see from the photos, the main material utilized in this oven is stainless steel. Past its durability and aesthetics, this also makes the exterior fairly easy to clean.
Heat Retention
Indeed, the ceiling and entire interior of this unit are double-walled. What this does is enhance the heating dynamics as it never allows the heat to escape.
Power Source
Instead of wood, this unit actually runs off of standard propane. But, if you want to use a bulk propane tank, you will need to use the included hose adapter.
Size and Portability
It is not as if this is tiny and light, but it is also not too bulky to not be considered portable. For the record, it weighs 47 pounds and has a shelf dimension of five inches by 23 inches.
Performance
At its peak, this oven can reach temperature upwards of 700 degrees. But, it is only 17,000 BTU, so be wary of that. Finally, though, the micro-adjust valves provide you with full heat control.
Overall
In spite of the fact that this is not a flawless design, there is enough going for it to easily warrant an investment. If you do not believe us, try it out for yourself.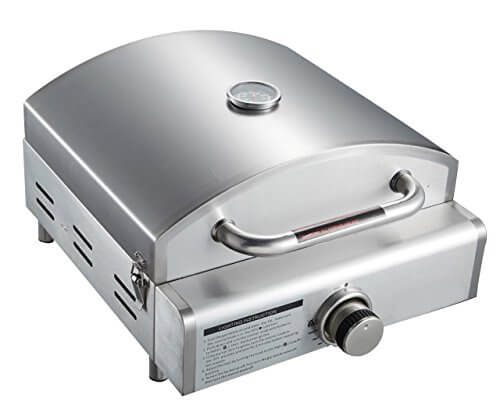 With the design of their 3-in-1 model, it was clear that Mont Alpi was shooting for portability. In doing so, though, the build quality was sacrificed a bit but it is not enough to ruin the product.
Read more
Build Quality
The reality is that even though this is made of stainless steel, the emphasis was more on portability than durability. While still not a piece of junk, it could certainly be heftier.
Heat Retention
Even though the build quality is lacking a bit, this oven will burn extremely hot and hold that temperature with great efficiency.
Power Source
When you turn the gas on, with this running off of liquid propane, all you need to do is push the striker to start it. It works in the same manner as many gas grills.
Size and Portability
Though very portable, the 13-inch by 13.5-inch cooking area is still ideal for making decent-sized pies. But, at 26 pounds, one of its best qualities is its portability.
Performance
On the positive end of the spectrum, this can preheat to 540 degrees in just five minutes. However, with just a 12,000 BTU output, it will struggle to compete with other ovens.
Overall
Pizza is not just a great meal at your home and it is one of those special meals that is great no matter where you are. Thus, it is nice to have such a portable unit like this one.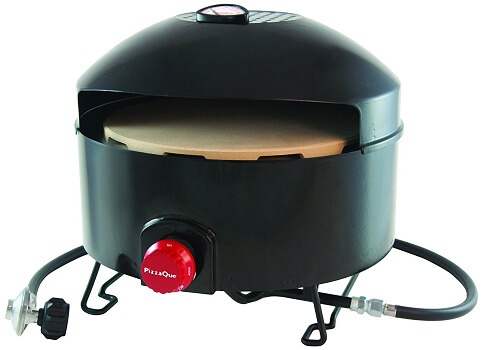 Without a doubt, the PizzaQue is one of the most popular outdoor pizza ovens in the world. This is primarily due to its excellent combination of quality and portability.
Read more
Build Quality
With a body that is made of steel, you know you are getting a high-quality unit. However, the addition of a heat-resistant handle would have been nice as it can be difficult to open.
Heat Retention
When the PizzaQue is kicking out the heat, the interior insulation does a superb job of retaining most of it.
Power Source
This is another model that is propane-fueled. Also, there is an adapter that comes with your purchase that can be used for 20-pound propane tanks.
Size and Portability
The pizza stone itself measures 14 inches which means you can make 13-inch pizzas. All in all, through and through, the PizzaQue remains popular due to its sensational portability.
Performance
In around six minutes, this is able to produce high-quality results. As far as preheating goes, it should be heated up and ready to go in as few as 15 minutes.
Overall
Even though this is a fantastic model, it is limited in some respects. For example, it lacks a handle and can be too confined. Still, it works as an ideal companion for travel.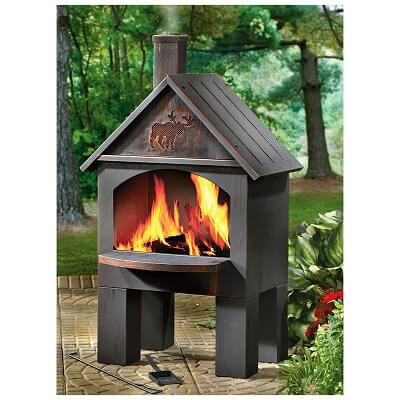 The Cooking Chiminea simply sports an unbeatable outdoorsman appeal that certain buyers will eat up. Plus, it is highly versatile and can be powered one of three ways.
Read more
Build Quality
Despite the high-temperature painted finish on the steel, consumers around the globe have claimed this does feel cheaply built. It could be due to the 0.8-millimiter gauge steel.
Heat Retention
It really does not matter what you intend on cooking in this unit as its long-lasting heat retention, in conjunction with its aforementioned steel construction, will keep the heat inside.
Power Source
Whether you prefer real wood, artificial wood, or even charcoal, this accepts all three types of "fuel".
Size and Portability
The interior dimensions of this model are 15 inches by 21 inches by 17.25 inches and it clocks in at 28.5 pounds.
Performance
Even as a simple heating source, this works well. But, it can also cook your favorite foods such as pizza, baked potatoes, fish, chicken, ribs, and vegetables.
Overall
The appeal and versatility sell the Cooking Chiminea but the overall construction makes consumers wonder if it is really worth it. As it is on this list, though, you should know the answer to that.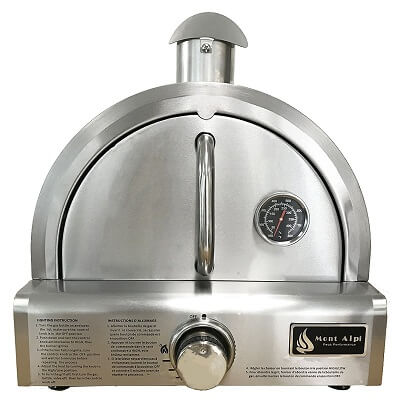 Mont Alpi makes their second appearance on this list and their MAPZ-SS rounds off a very strong list of outdoor pizza ovens.
Read more
Build Quality
The main material that makes up this model is stainless steel. On top of looking the part, it can also take a bit of abuse, as well.
Heat Retention
Let's just say that you need to be careful about limiting the time you leave the door open. Due to the lack of superb insulation, you will lose a lot of heat as soon as the door is opened.
Power Source
If you desire to use this with a propane tank, then you may have to invest in an adapter. You can do so from a third-party seller if you so choose to, to save a bit of money.
Size and Portability
Thankfully, the MAPZ-SS is not hard to move around due to its size and weight. The other side to that, though, is your options for pizza sizes become more limited.
Performance
It does not take very long for this unit to generate heat but at 12,000 BTU, it will also not be able to compete with the heat output of top-end models on the market.
Overall
Anyone out there looking for the best of the best, you may want to stay away from this one. Instead, this is optimal for those seeking a casual and portable option.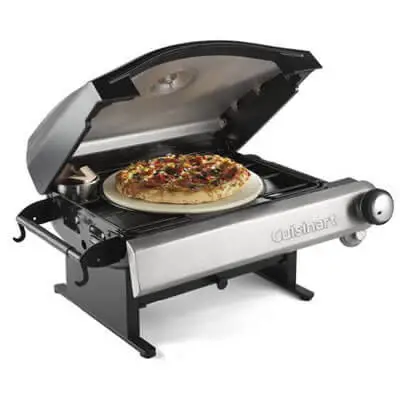 This pizza oven is a great addition to add to your backyard. Not only is it portable but also acts like a brick oven. It makes pizzas in five minutes to ensure you get a tasty pizza quick, when you want. If you love pizza and want to start making your own, this is one to check out.
Read more
Build Quality
While the oven itself is made of steel, it acts like a brick oven to ensure you get a tasty pizza quick.
Heat Retention
The insulation itself should be nothing to worry about but the max output of this oven is 15,000 BTU's, which could be too low for some consumers.
Power Source
This pizza oven is powered by propane and sets up just like your standard BBQ.
Size and Portability
This pizza oven is easy to carry in and out of the house and set up is very easy. If you are looking to make some delicious pizza quickly for your family, this is the oven for you.
Performance
Again, the main burner outputs at 15,000 BTU and at its peak, can achieve temperatures close to 700 degrees.
Overall
Bottom line, this is a beautiful and well-designed grill/oven. It may be lacking with its internal temperature, for more hardcore users, but is engineered to last with quality materials.

Subscribe to our Newsletter