Best Family Tents
In a
Hurry? Editors choice: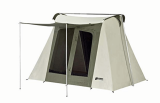 Test Winner: KODIAK CANVAS FLEX BOW

Is there a better feeling than waking up to the
smell of pine trees
or the smokey aromatics of last nights campfire? Hardly. There's only one way to
improve a camping trip
, and that's to be able to enjoy the whole experience with your family. Camping is a great way to get outside and spend some
quality family time
together. There is no better way to grow closer together than to unplug from the daily chaos and plug into nature. However, with so many family tents on the market today, it can be difficult to know which one is the right one. So, to help you find a great family tent that everybody can fit comfortably into, we're providing you with a list of the ten best family tents and some criteria points you can evaluate so you can make the best decision for your family.
Standout Picks
Criteria Used for Evaluation
Weather Resistance
Weather resistance is one factor worth considering with just about all of the best camping gear available these days. There are quite a few features found in a modern family camping tent, although there are some which help to create a more comfortable and enjoyable outing with the family. Even though you are heading outdoors for the peace, quiet and perhaps to get away from the modern world for a few days, you probably still want to maintain some degree of comfort. Below are some things that you may want to look for when finding the most suitable model for you.
When we examined the weather features on the tends we included in our guide, we let you know how waterproof and rainproof the tents were, and the types of materials they used to help combat weather. There are also a few other items that can affect how well your family tent handles the weather, which we listed below.
Awnings. These cover windows and doors from rain, to keep you dry. They also allow for the windows and doors to be open even in rain for ventilation.
Water Resistant Floors. Even without expected rain or moisture, morning dew can seep through the floor and soak personal belongings. A water-resistant floor will ensure that your belongings in the tent will stay dry.
Vestibules. Think of it like a foyer, or more realistically a mudroom. A place protected from the weather or the sun to dump your muddy, dirty, or smelly gear before entering the tent. This makes amazing flex space for storage, protected from rain and the elements but not taking up space inside the tent. Great for items like bikes, strollers, area to take off shoes, even a grill, and so many other possibilities. They are very commonly seen in family tents in areas with frequent rain and are standard found in the typical multi-person base model camping tent. The buffer zone between the tent and the great outdoors aids in weatherproofing, keeping precipitation further away. Because a vestibule protects the door, you can leave the door open during a summer rain to increase ventilation, and to let in the fresh rain smell.
Features
Most of the family tents on our list come with a wide variety of special features, and those features are listed with each product description. Some of the more common features you'll find in tents that you'll want to consider we've listed below.
Ventilation - Vents are used for condensation to escape the tent instead of collecting inside. Also handy for heat escape, and the smell that may follow you or family members into the family tent.
Electrical Port - This feature allows for an electrical extension cord to pass through the lower tent wall. More geared towards car camping, some family tents come ready for electrical hook up. This is beyond handy when you have gadgets and gizmos to charge up.
Windows & Doors - When we examined the windows and doors on each tent we provided you with on our list, we mentioned the number of both the windows and doors and the quality. The more windows, the better the ventilation and sight-seeing you can do, and also the more doors, the easier it is for several people to get in and out of the tent while maintaining privacy. However, we also considered some space and room issues when we examined windows and doors, included below.
Gear Lofts - This is basically added storage above your heads in the form of shelves or cargo netting attaching to the ceiling of a family tent. An ideal loft should be low enough that everything in the loft is accessible but high enough to be out of the way. It can be used to hang or lay out wet or damp items to dry as long as they aren't too heavy. They are also a great spot for light either hanging or in the loft itself. Great for storing personal items, your belongings are kept off the floor in case of flooding, and within easy reach and visibility also.
Removable Room Dividers - Whether the divider zips in or clips in, a room divider essentially does just what it says, divides the room. Taking one large open tent room and turning it into two functional spaces. When camping, privacy can be at an all-time low. With no separate sexes bathroom, or bathrooms at all! If you have two groups of campers in one tent or would like your own escape within the family tent a removable room divider is an answer. Creating bedrooms, changing room, or even a storage area, being able to divide living space allows you to customize to your own needs.
Ease of Use
When we examined the setup category for all of the products on our list, we told you if the family tent had a learning curve to the setup process, and about how long it will take you to set up the tent. Along with the setup, we also discussed these issues included below. The bottom line, it has to be easy to set.
Weight. If you will be touring, or backpacking you already know that the weight adds up and storage is very limited. If you plan to carry the family tent, then the weight and storage size is a crucial feature to pay close attention to. Some tents are easily split into components to share the load with others. Weight also affects how easy it will be for you to set your family tent up, since the heavier the tent, the longer it will take, and the more difficult the setup process becomes.
Wall angle. If you have ever owned a circular tent, you will know that with a low roof then some floor space is non-utilizable. Because of low ceiling heights along the edge where it meets the floor the area cannot be used for much. In the Cabin style tents, the walls are virtually vertical, allowing for full use of all square footage. Not limited by height, cots or airbeds can be flush against the wall leaving other floor space for personal belongings and gear and supplies. Wall angle, depending on how the tent is angling its walls, can also affect how quickly you are able to set up your family tent.
Use
Car camping- This may sound like just sleeping in the car, may as well stay in the driveway right? Well, car camping is also called base camping, where you drive up to a designated tent pad. Very common around lake recreation areas, and in parks. Car camping tents may be heavier since you do not have to hike with them to find a campsite. They also can come with some other features such as the electrical port that I will talk about more below. Generally, if you will be car camping, you'll be able to carry along a heavier family tent more easily.
Truck camping- Taking car camping to the next level, truck camping utilizes the bed of a pickup as the setup space. Tents are specialized to fit and be pitched in truck beds. Because you don't even have to take the family tent out of the truck, these tents can be much heavier with no issues. However, the space in the bed of a truck can be limited so these also tend to be smaller tents.  A truck camping tent will allow you to purchase a heavier, more heavy duty family tent since you won't have to backpack and carry along the extra weight.
Touring – Kayak/canoe, horse, cycling, etc.- Touring is a self-containing trip ranging from a single day to weeks, months and even years. On a tour, you will carry or outfit all the supplies you will need for the length of the trip. If you are solely camping while touring then the amount of gear needed will be overwhelming. To minimize the size and weight of the tent, small simple tents will need to focus on reliability rather than new fancy features like E-Ports.
Backpacking – Backpacking is a multi-day hiking trip involving camping outdoors and carrying all your gear on your own back. These trips also can last from a few days to months and years. The size of the family tent can range from a single person to a many-person base camp, depending on how you can split the weight of the tent among backs to carry it. It is essential that the tent is lightweight, and compact, as space in a backpack is at a premium. Carrying a heavier family tent may not seem like a big deal, but by day three of the heavier tent, you may find yourself questioning if you even need a tent at all. So, if you're going to be backpacking with your tent, then you'll want to make sure you get something that is lightweight, compressible, and easy to carry with you, or else you'll wind up having difficulty hiking on your camping trips if your tent is too heavy. A tent fit for a family is going to be a bit too heavy to carry along the trail.
Subscribe to our Newsletter