Best Family Tents
In a Hurry? Editors choice: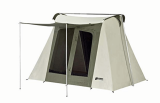 Test Winner: KODIAK CANVAS FLEX BOW

Is there a better feeling than waking up to the
smell of pine trees
or the smokey aromatics of last nights campfire? Hardly. There's only one way to
improve a camping trip
, and that's to be able to enjoy the whole experience with your family. Camping is a great way to get outside and spend some
quality family time
together. There is no better way to grow closer together than to unplug from the daily chaos and plug into nature. However, with so many family tents on the market today, it can be difficult to know which one is the right one. So, to help you find a great family tent that everybody can fit comfortably into, we're providing you with a list of the ten best family tents and some criteria points you can evaluate so you can make the best decision for your family.
Standout Picks
Criteria Used for Evaluation
Weather Resistance
Weather resistance is one factor worth considering with just about all of the best camping gear available these days. There are quite a few features found in a modern family camping tent, although there are some which help to create a more comfortable and enjoyable outing with the family. Even though you are heading outdoors for the peace, quiet and perhaps to get away from the modern world for a few days, you probably still want to maintain some degree of comfort. Below are some things that you may want to look for when finding the most suitable model for you.
When we examined the weather features on the tends we included in our guide, we let you know how waterproof and rainproof the tents were, and the types of materials they used to help combat weather. There are also a few other items that can affect how well your family tent handles the weather, which we listed below.
Awnings. These cover windows and doors from rain, to keep you dry. They also allow for the windows and doors to be open even in rain for ventilation.
Water Resistant Floors. Even without expected rain or moisture, morning dew can seep through the floor and soak personal belongings. A water-resistant floor will ensure that your belongings in the tent will stay dry.
Vestibules. Think of it like a foyer, or more realistically a mudroom. A place protected from the weather or the sun to dump your muddy, dirty, or smelly gear before entering the tent. This makes amazing flex space for storage, protected from rain and the elements but not taking up space inside the tent. Great for items like bikes, strollers, area to take off shoes, even a grill, and so many other possibilities. They are very commonly seen in family tents in areas with frequent rain and are standard found in the typical multi-person base model camping tent. The buffer zone between the tent and the great outdoors aids in weatherproofing, keeping precipitation further away. Because a vestibule protects the door, you can leave the door open during a summer rain to increase ventilation, and to let in the fresh rain smell.
Features
Most of the family tents on our list come with a wide variety of special features, and those features are listed with each product description. Some of the more common features you'll find in tents that you'll want to consider we've listed below.
Ventilation - Vents are used for condensation to escape the tent instead of collecting inside. Also handy for heat escape, and the smell that may follow you or family members into the family tent.
Electrical Port - This feature allows for an electrical extension cord to pass through the lower tent wall. More geared towards car camping, some family tents come ready for electrical hook up. This is beyond handy when you have gadgets and gizmos to charge up.
Windows & Doors - When we examined the windows and doors on each tent we provided you with on our list, we mentioned the number of both the windows and doors and the quality. The more windows, the better the ventilation and sight-seeing you can do, and also the more doors, the easier it is for several people to get in and out of the tent while maintaining privacy. However, we also considered some space and room issues when we examined windows and doors, included below.
Gear Lofts - This is basically added storage above your heads in the form of shelves or cargo netting attaching to the ceiling of a family tent. An ideal loft should be low enough that everything in the loft is accessible but high enough to be out of the way. It can be used to hang or lay out wet or damp items to dry as long as they aren't too heavy. They are also a great spot for light either hanging or in the loft itself. Great for storing personal items, your belongings are kept off the floor in case of flooding, and within easy reach and visibility also.
Removable Room Dividers - Whether the divider zips in or clips in, a room divider essentially does just what it says, divides the room. Taking one large open tent room and turning it into two functional spaces. When camping, privacy can be at an all-time low. With no separate sexes bathroom, or bathrooms at all! If you have two groups of campers in one tent or would like your own escape within the family tent a removable room divider is an answer. Creating bedrooms, changing room, or even a storage area, being able to divide living space allows you to customize to your own needs.
Ease of Use
When we examined the setup category for all of the products on our list, we told you if the family tent had a learning curve to the setup process, and about how long it will take you to set up the tent. Along with the setup, we also discussed these issues included below. The bottom line, it has to be easy to set.
Weight. If you will be touring, or backpacking you already know that the weight adds up and storage is very limited. If you plan to carry the family tent, then the weight and storage size is a crucial feature to pay close attention to. Some tents are easily split into components to share the load with others. Weight also affects how easy it will be for you to set your family tent up, since the heavier the tent, the longer it will take, and the more difficult the setup process becomes.
Wall angle. If you have ever owned a circular tent, you will know that with a low roof then some floor space is non-utilizable. Because of low ceiling heights along the edge where it meets the floor the area cannot be used for much. In the Cabin style tents, the walls are virtually vertical, allowing for full use of all square footage. Not limited by height, cots or airbeds can be flush against the wall leaving other floor space for personal belongings and gear and supplies. Wall angle, depending on how the tent is angling its walls, can also affect how quickly you are able to set up your family tent.
Use
Car camping- This may sound like just sleeping in the car, may as well stay in the driveway right? Well, car camping is also called base camping, where you drive up to a designated tent pad. Very common around lake recreation areas, and in parks. Car camping tents may be heavier since you do not have to hike with them to find a campsite. They also can come with some other features such as the electrical port that I will talk about more below. Generally, if you will be car camping, you'll be able to carry along a heavier family tent more easily.
Truck camping- Taking car camping to the next level, truck camping utilizes the bed of a pickup as the setup space. Tents are specialized to fit and be pitched in truck beds. Because you don't even have to take the family tent out of the truck, these tents can be much heavier with no issues. However, the space in the bed of a truck can be limited so these also tend to be smaller tents.  A truck camping tent will allow you to purchase a heavier, more heavy duty family tent since you won't have to backpack and carry along the extra weight.
Touring – Kayak/canoe, horse, cycling, etc.- Touring is a self-containing trip ranging from a single day to weeks, months and even years. On a tour, you will carry or outfit all the supplies you will need for the length of the trip. If you are solely camping while touring then the amount of gear needed will be overwhelming. To minimize the size and weight of the tent, small simple tents will need to focus on reliability rather than new fancy features like E-Ports.
Backpacking – Backpacking is a multi-day hiking trip involving camping outdoors and carrying all your gear on your own back. These trips also can last from a few days to months and years. The size of the family tent can range from a single person to a many-person base camp, depending on how you can split the weight of the tent among backs to carry it. It is essential that the tent is lightweight, and compact, as space in a backpack is at a premium. Carrying a heavier family tent may not seem like a big deal, but by day three of the heavier tent, you may find yourself questioning if you even need a tent at all. So, if you're going to be backpacking with your tent, then you'll want to make sure you get something that is lightweight, compressible, and easy to carry with you, or else you'll wind up having difficulty hiking on your camping trips if your tent is too heavy. A tent fit for a family is going to be a bit too heavy to carry along the trail.
10 Best Family Tents
1

. KODIAK CANVAS FLEX BOW


The traditional design of the Kodiak Flex-Bow will bring you back to your childhood. While this family tent is very heavy, at 70 pounds, it's a good all-season tent that will make you feel like you are right at home.
Read more
Weather Resistance
Kodiak's Canvas Flex Bow tent is great for keeping wind and dirt out when breezes are blowing hard because this family camping tent offers significant support against the wind. It also offers decent protection against the rain, even without a rain fly, but you just need to be careful about how you open the doors during rain showers.
Features
To help with temperature control, this family tent has two air-flow vents to increase ventilation. Also, the ceiling is very high, and you should be able to walk easily through the tent. This one has a shape resembling a more traditional cabin tent.
Ease of Use
With two large D-shaped doors, the Flex Bow makes it very easy for people to get in and out of the tent. This camping family tent also comes with four windows for easy viewing and ventilation uses.
While this family tent is not hard to set up, there is a bit of a learning curve. It will take you longer to set it up the first few times, then after you learn how to do it, it should be easy for you to set up.
Use
This family tent can be used for up to 8 people and can be used for your family, hunting, camping, and is an all suited tent for several different occasions. This family tent has a front area where you can even store your bags or fishing or hunting gear to keep your personal items safe and to keep the area where are you sleeping open.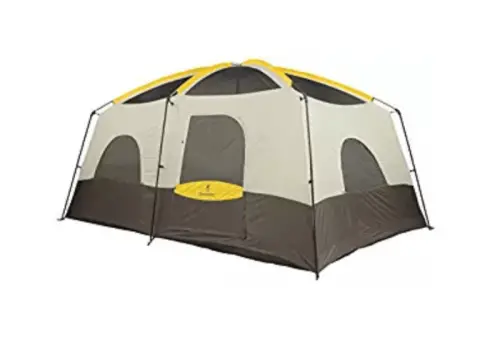 Browning provides an excellent lifetime warranty and top-notch customer service. Their camping products are of high quality and highly rated across the board. Other great features that make this the number one family tent, are the straight sided walls for extra usable space, and the super-fast and easy assembly. The downside with the Big Horn is the weight. The 150sqft comes in at a whopping 34.75lbs, the heaviest on the list.
Read more
Weather Resistance
With a 2000mm coating on the 150D oxford floor in this tent, it is twice as heavy as a nylon floor. While it is reportedly only a three-season tent, many reviewers rave about the weatherproofing's ability to withstand all seasons exceedingly well, including hail storms.
Features
This family tent features full coverage waterproof fly buckles that attach to the tent for easy installation. You'll be safe from the elements with this well-developed tent. This family camping tent is easy to assemble, and you can put it together in 10-15 minutes.
Ease of Use
It also has two doors and includes a wall divider for two rooms, each with their own large door. Plus, the family tent offers great breathability and views with six windows and a mesh roof for 360 views. You also get straight sided walls for extra room. Windows may not be at the top of everyone's list, but you can't beat the 360 views offered with the Big Horn. Many people camp to get in touch with nature, with so many windows and the mesh roof you can really feel a part of nature even from inside the family tent, just without the bugs.
Use
This family tent includes two rooms with a wall divider with large tall walls to help you even stand inside if needed and can sleep up to four cots or sleeping bags in each room. It is a very large tent and fits a family or larger group of friends comfortably.

3

. WENZEL BLUE RIDGE 2-ROOM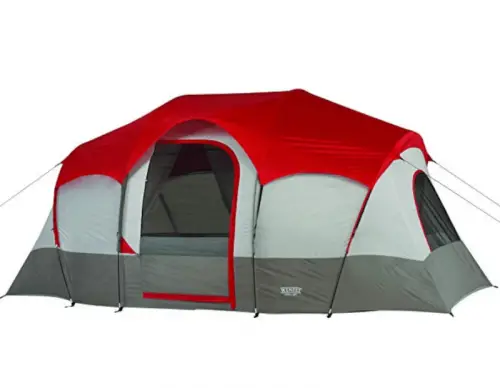 Blue Ridge is highly regarded across the internet for being the best value. Compared to the price tag of other family tents of similar size, the Blue Ridge is a steal. At only $120 for 112sqft, the price and quality can't be beaten.
Read more
Weather Resistance
This family tent comes with a canopy and rainfly material, which is made from polyester. The tent's floor is made out of a welded polyethylene. The camping tent includes a removable rain-fly and hooped fly pole which goes over the door for extra rain protection.
Features
Designed with four convenient pockets, this tent also includes an e-port for electrical cord access inside the tent. Another neat feature is the tent's Lite-Reflect system, which creates a lit-up, bright family tent. If you need more visibility, you can put a headlamp or flashlight in the gear loft for great tent lighting. Also, on the plus side, this tent weighs in at only 18lbs which is also lighter than the average family-sized tent. The lower weight makes this tent reach farther into nature. It is more easily carried in a kayak or split between packs for backpacking.
Ease of Use
The family tent does not feature a second door, which is normal for one room tents. In two room tents like the Blue Ridge, it is expected to have access to both rooms for privacy. This family tent also only has three windows which can cause a lack of ventilation, especially with the fly on. The door and windows come with privacy flap zippered windows and the tent features mesh roof vents.
Use
This Browning Camping Big Horn Tent is very large and has two rooms included inside with a wall divider. It fits over 8 people very comfortably including 4 cots or even 4 sleeping bags in each room and is very tall for anyone to be able to fit standing.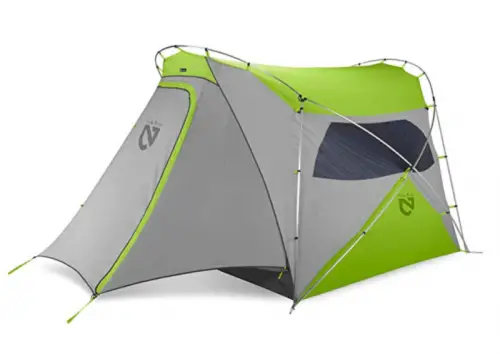 Made with tall walls and a lot of space, the Nemo Wagontop is a good all-around option for a family camping tent. It's not as strong in the wind as some other options on our list, and rain can sneak through sometimes, but the space inside this tent is nothing to sneeze at.
Read more
Weather Resistance
The Nemo Wagontop has a weak guy line design, which makes it have issues on windy days. Also, the rain fly is only a partial one, meaning rain can sometimes seep through the tent. This is a great family tent, or it wouldn't be on our list, but it probably isn't the best option if there is a chance of bad weather.
Features
This Nemo tent offers a screened porch area, which is a nice bonus for a family who wants to enjoy the outdoors. It also has standing height ceilings, which offer another nice bonus in space.
Ease of Use
The Nemo Wagontop has big screen windows on all sides of the family tent, which gives you a lot of viewing areas and also boosts the ventilation in the tent. There are also two doors in this tent, one in the front and one in the back, which makes things more fun for family camping. The setup on this family camping tent can be a bit confusing at times, and it has a learning curve. So, the first few times you set it up, it will probably take you close to an hour, but as you get used to it, your setup time should decrease to about 30 minutes.
Use
This Nemo Wagontop four-person tent is great for a small family or smaller group of friends to fit in comfortably. It has a standing height throughout the whole tent and can even be used as a shared meeting tent for your family or friends to relax in comfortably while camping.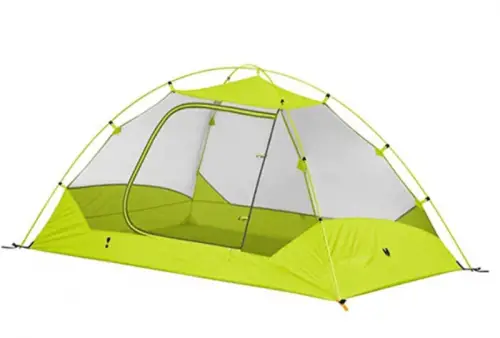 Lightweight and simple, the Eureka Midori is a good family tent for a short family backpacking trip in decent weather. It performs about average in all categories, and is a decent, affordable tent, especially for those that are new to camping.
Read more
Weather Resistance
Made with V3 venting technology, you get decent weather resistance if you set up the tent with the rain fly away and stake your corners with the fly walls. However, otherwise, it's not an excellent tent in the rain, but it does offer a lot of ventilation and can block out light showers.
Features
You get inner storage pockets with this family tent, and the ability to mount a headlamp inside the tent for light. Also, the strut poles that this family camping tent comes with lets you adjust the size of the tent.
Ease of Use
There are two doors featured in this tent, and the family tent can be adjusted for more room. Plus, the two vestibules that come with this tent help give you more storage space. This tent takes about 20 minutes to set up, and its design makes it very easy to use. Your attachment points on this family tent are mostly easy clips so it's pretty simple to get the tent up quickly.
Use
This Eureka! Midori Backpacking tent is very useful for a hiker or camping lover that is portaging or needs to pack their bag very light. It fits just 2 to 3 people comfortably and is used for a smaller group of campers or adventure seekers.

6

. BIG AGNES FLYING DIAMOND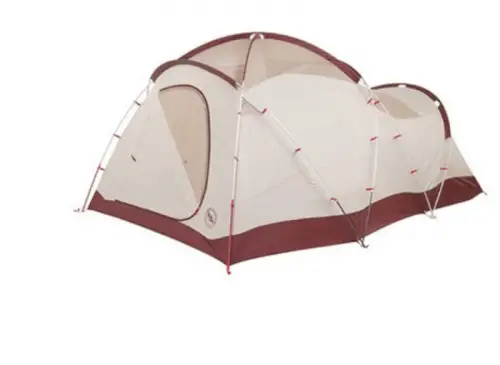 At a little over 21 lbs, this family tent is a relatively good weight for a tent of this size, and the carrying bag also makes it easier to tote to your campsite. You'll love the weather resistance you get with this tent, and it has a nice storage capacity. Many of the others on our list seem a bit larger than this family camping tent, but don't let the images online fool you. This one gets it done.
Read more
Weather Resistance
This family tent is a four-season tent, giving you the freedom to camp wherever whenever. In fact, many reviews even say that this tent handled torrential hail! The fly on this family camping tent is made out of durable polyester with a weatherproof polyurethane coating. Also, the tent body is a breathable polyester rip-stop with nylon mesh windows. The seams on this family tent are taped with waterproof solvent-free polyurethane tape.
Features
The Big Agnes Flying Diamond comes with reflective guylines, and the gear loft loops are also included. You'll also get 16 interior pockets with this tent that uses briefcase style back long shoulder straps and organizational pockets.
Ease of Use
This family tent has great storage and space, the main tent can split into two rooms, each with its own access door with vestibules. This makes an amazing flex space for storage or anything else you may need. Plus, you get one large vestibule off of the main room with another door off the smaller back room. The family tent features two access doors with storm flaps which can double as shade canopies with trekking poles.
Use
This Big Agnes - Flying Diamond Tent fits up to 6 family members or campers comfortably. It is very lightweight and is known for having a small front area to store your personal items.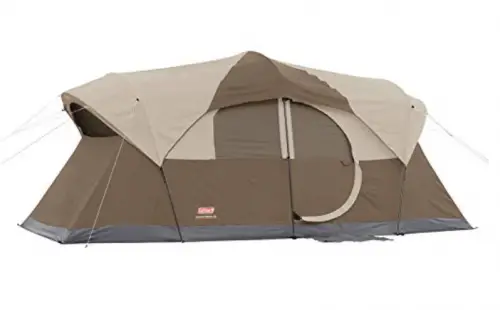 This 10-person family camping tent is basically a traveling house with a similar amount of room as an older style cabin tent that would take the better part of an afternoon to set up, The expansive rooms are great for big families, families with young children who come along with strollers and pack and plays, etc. etc. It is also great for longer trips where you will have more gear and supplies. And, this one is fairly easy to set. Coleman tents are very well reviewed for quality across the board, the WeatherTec system and even E Ports are seen in many family tents, so if you are looking for a smaller tent that is lighter definitely check out other tents by Coleman using our tent buying information above.
Read more
Weather Resistance
This is only a three-season tent, the single skin on the sides of the tent will not keep out the cold of the winter. It may be very weatherproof, but it is not cold proof and that is why it is only listed as a three-season tent. Made with the WeatherTec system, this family tent has a tub floor and welded corner inverted protected seam covered zipper. Designed from durable Polyguard fabric, you also get a 75-denier polyester fly and an 86 denier polyester mesh inner tent. This tent also comes with a 1000 denier polyethylene floor and handles 35+ mph winds.
Features
This tent comes with the Variflo adjustable ventilation system that lets you chose how much or little ventilation to let in. That means you get customizable comfort plus storage areas inside the tent. This family tent also comes with a one-year limited warranty and can fit up to three queen airbeds inside. This is a camping tent that is roomy enough to keep the whole family comfortable for a week in the woods.
Ease of Use
The angled window on this tent helps to keep the rain out, and this family tent also comes with a rainfly to stay dry and cover the mesh roof. There is one hinged door for easy entry/exit and one zippered door. You'll also get an included room divider for privacy. The height is much above average for family tents, a storage loft could be added and still be just as tall as competitors. The ability to add storage above your head is great, and without having to sacrifice standing room.
Use
This Coleman 2000028058 Tent fits up to 10 family members or campers comfortably. It can fit up to 3 large king size air mattresses and can be used while backpacking. It is large enough to make you feel as though you are still in a home and have an area where you can store all of your personal items and still live comfortably.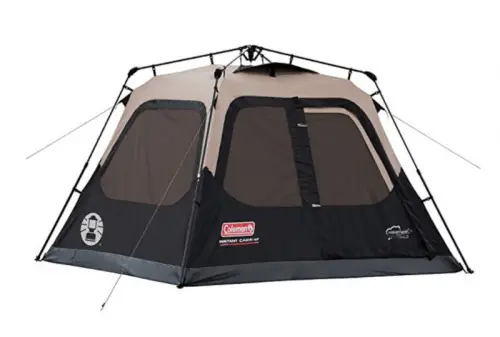 If you need to pick-up an easy-to-use, affordable family camping tent, then you might want to consider this instant cabin. It gives you a lot of comforts, excellent ventilation, and protection from the rain. Plus, it's very easy to pitch the tent, which is a real bonus on fun family outings to a national park or campground.
Read more
Weather Resistance
While this tent has a single wall and no fly, there are a lot of people who still prefer a cabin tent over a dome design, Even without a fly, it does very well handling both the wind and rain. Also, while the tent has vents in it, they are on top, meaning if it's raining for long periods of time, you might not get optimal ventilation with this family tent.
Features
This tent comes with a WeatherTech system that also features a welded floor and inverted seams for extra waterproof protection. Also, the tent is very durable and should last you many seasons.
Ease of Use
Coleman has branded themselves as the masters of the instant cabin. This family camping tent has one nice, big window in it, which will allow you to see the scenery outside as you camp. It also features one door, and while it isn't as big as some of the other options on our list, it comes at a pretty decent size for the price. This family tent has the quickest set-up and take-down time of any tent on our list. Two people can pitch this tent in about two minutes, and take it down in around five minutes.
Use
The Instant Cabin Tent with Instant Setup can fit up to 4 people comfortably and is great for camping with your family or a small group of friends. The instant cabin is a lot easier to set up, especially if you also have to keep track of your kids who are running around like wild animals.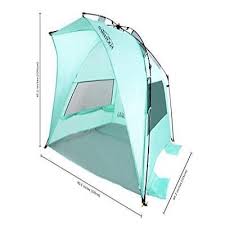 Although this shelter isn't a dome or cabin tent like the other options here, or nor is it even a family camping tent fit for to normal campground, this one is still great for families on vacation. The Saratoga Outdoor Instant Automatic Pop Up Beach Tent is known for its instant easy set-up and quick time to install. It is well known for even using on the beach or hiking trips and adventures. It is sun protected which is great for your kids or if you burn very easily.
Read more
Weather Resistance
This family tent is best suited for hotter climates or beach weather as it is built with breathable mesh for plenty of windows and breathability in warmer climates. It also has a UPF 50+ sun protection to help when it comes to protecting the fabric of the tent as well.
Features
The family camping tent has wonderful ventilation and has breathable mesh panels on the sides for plenty of ventilation. It also comes with sand pegs which help with the stability of the tent. This family tent is easy to open, easy to lock and unlock and easy to push down for stability. This Saratoga Outdoor Instant Automatic Pop Up tent has mesh gear pockets that allow you to store personal items, snacks or even clothes while you are camping or relaxing at the beach in it.
Ease of Use
This tent has great storage space and even has ventilation for windows to help keep a breeze through the tent while sleeping or hanging out in it. This Saratoga Outdoor Instant Automatic Pop Up Beach Tent is great for lakes, parks, picnics, fishing trips or even any outdoor adventure. You can even set it up very easy indoors for your kids to play in at any time. The tent comes in a variety of sizes including: 83"L x 42"H x 36"D 90.5"L x 49.2"H x 47"D 95"L x 53"H x 52"D
Use
This Saratoga Outdoor Instant Automatic Pop Up Beach Tent is made and used for outdoor adventures including having indoor or outdoor picnics, going to the beach, fishing trips or even letting your children hang out in on your front lawn.

10

. COLEMAN WEATHERMASTER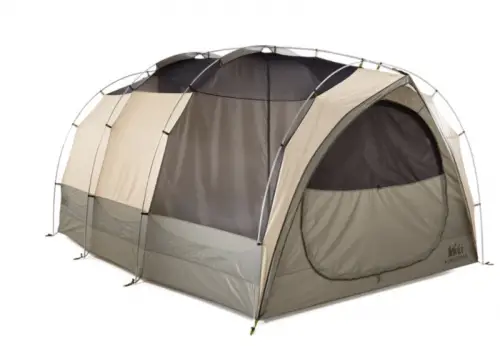 The Vertical walls of the cabin style tent allow you to maximize square footage, you can put cots right up against the side wall to save space. The vestibule protects gear or supplies from the weather without the wasted space in the tent.
Read more
Weather Resistance
The WeatherMaster is made with a 75-denier nylon taffeta canopy, and it loosely resembles their traditional cabin tent design. The floor is comprised of a 300-denier coated polyester oxford. This family tent uses a seam-sealed waterproof polyester fly and seam sealed the cut-in floor as well. It also includes a weather protective awning.
Features
While it is a bit heavy, the backpack carry bag makes it easy to carry the 22lbs without too much effort. Also, the design of this family tent allows you to adjust the size of the storage area and usable area.
Ease of Use
This one has a center divider for two rooms. It also includes a vestibule and vertical walls that maximize functional space. This tent also has two large doors, each with four zippers, and bug net mesh panels and doors. This family camping tent takes about 10 minutes to set-up. It also comes with aluminum poles and a carry bag that has pockets and works as a backpack.
Use
A 6-Person Tent with Screen Room, there is enough room for up to 2 airbeds and fit your family or small group of friends in comfortably. There is even a separate screen room to relax in with a bug-free lounge. This family tent is great for camping, or portaging, or even fishing as it is lightweight.

Subscribe to our Newsletter