The Best Sleeping Bags For Kids
In a
Hurry? Editors choice: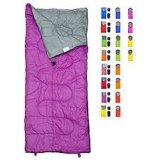 Test Winner: REVALCAMP

Traveling
and adventuring with kids included is always an inspiring thing to see. It's great because you are showing your little ones different ways to live, eat, and experience life and nature. They will grow up with some fantastic memories to look
back
on. However, with that being said, this is where braveness comes into play. Kids have specific needs that have to be met while you explore the wilderness or trek the Rocky Mountains. They need to eat, go to the bathroom, sleep, and of course play. But the difference is, if
kids
aren't kept relatively happy, they will certainly let you know with public outbursts. Overall, they will need something cozy to rest in at the end of the long day. A quality sleeping bag will help to ensure that your children get a solid night's
sleep
and feel well rested and equipped, so they can keep exploring.
Standout Picks
Criteria Used for Evaluation
Durability
How durable your child's sleeping bag will help you determine how long the sleeping bag will last, and how much use you'll get out of the sleeping bag. You should be able to check durability by looking at the materials designed in the sleeping bag. Also, make sure to check out customer reviews on the sleeping bags you are interested in because that can also help you make a better purchase decision.
Since you'll want to make sure you buy a sleeping bag that will last you for some time, make sure to check out how high-quality the materials designed into the sleeping bag are. Once you know that and review some other customer comments, you should be able to figure this out.
Comfort
Comfort is probably the most important factor to consider when you decide what sleeping bag to buy for your child. You want your child to get good rest, and the more comfort, insulation, and warmth your sleeping bag offers, the better sleep both you and your child will get on your camping trips.
Make sure you check out the insulation on your child's sleeping bag to ensure it creates the warmth your child will need to sleep well, especially when the temperature gets very cold outside. You want to ensure your child stays warm and feels great so that he or she sleeps soundly through the night.
Also, check out the overall design of the sleeping bag. If the sleeping bag is designed in mummy style or offers a different style, try to figure out what style your child feels is most comfortable before you purchase a sleeping bag for him or her. Different styles cater to different types of sleepers, so keep this in mind when you buy your sleeping bag.
Remember, if you purchase a sleeping bag that doesn't feel comfortable for your child, he or she may not want to use it, and that can put a dent in your camping trip plans and also waster your money. So, keep an eye out on what you really need to help your child get comfortable and sleep well through the night.
Value
Price is an important factor to evaluate, especially if you are shopping on a budget. Before you buy your sleeping bag, make sure you know how much you can afford, and then try to make your selections based on that. There are many high-quality sleeping bags made for kids that are out on the market today, and they typically don't cost too much. Since so many affordable options are out there, you should be able to get a high-quality sleeping bag for your child without having to spend too much.
Also read about cheap backpacks
Top Ten Sleeping Bags for Kids
Subscribe to our Newsletter