Best Sleep Masks
In a
Hurry? Editors choice: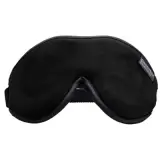 Test Winner: Dream Essentials® Escape Luxury

No one should ever have to see the things that go on an airplane during a 9-hour flight – which is why every traveler that has eyeballs should pack a great sleep mask in their carry on
bag
to help promote easy and restful
air
travel. They aren't just used for sleeping, either- many of them have recessed cavities so that you can comfortably keep your eyes open if you want to block out the visual stimulants from your flight so that you can relax even in you aren't tired. Additionally, once you make it to your destination it can be used to fall asleep in an unfamiliar place, especially if the place that you are staying doesn't have blackout curtains. You might find that you love how something as simple as a
mask
will help you fall asleep, and you might want to add it to your normal sleep schedule at home.
Standout Picks
Criteria Used for Evaluation
Comfort
If it isn't comfortable- you're not going to want to wear it. Poorly designed models are made from itchy and hot fabrics and have straps that fit too tightly. When we were on the hunt for the best models out there- we made sure to find materials that were breathable, and straps that could accommodate most sizes of heads. A bonus feature that we loved were designs that come with memory foam that too the shape of your face over time and felt like you were wearing a pillow right on your face while still being cool and breathable.
There are many things to dislike about air travel. It is often hot and uncomfortable, there are too many people trying to make chit-chat with you when you are just trying to relax, and the general realization that you are miles above the ground may be unsettling to some. While the use of drugs is always an option to help you escape this scene- it may not be ideal if you are looking to be refreshed and relaxed once you arrive at your destination. A good sleep mask will allow you to get some restful z's before you even arrive. They say that it is about the journey and not the destination- but whoever said that has most likely never flown on a 9-hour international flight before.
Features
There are some features that can become problems, especially based on how you fall asleep. There seem to be two camps on what makes a superior way to secure it on your head- and both have their own problems. Buckles- typically composed of metal or a hard plastic– are easy to adjust and can fit securely on your head. The drawback to buckles is that depending on how you sleep- they might dig into your head and become uncomfortable. We tried to select models that had buckles on the side of the head rather than on the back. The other way to adjust is to use velcro. While velcro won't dig into your head, and you can get a more secure fit using it- it has a tendency to get stuck in your hair.
Materials
This was another important thing that we looked at. The type of materials that a company used will make or break what makes a good product. These will be sitting on your face all night- you want to make sure it is made from quality materials. Models that are made from materials that aren't breathable- like certain types of nylon and polyester- can not only make your face feel hot and itchy, but it can also cause breakouts. We tried to find the best materials that we breathable and comfortable. An added bonus we found were models that had a layer of memory foam in them that formed to your face over time. The less that you notice that you are even wearing anything on your face means the faster you will fall asleep.
Effectiveness
This is the most important aspect we looked at because if it doesn't completely block out the light, then it's not considered to be a sleep mask. Where the problems on light infiltration usually occur is around the nose- because no one nose is the same. Many different companies went about to try and fix this problem in a myriad of ways. Some used pieces of fabric to block out light, which is great for accommodating various sizes of noses but can become a little itchy. Others tried to create a nose bridge with flaps that adjust and can be pinched together- which was one of the more innovative solutions that we liked. Others forewent any type of nose cover, and just added padding to the inside of the nose. The padding may add additional comfort, but it makes it a little more difficult to keep light out with some shapes of noses.
Subscribe to our Newsletter