Best Halloween Masks
In a Hurry? Editors choice: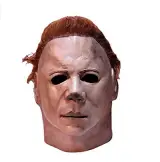 Test Winner: Trick Or Treat Studios Michael Myers

Halloween
is a favorite holiday of many. Dressing up like outrageous monsters to initially scare little
kids
is fun when you give them a nice helping of candy afterward. The start of any great
costume
is the mask. Maybe you are here looking for costume ideas or maybe you simply want to see some horrifying, yet at the same time beautiful, potential
masks
. Either way, this guide has been created to assist you in finding the perfect mask for your costume this year.
Standout Picks
Criteria Used for Evaluation
Comfort
Now that the design is out of the way, it is time to address the vast majority of features that you will need to look out for. Of course, this all starts with comfortability. How many times have you donned a costume for All Hallows' Eve only to want to take it off due to its unbearable nature and discomfort? This can ruin what is supposed to be an entertaining and ludicrous night. To be honest, comfortability is probably one of the most popular reasons why consumers want to avoid buying a mask. Well, let's just say that most of them are not engineered to be worn for days on end. All you really need, though, is it to be comfortable for a few hours because how long will you really be wearing it?
This is a good time to bring up silicone and latex. These are the two most common materials that are used in this type of headwear and they are both far from foolproof. They both tend to be skin-tight but are not the best when it comes to breathability (which will be addressed later).
Fit
In many ways, this next section plays right off of the last one. Typically, if something does not fit, it does not stand a chance at being comfortable. So, this means that the fitting is as important (and perhaps more) as the comfort. But, this is where things can get a little tricky. You see, most designers will attempt to make the most politically correct mask in this sense. They will try to account for the most head sizes that they can and to do that, they weight out the law of averages. But, as you know, you may be below or above the "average" that persists in the world. The positive news is that even if the model you buy is too large or small, there are ways to go about it.
If it is too large, you can stuff some plastic grocery bags inside. You need the eyes to line up and once this is done, you can quit stuffing bags inside. As for a model that is too small, you will need to open up the slit that is on the back (which can be done for silicone or latex). Open it up gradually and keep trying it on until you can comfortability don it.
Durability
A lot of what this section is going to address has been either covered or hinted at. But, you really do need to evaluate the overall craftsmanship as a whole. This is not alluding to the artistic design at play, either, but more so what it is composed of. As you know, this will typically either be latex or silicone (although there are PVC type masks out there, as well). The comfortability and breathability, which will be assessed here in a minute, have been covered. But, what is also important is how well the model is made and crafted.
For example, some companies will go out of their way to add little details to enhance the design as a whole. Anytime a design is handcrafted and handmade, as an example, typically means the attention to detail will be high. After all, if you are looking for a specific character and it is not even close to what he or she actually looks like, it could be seen as a disgrace to that character.
Breathability
Raise your hand if you have ever worn a Halloween costume and literally could not breathe half-way through the night? This issue is probably most apparent with headwear and part of the reason why is naturally, latex and silicone are not the most breathable of materials. Another problem is some designs will be completely encased and will have no ventilation holes whatsoever. So, your hot breath is trapped inside and will create a very clammy atmosphere (much like a shoe without any mesh).
The reality is for some models, you may just have to live with taking it off for several minutes to breathe. At least when you are outside, depending on where you live, the weather is typically much cooler.
Top 10 Picks
1

. Trick Or Treat Studios Rob Zombie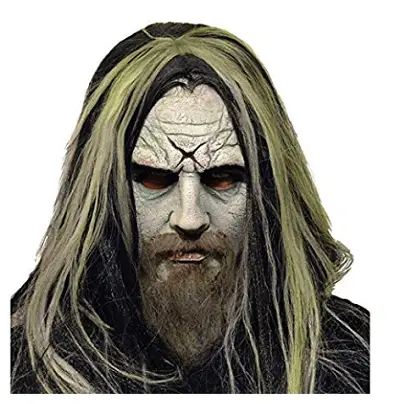 Now, to be honest, few people will think of Rob Zombie when they imagine who they want to be for Halloween. But, once you get a taste of the realism here, you may switch your thinking.
Read more
Visual Design
This Rob Zombie depiction was sculpted by Justin Mabry and is dubbed as the most accurate Rob Zombie mask ever mass produced. But, some buyers have noted that they have received a model that lacks the color of the photos.
Comfortability
Amongst the consumer feedback, not too many buyers complain about the comfortability. But, some users did note that the hair can be a little finicky at times.
Size and Fitting
One buyer with a rather large head, according to them, claimed that for the average person, this is going to fit like a dream. With a larger head, though, it may be a bit tight so be wary of that.
Craftsmanship
The product description lists this as 100 percent other fibers but the seller did confirm that it is made of latex. Also, this fully equipped with an accurate Rob Zombie wig and beard.
Breathability
Much like the comfortability, not too many consumers have had negative comments about the breathability of this model.
Overall
Clearly, fans of the super beast will be more inclined to purchase this option and that is okay. For fans, the accurate depiction and craftsmanship of this mask make it a must-buy.

2

. Trick Or Treat Studios Michael Myers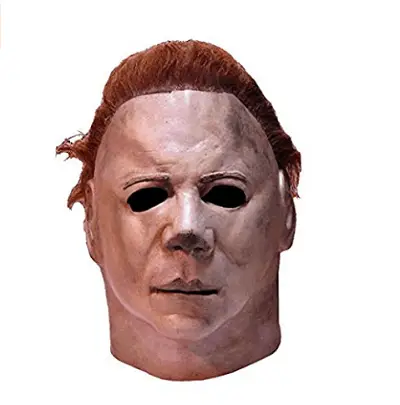 The same company that makes the previous Rob Zombie mask also makes this Michael Myers version. Yes, the main villain from the hit franchise Halloween is a bit repetitive but hey, if it is not broke then why fix it?
Read more
Visual Design
At the end of the day, you can't go wrong with good old Michael Myers. This specific design is actually a replica of the model that was worn in the final confrontation of the hit movie Halloween II.
Comfortability
As this is made 100 percent of Latex, the comfortability is certainly not an issue. In fact, one reviewer even noted that their son enjoyed wearing it around the house casually.
Size and Fitting
Be aware here; this may fit tight on most people. Even though you may not have an issue donning and doffing this, there is probably going to be very little wiggle room inside.
Craftsmanship
In addition to the 100 percent Latex composition, this is also 100 percent handmade. On top of this, it is hand painted for the most realistic detail possible.
Breathability
One specific consumer gave their thoughts on this Michael Myers replica and claimed that breathing out of it was not much of an issue; so, that is a huge plus.
Overall
It is understandable if some of you will pass over this one. Possibly, you have already been Michael Myers and are looking for something fresher. Just know, though, this mask is flowing with great detail.

3

. Rubie's Costume Dc Heroes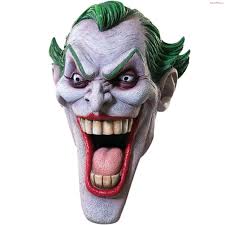 Does it really get more iconic than The Joker? The Clown Prince of Crime is an ideal choice for anyone but ironically, be aware that this model can actually be a little too large for some users.
Read more
Visual Design
There are a ton of iterations of the Joker and this is from the Animated Series. The psychotic nature of this design really fits the character like a tee.
Comfortability
As was hinted at, this is quite massive. But, some users have expressed that it is not too difficult to fill the empty space inside with comfortable material.
Size and Fitting
If you simply want a model to don without making any slight modifications, you may be disappointed here. But, again, placing padding inside will fix the extra space.
Craftsmanship
In some models, the eye holes can be too small to be considered reasonable. However, that is not the case here and also, this is made 100 percent of latex.
Breathability
One of the problems with a latex mask, which is essentially rubber, is that the interior can develop quite a lot of heat (which can be an issue here).
Overall
It is The Joker, is there any other convincing you need? The larger nature of this model may scare people off but just know, it can be stuffed with padding to account for it.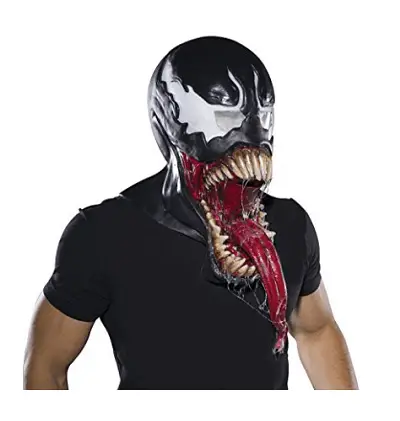 Staying on the subject of comics, now we have Marvel's Venom. In honor of the newest Venom film, show off to your friends one of the most popular anti-heroes out there. But, be aware that this bad boy is massive.
Read more
Visual Design
This just might be the most obnoxious design on this entire list. It is a gruesome interpretation of the anti-hero Venom and it will definitely turn some heads.
Comfortability
Overall, it is not as if this is uncomfortable. Yet, due to its massive size, it does not hold its shape well and can be awkward to wear, to be honest.
Size and Fitting
For most teenagers and adults, this will fit. As the seller indicates, it is not really ideal for children. But, in absolutely no way could this be considered small.
Craftsmanship
This high-quality model is made of latex and is licensed by Marvel. However, as was mentioned earlier, it could hold its shape better.
Breathability
Though there were few instances of users commenting on the breathability, the massive size is at play so do not be surprised if it is a little clammy inside.
Overall
For those looking to be subtle this Halloween, you may want to keep looking. Yet, any fans of Venom who really want to make an impression and be noticed, pick this up.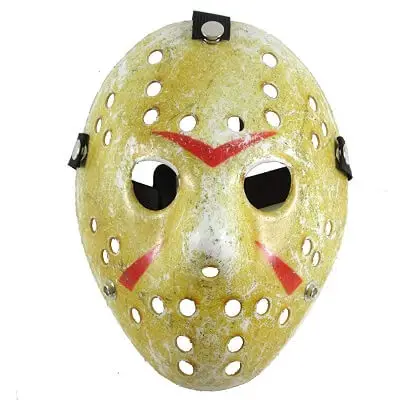 Much like the Halloween franchise, the Friday the 13th franchise has been oversaturated for years. But, through it all, no one can deny that Jason Voorhees is arguably the most terrifying and intimidating villain of them all. Why not don his mask?
Read more
Visual Design
Admittedly, this may not be the highest of quality on this list. As some users have pointed out, the paint does scratch off. Yet, it is still a good depiction of Jason.
Comfortability
The comfortability really ties into the fitting in this case. As one buyer noted, the indentation of the nose is a bit odd.
Size and Fitting
The general consensus is that this is a smaller mask. But, what is nice is that it comes with an adjustable strap to make it more versatile.
Craftsmanship
Instead of latex, this is actually made of high-quality PVC. One of the benefits of this is the shape is solid and will not deform.
Breathability
As this is a Jason Voorhees model, there are holes everywhere. This allows it to vent extremely well which comes into play to enhance the breathability.
Overall
No, this is not a perfect and flawless model. What it is, instead, is a brilliant option for horror fans or users looking for options outside of latex.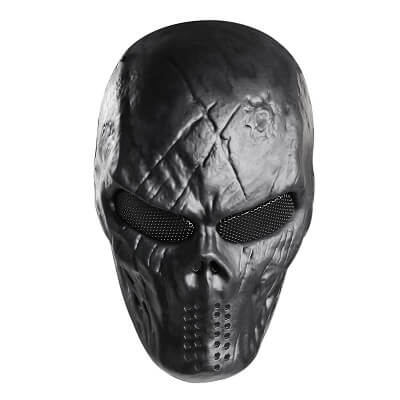 Now, this next model is the first that is not based on one iconic character. Instead, it is a jet-black skull with interior rubber padding to create an ideal combination of comfort and intimidation.
Read more
Visual Design
What is really nice about this dark black skull is that it is a great combination of fear, intimidation and striking appeal.
Comfortability
Inside this model is integrated rubber padding and this adds to the overall comfort. Overall, the padding is around one inch in thickness.
Size and Fitting
Though there are some included adjustable straps to allow this to fit most adults and teens, they can be hard to operate and get to stay in place.
Craftsmanship
Although this is plastic, it is still of higher quality. In addition to this, the eyes are crafted of metal mesh to prevent fogging and protect your eyes.
Breathability
The craftsmanship of this model is both lightweight and durable. But, due to the non-toxic and odorless material, you are allowed to breathe freely.
Overall
Sometimes, it is nice to don a model that is not necessarily representative of an iconic character. Once you get the straps figured out, you will be good to go.

7

. Rubie's Texas Chainsaw Massacre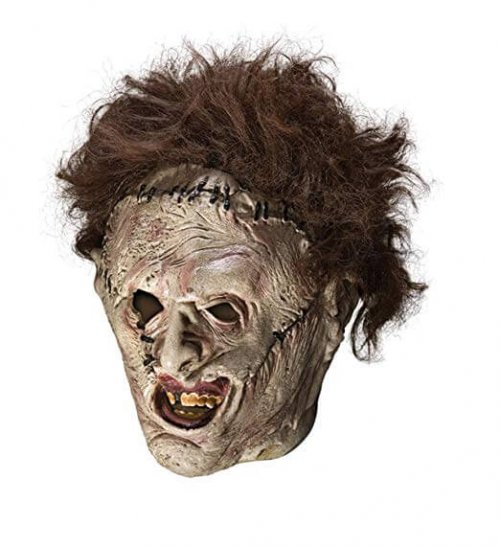 If you simply want to be the sickest and most mentally ill off them all this All Hallows' Eve, then you really can't go wrong with Leatherface. One thing to note, however, is that some modifications will need to be done.
Read more
Visual Design
Leatherface could quite possibly be the most demented "looking" creature of the night. While this model does not quite do the character justice, it is darn close.
Comfortability
Interestingly enough, there was a reviewer who noted that they used this as a protective layer in the winter. That should say it all in regard to the comfort.
Size and Fitting
This is where the modifications will need to be made. While the latex will stretch into place, it is way too large for most people. A Velcro strap will most likely need to be equipped.
Craftsmanship
This is equipped with both the hair and the neckline of Leatherface. Overall, it is made 100 percent of latex and is as strong as an ox.
Breathability
Speaking of modifications, here is another one that may need to be made. To increase the breathability, you may want to cut out the mouth.
Overall
Buying a product that needs modifying seems asinine. While that is a fair claim, huge fans of Leatherface may be willing to do it as the end result will be worth it.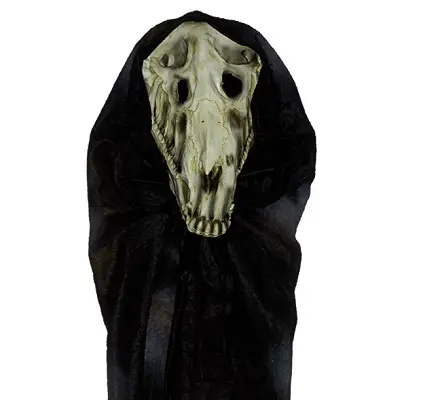 If you are of the belief that it can't get any more frightening, then you need to look at this next mask. Anyone who has ever watched the Saw franchise knows how utterly terrifying animal masks can be and this resembles that.
Read more
Visual Design
Let's just say that even the manliest of men will quicker with fear if they come face to face with this. It really is that compelling in regard to its scare factor.
Comfortability
The general consensus seems to be that this is comfortable to don and wear. Plus, it works with a variety of cloaks and capes.
Size and Fitting
Though it is claimed this is for children, users over six feet in height have claimed they have worn it. The internal elastic band also helps keep it in place.
Craftsmanship
Even though this is not the thickest material in the world, it is made of latex which is very familiar in this field of technology.
Breathability
If the experiences of one buyer are any indication, the ventilation of this needs some work. When breathing inside, it will build up heat quickly.
Overall
For sheer purposes of scaring the ever living crap out of anyone who is anyone, this is a great option. Some ventilation issues do hurt the value, though.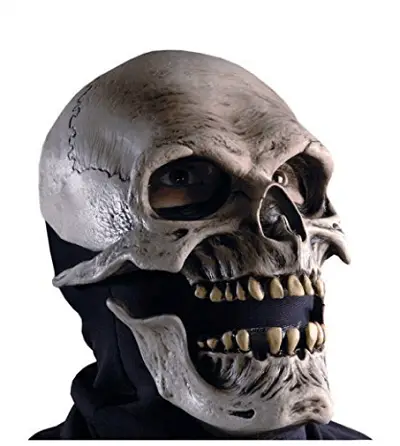 This could be the most unique model on this list and that is because it has been engineered to allow you to make facial expressions. But, a few issues prevent it from ascending any higher on this list.
Read more
Visual Design
Zagone Studios presents another "arbitrary" option and this pretty much looks exactly like death. The attention to detail is evident, though, so that is a plus.
Comfortability
To add to the overall comfort of the material itself, latex, there is an integrated sock and it acts like a buffer for your skin.
Size and Fitting
A few buyers went out of their way to report that the eye holes and the fabric are a little tight. For those with larger heads, it may even be too tight to be passable.
Craftsmanship
Arguably the coolest aspect of this model is you can make facial expressions and the mouth will move accordingly. For the record, this consists of latex and polyester.
Breathability
Polyester naturally does an adequate job of wicking away moisture. However, some buyers have noted that it can get very hot inside this.
Overall
Sure, the eye holes could be larger and the breathability could be improved. Yet, the movable mouth and the creepy design make this very compelling.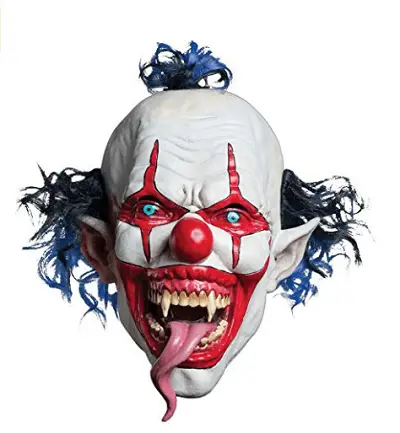 Weren't clowns created to entertain children at birthday parties? Well, some sick and twisted mind thought it would be brilliant to transform these kid delights into sick and demented serial killers. How great is that?
Read more
Visual Design
The terrifying nature of this clown is bad enough but the snake-like tongue is just the icing on the cake. It is as horrifying as it gets, period.
Comfortability
On its own, this may be a little uncomfortable due to the eye openings. However, some users have had success adding padding, so you can try that.
Size and Fitting
One size will fit most with this model and despite the eye openings, it seems that this fits very well on most heads.
Craftsmanship
Morbid Enterprises describes this as being made 100 percent of other fibers. As for the tongue, it is hollow and is no good for licking.
Breathability
One of the main issues with this type of design is the lack of ventilation. Due to this, it is going to get hot and clammy inside.
Overall
If you are inside all night, this may not be the best option. Then again, out in the field, this can be an ideal way to get some cheap scares in.

Subscribe to our Newsletter