Best Kids' Tablets
In a Hurry? Editors choice: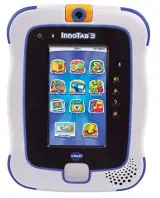 Test Winner: VTech InnoTab 3

Technology
continues to develop at a high rate. In almost every aspect of our day to lives, we can't do without our phones, laptops and a few other gadgets. We use them for work, for
entertainment
, keeping up with news, not to mention current world events. Adapting our kids to the use of such gadgets and machines early on will work to their advantage.
One mistake adults often make, is dismissing Kid's tablets as mere toys. Appearances may fool you, but the value that these tablets offer is outstanding. The tablets are available for children of different ages. Including young ones who are still having difficulties when it comes to pronunciations.
What better way to help your child improve their skills than one with the least resistance? Children exposed to learning programs and tablet games end up having better memory and creativity, compared to their counterparts.
Standout Picks
Criteria Used for Evaluation
Ease of Use
Ease of use means good efficiency.
Kids and adults do not think in the same manner. Their thinking and approach to matters are always more straightforward, compared to that of a grown-up. Such simplicity is why it is essential to consider how user-friendly a tablet is before buying one for them. Adults still face challenges from time to time with operating some gadgets. You can imagine how frustrating that would be for a kid. If they won't be able to use it, then what is the point of buying one in the first place? The main agenda behind the purchase is to enable your toddler to have fun and learn in the process.
Before any purchase, make sure that the tablet you are choosing goes hand in hand with their age group. The younger your child, the simpler the tablet should be. They should not have a hard time adapting to the controls or even carrying it. The interface should be easy to understand, and it should also have some appeal to them. Remember, the more your child likes the tablet, the more time they are likely to spend on it.
Battery Life
Always choose a good power source
One of the reasons why tablets are convenient is because of their wireless nature. In this regard, they need to be able to hold sufficient charge. Some tablets are multifunctional. Other tablets only perform one function. That said, it is logical that a tablet which is being used for several activities to run out of battery quicker. You, therefore, need to ensure that such a tablet can hold a sufficient amount of power. The battery power of a tablet also depends on who the user is. If the tablet belongs to a toddler, it is less likely that it would need more power than one belonging to a high school student.
A toddler's concentration span is questionable, and they may end up being destructed after some time. On the contrary, a high school student would opt to listen to music and watch movies, among other things. Always make sure you consider the usage of the tablet and go for the appropriate battery life. Battery life also becomes an issue while travelling. You would want to keep your young one pre-occupied and entertained before reaching your destination. A good battery capacity will help alleviate your child's boredom and probably steal you some quiet time.
Capacity
Choose a product with good storage capacity.
The listed tablets for kids are capable of doing so much. However, not all of them can accommodate all the content we would want them to. From a realistic point of view, toddlers would hardly need as much space as their older counterparts. The older kids grow; the more interests they acquire. They become more aware of what they like and end up wanting to have more of their favorites in storage. If the tablet you are buying does not have sufficient internal storage, ensure that you can provide additional external space.
If you are looking for multifunctional tablets, don't forget considering storage. Extra storage space will come in handy when storing applications, movies, music, learning programs, and audio books. Your child will have access to all they need in one device, instead of having to look for another to get what they need. However, let's not forget that only parents of much older kids are more likely to face such issues. Don't forget that kids also require some level of convenience, just like adults.
Connectivity
Connectivity gives more options.
Connectivity is important. Very few kid's tablets come pre-installed with games and applications. If the tablet you want to buy has all of these catered for, the connectivity offered probably won't matter as much to you. The problem comes in where you need to add content on to the tablet. A Wi-Fi enabled tablet will make it possible for you to connect to the internet. You will also be able to access your user account/ profile, where you will be able to download content. A few examples of tablets that offer this option are Samsung and Fire edition tablets, to mention a few. Some connectivity options are more advanced than others.
For kids who are more exposed to gadgets and IT related matters, the more connectivity options provided, the better. Transferring and accessing data is part of our daily routines. They should be able to use USB cables and most of all Bluetooth connections. So many devices use Bluetooth devices nowadays. From phones to tablets, TVs, laptops and sound systems, to mention a few. Being able to exchange content with their friends is important to them. If possible always make sure that several connectivity options are available.
Features
More features means better performance.
Kid's tablets just like any other gadgets have several specifications. It's only fair that we take into consideration, as many features as we can. We can't ignore the speed that devices operate. Considering a tablet's RAM and the processor will help you use just that. Again, this only matters depending on the complexity of its use. A tablet used primarily for songs and learning will not need to be that fast. On the other hand, one which is used for complex applications, and accessing websites like Netflix would benefit from speed. Quick upload times and being able to use your tablet without it hanging is convenient. You can relate to the same, be it with your phone or computer.
If your kid knows how to utilize their tablet fully, they will eventually start complaining if the speed becomes an issue. Aside from speed, cameras are also necessary. If you want to be communicating with your child when you're away from home, a video calling feature will suit you. If your kid loves pictures, buy them a tablet that will let them take as many pictures as they want. Other important additional features include; security options, tablet size, and design among others.
Top 10 Picks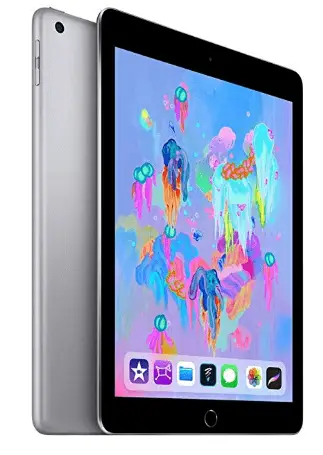 If you have come across the 2017 model, you will love the improvements to this particular one. For speed lovers, this iPad is much faster than the previous model. The difference in price is also not on the higher side.
Read more
User Friendliness:
The tablet has a 9.7‑inch Retina display. The size is perfect, especially if one has any eyesight issues. It weighs approximately 1.03 pounds, which is quite reasonable. The screen is crispy, and its clarity will impress you.
Battery:
The tablet's battery life ranges from 9-10 hours. If you use a cellular data network, you can get 9 hours of web surfing. Wi-Fi users get 10 hours instead.
Storage Capacity:
The tablet is available in two different storage capacities. You have the option of either getting its 32gb or 128gb model.
Connectivity:
The tablet uses Bluetooth 4.2 technology. It has two audio speakers and uses a lightning connector. It only uses Wi-Fi.
Other Features:
The Apple iPad has two cameras. The back camera is 8MP. It is HDR and a 1080p HD video quality. The front camera is 1.2MP. The tablet also has an M10 coprocessor. It uses an A10 Fusion chip. The chip's architecture is outstanding, as expected of a 64-bit.
Overall
This iPad is suitable for kids who are slightly older. It's a great buy and great practice for more advanced pro gadgets.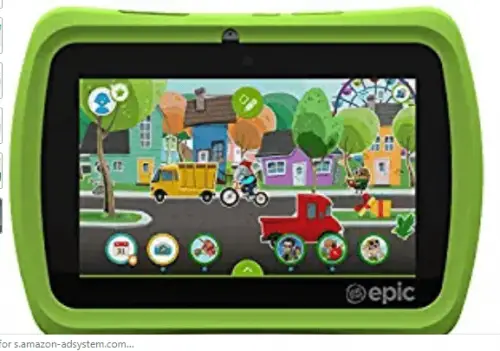 LeapFrog has quite a number of kid's tablets. However, this one is considered to be the most advanced. It is the go-to option for creativeness thanks to LeapFrog's virtual world. The tablet has tremendous learning opportunities.
Read more
User Friendliness:
The tablet's design is for children aged between 3 to 9 years old. Your kid will not struggle to maneuver it. All the android applications installed in the tablet are also age appropriate.
Battery:
It has a battery life of about 5 hours. This is more than enough time for your little one to play and pass the time with.
Storage Capacity:
LeapFrog offers 16gb storage space for this tablet. For a toddler, 16gb worth of learning programs, songs and games are quite sufficient. The tablet also has a port for an expandable SD card.
Connectivity:
The tablet uses an 802.11 b/g/h Wi-Fi connection. A Wi-Fi connection will be necessary to help set-up the device and access some of the content.
Other Features:
LeapFrog has one of the safest web browsers for kids. You have the option of continuously unlocking the browser as your child grows. Other benefits include; Just for Me Learning technology, a protective bumper, and a shatter-safe LCD technology. For pictures, it has a 2MP camera. The tablet also has a fairly quick 1.3 GHz processor.
Overall
No parent would regret buying this kind of tablet for their kid. It is the perfect introductory tablet, for both school and home.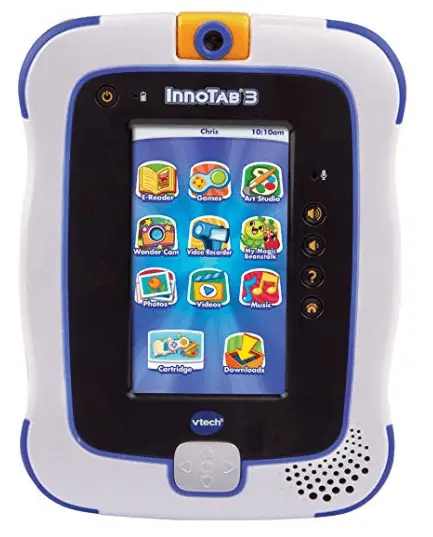 One of the reasons why this tablet is recommended for infants is its durability. Toddlers tend to throw things around, and you want to replace as few tablets as possible.
Read more
User Friendliness:
Toddlers have little hands, that's why this tablet's compact design is impeccable. It is also extremely light in weight, making it comfortable for your young one to play around with.
Battery:
The tablet's battery pack is available separately. But, the good news is that the batteries are rechargeable. It can keep your child pre-occupied for more than 4 hours.
Storage Capacity:
When it comes to storage, the InnoTab 3 has more space than its predecessor.
Connectivity:
The tablet can connect to the internet, where you can download all the games and applications.
Other Features:
Your child will have more play options thanks to the tab's new directional pad feature. The photo features are better, coupled with its 2MP camera.
Overall
Toddlers love this tablet. Gameplay will be better than ever before for your child. They won't even have a clue that they are learning.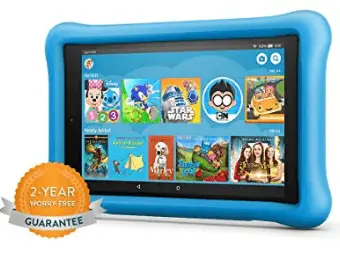 The Fire HD 8 Kids Edition Tablet is a favorite for many parents. Its FreeTime Unlimited will expose your child to movies, books, and applications. The content is also available in Spanish. Your child can also have a personalized Minecraft, YouTube and Netflix profiles.
Read more
User Friendliness:
It has controls which are easy to use. The tablet is for kids aged 3-12.
Battery:
It offers up to 10 hours of battery life.
Storage Capacity:
Unlike the average kid tablets, this one has 32GB internal storage. What makes it stand out is its 400GB expandable storage.
Connectivity:
You can't use a cellular connection, but if you have Wi-Fi it's a good fit.
Other Features:
The 2MP back camera has 720p HD video recording. The front camera has the same mega pixels. A 1.5 GB RAM ensures that it does not lag at all. The tablet's speed is decent.
Overall
You will love this tablet, especially when travelling. Your child will still be able to access content even when there is no internet connection. You need to make sure that you download all the relevant content beforehand.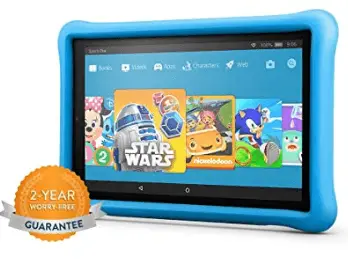 Kids also deserve to watch high-quality contents. The Fire HD 10 Kids Edition, offers just that. With over 2MP, it completely outshines a number of the tablets listed.
Read more
User Friendliness:
The tablet is easy to operate like the other Fire editions. Your child will get used to the tablet before you know it.
Battery:
Your child can read, surf and get entertained, for up to 10 hours.
Storage Capacity:
You can store up to 32 GB worth of content. The external storage is expandable by 256 GB.
Connectivity:
Streaming online is possible thanks to a dual-band connectivity.
Other Features:
The tablet has Dolby Audio and stereo speakers. It comes encased for protection on impact. It's more advanced compared to other tablets. The tablet features a 1.8 GHz processor and 2 GB of RAM. You will also get a VGA front camera. The front one might not be much but its back camera offers 720HD quality.
Overall
Alexa, social media sites and in-app purchases are all controllable. The tablet is also rich in content with over 20,000 options.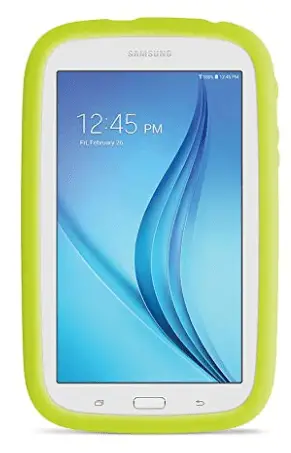 Elementary school children are the best fit for this kind of tablet. Your child will have access to applications that help explore STEM and Core curriculums.
Read more
User Friendliness:
The tablet is not heavy. Your kid can use it for some duration of time without straining their hands. The interface is also friendly, and the screen is bright enough.
Battery:
Each charge offers about 9 hours of use. There is so much that one can do within 9 hours. You could travel with this tablet and reach your destination before it goes off.
Storage Capacity:
The available onboard memory is 8GB. However, you can add up to 32GB of space.
Connectivity:
Tablet has Wi-Fi and can also make video calls. Video calls are interactive and a creative way to catch up with family and friends from different locations.
Other Features:
When it comes to rear camera features, Samsung has the lead. The tablet can also take a panorama and continuous shots. Parents can also select app and time to monitor their child's progress.
Overall
The Samsung tablet stands out since it allows you to check how well your child is doing.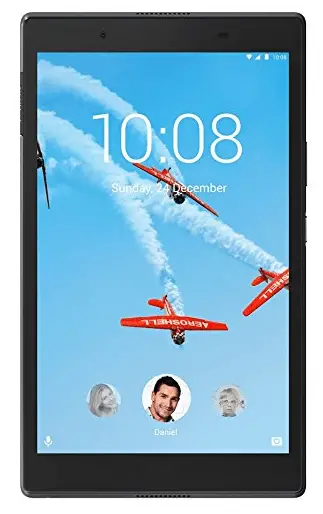 Lenovo offers multi-space and multi-user functionality. The tablet can accommodate up to 7 user accounts with the utmost privacy. It is an excellent addition to a modern household.
Read more
User Friendliness:
Your child will not have a hard time operating it, as long as you have set up the kid's pack.
Battery:
The tablet was designed to take on daily tasks effortlessly. It can perform to up to 20 hours.
Storage Capacity:
It has a 16GB Flash memory.
Connectivity:
Your child can use it wirelessly. The plus side is that it also has Bluetooth 4.0.
Other Features:
You will be impressed by its high-performance processor. Snapdragon is top-notch, so an upgrade won't be necessary for a long time, coupled with android 7.1. You also get a 5 MP rear camera.
Overall
Aside from the kid's pack, the tablet also has a shock-resistant bumper. A blue-light screen filter helps with eye-care.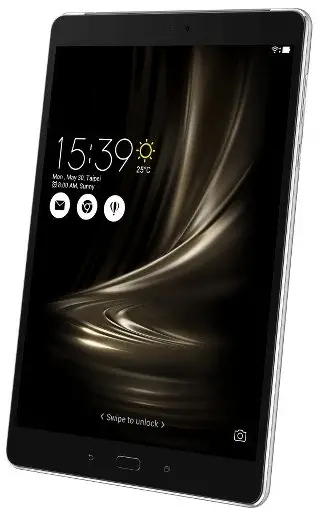 If an increase in productivity is what you are seeking, this Asus tablet fits the bill. Your high school aged kid will certainly have a field day with this kind of gift.
Read more
User Friendliness:
Viewing experiences are more realistic than ever with this tablet. ASUS Tru2Life technology, ASUS TruVivid display, and ASUS Bluelight Filter offer enhanced quality.
Battery:
The tablet has a 5900mAh battery capacity.
Storage Capacity:
It comes with a 64GB onboard storage. As if that wasn't enough, you can still add a 128GB SDXC memory card.
Connectivity:
When it comes to connectivity, it has options such as; Miracast support, GPS, gyroscope,
Compared to most of the tablets on the list, it's Bluetooth connectivity is the most advanced.
Other Features:
The tablet uses an android 6.0 OS. Its system uses a Dual Core ARM Cortex 2.1 GHz, joint with a really powerful MediaTek processor. It was built to resist damage, thanks to its cover glass. Gorilla glass is very reliable.
Overall
You will love the tablet design. It can fit both kids and adults. Having both a microphone and a headphone jack is a plus.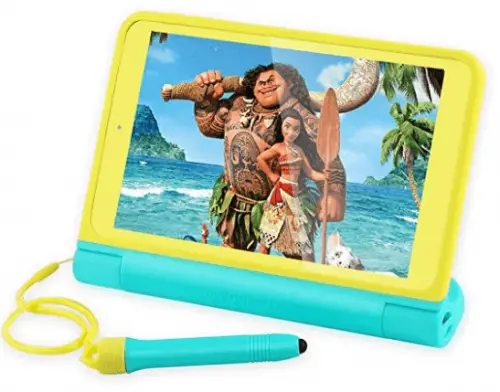 Seeing that the tablet comes with a case and stylus, you will have cut down on some costs with this purchase.
Read more
User Friendliness:
The interface is very child-friendly. It has a display designed for eyesight protection
Battery:
A 3600mAh battery is not that impressive. However, it offers your child non-stop entertainment for up to 3 hours.
Storage Capacity:
The tablet has 16GB worth of internal storage.
Connectivity:
The connectivity offered is wireless.
Other Features:
The content displayed is very clear. The tablet has a 178-degree wide view angle for enhanced user experience. Its case comes with a stand, which makes hands-free operation possible. This is the kind of tablet that your kid will not easily outgrow because of its system and processors.
Overall
In addition to 20 Disney story books, the kid's tablet also comes with four audio books. The value from this purchase is every penny. You will be amazed at how your child's communication skills will be improved.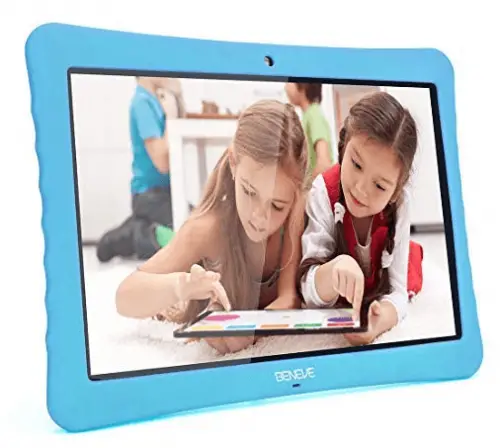 When we buy gadgets, after-sales services are not always a given. It is quite re-assuring to know that there are professionals ready to assist you.
Read more
User Friendliness:
The tablet does not have too much glare. An ultra-slim design makes it very easy to handle. Booting up applications will take the shortest time possible.
Battery:
It has a 3-hour battery life.
Storage Capacity:
Internal storage of 32GB is impressive. However, when expanded to 64GB, it's possible to store thousands of games, movies, and songs.
Connectivity:
You can connect to hotspots using its 5G Wi-Fi. The tablet uses Bluetooth 4.0 and has a micro USB port.
Other Features:
The tablet can be used for video calls and has an android 7.0 operating system. It has a 2MP front camera and a 5MP rear camera. You are guaranteed efficient operation, not to mention the highest RAM kid's tablets can offer.
Overall
Your purchase will also include a free screen protector, tablet case, OTG cable, adapter, and USB cable.

Subscribe to our Newsletter