Best Sport Camera
In a
Hurry? Editors choice: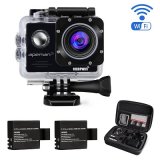 Test Winner: APEMAN Action

Remember that time you jumped off of a waterfall in Costa Rica?! Or went zip-lining through the Balinese jungle? Or
the first wave
you ever caught?! Instead of enjoying these moments as pure memories, wouldn't it be great to actually be able to see the events happening all over again? For all of those, "no one is going to believe this!" moments, a sports camera is a great accessory to have with you. Not only is it great fun to use but it also proves to your buddies that you are indeed NOT exaggerating about the gang of monkeys that worked together to steal
your wallet
. GoPro seems to be the heavy-hitter on the market these days, but on our list, you will also find some of the less well-known and up and coming brands.
Standout Picks
Criteria Used for Evaluation
Durability
If you're one of those who spend quality time outdoors and want to enjoy and relive those crazy moments you shared with your loved ones, a durable action cam is essential. What sets an action camera apart from other video cameras is not only its extra compact size and an ample number of mounting options but its ability to withstand the elements and physically intensive situations.
Few cameras are water-resistant on their own, while others require a special waterproof casing. Many models are also described as "splashproof", while you can still place your camera in housing to increase the water protection. Weatherproofing, on the other hand, means you can take your camera out in the extreme cold and even get hit with a moderate rain but it cannot be submerged underwater.
Their durability makes them perfectly suited for capturing all the action from a first-person perspective - even in the most extreme terrains. This allows you to capture your passion for adventure sports and share them with the world.
Battery Life
Even the best action cameras with long battery life, offer anywhere between one and three hours of use. So, if you're on a multi-day backpackingtrip or an expedition tour , you'd want to keep additional rechargeable batteries with you all the time.
The battery life of a camera varies considerably depending on many factors. Shooting high-resolution videos, especially at 4K, use more power than usual, as do higher frame rates. Extreme temperatures and having the Wi-Fi turned on drains the battery much quicker. You can also expect minimal battery life when shooting in sub-zero temperatures.
Features
There are many features to consider when shopping for one of these cameras. As you may have guessed, the more features a product has, the more expensive it will be. Think about where and how you will be mainly using the camera to decide which option will suit your life best.
Frame Rates
You'd definitely want to consider frame rate, better known as frames per second (fps). Some well-known cameras are capable of recording at a maximum of 120 fps, while others can go up to 30 fps. For standard playback, 30 fps is just perfect. But for more intense recording, shooting at 1080p and 60 fps is the ideal setting. Some cameras are even capable of shooting 4K videos if the resolution allows. The thing is the footage captured at 120 fps can be slowed down and played back at one-quarter speed.
Resolution
Then there comes resolution and video quality, which is just as important as other factors. In general, the better the quality of the video, the more expensive the sports camera. A camera that delivers best-quality images and fast-action-shooting performance is good enough to sell to a knowledgeable buyer. In simple terms, resolution refers to as megapixels and the number tells you exactly how many pixels the camera uses to produce an image. Every modern-day camera comes with more than enough pixels to cater to any need.
Field of View
Every sports action camera has a fixed wide-angle lens with focal length basically in the range of 17mm to 20mm. Depending on the sensor size; this gives a field of view of up to 170-degrees from around 140-degrees. The larger the number, the larger and wider the field of view and the more action you'll be able to capture. An ultra-wide-angle lens is perfect for large scenes, while the wide-angle lens is good for group captures, landscapes, and street photography.
Still Photos
Action cameras are specially designed to take videos, but they are also capable of capturing still photos. They don't produce ultra-high-resolution images as you would normally expect from a high-end DSLR camera, but generally, a good action camera with a higher megapixel rating will take sharper and crystal clear pictures.
Light Sensitivity
An action camera's sensitivity to light is described as ISO sensitivity. The higher the number, the better the camera is susceptible to shooting in low light conditions. However, the number of noise increases as sensitivity rises, which results in colored speckles you normally see in night photos. They use noise suppression to eliminate those speckles, but that might result in smeary photos.
Memory Cards
Equally important is the storage option when looking for the best action camera for documenting your adventures. Almost every action cam records videos onto removable memory cards. Most cameras use MicroSD cards, while some use those conventional over-sized memory cards. Either way, keep additional memory cards at your disposal all the time so you will have ample amount of space for your treasured memories. The higher the number (GB), the more space you'll get.
GPS
This is an additional feature that usually comes in high-end action cameras. If you want to know exactly where you are when you capture a moment, you'll need a camera with a built-in GPS receiver. The GPS cameras leverage satellite positioning to get a fix on your location. This location data can further be read with the help of some software as well as photo-sharing sites to map the exact location where you took the photos. However, it drains the battery faster as the GPS has to be kept on so that it can update your location.
Versatility
You'll want to keep your specific needs in mind like where you're going to mount these. Not all cameras are suitable for every action sport, and certain form factor tends to excel at certain activities. Also, different shapes and sizes require different mounting accessories and possibilities. It also needs to be flexible enough to work well with your other equipment. If you're going to use it when surfing, cycling or skiing, you obviously need a way to mount the camera to your board, bike, or helmet. If you want to use it handheld, attach it to your drone or harness for better coverage. With a handful of options and accessories, you can mount your camera literally to anything.
Subscribe to our Newsletter