Best Sport Camera
In a Hurry? Editors choice: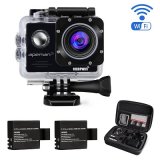 Test Winner: APEMAN Action

Remember that time you jumped off of a waterfall in Costa Rica?! Or went zip-lining through the Balinese jungle? Or
the first wave
you ever caught?! Instead of enjoying these moments as pure memories, wouldn't it be great to actually be able to see the events happening all over again? For all of those, "no one is going to believe this!" moments, a sports camera is a great accessory to have with you. Not only is it great fun to use but it also proves to your buddies that you are indeed NOT exaggerating about the gang of monkeys that worked together to steal
your wallet
. GoPro seems to be the heavy-hitter on the market these days, but on our list, you will also find some of the less well-known and up and coming brands.
Standout Picks
Criteria Used for Evaluation
Durability
If you're one of those who spend quality time outdoors and want to enjoy and relive those crazy moments you shared with your loved ones, a durable action cam is essential. What sets an action camera apart from other video cameras is not only its extra compact size and an ample number of mounting options but its ability to withstand the elements and physically intensive situations.
Few cameras are water-resistant on their own, while others require a special waterproof casing. Many models are also described as "splashproof", while you can still place your camera in housing to increase the water protection. Weatherproofing, on the other hand, means you can take your camera out in the extreme cold and even get hit with a moderate rain but it cannot be submerged underwater.
Their durability makes them perfectly suited for capturing all the action from a first-person perspective - even in the most extreme terrains. This allows you to capture your passion for adventure sports and share them with the world.
Battery Life
Even the best action cameras with long battery life, offer anywhere between one and three hours of use. So, if you're on a multi-day backpackingtrip or an expedition tour , you'd want to keep additional rechargeable batteries with you all the time.
The battery life of a camera varies considerably depending on many factors. Shooting high-resolution videos, especially at 4K, use more power than usual, as do higher frame rates. Extreme temperatures and having the Wi-Fi turned on drains the battery much quicker. You can also expect minimal battery life when shooting in sub-zero temperatures.
Features
There are many features to consider when shopping for one of these cameras. As you may have guessed, the more features a product has, the more expensive it will be. Think about where and how you will be mainly using the camera to decide which option will suit your life best.
Frame Rates
You'd definitely want to consider frame rate, better known as frames per second (fps). Some well-known cameras are capable of recording at a maximum of 120 fps, while others can go up to 30 fps. For standard playback, 30 fps is just perfect. But for more intense recording, shooting at 1080p and 60 fps is the ideal setting. Some cameras are even capable of shooting 4K videos if the resolution allows. The thing is the footage captured at 120 fps can be slowed down and played back at one-quarter speed.
Resolution
Then there comes resolution and video quality, which is just as important as other factors. In general, the better the quality of the video, the more expensive the sports camera. A camera that delivers best-quality images and fast-action-shooting performance is good enough to sell to a knowledgeable buyer. In simple terms, resolution refers to as megapixels and the number tells you exactly how many pixels the camera uses to produce an image. Every modern-day camera comes with more than enough pixels to cater to any need.
Field of View
Every sports action camera has a fixed wide-angle lens with focal length basically in the range of 17mm to 20mm. Depending on the sensor size; this gives a field of view of up to 170-degrees from around 140-degrees. The larger the number, the larger and wider the field of view and the more action you'll be able to capture. An ultra-wide-angle lens is perfect for large scenes, while the wide-angle lens is good for group captures, landscapes, and street photography.
Still Photos
Action cameras are specially designed to take videos, but they are also capable of capturing still photos. They don't produce ultra-high-resolution images as you would normally expect from a high-end DSLR camera, but generally, a good action camera with a higher megapixel rating will take sharper and crystal clear pictures.
Light Sensitivity
An action camera's sensitivity to light is described as ISO sensitivity. The higher the number, the better the camera is susceptible to shooting in low light conditions. However, the number of noise increases as sensitivity rises, which results in colored speckles you normally see in night photos. They use noise suppression to eliminate those speckles, but that might result in smeary photos.
Memory Cards
Equally important is the storage option when looking for the best action camera for documenting your adventures. Almost every action cam records videos onto removable memory cards. Most cameras use MicroSD cards, while some use those conventional over-sized memory cards. Either way, keep additional memory cards at your disposal all the time so you will have ample amount of space for your treasured memories. The higher the number (GB), the more space you'll get.
GPS
This is an additional feature that usually comes in high-end action cameras. If you want to know exactly where you are when you capture a moment, you'll need a camera with a built-in GPS receiver. The GPS cameras leverage satellite positioning to get a fix on your location. This location data can further be read with the help of some software as well as photo-sharing sites to map the exact location where you took the photos. However, it drains the battery faster as the GPS has to be kept on so that it can update your location.
Versatility
You'll want to keep your specific needs in mind like where you're going to mount these. Not all cameras are suitable for every action sport, and certain form factor tends to excel at certain activities. Also, different shapes and sizes require different mounting accessories and possibilities. It also needs to be flexible enough to work well with your other equipment. If you're going to use it when surfing, cycling or skiing, you obviously need a way to mount the camera to your board, bike, or helmet. If you want to use it handheld, attach it to your drone or harness for better coverage. With a handful of options and accessories, you can mount your camera literally to anything.
Top 10 Picks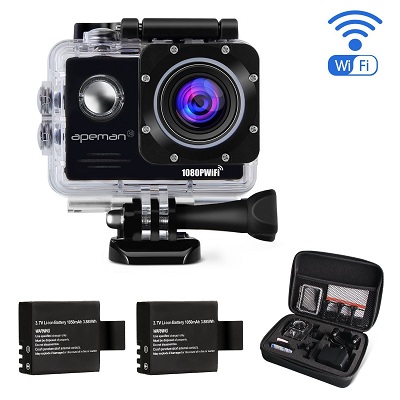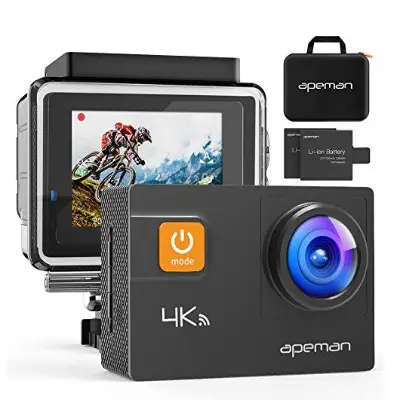 The APEMAN Sport Action Camera is a pocket-sized, all-in-one camera that helps you be prepared for anything. Be your own photographer with this stunning action cam and capture all your life's precious moments in HD. It features a 14 megapixel HD wide-angle lens that is capable of capturing high-quality images, and it allows for great video quality.
Read more
Durability
The waterproof and rugged underwater casing allows you to shoot fascinating water sports. It's water-resistant up to 30 meters which makes it ideal for outdoor activities like swimming, underwater diving, water-skiing, surfing, etc.
Battery Life
There are two rechargeable batteries included with this camera. Each one takes about three hours to fully charge and can record for a continuous 120-minutes afterward.
Features
The detachable battery makes it easy to replace which prolongs your camera's service life and the expandable storage supports up to a maximum of 32GB. With the built-in Wi-Fi mode, it allows you to control your camera through your smartphone. The CMOS sensor is great for capturing crisp photos and shooting high-quality videos with vivid colors, and the improved 2.0 inch LCD display to view HD pictures and videos in real-time.
Versatility
It also comes with a special portable package that includes a lot of accessories, including multiple different styles of mounts. The APEMAN Action is the best camera with all the required features.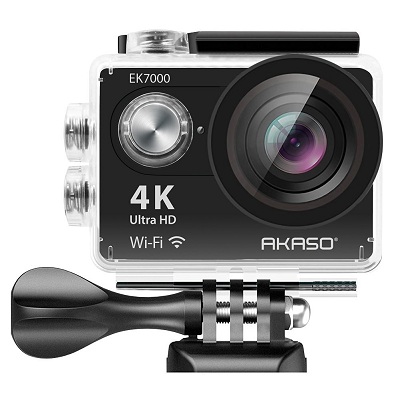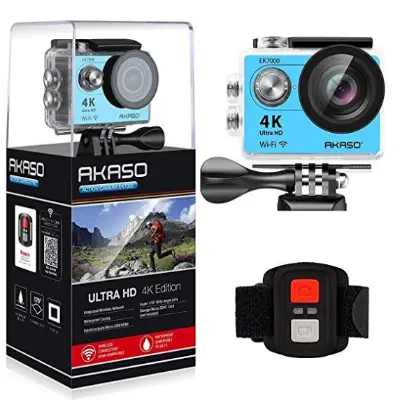 Have a knack for adventure photography? Or if you're one of those adrenaline junkies who like to capture their experiences and adventure through an action camera? If you're so much into outdoor activities like surfing, skiing or cycling and love to record your adventure through your eyes, then the AKASO EK7000 is just the right thing for you.
Read more
Durability
A waterproof case is included with the purchase of the camera and it provides a lot of durability. Without the case, you must use caution as it is much less protected and not waterproof on its own.
Battery Life
Similar to some of our other additions, this camera also comes with two rechargeable batteries. When fully charged, each battery can record continuously for up to 90-minutes.
Features
Not only it features ultra HD 4K video recording, providing sharper and more lifelike picture quality, but also delivers distinctly smooth videos. It has a high frame rate of 4K 25 fps and 2.7K 30 fps. The 12-megapixel wide-angle lens helps you capture the best moments of your life. You can also choose from different modes: single, time-lapse and burst mode.
It has built-in Wi-Fi which allows you to connect your camera with your mobile devices from a distance of up to 50 feet. Use the remote control of the camera to switch different modes accordingly. Shift from video mode to photo mode, burst to time-lapse with a single press of the button. It's also compatible with GoPro mounts and the waterproof housing is great and allows you to dive down up to 30-meters. The camera has 4 times the resolution compared to almost all traditional HD cameras which allow you to capture your experiences in higher resolutions. So for those who want a taste of action cameras at competitive prices, the AKASO EK7000 is one of the best choices for a beginner.
Versatility
There are multiple mounts included with this action camera, including one for a helmet and a bicycle. There's no doubt that this camera will be able to accompany you on all of your adventures.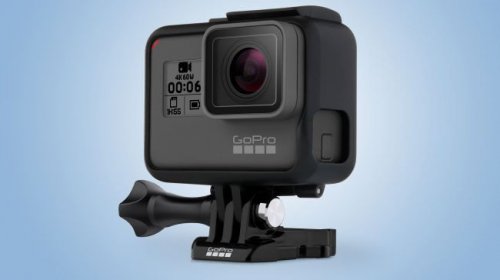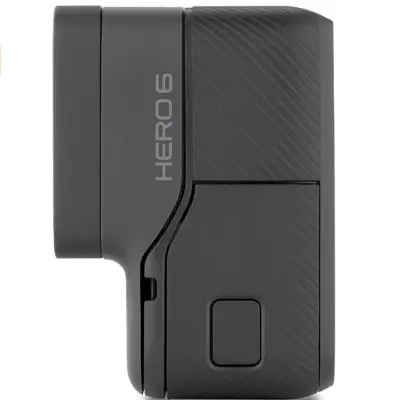 The GoPro hero6 Black is a professional sports action camera suitable for just about anything. It's a perfect way to get started shooting great content with many thoughtful features, and the addition of Wi-Fi and app connectivity makes it stand out from the rest of the crowd.
Read more
Durability
GoPro is known for its durability. This particular model is shockproof and waterproof up to 33-feet without housing.
Battery Life
While it all depends on the settings of the camera, more or less, a fully charged battery will last you about 70-minutes. There is only one battery included, but it would be a great idea to invest in one more so that you're never left with a dead GoPro in a life-changing recordable moment. However, it should be mentioned that in extreme heat or cold, the battery life will likely be shortened.
Features
It records videos in 4K at up 60fps, 1080 at up to 240fps, and 720 and up to 240fps; you'll be able to capture everything.
The Hero6 Black has a useful 2-inch touchscreen, voice commands, and an updated app with QuikStories that automatically transfers and edits your footage for you. This is definitely among the top action cameras on the market.
Versatility
GoPro is the King company of accessories! If you're willing to invest a little bit more, you can customize the mounts to your style of activities.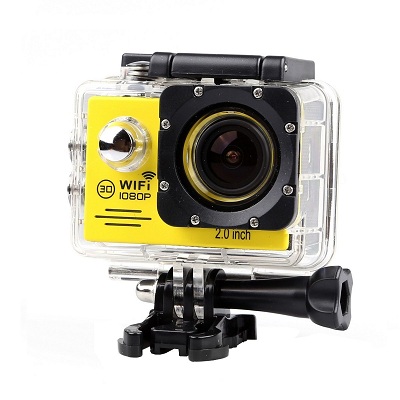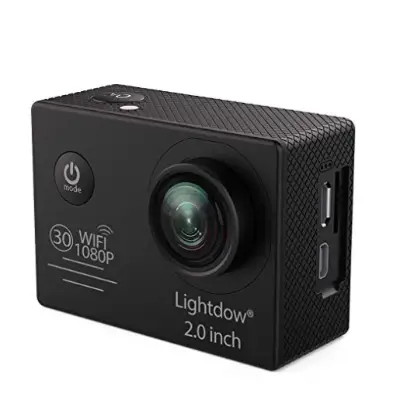 If you need a professional-grade option as good as the GoPro, but at a competitive price without compromising the quality and the looks, then Lightdow LD6000 is your best bet. Lightdow is one of the very few companies that manufacture affordable yet great action cameras. With a 12 megapixel camera, it captures high-quality photos at speeds up to 30 fps. For most people, that's more than enough.
Read more
Durability
The Lightdow LD6000 is waterproof which makes it perfect to shoot and capture underwater. It's designed to withstand extreme conditions and environments.
Battery Life
This camera can go from 0% to 100% charged in just three hours. After a full charge, you can continuously record for about seventy minutes.
Features
The video quality is unbeatable at this price and it records in full HD. It also allows for expandable storing, so rest assured there is plenty of room for memories.
With the built-in Wi-Fi, you can connect your camera directly with your smartphones, tablets or laptops. It also several other features like motion detection, anti-shaking, screen rotation, car DVR mode, date stamping, dash-cam mode and much more.
Versatility
It also comes with different mounts and accessories, which makes sure you don't have to carry additional mounts while taking an adventure photography trip. So, if you're looking for a full-fledged action sports camera without breaking the bank, look no further.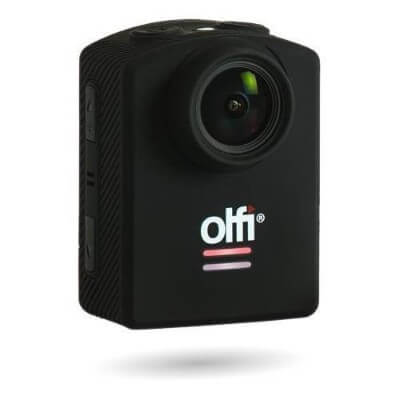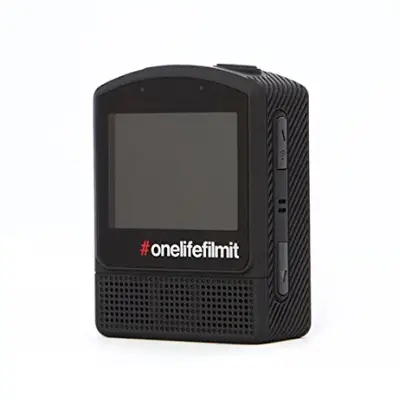 The OneFive from Olfi is a great budget-friendly option. There is a full LCD (not touch) screen on the back, so you can see what you're filming in real-time, as well as check your footage afterward. The camera has the capability to shoot 16-megapixel photos and the device as a whole is easy to use.
Read more
Durability
The Olfi seems to be pretty durable! There is a waterproof case included with purchase that offers you up to 30-meters of waterproof protection. As an added bonus, Olfi offers a great 12-month "Break it-Replace it" warranty.
Battery Life
There is one lithium-ion battery included. When fully charged, this battery will provide you with 90-120-minutes of recording. Reviewers say that if you make sure to turn off the camera when not actively using it, it can last for about 5-hours! It is possible to charge the camera/battery with an external battery charger while you are using the camera, but not when it is in the waterproof case.
Features
You'll be able to film fairly impressive photos and videos with this camera. It features 4k-1080p ultra-high-definition video resolution and a 16-megapixel camera. You can immediately view your footage after filming on the rear full-color LCD screen. There is an external mic included, as well as built-in image stabilization.
When you're ready to get to editing or prefer to see your footage on a larger scale, there is a free Olfi app available. You can upload and edit photos and videos with this easy to use the app. You can also add a soundtrack to your recordings. The app isn't overly-saturated with features, which is great for beginners but could be a frustration for experts.
Versatility
There are a lot of mounts and accessories available for the Olfi OneFive. In the case, there are bases, screws, and clips included. A unique feature that this camera possesses is the Dashcam Mode. With this mode, the camera is awakened when you start the car and automatically stops filming 10-seconds after you turn off the ignition.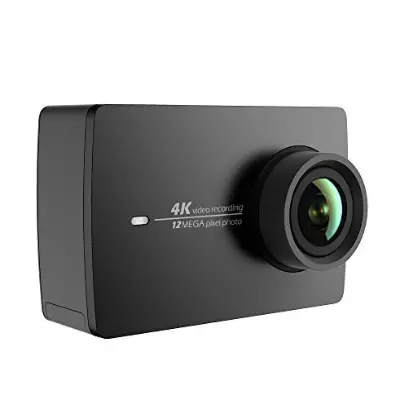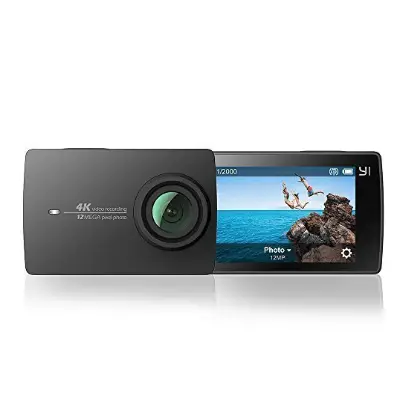 Be a photographer on-the-go with the very versatile YI Action Camera – a high-performance, pocket-sized camera that helps you be ready for anything. Equipped with the powerful Ambarella A7LS image processor, it shoots visually captivating videos at 1080p. On top of it, there's image stabilization, motion compensation, and noise reduction, which make sure your high-resolution videos remain crisp and clear.
Read more
Durability
Reviewers say that this camera feels pretty durable and can handle a bit of rough-housing. However, it should be noted that the camera itself is not waterproof and the waterproof case is sold separately.
Battery Life
The included battery is rechargeable and provides you with up to 90-minutes of continuous recording when fully charged. Some reviewers have found that the battery can be drained when not in use just by having the battery in the camera. Some people suggest taking the battery out of the camera when not in use.
Features
The camera takes crystal clear photos with the utmost precision, thanks to the 16 megapixels Sony Exmor R BSI CMOS sensor. The built-in Wi-Fi and Bluetooth connectivity allow you to stream live footage, edit and share your favorite pictures and videos instantly from your smartphone.
Capture more of your favorite city with the exceptional 155-degrees ultra-wide angle lens. The CMOS lens with an F2.8 aperture guarantees a completely immersive experience. Other cameras at this price offer only a fraction of options and typically shoot videos at a maximum of 1080p at 30 fps and 720p at 60 fps, but YI can capture 1080p videos at 60, 48, 30 or 24 fps; 960p at 60 or 48 fps; 720p at 120, 60 or 48 fps; and 480p at 240 fps. The Travel Kit helps you take photos and videos conveniently without missing out on your favorite moments while on-the-go.
Versatility
There are different buying options available with this camera. You can purchase just the camera, the camera with a waterproof case, or the "kit." Aside from this, there are also a plethora of accessories available to purchase through YI.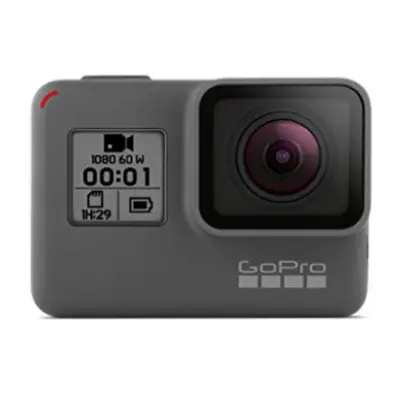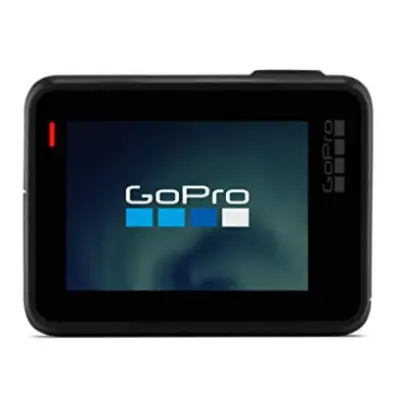 The HERO is a simple to use option from GoPro. While it doesn't boast as impressive features as some of the other cameras, its beauty is in its simplicity. It is durable and waterproof down up 33-feet without a case. If this is your first camera or if you want something that is easy to use, this is a great choice.
Read more
Durability
This is one of the additions on our list that is waterproof on its own, without a case. However, it is important to note that it is waterproof only down to 33-feet. If you would like to take the camera deeper, you can purchase a waterproof case. The camera itself has a durable feel and has been known to have a long lifespan. To make it easier and more comfortable to grip, the back and sides of the camera have ridges.
Battery Life
The HERO uses a rechargeable lithium-ion battery. It is included with the purchase of the camera and is said to last between 90 and 120 minutes, depending on the camera settings. One of the main complaints about this camera is the battery life. Many reviewers recommend investing in a few more batteries to make sure that you are never left with a dead HERO.
Features
The HERO is slightly more basic than some of our other options. It's great for an amateur photographer or someone who is simply trying to document their memories. It powers on easily with the touch of a button. On the back, there is a two-inch touch screen that allows you to see your photos and videos and change the settings. To take photos from afar, without touching the camera, you can either use voice controls or download the GoPro app and use your phone as a remote when connected by wifi or Bluetooth.
When filming, the HERO can capture up to sixty frames per second. You have the ability to shoot videos in 1440p or 1080p and photos camera takes 10mp photos. If you choose to sign up and subscribe to GoPro Plus, you can use their cloud storage system. This subscription allows you to store unlimited photos and up to 35 hours of video.
Versatility
Where can you not take this GoPro HERO? There are no mounting accessories included but this model is compatible with over thirty different mounts and accessories. While the fact that no accessories are included may be seen as a downside to some, it is nice to not receive excess pieces that you may never use.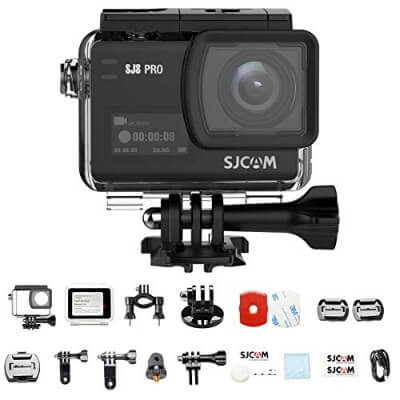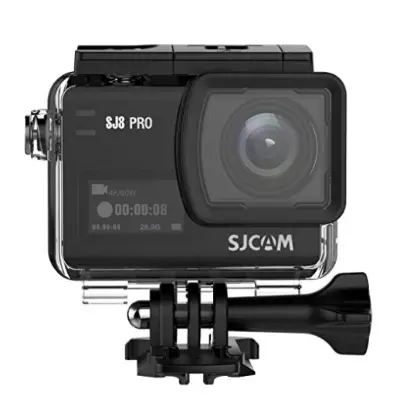 Our next addition is a great camera for many different adventures, as long as they don't go any deeper than 30-meters. There are two screens on this camera, a large one on the back, and a small screen on the front that shows you the battery, mode, and time. We would have liked to see a higher megapixel camera, but either way, we are quite impressed with the SJ8.
Read more
Durability
The SJ8 has a sleek look and an easy to handle rectangular shape. It is a great alternative to an expensive sports camera. One downside is the fact that it is not natively waterproof. However, the waterproof case is included with the purchase of the camera. Some say that the case can be difficult to get on and off, but we appreciate the peace of mind knowing that water won't be able to get in either.
Battery Life
This comes stocked with a strong 1200mAh battery. You would expect a longer battery life than a continuous 70-minutes, but the features and filming abilities use up more of the battery than you would think. Investing in a second battery with this camera would be a great idea.
Features
One of the most admired features of this camera is the dual screens. There is a 2.33-inch touch screen on the back with all of the typical features and controls. On the front of the camera, there is a .96-inch screen. This allows you to be in front of the camera without worrying about which mode the camera is in, the time, or battery.
In addition to dual screens, the SJ8 also boasts 8x digital zoom, an external microphone, integrated Electronic Image Stabilization, wifi, and voice control. The camera has the ability to capture photos with 12-megapixels. We would have liked to see a higher number here but it could be worse. Overall, the interface is easy to use with a small learning curve.
Versatility
This little camera can go almost everywhere with you. Included with your purchase is the waterproof housing, a handlebar mount, and tripod mount. There have even been some reviewers who have used the camera as home security.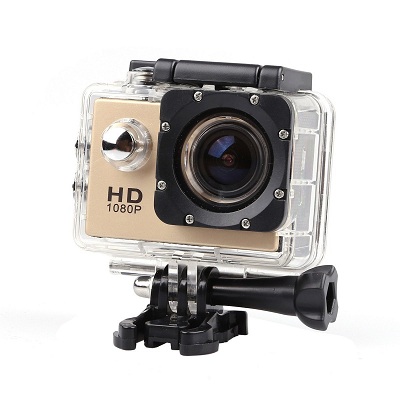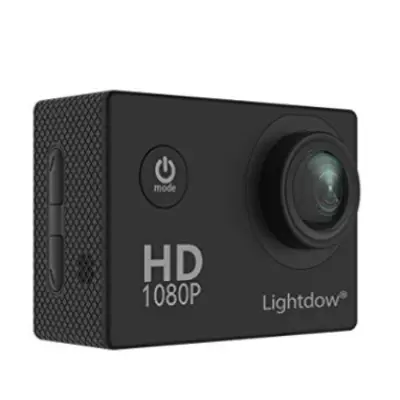 Action cameras come in a variety of styles and price ranges, most of which are quite popular in their segment. If you're interested in something like that for yourself without breaking the bank, you'll definitely want to know about the Lightdow LD4000 Sports Action Camera. Equipped with a NOVATEK NT96650 image processing chip, the Lightdow LD4000 encourages superb image quality and better vision.
Read more
Durability
This action camera is designed to withstand extreme environments and conditions. For a basic action camera, it works definitely well and if your budget is limited, this is the best you could get. Though the camera really beat the odds when it comes to affordability, that doesn't mean it skimps on the performance.
Battery Life
This camera comes with two rechargeable lithium-ion batteries included. It will have a full charge after about three hours, which gives you about 70-minutes of continuous filming time.
Features
The Lightdow LD4000 also comes in handy when learning the basic principles of photography. So if you're looking for something practical yet inexpensive which gets the job done just perfectly, then look no further.
It is capable of capturing high-quality 12-megapixel photos at speeds of up to 30 fps. It boasts an immersive 170-degrees wide-angle lens which guarantees crystal clear pictures with vivid colors. The waterproof housing makes it suitable for an array of conditions.
Versatility
You can either wear it or mount it while capturing images both indoors and outdoors. There are a few mounts included with the purchase of the camera including, a bike mount, frame mount, and helmet mount.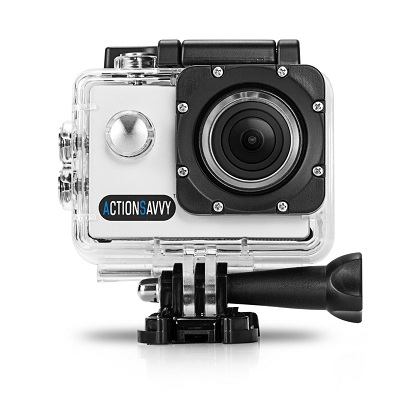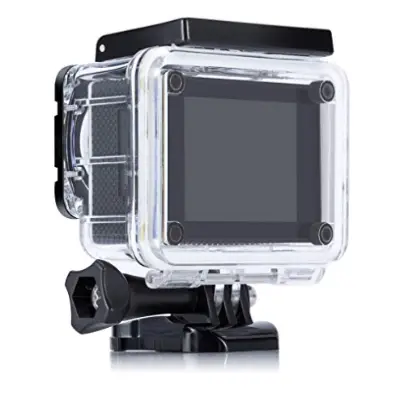 A perfect entry-level action camera for both indoors and outdoors activities, the ActionSavvy 007 is ideal for diving, surfing, and other outdoor sports. It's a tiny little camera in a waterproof housing conveniently tucked in a foam shroud. Following the camera, there's a box of goodies that comes with the package that includes a great selection of mounts and accessories. There are too many options to mount your camera anywhere you want for the best angles. The cool 10-megapixel camera with 170-degrees wide-angle lens records high-quality 1080p videos at 30 fps and 720p at 60 fps.
Read more
Durability
When in the housing, this camera is mountable and waterproof down up 164-feet. Some say that the app isn't very reliable, but the camera itself feels pretty strong.
Battery Life
There are two rechargeable batteries included with this camera. Once fully charged, each battery lasts for up to 60-minutes.
Features
With additional storage up to 64GB, you'll never run out of space while on-the-go. With the built-in Wi-Fi, the camera can easily connect to your mobile devices so that you can see what the camera sees. Additionally, this camera offers an impressive 170-degree view. So, if you're looking for a feature-rich action-packed camera on a budget and you're not into that popular brand image, then the ActionSavvy 007 is the right fit for you.
Versatility
Included with the purchase of the camera are mounts for almost anything. The mounts included are for your bike, tripod, helmet, suction mount, and drones. This camera is extremely lightweight and compact at only 4-ounces, which means you can comfortably wear or mount it over your gear as you capture your favorite moments, or slip it in your bag or pocket and take it anywhere you want.

Subscribe to our Newsletter