Best Beginner Surfboards
In a Hurry? Editors choice: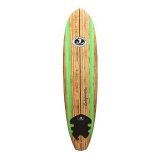 Test Winner: CALIFORNIA BOARD COMPANY

The other people in the ocean and the professionals on TV sure do make surfboarding look easy, don't they? As many of you know, however, mastering the art of surfboarding takes a lot of practice.
But, owning the right equipment is also going to help quite a lot. This is why
if you are just starting out
or know someone who is just starting out, you need to buy an appropriate surfboard. You can't expect to become an expert at the activity if you begin with an elite-level board.
So, clearly, if you are someone who is really, really good at this craft then you will not get much use out of this guide (unless you are buying for someone else). For those looking to get their feet wet, though, saddle in as you have a lot to learn.
Standout Picks
Criteria Used for Evaluation
OUR TOP PICKS FOR THE BEST BEGINNER SURFBOARDS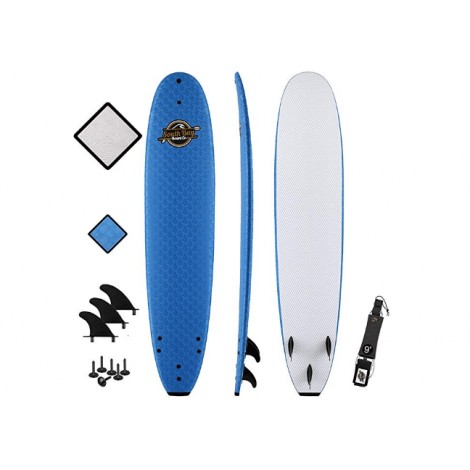 South Bay Board Co. knows a thing or two about designing top-notch beginner surfboards and it shows on this list. Their Heritage is definitely the cream of the crop and you will find out why in a second.
Read more
Performance
The overall shape of this coupled with the slick and hard HDPE bottom allows it to provide quick turns and overall clean and smooth rides.
Materials
First off, this is designed of custom Fingerprint Textured IXPE Foam ensuring that you will never need to wax the top. Also, the triple stinger system is surrounded by custom molded EPS closed cell foam. Oh, and two layers of resin have been added for extra toughness.
Size
The thickness of this board takes some getting used to but the 8-foot-8-inch height is going to be a welcome sight if you are trying to avoid shorter models.
Accessories
Due to the fact that this comes with a leash and also a flexible fin set up, you will not need to buy many extras with it.
Colors
This is offered in a blue (closer to a sky blue) color and, truth be told, you can't really go wrong with that.
Overall
When you take everything into consideration, it is tough to deny that this is the number one model in the world for beginner surfboarders out there.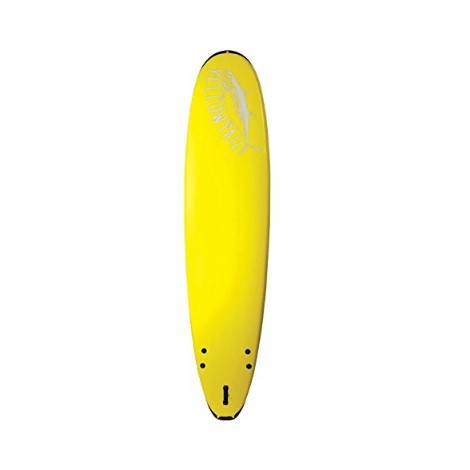 Remember when it was said that experts would get nothing out of this guide? Well, that was not necessarily true as this model right here is actually quite good for beginners and experienced riders alike.
Read more
Performance
Though this is not going to handle massive waves the best, its high-density slick bottom does make for quite the stiff and durable ride.
Materials
Being crafted with a strong, lightweight, and water-resistant core, this is going to withstand some abuse and keep firing back. For the record, it is made with an EPS core and multiple stringers.
Size
In addition to the fact that this measures eight feet in length, it also sports a 22.5-inch width and is 3.25 inches thick.
Accessories
Included with your purchase is both a leash and a thruster safety fin set (which can be removed).
Colors
Let's just say that you are not going to be hiding from everyone with this board. It is designed with a bright-yellow coating, after all.
Overall
Even beginner models can be a bit pricey but hey, this really is worth the money you will shell out for it. It is well-designed in virtually every way imaginable.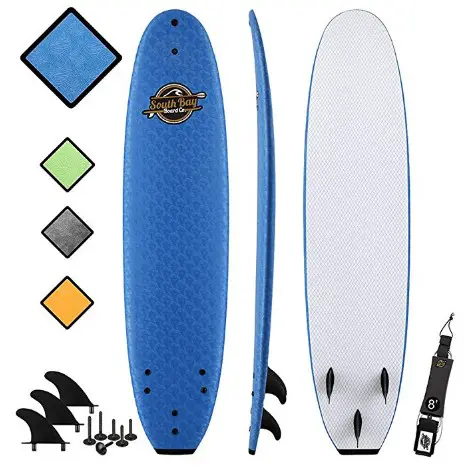 The Verge is such a great choice as it performs about as well as any other option on this list. And, even though it does bruise easily, it is also well-made overall.
Read more
Performance
The double concave on the bottom deck adds to the speed and performance of this model. In addition, this is designed with a rounded out nose and tail for enhanced stability.
Materials
Even though this does bruise fairly easily, it is protected with two layers of resin. Additionally, this is also designed of high-density EPS closed cell foam.
Size
The Verge is a bit shorter than the Heritage as it measures eight feet in length. Also, it is 23 inches wide and also three inches thick.
Accessories
Past the surfboard that you receive with your purchase, you are also provided with three rounded safe edge screws, two leash plug screws, two fin screws, and a leash.
Colors
There is actually a pretty strong selection of colors available. Some of them include orange, gray, green and blue. Not a bad selection at all.
Overall
Putting your faith in a company such as South Bay Board Co. is never a bad thing. Their Verge is about as good as it gets and could make you fall in love with surfboarding.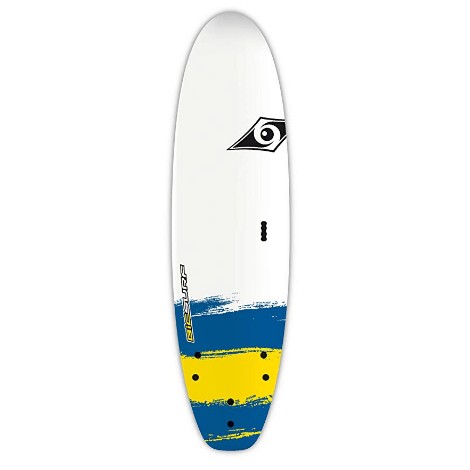 Even for advanced riders, this was meant to perform at a high level. Of course, you should know that this option does not come with a leash, which is a bit of an annoyance.
Read more
Performance
As mentioned, this is not only optimized for beginners but also for more advanced riders. This is thanks to the full-layer hard slick bottom that provides maximum glide and performance.
Materials
Despite the fact that the top lacks any real grip whatsoever, this does sport an EPS core that is molded in either composite or wood stringers (it depends on the size you pick).
Size
There are three different sizes that can be selected from. You have lengths of 5-foot-6, 6-foot and 6-foot-6 available.
Accessories
One reviewer did make mention of the fact that their purchase did not come with a leash. However, what is included are soft fins that add additional safety to the ride.
Colors
The graphical design of each of the color options may be the best on the market. Though it may not mean much to you, they really do look "cool".
Overall
The lack of grip on the surface may be enough to scare you away from this option. Then again, it can start as your first board and still be good enough to be used when you get better at the craft.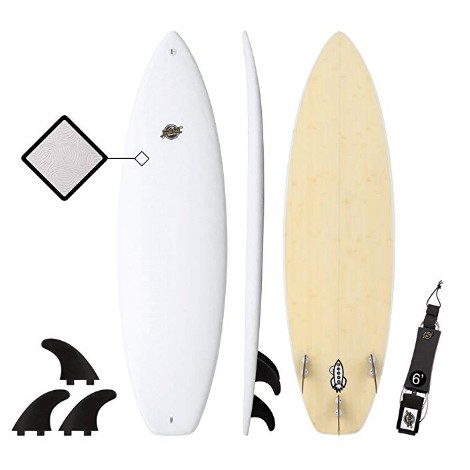 The Razzo is only a six-foot board so take that into consideration. This is also designed with a thruster nose and when you are riding on it, you will notice how well it rips.
Read more
Performance
The combination of the squash tail, widened chest area and rounded thruster nose makes the Razzo ideal for achieving sharp speeds and also ideal for having a blast.
Materials
As with other designs from this manufacturer, no wax will be needed thanks to the FingerPrint Texture Foam Top Deck. Furthermore, this sports high-density EPS closed cell foam and real bamboo with clear resin on the bottom deck.
Size
Again, as mentioned, this is only six feet in length which is noticeably shorter than other models on this list. As for the width and thickness, these measure 20 and 2.5 inches, respectively.
Accessories
There was actually one user who noted that they never received the fins. Among other accessories such as a leash, this is supposed to come with fins, for the record.
Colors
The all-white surface is one that many of you are not going to scoff at as although it is simple and basic, it does look really good.
Overall
No matter which surfboard you end up going with from this company (if you do choose one of their options) you should be satisfied. The Razzo is simply another brilliant option.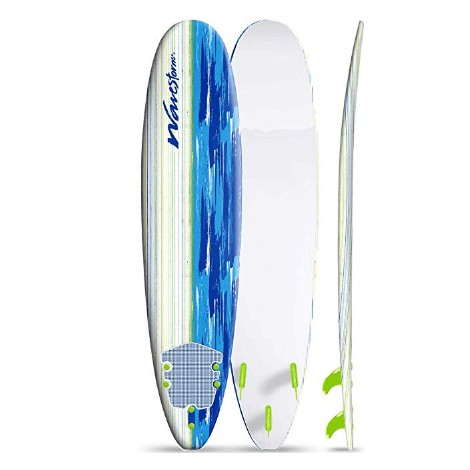 You can't compile a list of the best beginner models without including this bad boy. It remains one of the most popular choices on the market for several reasons.
Read more
Performance
This is powered, so to speak, by its soft WBS-IXL crosslink top deck and high-density polyethylene slick bottom skin. It remains easy to handle even for novices.
Materials
The same crosslink top is very resilient and the soft foam construction is what you expect from models such as this. Oh yeah, and this also sports a three stringer system.
Size
At 8 feet long and 22.5 inches wide, this is sized quite well. Of course, the 3.25-inch thickness is also fairly ideal. The size is just really good overall.
Accessories
For enhanced stability, a traction pad is included with your purchase. And, even though a leash is also included, it has received some criticism from previous buyers.
Colors
The multicolor graphic top is one that many of you are going to find very appealing as it has a definite beach theme going for it.
Overall
Sometimes, it is just best to stick with the options that are tried and true and this is one of those cases. You may have to buy a superior leash, though.

7

. CALIFORNIA BOARD COMPANY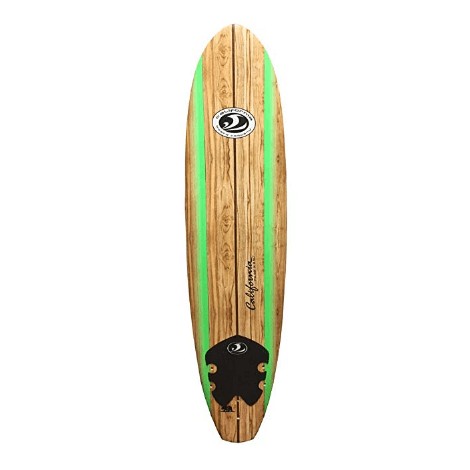 Do not be fooled by the photos; this is made of foam and not wood. The woodgrain that you see is merely a graphics and, quite frankly, adds a lot to this design overall.
Read more
Performance
The combination of the three built-in wood stringers (which add flexibility) and the slick polyethylene hard bottom (which aids in smoothness) makes for optimal performance.
Materials
Overall, various reviewers have reported that this does feel a bit cheaply made. The EPS foam core that is present here is just not as good as others out there.
Size
The size of this is pretty conventional (when compared to other options) as it is 22 inches wide, 3.5 inches thick and also seven feet long.
Accessories
One thing is for sure, not too many people will complain about the included accessories. This is because you receive a PU surf leash, three fins and a traction pad with your purchase.
Colors
As noted, this is equipped with a woodgrain graphic that makes it appear as if this is made out of wood. This aesthetic is quite convincing and appealing, quite frankly.
Overall
For the price, it is fair if some of you expect a little more quality here. With that said, this is far from poor design as it secured a spot on this list for a reason.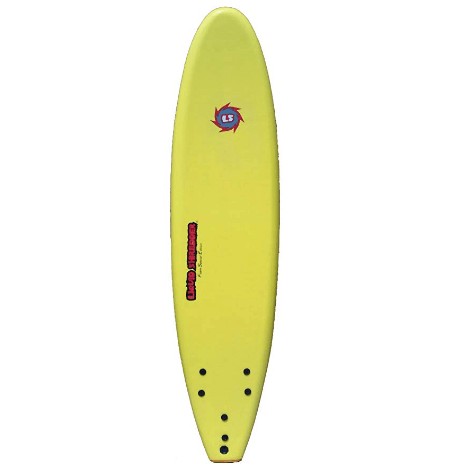 Now, this board is not without its slight flaws but, at the end of the day, it is built with a polypropylene slick bottom and also a deck that is made of high-quality EPE foam.
Read more
Performance
While the slick and superfast bottom adds to the performance, so do the wooden stringers as they add much-needed stiffness to your ride.
Materials
The same bottom is made out of polypropylene, for the record. As for the surface, it is made of soft EPE foam and this adds comfort as well as an anti-slip texture.
Size
As compared to other models on this list, this is a bit shorter and narrower. But, with that said, at seven feet long and 20 inches wide, this is also not pathetically small.
Accessories
The good news is this comes with fins that can be removed for storage and such. Yet, the fins can, unfortunately, come off accidentally as they are not secured the best.
Colors
There are color options for blue, red and yellow. While this selection is not utterly outstanding, it is nice to have a little variety present.
Overall
One major problem this has is its insecure fins. Looking past that, though, it can perform with the best beginner designs out there and is built with quality materials.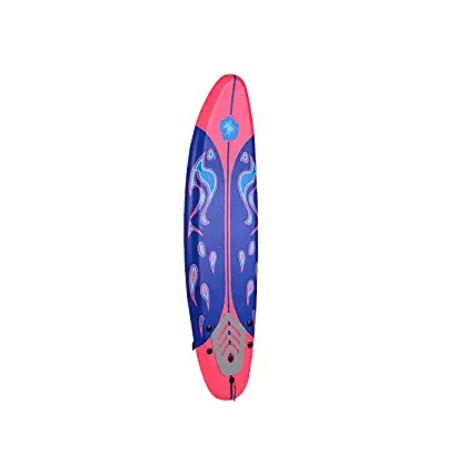 In terms of starter models, this may be perfect as it is not too expensive and it can give you an idea of whether you want to become better as a surfer.
Read more
Performance
First off, the fishtail integrated here provides more hold and traction. Secondly, the slick HDPE high-speed bottom is both strong and responsive during rides.
Materials
Most users agree that the quality here could be better. The fins, in particular, are prone to breaking after wipeouts. With that said, this does feature an EPE foam deck and EPS core.
Size
Just know in advance that this is a little small. In fact, it is only six feet in length and 20 inches in width. If you are a bigger individual, this may be too small.
Accessories
All sorts of accessories come with your purchase such as a free leash and a transaction pad. Oh, and removable fins are also provided for you.
Colors
Both of the color options (red and blue and white and blue) are not very subtle, let's just say that. Neither one may be that appealing to you, quite honestly.
Overall
No, this is not optimized to take a beating so it may not be the best option for rough riders out there. Still, it is an excellent starter model at an even better price.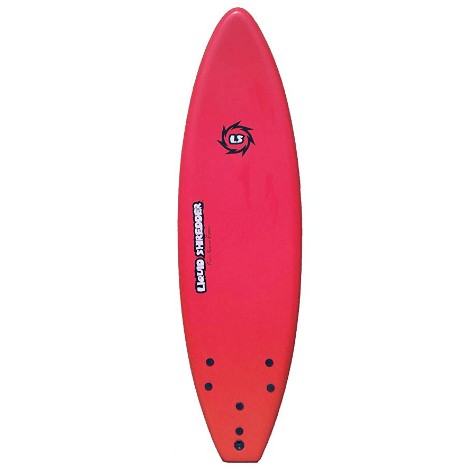 Even for a beginner model, this board provides a streamlined performance that is sure to impress several of you. Of course, you will need to account for the leash yourself.
Read more
Performance
As with other beginner surfboards, this is optimized with a slick and superfast bottom as well as wooden stringers (which add stiffness).
Materials
This is made up of EPE foam (which is not much of a surprise) and this will add much–needed comfort and grip for your ride.
Size
Yes, this is actually for adults and children. But, it is on the smaller side (six feet in length and 20 inches in width) so do be aware of that.
Accessories
It does not appear as if this comes with a leash so if you plan on using one, you will need to account for it yourself (which is a bit annoying and unnecessary to have to deal with).
Colors
You can either go with red or yellow but no matter which one you end up going with, both of them look good enough.
Overall
At this point, you almost know what to expect here. It sports many of the same features that you are accustomed to seeing and really does not reinvent the wheel.

Subscribe to our Newsletter