Best Retractable Dog Leash
In a Hurry? Editors choice: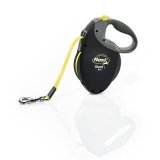 Test Winner: Flexi Giant

With a retractable dog leash, long gone are the days of wrapping that horrible standard leash around your hand to adjust the length. How comfortable is that? It's not safe
for your pooch
either because there is a choking hazard when you do it that way. When you purchase a retractable leash, you will have the option to choose the length of the lead. Often they are constructed with a safe and comfortable nylon ribbon, so you will no longer have to worry about rope burn against your legs and hands. If you're not sure which retractable leash would best suit your needs, don't worry because we have taken the time to do the research for you.
Standout Picks
Criteria Used for Evaluation
Top Ten Retractable Dog Leashes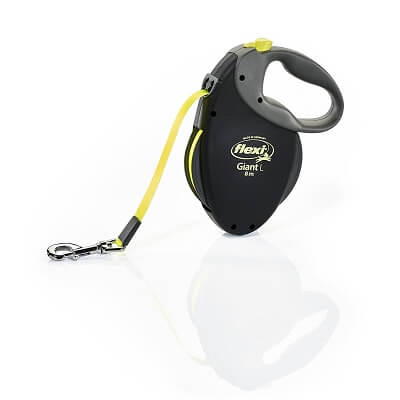 From the beginning of time Flexi has always felt that dogs should be treated just like family and that's the reason why they put so much time into their innovations.
You will find a large selection and variety of retractable leashes in the Flexi line, and they are all constructed with pride and quality, the only difference between each would be styling, size, and features.
This leash is rare in its length so if you're in need of a leash that's long enough to allow your pooch the freedom he needs to run through a park or on the beach where a leash is required, this is the right choice for you.
Read more
Length
The exceptionally long 26-foot ribbon on this one is rare, but perfect for plenty of roaming room that will still allow you to be in control of the distance between you and your pal.
Durability
The remarkable durability put into this one will give you the confidence you need to keep your fur baby safe and the strong handle won't snap off when a squirrel suddenly appears, and you find yourself quickly pulling back on the reins.
Features
This Flexi leash is designed with a fluorescent green nylon ribbon, not a rope, that is easy to see day or night. It has a button mechanism that will allow you to temporarily hold your pooch in place or lock it into place when you don't want him to get too far away from you. The retraction is remarkable; it doesn't stick or get caught when it reels back in and the best part is, the nylon ribbon won't cut you when you're using it.
Sizes
This leash is available in medium, large, and extra-large. The largest, intended to hold dogs up to 110-pounds, the large leash is suitable for a dog up to 90-pounds, but it is also sufficient for the added support of a smaller pooch.
Price
It comes with an average price tag, but for the quality and durability of this leash, it's well worth every dime spent.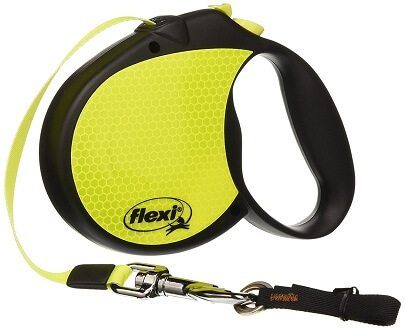 Another great invention from Flexi, this one is great for the fitness buffs who love to train with their pooch at their side. If your daily routine includes long walks, either early in the day or late in the evenings, this reflective leash will be the perfect companion to keep both you and your furry friend safe.
Read more
Length
This retractable leash will stretch as far as 16-feet giving your furry friend just enough freedom to explore, yet close enough for you to keep a comfortable distance.
Durability
Constructed with enough strength to handle your active pup, this one can be described of higher quality than some of the others, and the tough handle will allow you to take a long walk without worry that your friend will slip out of your control.
Features
You will be visible day or night with the bright yellow reflective color that bounces off the outside of the housing, and the leash is also a bright yellow for the added visibility. The medium-sized leash seems to fit better in the average hand, but no matter what size you have, you will be blister-free in your palm with the comfort this handle provides. The small and medium leash offers a rope lead while the large comes with a nylon tape lead.
Sizes
Available in small, medium, and large so that your 12- pound companion can be happy and comfortable walking along on the small and medium leash, while the larger leash is available for your muscular pal weighing up to 110-pounds.
Price
The price of this one varies with the size, but no matter which one you choose, the quality will always outweigh the price.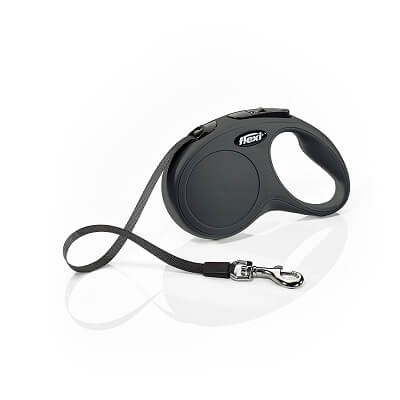 If you want a simple leash with high quality and durability that will withstand hard, everyday use, this one might be your choice.
Read more
Length
With a fair amount of extension between 10 to 16-feet, depending on the size, you will have the assurance you need for keeping your pal safe.
Durability
Made with exceptional strength and durability, this leash is made to work with your energetic puppy and will last through his maturity. This leash has even proven to hold up for a kitty walk too.
Features
It features a nylon tape that won't tangle, or snag and the easy one-touch button will control how much freedom you want your pooch to have. Available in four classy colors that will represent blue for your little boy or pink for your little girl, or stay neutral with black or red. The comfort from the handle will allow for long walks through the park or on the beach without worry of blisters or cramps.
Sizes
This Flexi leash is offered in an extra small size that will extend to 10-feet for tiny dogs and the small and medium/large leash will extend to 16-feet for larger pups.
Price
The price is standard no matter what size you choose and, just like the classic name, so is the price.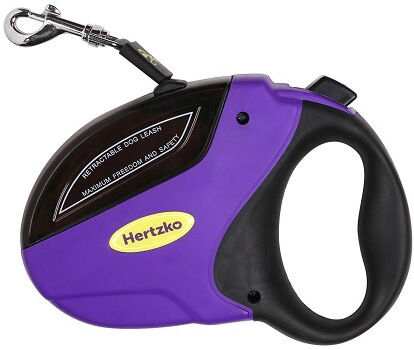 Although the name Hertzko may not be as familiar as the name Flexi, that doesn't mean the quality of the product is less. This Hertzko retractable leash is built with enough quality and strength that it will hold even the most active of pups, so if your puppy suddenly decides to run after a squirrel, you can be sure this sturdy retractable leash will keep him safe from danger.
Read more
Length
Your fur baby will have the freedom to run 16-feet ahead of you with this leash, and that's plenty of room when it comes to an inquisitive pup.
Durability
Built with a solid construction, this leash will tolerate your 11-pound or 85-pound pooch just the same when they pull away to chase the squirrels.
Features
This leash comes with style featuring a pastel purple color that holds a 16-foot wide nylon ribbon that won't cut your skin when your pup tugs on the lead a little harder than you would like. It's lightweight but sturdy and has a smooth lock and release system so you can lock it temporarily with the trigger hold or latch the lock for a permanent hold. The handle is comfortable and will fit into a larger hand with ease, making the walk a wonderful experience.
Sizes
Although it only comes in one size, it will hold your smaller pup equally the same as your larger pup up to 110-pounds.
Price
The price is right in between the others, but with its quality, the price is not a problem.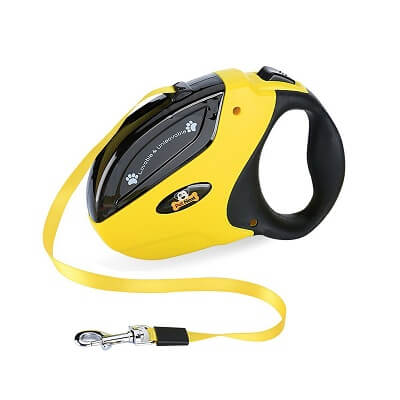 Pet Neat is another great company known for quality and affordability. They have taken the time to design a retractable leash that makes walking your dog safe no matter what time of day or night you choose!
Read more
Length
With a 10-foot lead, your fur baby will have just enough freedom to roam while you can still be in control nearby.
Durability
This is a good solid leash that's strong enough to tolerate a hyper pup who loves to pull when he walks. It's extremely well made and reliable enough to keep you and your dog safe no matter how long or short the stroll might be.
Features
The lock and release operate with little effort and the nylon ribbon leash slides in and out smoothly every time. It's designed with a bright yellow color that will catch the eyes of passers-by so that you and your pooch will stay safe during your adventures.
Sizes
This one is offered in one size, and for the best protection, it will best fit smaller to medium dogs up to 44-pounds.
Price
With affordability in mind, Pet Neat priced this one for any wallet size. Don't let the low price scare you away, the quality ranks high above the price.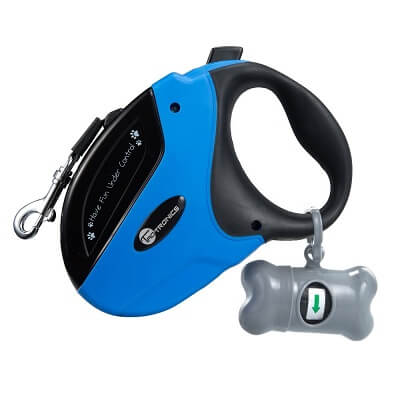 If you have a medium to a large dog who loves the freedom of walking ahead of you, this is one you should check out.
Read more
Length
With a 16-foot extension, this leash allows your dog the independence to explore but not too much independence that will get him trouble.
Durability
This leash is sturdy and reliable enough to tolerate the most energetic pooch without the worry of it flopping out of your hand.
Features
Made with a high-quality ribbon that retracts and extends smoothly with each use without tangling. The handle provides a strong and comfortable grip, so you don't have to worry about blisters on a long walk. It comes in four stylish color choices and for an added bonus, an attached bone-shaped bag holder with bags has been included.
Sizes
This leash is only available in one size but it's strong enough to hold your medium or large-sized pup up to 110-pounds.
Price
The price varies depending on your color choice, but it is still reasonable enough that it won't break your bank.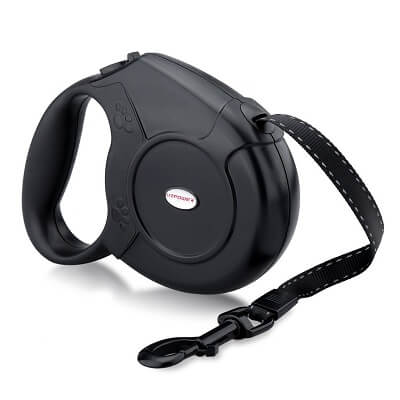 Sometimes we forget that our senior companions need to be treated the same as when they were pups, so for that reason, Urpower has taken the time to design a quality leash for your older, medium-sized dog.
Read more
Length
Stretching out to 16.4-feet, this leash will give your pooch just the right amount of freedom he needs to explore, but he will be close enough for you to keep in close contact with him and you can reel him in quickly when necessary.
Durability
This one is built strong enough to hold a muscular dog with ease, but it might be too excessive for a smaller more energetic pup who loves to run and play.
Features
It features a sturdy ribbon leash that won't cut or burn your skin as the standard leash might do. The comfortable handle is large enough to fit bulky hands and it won't cause sweating or blisters during long use. Although it is equipped with the convenience of a lock and release operation, it's not as smooth as others.
Sizes
This one comes in one size that is best suitable for older, medium-sized dogs and doesn't work as well as others with smaller dogs, especially those with high energy.
Price
The price and quality of both satisfy anyone's taste.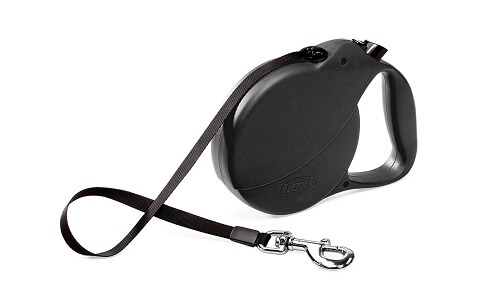 Another extra-long leash offered by Flexi is this one that was designed especially for those days when you want to give your pal some extended freedom, but you can't let him off his leash.
Read more
Length
This 26-foot long leash would make the perfect piece of equipment to keep on hand for a beach walk so Fido can walk and explore, and you won't be breaking any of the leash laws.
Durability
Although this one is made of high quality and strength, it might not stand the test against a strong puller.
Features
Designed to last through many years of use, this one offers a flat, thick ribbon lead with large, easy to use, lock and release buttons for convenience. If the style is your dog's thing, pick one of his favorite colors; it's available in his choice of black, blue, or red.
Sizes
This leash is offered in small, medium, and large so that your teacup Yorkie can enjoy the walk just as much as your German Shepard can.
Price
The price of this leash falls a bit above the others, but that just proves that the quality of this one is built to last.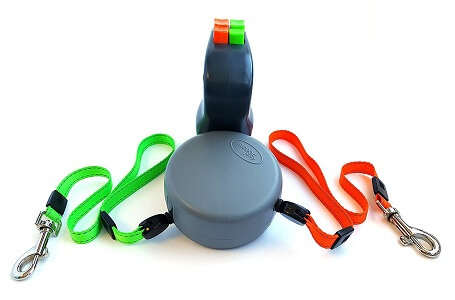 Just like the others, Wigzi takes pride in the construction of their retractable leashes. This one is unique from the others, and not always an easy find because it's made for both of your pals to walk together at the same time. It's hard to walk two dogs side by side because you always have that one who loves to pull you back while the other one wants to run ahead. Don't forget about those times when they both want to be in the same place at the same time, we all know that always ends in a tied-up scuffle. If this sounds like a daily problem in your house, this leash is the one you need.
Read more
Length
Although each lead will only extend out to 10-feet, it makes the perfect size when walking two dogs at the same time, and anything longer would probably lead to a dangerous situation.
Durability
The strength of this one makes it possible to walk with two dogs who want to run and play at the same time without the worry of the leash breaking or the handle getting yanked from your hand.
Features
It's made with two reflective cords for easy visibility and the dual buttons make it easy to control each leash individually. A swivel mechanism was added to the top that will spin automatically to untangle the leashes when the dogs decide to switch sides unexpectedly or for those times when they want to occupy the same spot at the same time.
Sizes
This one only comes in one size, but that's understandable when you're choosing a dual leash. Each lead offers to support up to 50-pounds, so it would work best with small to medium pups.
Price
The convenience of a dual leash is a no-brainer when it comes to the expense and compared to the cost of one high-quality retractable leash, you could think of this as a two for one sale.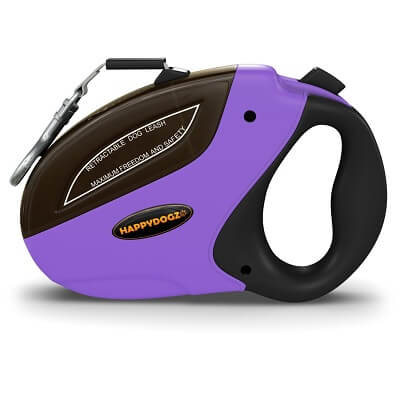 Just like the others, Happy Dogz is proud to offer a quality leash that will make your daily routine stress free and enjoyable. They have created this unique design to help you walk your fur baby with comfort and ease.
Read more
Length
The 16-foot lead is the perfect length to keep your baby safe while giving him the freedom he needs to explore nature.
Durability
Solid and strong, this leash is made to withstand up to 110-pounds of your playful pup without the worry of the handle cracking or breaking and the ribbon is strong enough to suddenly pull him back when he tries to get away.
Features
The stylish purple color of this one stands out amongst the others. It offers an easy retraction, strong balance, and reassured safety from the ribbon lead. The large button is strategically placed on top for an easy click of the thumb when you need to lock the leash in a hurry, and when your pooch is ready to run, simply click the button for easy release. The handle is made for an average hand and the grip is easy to hold.
Sizes
Happy Dogz offers this one in two sizes. The small is made for pups up to 44-pounds, and the medium will hold a pup up to 110-pounds.
Price
The price of this leash is comparable to the others on our list, but the quality raises the bar.

Subscribe to our Newsletter