Best Electric Leaf Blowers
In a Hurry? Editors choice: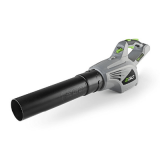 Test Winner: EGO Power+

Engineers all around the world continue to design and develop technology that makes humans' lives easier. One of those technologies is the
electric
leaf blower, both corded and cordless. While there indeed are gas-powered models, this guide is only going to focus on electrical models. It is not as if gas-powered models should be avoided, it is simply the fact that
electric
models are extremely popular and convenient.
There are a plethora of considerations you need to make before buying a new
leaf
blower. In our guide below, we have listed and reviewed the top ten best electric leaf blowers in the market today, including detailed criteria on each product to help you decide which one is right for you. Read on so that the next time Fall comes around, and leaves begin blowing onto your yard, you can keep it clean with your electric leaf blower.
Standout Picks
Criteria Used for Evaluation
Power Source
Before you even think about deciding on your "dream" electric leaf blower, you first need to figure out if you desire a cordless or corded model. You see, electric models will come in both variations and the difference really is night and day. For corded models, you will need the use of an extension cord to power it as you need access to your home's electricity. While you never need to concern yourself with battery life, the cord can become a nuisance and can restrict your mobility at times. However, with corded models, you also should look for some sort of cord lock that will help prevent the cord from accidentally unplugging (as this can get old very quickly).
Now, as for cordless models, these will not require an extension cord as they will run off of some sort of rechargeable battery (oftentimes lithium-ion). While you never need to worry about tangling a cord, the battery life on most of these units is not going to be great. Plus, with variable speed models, if you use them extensively in their highest setting the battery will run out even quicker.
Use
How well a leaf blower performs is mostly indicative of its total power. Other factors could come into play, with some of them being addressed in a hot second, but the power is certainly one of the most critical points of assessment. It really all comes down to what you need the machine for. If you are just going to be using it to clear your driveway and pathways every once in a while, you may not need a machine that can dish out insane amounts of power. Then again, if you do need it for tougher and more demanding tasks, you will want an ample amount of power. Either way, there are quite a few ratings to look out for.
Firstly, for corded blowers and cordless models, respectively, you can look for amperage and voltage as two primary indicators of power. Also, pay attention to the miles per hour and cubic feet per minute (CFM). Many consumers often ask which one is more important and to be honest, you need them both. Miles per hour measures the speed at which the air can exit the unit. Meanwhile, CFM measures the volume of air the unit can move. Having both at high values will only benefit you in the long run.
Speed
For most buyers, this right here is going to be a deal breaker. Thankfully, as was seen throughout this guide, most top-end models will be equipped with a variable speed motor. All this means is that you can run the motor at different speeds and this can allow you to adapt to different situations. As an example, say you simply wanted to blow some leaves into a pile but did not want them to fly everywhere. If you run the unit at its lowest speed, it can reduce the airflow. Then, when you need the extra power, you can turn the dial to either high or turbo (if the system has it).
This is not possible with a single-speed model as what you see is what you get. In order to dictate the airflow, you will merely have to step back more. The more convenient answer is to look for variable speed models (with three speeds being nice).
Weight
Whenever you are dealing with a machine such as this, handling is going to be a major priority. If the unit is too heavy or uncomfortable for you to operate, then who really cares how powerful it is, right? Keep an eye out for a few factors. Firstly, assess the design of the handle itself. What you should be looking for is ergonomics as this will allow for a more comfortable grip to reduce hand fatigue. In addition, the weight of the unit can play a major role. This is also where the corded vs cordless debate comes back into play as with the latter, the attached battery will add more weight.
Plus, the battery can also cause a balance issue. If too much weight is engineered on the front or back, it is going to be awkward to handle the blower. With an even distribution of weight, this will not be an issue, however.
Top Ten Electric Leaf Blowers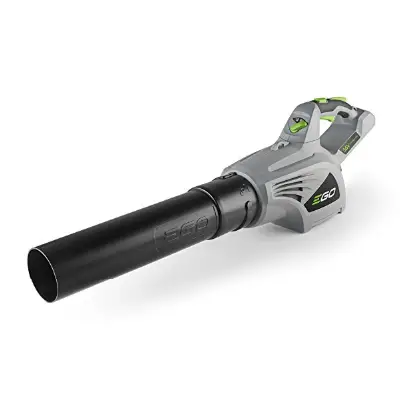 Ego Power+ is climbing the list; with its variable-speed design, well-balanced weight, and a significant amount of power, it is no surprise to see why.
Read more
Corded or Cordless
Included with your purchase is a 2.0Ah battery and yes, this is indeed cordless. Per the manufacturer, on low, this system will last 60 minutes, on high 18 minutes, and on turbo 10 minutes.
Power and Performance
The turbine fin engineering of this model was inspired by advanced aeronautics technology. In addition to the 480 cubic feet per minute (CFM), this delivers an ideal amount of power.
Speed Control
What is really nice is you are able to adapt this speed to your needs. With three speed settings in all (low, high and turbo), this is a highly versatile system.
Handling and Weight
One thing that should be commended is the balance of this model. However, there is a bit of heft here and on longer uses, your arms will begin to wear down.
Longevity
The housing and overall build of this unit are terrific. In addition to this, the entire system is weather-resistant for even enhanced protection and durability.
Overall
Sometimes, you simply need to let something speak for itself. While all this sounds terrific, when you get your hands on this top model, you will then begin to see why it is so remarkable.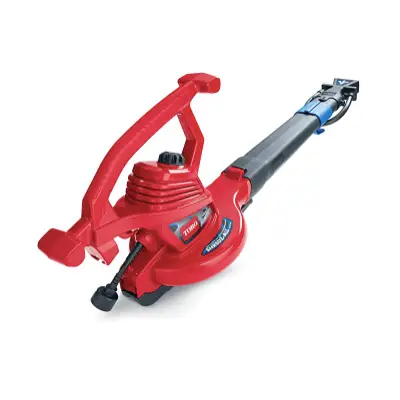 Now we turn to the UltraPlus from Toro and most notable about it is the fact that it can function as a vacuum. With two modes of functionality, you are offered an ideal amount of versatility.
Read more
Corded or Cordless
The UltraPlus is another corded model and one nice feature is the cord lock. Basically, this is integrated to help reduce the amount of accidental unplugs when you are blowing.
Power and Performance
Though the sucking power of this unit, when in Vac mode, has been raved (offering 410 CFM), the blowing prowess has been criticized a bit. Still, this unit as a whole sweeps the air back and forth for a wider blowing path.
Speed Control
Thanks to the handy adjustable speed dial, it is very easy to adapt to your current blowing needs. At its lowest, this is able to provide you with 100 miles per hour power.
Handling and Weight
In spite of the fact that this is not the lightest model, although still not being too heavy, it is engineered with a very comfortable handle which makes operating easier.
Longevity
Overall, this is a well-built machine. Yet, as one buyer noted, when using the vacuum mode you need to be careful as the blades can be chipped by loose stones or other such debris.
Overall
It is easy to like the UltraPlus as it offers a ton of versatility. On top of allowing multiple speeds, it can also be used as a vacuum instead of a blower. It definitely is ready to tackle a wide variety of tasks.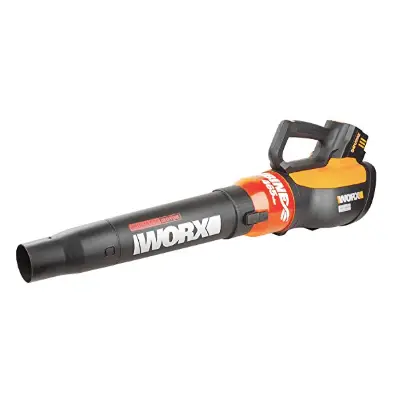 It did not take long for Worx to make another appearance on this list but this time, they present their cordless electric leaf blower. Their WG591 model is terrific but all things considered, the battery life could be improved.
Read more
Corded or Cordless
As you probably concluded, this is a cordless model. But, the convenience ends there because as many users have reported, the battery life leaves a lot to be desired.
Power and Performance
Worx once again implements turbine fan technology into their system and it is able to deliver forceful air. Plus, the hyper-stream air nozzle can handle tough conditions.
Speed Control
Not only does this unit sport variable speeds, changing speeds is a breeze thanks to the engineering.
Handling and Weight
To save on fatigue for longer and more difficult tasks, this has been designed with an ergonomic handle and also weighs just over eight pounds.
Longevity
Let's just say that you are probably going to want to buy another battery. This will help a little bit with the longevity as you can have multiple batteries ready to go.
Overall
This 56-volt series from Worx provides you with the power of gas and the convenience of electric. They just need to improve the battery on this unit, to say the least.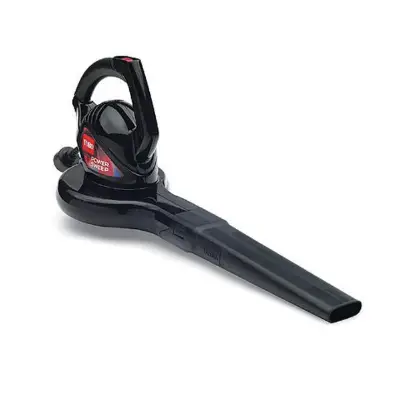 Not everyone is looking for a unit that is capable of delivering immense power. Some users simply desire a blower that is easy to handle that can tackle smaller tasks.
Read more
Corded or Cordless
Though easy to handle, this unit can still be a bit of a pain due to the corded design. From time to time, the cord may be yanked out by accident.
Power and Performance
If all you are looking to do is move dry leaves from your driveway or patio, this has the power to handle it. But, with only 155 CFM, it is not ideal for larger or more grueling tasks.
Speed Control
The dual-speed control can be changed via an integrated control switch. You can either go high (160 miles per hour) or low (130 miles per hour).
Handling and Weight
At only 4.6 pounds in net weight, the Power Sweep is easily one of the lightest units on this entire list (making handling much easier).
Longevity
One user reported that over four years of dedicated use, their Power Sweep finally kicked the bucket. That is not too shabby, all things considered.
Overall
Look, is this going to blow your socks off? Of course not, but that was never the goal. It is clear that Toro aimed to design a competent unit that was not overloaded with excess weight.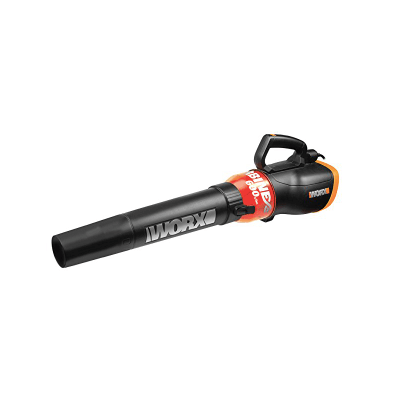 Speaking of highly popular brands, you can't go through a list such as this without mentioning Worx. Their WG520 is actually the first corded unit on this list; so, you never need to worry about battery life.
Read more
Corded or Cordless
While you will need to connect an extension cord into this unit, the power cord retainer makes it a hassle-free process.
Power and Performance
The combination of the 600 CFM rating and the turbine fan technology for maximum and high-capacity air volume is able to provide enough power for most situations.
Speed Control
Worx added variable speed control to their WG520 model and that allows it to adapt to most tasks that you will have.
Handling and Weight
At just over six pounds in total weight, this is light enough to be handled with one hand. Not only this but minimal hand fatigue will result due to the design of the handle.
Longevity
While others have had more success, there was one user who reported that their unit did not last a year. They simply claimed something in the switch malfunctioned.
Overall
Even though it can be a hassle to drag an extension cord with you, there is a ton to love about the WG520. Not the least of which is its immense power and lightweight nature.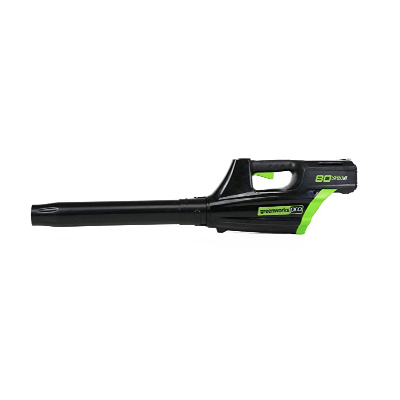 Greenworks is one of the most popular brands in the world, bar none. While their knack for designing products that emit zero carbon emissions is part of the reason, another reason is they make machines like this.
Read more
Corded or Cordless
This is yet another model that is powered via a rechargeable battery and a 2Ah lithium-ion battery is included with your purchase. Greenworks claims that it will last up to 70 minutes when fully charged (with the speed varying this time).
Power and Performance
Comparing this to a gas-powered model, it can deliver the performance of a 32cc engine. Also, at the highest setting, this can blow up to 500 CFM and 125 miles per hour.
Speed Control
There is an integrated variable speed trigger and this allows you to change the speed. All in all, there are three different speeds you can toggle between.
Handling and Weight
One notable flaw is present in this design and it is the balance. Although the weight is not too troublesome, the front end is light while the back holds the heavy battery. Better engineering could have improved this.
Longevity
Thanks to the brushless motor, less wear and tear is going to develop. Thus, you can expect this system to last quite a long time.
Overall
This was so close to taking the top spot on this list. However, one can't simply ignore the engineering flaw that is present. Then again, it does not ruin the unit as a whole.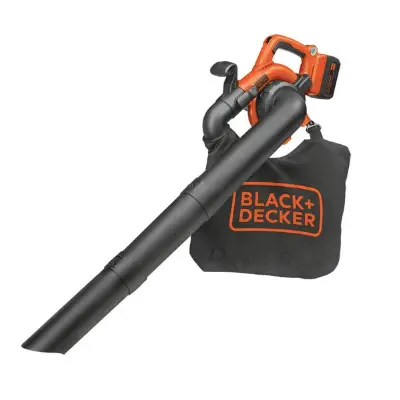 Back-to-back appearances by Black+Decker here but due to the somewhat disappointing amount of power, it is not quite as good as their other model. On the plus side, though, this is cordless.
Read more
Corded or Cordless
This is equipped with a high-powered 40-volt lithium-ion battery. Also, for your convenience, it comes with a charger which charges the battery quickly.
Power and Performance
If you glance through reviews of this product, you will notice many allude to its lack of power. That seems to be the general consensus here so if that is an issue, this may not be the ideal model for you.
Speed Control
You can adjust the speed of the LSWV36 by using the integrated power command controls, which is a nice feature.
Handling and Weight
What this lacks in power, it makes up for in comfortability. After all, the handle is equipped with a soft grip and the unit only weighs around 5.4 pounds.
Longevity
One user left a detailed review and noted how this system does have parts that can break easily if you are not careful. So, just take caution and care when you are operating it.
Overall
Let's just say that this model is a lot more convenient than Black+Decker's other unit on this list. Then again, it does not come through as well in the power department, so there is that.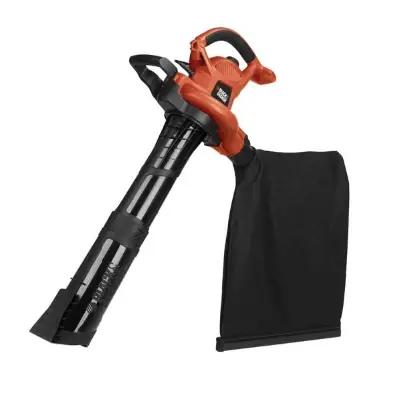 Here we land to yet another highly acclaimed brand in Black+Decker. Now, one thing to note about their BV6600 model is that it is not ideal for light or weaker people.
Read more
Corded or Cordless
Even though this is a corded model and you will need to deal with an extension cord, there is a built-in cord retainer that keeps the cord in place to prevent accidental unplugs.
Power and Performance
With 250 miles per hour speed, this is ideal for clearing all sorts of patios and driveways. In addition, this system can also function as a vacuum or even a mulcher.
Speed Control
Black+Decker designed their system with a variable speed control system. On top of its peak power, you can also reduce the output to 140 miles per hour.
Handling and Weight
Alright, let's just get this out of the way. This is heavy, end of story. It clocks in just shy of 15 pounds and if you lack core strength, you will wear down quickly when handling this.
Longevity
Though the weight is a bit absurd, there certainly should not be any longevity issues granted you take proper care of this system. Part of the reason why is the integrated high-impact metal fan as it prevents clogging.
Overall
We are not trying to call out the people that are weak but at the end of the day, you will need a lot of strength to handle this machine. If you possess it, though, the performance is there.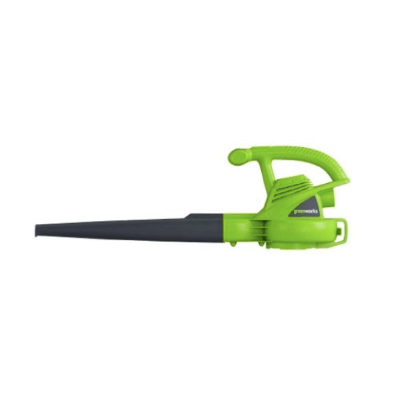 Due to the sheer amount of positive reviews from Greenworks' consumer base, it is clear that users have been quite fond of their single-speed model. But, it is limited so be wary of that.
Read more
Corded or Cordless
In spite of the fact that Greenworks did implement a safety cord lock feature, some users still claim that their extension cord comes unplugged too easily.
Power and Performance
For lighter work, this actually performs brilliantly. However, the same can't be said for all-day tasks as it simply lacks the power and amperage to hang with the big boys.
Speed Control
This could be a deal breaker for some and is the only model on this entire list that is only one speed.
Handling and Weight
All things considered, it is easy to claim that this is one of the best handling units available. This is thanks to its ergonomic design and lightweight nature.
Longevity
Do not expect this to last as long as top-end models, let's just say that. As some buyers have reported, there can be longevity issues due to breaking.
Overall
As this is designed by Greenworks, you know, at the very least, you are getting a high-quality product. If you can accept the limitations of this model, you can have a good experience with it.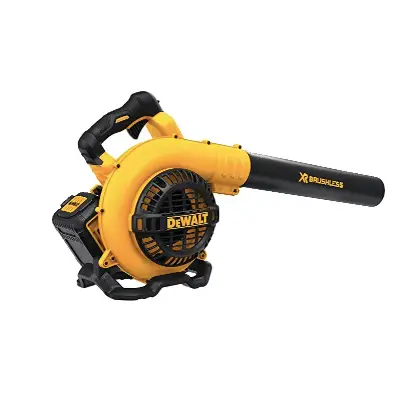 You really would be hard-pressed to find a unit that better combines power and handling than what Dewalt has to offer. If not for one concern, this would have easily secured the top spot on this list.
Read more
Corded or Cordless
This is the second straight model to be cordless and Dewalt provides you with a 4Ah lithium-ion battery. But, if you desire, you can also choose to receive a 6Ah battery.
Power and Performance
With an airspeed of 120 miles per hour and a CFM rating of 400, this is able to deliver the power you will need for larger and sometimes damper tasks.
Speed Control
To ensure you are in control of the power, Dewalt integrated a full-variable trigger into their unit. Plus, this control lever also prevents you from needing to hold the trigger during use.
Handling and Weight
In addition to the lightweight nature of this model, it also sports an ergonomically optimized handle that allows you to achieve a comfortable and secure grip.
Longevity
Even though the Xenoy housing adds an ideal amount of impact-resistance and durability, many users have claimed that over time, the engine begins to emit a shrieking noise. Hopefully, this does not happen to you.
Overall
It really is a shame that the concern for longevity is present here because this design truly is completely amazing. While it is functioning to speed, there is not a better electric model in the world.

Subscribe to our Newsletter