Best Elliptical Machines
In a Hurry? Editors choice: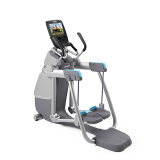 Test Winner: Precor AMT 885

Have you ever noticed how popular and busy the
cardio
machines are at the gym? Sometimes, you may even need to sign up ahead of time to use something like an elliptical machine, because there is a line-up of others who want to use it. The popularity of elliptical machines is no surprise as it is a great form of cardio and works many different parts of the body at once. Whether it's summer, spring, fall, or winter, the weather won't get in the way of a good
workout on an indoor machine
, as you can workout anytime your heart desires and achieve your fitness goal even quicker. Not to mention, elliptical machines offer the user the ability to completely customize their workout.
Standout Picks
Criteria Used for Evaluation
Adjustability
Various manufacturers that design elliptical machines typically offer different options in features, depending on the price and design of the elliptical they've produced. Some elliptical machines offer more features than others, and the amount of features anyone really needs is really a matter of personal preference. If you're shopping on a budget and know you can live without some of the bells and whistles that come on more expensive elliptical machines, then you'll be able to save some money while retaining some of what you'd want in a good elliptical. With that in mind, we'll cover the types of features that you'll typically find on most elliptical machines, and that can help you figure out what you really need out of your elliptical.
Adjustable Incline
Some elliptical machines come with inclines that are easy to adjust by simply pressing a few buttons, while others require you to manually adjust their inclines. Having an elliptical with an adjustable incline adds an extra bonus to your workouts because you'll be able to increase your toning abilities each time you exercise by adjusting the incline to different levels. Some elliptical machines with adjustable inclines also feature interactive videos and come with training programs designed into the system, which gives you options to vary up your workouts easily. Purchasing an elliptical that has an adjustable incline will let you have more variety in your workouts, and also increase your ability to tone your lower body.
Adjustable Stride
The stride on some elliptical machines is actually set on some brands, while others provide you with an adjustable stride. If more than one person is going to be using your elliptical, having an adjustable stride will allow a larger person to get a workout styled for them, and also allow a smaller person to get the same workout made for him or her. If you have multiple people of various sizes ready to use your elliptical, an adjustable stride will make it easier for everybody to use the machine to suit their workout needs. Elliptical machines that come with adjustable stride features typically do cost more, but it's certainly worth it in the long run if the entire family decides to use one machine.
Levels of Resistance
Elliptical machines offer a variety of resistance levels, and some higher-priced models come with more levels of resistance than others. Regardless, it's nice to be able to adjust the resistance level on your elliptical if you want to get into great shape. When looking for an elliptical that provides you with various levels of resistance, make sure you find a strong, heavier flywheel so that you can get higher levels of resistance out of your machine. Most elliptical machines feature some resistance options, and your higher-priced elliptical machines will have higher levels of resistance. Again, for this feature, consider what you need and how much you plan to workout since any level of adjustable resistance is still beneficial, even if you are shopping on a budget.
Features
Most elliptical machines come with some kind of computer console built-into the system, capable of measuring your workout progress while also providing a bevy of other benefits. With consoles on an elliptical, the more bells and whistles the computer system offers, typically the more money you'll spend. So, if you are shopping on a budget, try to stick to what you know you'll really need to get an effective workout.
HD Screens and Internet Features
High-quality elliptical systems usually feature some kind of LCD screen, sometimes as large as a standard 22-inch widescreen, although it's more common to have screens that are 7 to 10 inches. These screens are able to allow you to watch videos and live stream as you work out, so if you want to watch TV, you've got that option. Or, if you prefer to search the web, you'll be able to do that as well. Elliptical machines that come with Internet features are also able to track your workout data as you progress.
iPhone/iPod Compatibility
Some elliptical machines come with MP3 functions that allow either Apple or both Apple and Android phones to be placed into the system and play music out through in-console speakers. If you love listening to your playlist when you work out and find that music motivates you, then this is a great feature to have.
Workout Programs
The elliptical machines we provided on our list feature a variety of exercise programs that are either already built-into the computer system or can be customized only. Less expensive elliptical machines don't typically have as many programs, but still, offer some workout assistance to help get you going. Higher-end elliptical machines allow you to set up profiles on your system so that if more than one person works out on the machine, each person can track their workout progress and performance.
Heart Rate Monitoring
Elliptical machines also typically feature some kind of heart rate monitoring, and many also have programs built into them to help you control your own heart rate levels as you work out. Higher-end elliptical machines are able to adjust to help people meet their selected target heart rates, providing effective assistance to help you reach your workout goals.
Not all elliptical machines feature all of these computer options in their consoles, but most of them have at least some of what we've listed above. If you are shopping on a budget, it will be difficult to buy an elliptical that can do everything on this list, so try to focus on what you really need, and then make your selection.
Ease of Use
Depending on how you plan to set up your elliptical, whether you want to do it on your own or with professional assistance, pay attention to the fact that different elliptical machines offer easy set-ups, while some other, more complicated models require professional assistance, which comes at an additional price. Depending on the elliptical you select, ease of assembly can vary from model to model and brand to brand. So, keep in mind how much assembly you can do on your own if you are shopping on a budget when you select your elliptical.
Durability
When you purchase your elliptical machine, you want to make sure your equipment is both stable and durable. What's great about most elliptical machines is the fact that even the more affordable models are designed to be both durable and stable, so the machine won't breakdown or create an accident. In fact, cheaper elliptical options don't feature a lot of electronics on them, but still, make sure their products provide plenty of balance and strength. When you're analyzing an elliptical for durability and stability, there are a few factors you can consider to help you make your decision.
Metal or Plastic Parts
Elliptical machines that are built to be long-lasting usually have metal parts designed into them, which are higher in quality than elliptical machines that use plastic as the primary material. Even more affordable elliptical machines are designed with metal parts, and if you do need to shop on a budget, know that getting an elliptical machine with metal parts rather than plastic ones means the elliptical will last much longer, and be a lot more stable when you exercise on the machine.
Maximum User Weight
It's important to note what the maximum user weight is for the elliptical you plan on purchasing because it gives you a bit of information on the overall durability of the machine. If the elliptical you are considering purchasing can hold up to 300 pounds, then it's manufactured to be very durable, even if it comes at a more affordable price.
Top Ten Elliptical Machines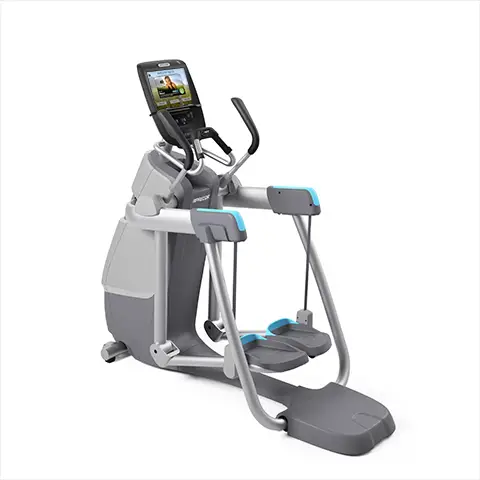 Precor's AMT 885 Elliptical is designed to give you intense cardio, calorie-burning full-body workout without forcing you to experience adverse impacts that could create injuries. Plus, you can adjust this elliptical for either long or short strides, depending on the type of workout you want to accomplish.
Read more
Adjustability
Precor's AMT 885 Elliptical has not only a stride length adjustment but also a stride height adjustment, meaning you can create an incline when you want to climb uphill. You'll get 20 levels of resistance with this elliptical, which can be adapted to be used as a climber or treadmill as well as an elliptical so that you get versatility in your workout options.
Features
Precor's AMT 885 Elliptical comes with the manufacturer's latest console, known as P30, which also features a great motion control system. Plus, you get over 20 different workouts to choose from, and a nice, easy to see LED screen that records your vitals as you work out.
Ease of Use
Not a lot of maintenance is required with this elliptical, and Precor provides you with easy to follow directions so you can easily set up your elliptical. Not only is this elliptical easy to set-up, but it's also very easy-to-use, and designed for simplicity.
Durability
Precor's AMT 885 Elliptical offers a seven-year warranty and features plenty of high-quality materials that help enhance the durability of the product. Also, the elliptical is stable enough to allow you plenty of balance.

2

. Life Fitness 95X Series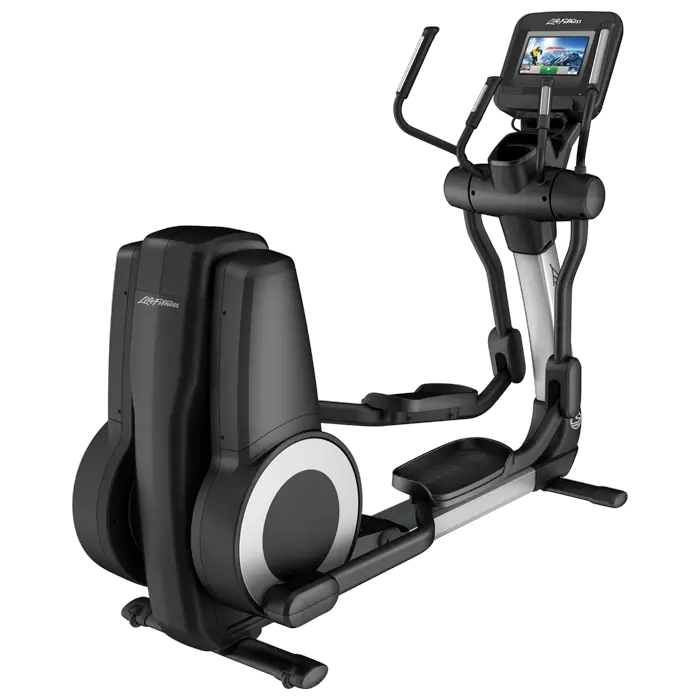 Life Fitness's 95X Club Elliptical Cross Trainer is one of the company's most popular workout products and comes with a high-quality design that offers a lot of durabilities. Designed to be an at-home elliptical that's as effective as your local gym's elliptical machines, you'll get an excellent product that offers a lot of features that will give you an excellent full-body workout.
Read more
Adjustability
Life Fitness's Club Elliptical comes with over 26 levels of resistance, so you can adjust your workout as you gain experience and get closer to reaching your workout goals. Also, this elliptical has transport wheels on it, so it's easy to move around and re-position when needed.
Features
Designed with a durable LED touchscreen, you get several options in workout programs as well and the ability to connect to the internet if you want to live-stream something while you exercise. Plus, the computer on this elliptical can be used with either Apples or Androids, allowing you to play songs or access other features while you work out.
Ease of Use
The assembly on this product is a bit more intensive than some of the other options on our list, mostly because of the quality of the design. While it is possible to set this elliptical up on your own, you may need extra assistance, depending on how comfortable you are with your elliptical.
Durability
Life Fitness's Club Elliptical comes with a lifetime warranty on the frame of the product, and also offers several years of assistance when it comes to replacing and fixing other parts. The machine is very durable and built to last a lifetime, and offers plenty of stability and balance.

3

. NordicTrack Spacesaver SE9i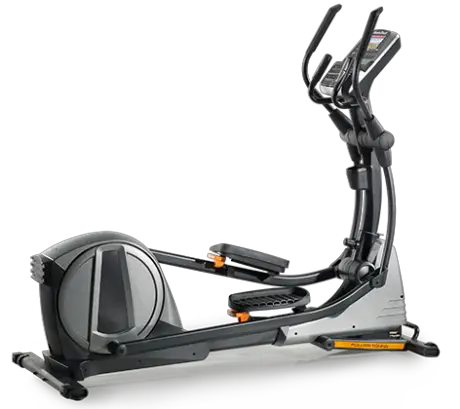 NordicTrack is a well-known manufacturer of great home workout products, and their SpaceSaver SE9i is one of the most popular elliptical trainers they make. There are many reasons why this is such a popular elliptical, ranging from its excellent electronic system, fantastic features, and long-term warranty.
Read more
Adjustability
Designed with a foldable frame so the elliptical saves space when you aren't using it, each time you do whip it out for a workout, you'll get a choice of 24 levels of resistance as well as over 30 workout programs and apps to help you vary up your exercise routine. Plus, the incline on this elliptical is easy to adjust if you want to get a more hardcore, uphill workout.
Features
NordicTrack's SpaceSaver SE9i is made with a seven inch HD touchscreen computer that allows you to use the Internet while you work-out, so you can live-stream if you want, and the computer will still register your workout data as you proceed. This elliptical also features built-in iPod compatible speakers so you can rock out to your favorite tunes if you need more exercise inspiration.
Ease of Use
NordicTrack's SpaceSaver SE9i comes with a set of easy to follow step-by-step directions that help you get your elliptical up and running quickly. Set-up times can vary on this product, but the assembly is simple enough for you to easily accomplish at home.
Durability
NordicTrack's SpaceSaver SE9i is designed with excellent, durable materials and top-of-the-line technology, so you'll get a lot of use out of this system. Plus, the elliptical is very stable and will provide you with a balanced work-out session.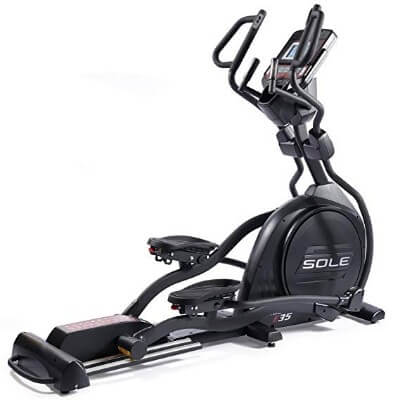 The sole fitness elliptical is a highly praised machine. It features a 7.5-inch backlit display that is easy to use and tracks distance, pace, calories burned, etc. The incline is adjustable between 0 and 30-degrees. For some advanced users, this machine may not offer enough resistance, but for most people, it's just right.
Read more
Adjustability
For any beginner or intermediate elliptical user, this is a great machine. While advanced fitness gurus could definitely use it as well, some of the included routines may be too easy for them. Luckily, the machine is highly adjustable. You can adjust the stride length from 20-inches to 22-inches. You can also adjust the pedal and console to your liking. For incline, the ramp can be angled anywhere from 0-degrees to 30-degrees.
Features
The 7.5-inch backlit LCD display is easy to read. Built into the machine are six exercise programs, two customizable programs, and two heart rate monitoring programs. Your heart rate can be read by holding onto the pulse grip or with the included chest strap. The foot pedals are designed to be slightly oversized, which helps to reduce stress in the joints of your feet, ankles, and knees.
On the main panel, you will also find a built-in fan, water bottle holder, and a great sound system. To top it all off, it's been noted by many reviewers that Sole Fitness' customer service is top-notch.
Ease of Use
Besides the initial set-up, this elliptical is easy to use. Many reviewers have noted that paying the extra money for the assembly was a good choice. Sole Fitness includes lubrication for the machine to make each piece flow more smoothly. It is easy to change workouts or adjust the incline or resistance with the clearly marked buttons on the display.
Durability
This machine is solid and quiet. The elliptical itself weighs 215-pounds and it has a weight limit of 375-pounds. The parts of the machine come with different warranties. The frame comes with a lifetime warranty, the electronics and parts have a 5-year warranty, and labor has a 2-year warranty. Overall, the durability of the Sole Fitness E35 has proven to be impressive.

5

. Proform Hybrid Trainer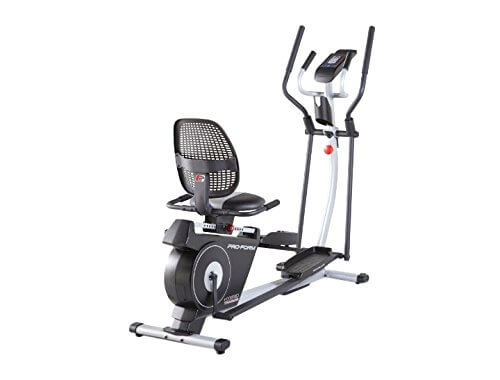 If you're looking for an affordable elliptical that also offers you some versatility with your workouts, then you might like the Proform Hybrid Trainer Elliptical, since you can use it as either an elliptical or a bike, depending on your exercise choice. Plus, this model is easy-to-adjust and use, and recent updates have made added more durability to the product.
Read more
Adjustability
Proform's Hybrid Trainer Elliptical can be changed into a bike using a simple three-step process that adds some versatility in exercise with this affordable elliptical. It also comes with over 16 workout programs and apps and is built to be quiet and smooth whenever you work out.
Features
This elliptical comes with an iFit Bluetooth console, so you can easily keep track of your workouts and progress as you exercise. You'll also get a Watts Power Meter so you can monitor yourself as you climb towards your weight loss goals.
Ease of Use
Proform's Hybrid Trainer Elliptical is easy to set-up and has a full list of directions so that you can assemble the elliptical yourself. Plus, the elliptical is also easy to transform into a bike, making it a very efficient design.
Durability
Proform's Hybrid Trainer Elliptical features a steel frame that's very long-lasting, and also adds a level of stability to the product. You're elliptical will stay balanced and you'll be able to get a lot of use out of it with its durable design.

6

. Sunny Air Walk Trainer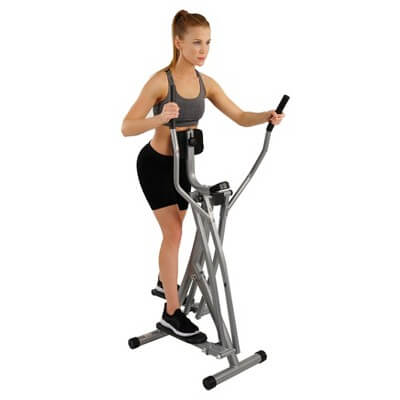 The sunny air walk trainer is a great elliptical for individuals that want a home elliptical but may not have enough space for a regular size elliptical. It may look like a basic model, but this machine will give you a great workout at a great price.
Read more
Adjustability
Sunny Air Walker is a basic elliptical unit, but the simplicity of the machine makes for a great and affordable machine that will give you a great workout.
Features
This machine does not come with a computer nor screen.
Ease of Use
Made for easy assembly, when you purchase this elliptical you'll get a step-by-step set of directions that features illustrations to help you construct the machine. Putting the machine together is relatively simple, and usually takes around sixty minutes.
Durability
Sunny Air Walk Trainer is designed to be both stable and durable, with high-quality materials manufactured into the design that will extend the lifetime of the product. Plus, the elliptical's features help to keep it balanced, offering you plenty of stability during your workouts.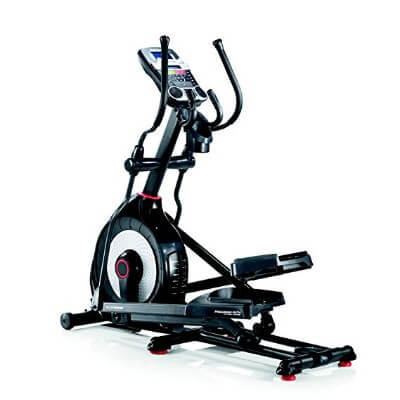 Our next addition offers 29 different built-in programs. The Schwinn 470 can be synced with the Schwinn Connect or My Fitness Pal app to help you track your improvements and stay motivated. This machine is not overly difficult to assemble nor disassemble. There two small wheels at the front of the machine that can be used to roll it out of the way when you're not using it.
Read more
Adjustability
Users can choose between 25 levels of resistance on this machine. Whether you are looking for a simple workout, or something more advanced, the Schwinn 470 offers it. The motorized ramp is adjustable by 10-degrees and has a 20-inch stride length. Unfortunately, the stride length is not adjustable, but the cushioned footplates are large enough for you to slightly customize it yourself with foot placement. Additionally, the angled handlebars can be adjusted for comfort.
Features
There are 29 different programs and four different user settings. To help you reach your goals and track your progress, the elliptical can be connected with the Schwinn Connect or My Fitness Pal app. You'll be able to see your improvements daily, which will help you to stay motivated. Instead of having one large LCD screen, the Schwinn 470 has two screens. While it honestly doesn't make a big difference, the screens show you 13 different feedbacks and it feels a bit more organized between the two screens. There is an integrated heart monitor in the static handlebars.
To top it all of, there is a three-speed fan built into the display area, as well as acoustic chamber speakers that put out great sound.
Ease of Use
Working in a team, this machine isn't difficult to set-up. Most reviewers say it took them about two hours with a partner. The instructions are simple and easy to follow. If you prefer to move the elliptical out of the way when you're not using it, there are two small wheels at the front. As for the display, it is backlit and easy to see. The buttons make take some getting used to but are in no way overly complicated.
Durability
The metal pieces of this elliptical were built to last. There are a few plastic pieces built in that will need to be treated with care. As for the warranty, the frame comes with a 10-year warranty, the mechanical with two-years, technical with one-year, and 90-days for the labor. The machine itself weighs 186-pounds and has a weight limit of 300-pounds.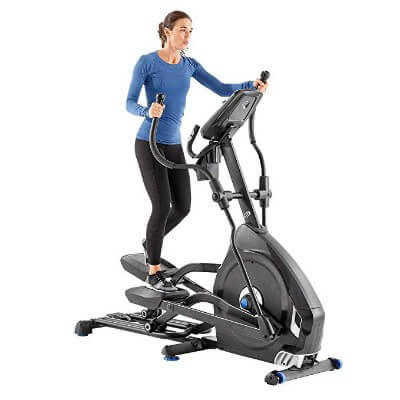 This reasonably priced elliptical is a versatile and fun piece of equipment. It is compatible with Bluetooth and multiple apps, including Run Social. If you don't like to run alone, this app solves that problem. There are 25 levels of resistance and 29 integrated programs!
Read more
Adjustability
With 29 integrated programs and 25 levels of resistance, you'll be able to fully adjust this machine to your liking. However, the 20-inch stride is not adjustable, but there haven't been many complaints about that. A handful of reviewers have mentioned that it functions more like a stair stepper than an elliptical, focusing more on the butt and thighs. For some, this was a great thing, and for others not.
Features
The Nautilus E616 has a dual LCD screen display, as well as a media shelf for your phone or tablet. There are built-in speakers and a media port. The built-in fan is adjustable to different heights and intensities. To monitor your heart rate, you can use the static handlebars or the included chest strap.
To keep track of your results and keep you motivated, you can use Bluetooth to connect the elliptical to the Nautilus Trainer 2 app, as well as other compatible fitness apps. One of the best features is that the Nautilus is compatible with the Run Social app. This app allows you to run in 19 different locations, along 27 routes, with other runners in real-time. It's a great way to turn your exercise into a social event or a competition.
Ease of Use
Expert assembly is available. Setting up the elliptical on your own takes about two to three hours, but the directions are easy to follow. The dual LCD display is large, easy to read, and has minimal buttons. For great form, comfort, and stability, there are four padded handlebars. Two of which are static and two of which move with you. For storage, there are two small wheels at the front of the machine.
Durability
Like many of these ellipticals, the warranty varies for each piece of the machine. For the Nautilus E616, the frame has a 10-year warranty, the parts and electronics have three years, and the labor has one year. The machine itself weighs about 200-pounds and has a maximum user weight of 300-pounds. Reviewers say that the machine and flywheel seem durable and they expect this machine to be a good investment.

9

. Octane Fitness ZR7 Zero Runner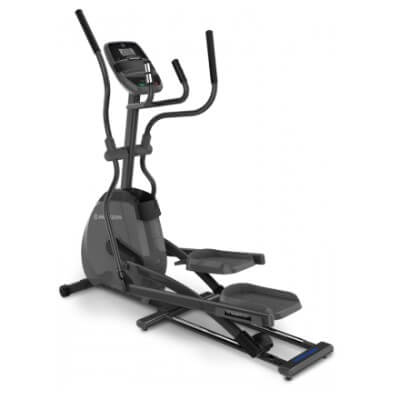 The ZR7 is a unique and versatile machine. It works like an elliptical, a treadmill, or a stair climber. It is fairly simple and doesn't even require a power source. The display is large and easy to read and shows you how your stride changes, allowing you to correct your form easily.
Read more
Adjustability
The Octane ZR7 serves as an elliptical machine, a treadmill, and a stair climber. For whichever task you are doing, it can accommodate strides up to 58-inches. Included with the purchase of the machine, you'll also receive resistance bands. There are seven points of connection to provide you with plenty of versatility, all in one machine.
Features
Perhaps the best feature of this machine is the zero-impact. When running outdoors, the harsh heel strikes when running on pavement can really do a number on your joints. There is also a heart rate monitor built-in, which measures your rate from the stationary handlebars or the wireless Polar heart rate strap.
The screen is fairly basic with large numbers and letters, making it easy to read. On the display, the stride tracing technology shows you, in real-time, how your gait changes as you get distracted or tired, giving you the opportunity to improve your form. If you prefer to be distracted by a television show or another app, there are also two holders built into the machine. The Octane ZR7 is compatible with the SmartLink app. You can create an account and create goals for yourself. To help you reach those goals, the app creates custom workouts catered to you.
Ease of Use
The initial assembly of this machine isn't overly difficult. One reviewer claims that it took him less than one hour to set it up. After that, the machine couldn't be easier to use. It is completely powered by you. There is no plug or electricity needed. Additionally, it is virtually silent. Reviewers have said that it does take some time to get used to the feeling of the machine.
It doesn't take up much room, it is five feet long and three feet wide. Additionally, the step on height is low as well, so you don't need to be concerned if you have low ceilings.
Durability
So far, so good. Similar to most ellipticals, there are different warranties for the different parts fo the machine. The frame has a lifetime warranty, the parts have a five-year warranty, and the labor has a one-year warranty. The maximum weight capacity is 300-pounds.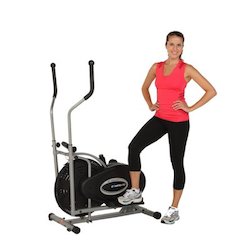 If you're shopping for a high-quality elliptical on a budget, then you'll love the affordable Exerpeutic 5000 Magnetic Elliptical Trainer, which provides you with an excellent home workout system in a compact elliptical model. This elliptical has an excellent, easy-to-read computer system, and also does a great job of giving you an intense full-body workout.
Read more
Adjustability
Exerpeutic's 5000 Magnetic Elliptical Trainer offers eight different resistance levels, so you can adjust your workouts to make them harder as you build up toward your goals. Also, it's extremely quiet and efficient, making it a nice system to have at home when you want to fit in a relaxing workout.
Features
The LCD computer designed into this elliptical is made to be easy-to-read and simple to use. You'll see all the exercise information you need to track your workouts as you progress, so you can monitor your workouts daily.
Ease of Use
Exerpeutic's elliptical comes with step-by-step directions with easy to follow pictures included, so you get a lot of guidance through the setup process. The entire system is easy to put together, and you can set it up in about 40 to 50 minutes.
Durability
Although this elliptical is both compact and affordable, it's still made from high-quality, durable materials that are meant to be long-lasting. Also, the elliptical provides a lot of stability and balance designed into the system, so it gives you an excellent workout each time you use it.

Subscribe to our Newsletter