Best Resistance Bands for 2023
In a Hurry? Editors choice:
Test Winner: Iron Infidel

Resistance bands have been around since the early 1900s. At this time, the bands were primarily used during muscle and body rehabilitation. Flash forward to the 1990s and resistance bands were taking over the exercise and bodybuilding world. It is quite amazing to see how far these bands have come and the amazing impact they can offer your exercise routine.

If you're looking for an affordable workout option and want to get in great shape, purchasing one of the best resistance bands on the market is a great way to boost your physical activity level without draining your bank account. You'll get a lot of benefits with a resistance workout - this simple piece of eqipment can be used for a variety of exercises that give you an alternative to weight training.
Standout Picks
Criteria Used for Evaluation
Style
The design of the band is important because some bands come with better quality materials than others.
When we reviewed the design of each product, we discussed the type of materials that were in them, as well as their length. As far as materials are concerned, typically the strongest bands are going to come with latex. Latex is a great material for these bands because it is very strong and won't break, it doesn't cause odor issues, and it also won't stretch out like some other materials.
Some bands feature other materials in their design, like rubber. While rubber isn't as durable as latex, it may be reinforced. For instance, some bands come with strong stitching. So rubber is still a viable option, as long as it is reinforced with high-quality stitching or some other design feature that will prevent the band from stretching out. If a rubber band has none of this, it will eventually stretch out over time.
Also, some bands come with longer designs than others or are adjustable. Longer product design means you get a lot more versatility in your exercises. How much versatility you need will really be up to you, and is a matter of personal preference.
Some bands also feature resistance weights on them, making it easy for you to figure out what band has what type of resistance. Bands may come color-coded as well. If you purchase bands that are only color-coded, you'll need to know which color correlates with which resistance level.
Features
Depending on what type of brand and style of band you buy, and whether you get a kit or a single band, you'll wind up with different features.
If you are looking to save a bit of money and already know how to use these bands when you work out, then getting one band can help you save. However, purchasing one band alone means you won't get a lot of the added bonuses a kit can provide.
Many kits offer a wide variety of features that help make them a great option. Kits typically include several bands with different levels of resistance. Kits usually come with handles, ankle straps, and door holders that can really help you boost your exercise level. And if you are a beginner, another nice thing about purchasing a kit is that most of them offer some level of guidance that usually includes a book, some kind of online videos, and other helpful items.
Whether you decide to purchase one band or a kit is entirely up to you. However, if you are just starting out, it would probably be better to get a kit.
Durability
Durability can vary, mostly because of design features.
Materials do really matter with these types of bands, and any band comprised of latex is going to give you a lot of long-lasting durability. Latex can handle a lot of abuse without stretching out, unlike some other materials. Also, it doesn't smell, which is a nice bonus, and it won't break or tear. So, the material really does make a difference.
Value
When you are considering the value of a product, you want to take a look at the price, the product's overall durability, any warranty options, and if it comes with any other great features. Some of these products come with a durable design as well as a warranty, and many offer lifetime warranties. Of course, a lifetime warranty is always a great sign of quality.
Top Ten Resistance Bands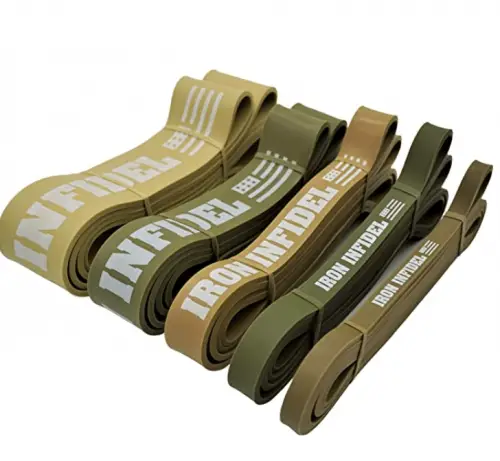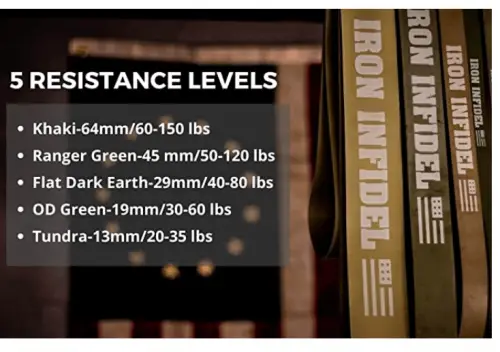 Looking for a strong, heavy-duty option to supplement your powerlifting routine? This set from Iron Infidel may cost quite a bit more than some of the other designs that we have seen, but the tough materials and high weight limit are perfect for skilled lifters looking to add in some resistance training. Plus, a portion of the profit of this design goes to the Wounded Warrior Foundation.
Read more
This heavy-duty set is designed to supplement powerlifting sets, or for those that require a good deal of resistance. The lowest band provides users with 20-35 pounds of resistance, which may prove difficult to use for newbies. What makes this set ideal for powerlifters is that the highest band provides an impressive 150 pounds of resistance, which is far higher than anything else that we have seen.
The higher price point is also due to the fact that these bands are made from premium materials that hold up incredibly well over time. It is composed of 100 percent latex that is odor-free and snaps resistant. Many of the budget-friendly designs leave your hands smelling like you just blew up a bunch of balloons, and this odor-free set won't leave your home gym smelling like a clown college!
If you are in the market for extreme resistance training, this set of bands from Iron Infidel is worth every penny. It is composed of quality materials that provide excellent resistance for a wide variety of workouts, and it offers a max weight level that is higher than many of the other budget-friendly options out there on the market.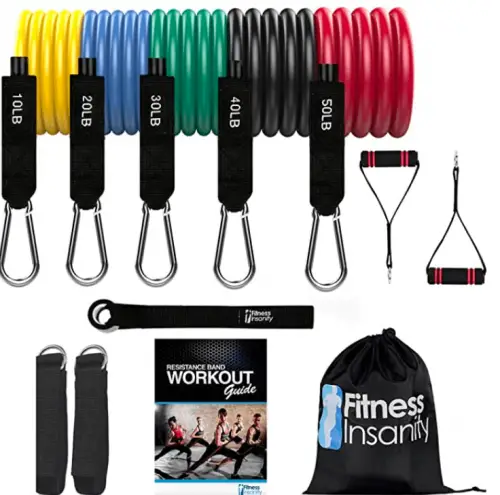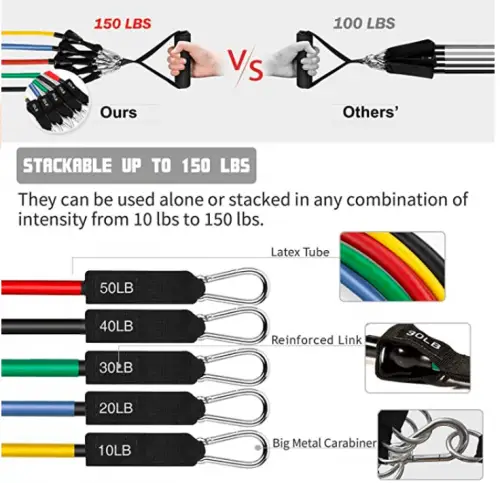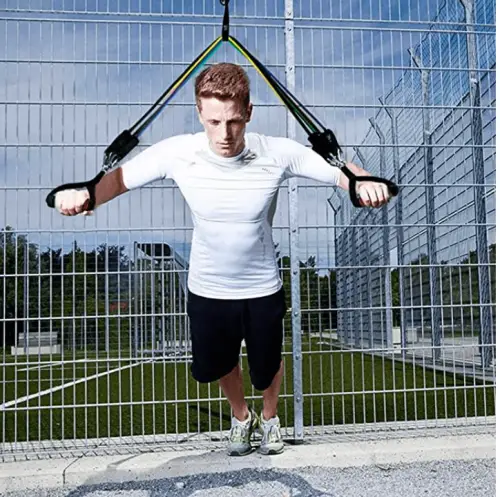 Fitness Insanity gives you a nice exercise set option that can help you boost your workouts and increase your strength. You get a nice band set with resistance levels written on them. Also, you can stack them up to increase your resistance levels if you want.
Read more
Fitness Insanity's band set is designed with a durable rubber inside of it, which helps to make this a solid product. The bands are each marked with their resistance strength, and you get five different bands that you can stack together for up to 150 pounds of resistance. Plus, you'll get a nice set of comfortable, cushioned handles to use on the ends.
The set comes with a lot of nice bonus features which makes this a nice all-around option. You'll get a total of five bands, as well as a lot of guidance to help get you going on your exercises. You get four exercise guidebooks with this, and a manufacturer's lifetime warranty. The set is priced to be cost-effective and offers you a nice all-around set that can guide you through your exercises even if you are a beginner.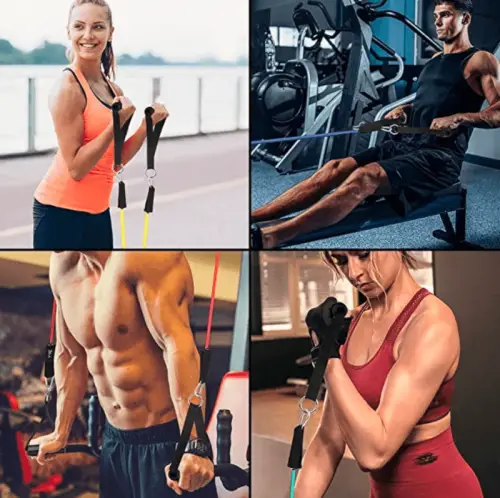 If you need something that comes with a wide variety of resistance levels and multiple modes of use, this design from Whatafit is a great choice. It comes in a pack of color-coded weight levels that are great for all lifters. It also includes a few mounting methods and comfortable grips to help light up those muscles in your upper and lower body.
Read more
The very first thing that we noticed about this band set is that it comes in a wide variety of weight options. It includes 10, 20, 30, 40, and 50-pound band options that are brightly colored for quick recognition when engaging in drop sets. It also comes with a pair of wide neoprene handles which are large enough to loop over your sneakers.
What makes this set ideal is that it is composed of natural latex that is incredibly durable, as well as kind to the environment. It uses strong stainless steel buckles that affix to just about anything so you can feel confident in your lifts. It even includes a sturdy door anchor and a sleek carrying case for easy travel or storage.
The best part about this set from Whatafit is that it comes in at a super affordable price point. Made from quality materials that hold up well over time, this design is an excellent value. The wide variety of sizing options makes it the perfect option for those that are just starting out, or for lifters that want to push heavier weight options.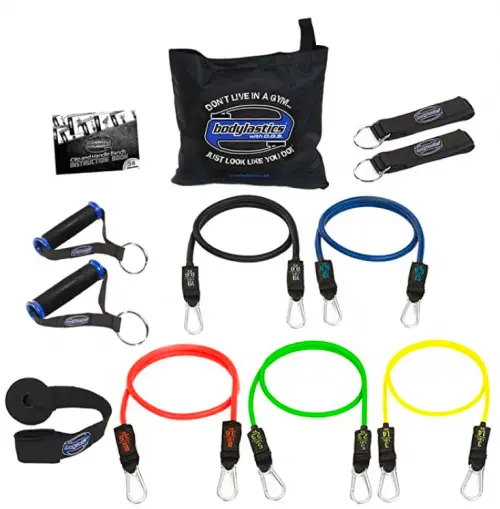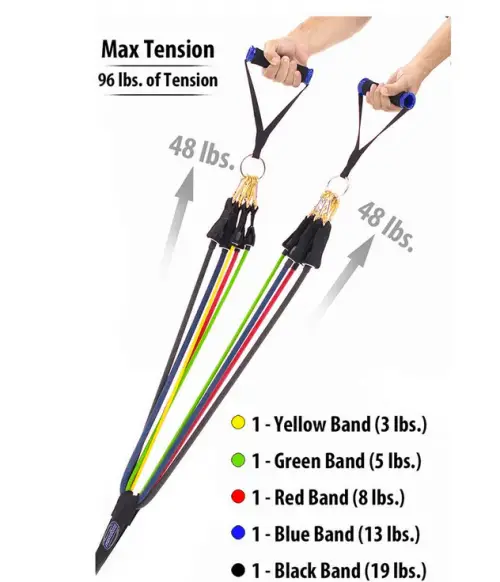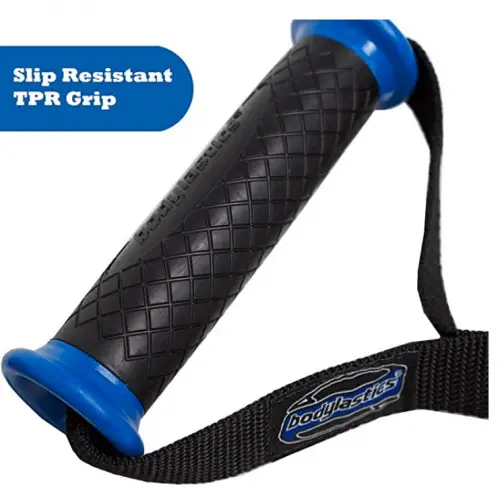 Anti Snap resistance bands offer you an affordable kit with several great bonuses packed into one nice set. You'll get everything you need with this kit, including an instructional booklet.
Read more
Bodylastics' bands are designed for quality and durability. Comprised of Malaysian Latex, TPR Rubber, ABS plastic, and nylon webbing, these bands are made to last, and they feature a design with an inner safety cord to prevent over stretching.
The set comes with a lot of great features. First, you get a total of six great bands. You'll also get two handles, two ankle straps, one door anchor, another anchor, a carrying case, and a nice instructional booklet.
This set is not expensive, and they make a great option because they feature a durable design. With the built-in safety cord in this product, you'll never overstretch the bands.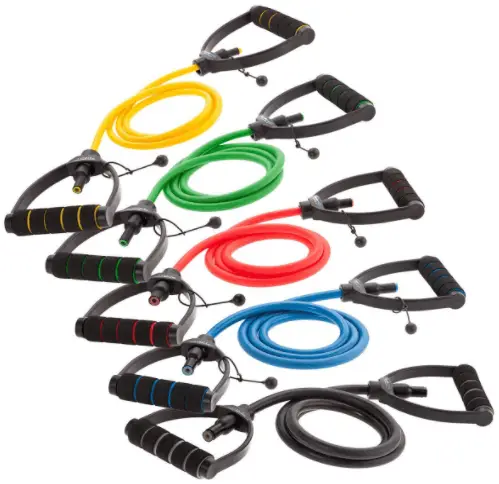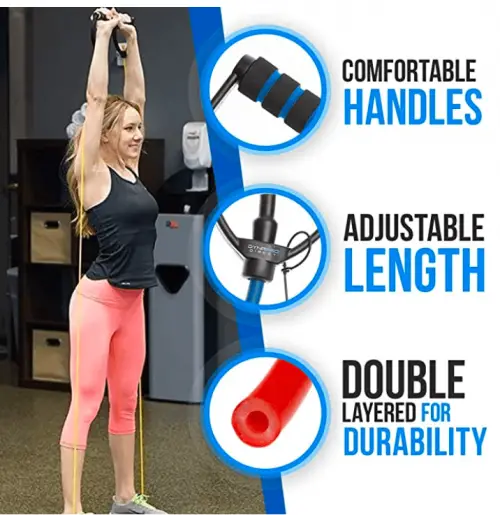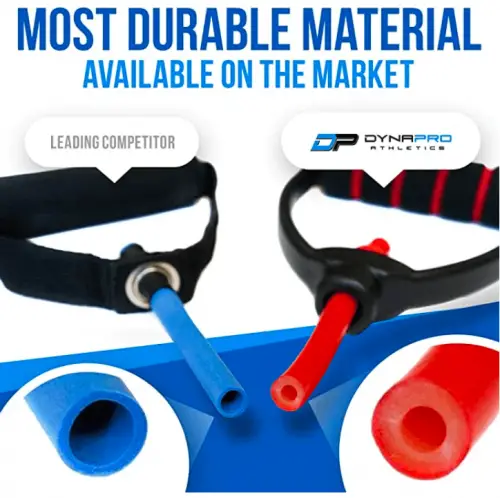 These are designed to be longer than most bands, and that means you'll get more versatility with your workouts. Here, you'll get a durable, high-quality product at an affordable price.
Read more
These bands are comprised out of 100% natural rubber and are made to be environmentally friendly. Some added length on these bands means you'll get more choices with your exercise options. You'll be able to store them easily or take them along with you when you travel because they are very compact and portable.
With the set, you'll get a total of four bands that offer different resistance levels. You'll also get a workout guide and a set that comes with a great warranty.
The set is priced affordably, which means this is a good value option. With their durable design and a one-year warranty, you know you are getting a good deal.

6

. Black Mountain Products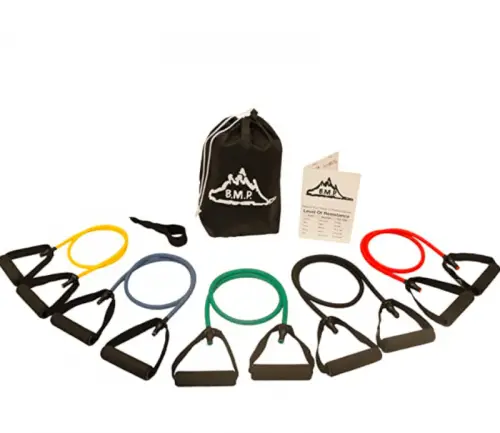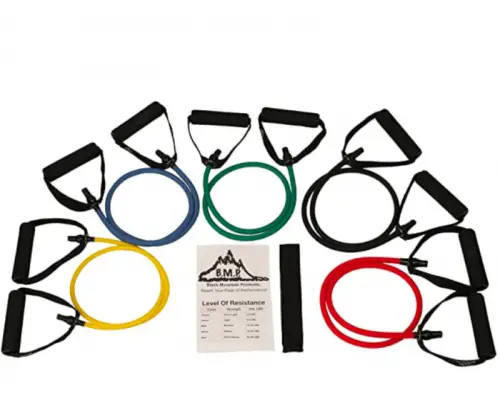 Black Mountain offers you a full set with five different resistance bands that give you a variety of resistance weight levels. The bands can be used all at once or individually.
Read more
The set is comprised of a combination of both natural and synthetic rubber, with double-stitched nylon seams.
There is a metal clipping system which makes it very easy to place a handle or ankle strap on each one of the bands. You also get a nice starter guide, a door anchor, a carrying bag, and an exercise chart.
The set comes with a lifetime warranty. The set is a cost-effective option that's well worth the investment.

Subscribe to our Newsletter