Best CrossFit Shoes
In a
Hurry? Editors choice: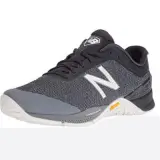 Test Winner: New Balance MX40V1

Wearing any shoe for its unintended use can result in pain or injury. The same way that you're not going to jog on the pavement in your soccer cleats, you shouldn't be doing CrossFit in your
every day sneakers
. CrossFit specific shoes are specially designed to absorb shock in the right places, as well as give great energy return. The better the quality of your shoes, the better your performance becomes and you'll be less likely to sustain an injury. When your feet are happy, you're happy. Trying to figure out what is best for you will depend on your budget and what you need, so to help save you a little time we've developed a list of some of the best CrossFit shoes available for purchase today.
Standout Picks
Criteria Used for Evaluation
Support
Soles
Quality CrossFit training shoes should come with a stiff, hard sole for many reasons. For instance, Reebok's Nano has been so popular over the years because they created one of the best stiff soles made on any CrossFit training shoes, and that's a plus.
One problem you'll run into when you want to purchase a great CrossFit shoe is the sole—a lot of companies simply take the soles they use for running shoes and stamp them on their CrossFit shoes. Obviously, this doesn't pan out well for cross-training, since running soles aren't great for climbing and weightlifting, and you need a harder sole if you want a versatile shoe.
Soles on running shoes usually have about an inch of foam or gel between your foot and the ground, meaning the shoes work more like weight distribution function. Running shoes don't work for other areas of cross-training because cross-training requires a shoe that allows your foot to stay solid inside of it, making you stable and firm.
So, make sure you get a CrossFit shoe that has soles made out of something stiff and hard. You don't want to purchase shoes that advertise CrossFit capabilities but are really made for running because they won't help you balance out to lift weights, or give you grip when you climb.
Heel to Toe Drop
A quality CrossFit shoe should have a very small heel to toe drop, meaning the difference between the forefoot's height and the heel's height should be very small. A good CrossFit shoe will have a minimal drop, some have zero-drop features, and should be very flat from heel to the forefront.
Exactly how flat you want your shoe to be can be something that's a personal opinion. Some people feel better in shoes that have a 6mm drop, which is on the higher side of the minimal drop scale for this type of shoes, while others want zero.
While personal opinion comes into play with the assessment of any shoe's minimal drop, your decision should also depend on the type of workouts you plan on performing. If you plan to run more and want more support than a 6mm drop probably would be more comfortable. However, people planning to do more weightlifting probably want zero drops to feel more stability and support from their shoe's foundations as they lift.
If you aren't certain about what drop you want, you can always go to a local sports store and try some shoes with different levels of minimal drop on them to see what you feel most comfortable with. After you assess that, it'll be easier for you to tell what types of shoes will make you feel comfortable, and what size of drop you need.
Lateral Support
Good CrossFit shoes give you great options for lateral support. When training in CrossFit, torque builds up from our hips meaning your knees come out, placing weight on your outer heel area within your foot. Shoes without good lateral support are going to push your feet out over the sole, creating an over-the-top effect that isn't comfortable and can hurt your feet.
Shoes that have good lateral support features usually include some kind of cage or wire that's found in the center of the shoe. This cage or wire should hold the foot in place over the sole of the shoe, so that the foot doesn't slide while you train, keeping your body stable and your feet comfortable, while preventing injuries.
When you're looking for CrossFit training shoes with good lateral support, a feature you really do need to make sure you don't lose your balance or injure yourself when you work out, try the shoes on and play around in them. Do some squats to see if your feet hold well in the middle of the shoe, or slip out or forward. If they hold well, look for the inner cage or wire in the shoe to ensure you've got a solid CrossFit Shoe with good lateral support.
Finding a CrossFit shoe that brings you good lateral support is a must. You'll have more balance during your workouts and be better protected from accident, slips, or injuries when you train. This type of protection is certainly worth the value it'll give you for your safety and health.
Comfort
How comfortable your CrossFit shoes on your feet will be a matter of personal preference, but it's certainly an important consideration. Feeling comfortable in your shoes as you train is one of the most important things you'll need to look into, and what one person feels is comfortable to them when they train can be different from what you think feels comfortable to you. So, stick with your gut instinct and try on a few shoe styles.
One thing you'll want to look at when feeling out the comfort and fit of a shoe is the midsole width in the shoe. These can vary depending on the shoe type, and you want to find one that will best fit your type of foot (narrow, medium orwide feet).
Cushioning can also vary widely from shoe to shoe. Having too much cushioning in this type of shoe can throw off your balance when you weight lift. You need just enough cushioning to absorb shock while still keeping effective balance, and again, that depends on personal opinion. However, must feel that a quality CrossFit shoe has about 4mm of cushioning.
Features
When we researched the features of each shoe, we paid attention to the hooks and loops that make-up the closure of the shoe, as well as specifically placed materials that make the shoes, stand out. Some shoes feature elastic bands that hug the foot, making you feel more secure and providing a better fit.
Aside from these features, we also looked at the style and different color options that the shoes are offered in. Some shoes offer a low-profile and are only available in dark colors, while others allow you to demonstrate your own personal style.
Durability
There is no doubt that your CrossFit shoes are going to get a total workout, along with your body. For the intensity of the sport, you're going to need a durable shoe that will last you many sessions. You will be engaging in all sorts of exercising, including running, squats, weight lifting, jumping, push-ups, and more. For most of these movements, you would have a specialized shoe. However, in a fast-paced CrossFit class, there simply isn't time to change shoes.
For a durable shoe, you'll want to first take a look at the materials used to make the shoe. While mesh is a great breathable addition for the upper, it isn't always durable. Rubber soles are ideal (for almost any sport) and the design on the bottom will enhance the traction. Aside from the materials, figuring out how durable a shoe is in real life, depends on those who have used them. To determine the durability, we always scroll through the best and worst reviews to give you a true overall consensus.
Subscribe to our Newsletter