Best CrossFit Shoes
In a Hurry? Editors choice: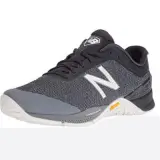 Test Winner: New Balance MX40V1

Wearing any shoe for its unintended use can result in pain or injury. The same way that you're not going to jog on the pavement in your soccer cleats, you shouldn't be doing CrossFit in your
every day sneakers
. CrossFit specific shoes are specially designed to absorb shock in the right places, as well as give great energy return. The better the quality of your shoes, the better your performance becomes and you'll be less likely to sustain an injury. When your feet are happy, you're happy. Trying to figure out what is best for you will depend on your budget and what you need, so to help save you a little time we've developed a list of some of the best CrossFit shoes available for purchase today.
Standout Picks
Criteria Used for Evaluation
Support
Soles
Quality CrossFit training shoes should come with a stiff, hard sole for many reasons. For instance, Reebok's Nano has been so popular over the years because they created one of the best stiff soles made on any CrossFit training shoes, and that's a plus.
One problem you'll run into when you want to purchase a great CrossFit shoe is the sole—a lot of companies simply take the soles they use for running shoes and stamp them on their CrossFit shoes. Obviously, this doesn't pan out well for cross-training, since running soles aren't great for climbing and weightlifting, and you need a harder sole if you want a versatile shoe.
Soles on running shoes usually have about an inch of foam or gel between your foot and the ground, meaning the shoes work more like weight distribution function. Running shoes don't work for other areas of cross-training because cross-training requires a shoe that allows your foot to stay solid inside of it, making you stable and firm.
So, make sure you get a CrossFit shoe that has soles made out of something stiff and hard. You don't want to purchase shoes that advertise CrossFit capabilities but are really made for running because they won't help you balance out to lift weights, or give you grip when you climb.
Heel to Toe Drop
A quality CrossFit shoe should have a very small heel to toe drop, meaning the difference between the forefoot's height and the heel's height should be very small. A good CrossFit shoe will have a minimal drop, some have zero-drop features, and should be very flat from heel to the forefront.
Exactly how flat you want your shoe to be can be something that's a personal opinion. Some people feel better in shoes that have a 6mm drop, which is on the higher side of the minimal drop scale for this type of shoes, while others want zero.
While personal opinion comes into play with the assessment of any shoe's minimal drop, your decision should also depend on the type of workouts you plan on performing. If you plan to run more and want more support than a 6mm drop probably would be more comfortable. However, people planning to do more weightlifting probably want zero drops to feel more stability and support from their shoe's foundations as they lift.
If you aren't certain about what drop you want, you can always go to a local sports store and try some shoes with different levels of minimal drop on them to see what you feel most comfortable with. After you assess that, it'll be easier for you to tell what types of shoes will make you feel comfortable, and what size of drop you need.
Lateral Support
Good CrossFit shoes give you great options for lateral support. When training in CrossFit, torque builds up from our hips meaning your knees come out, placing weight on your outer heel area within your foot. Shoes without good lateral support are going to push your feet out over the sole, creating an over-the-top effect that isn't comfortable and can hurt your feet.
Shoes that have good lateral support features usually include some kind of cage or wire that's found in the center of the shoe. This cage or wire should hold the foot in place over the sole of the shoe, so that the foot doesn't slide while you train, keeping your body stable and your feet comfortable, while preventing injuries.
When you're looking for CrossFit training shoes with good lateral support, a feature you really do need to make sure you don't lose your balance or injure yourself when you work out, try the shoes on and play around in them. Do some squats to see if your feet hold well in the middle of the shoe, or slip out or forward. If they hold well, look for the inner cage or wire in the shoe to ensure you've got a solid CrossFit Shoe with good lateral support.
Finding a CrossFit shoe that brings you good lateral support is a must. You'll have more balance during your workouts and be better protected from accident, slips, or injuries when you train. This type of protection is certainly worth the value it'll give you for your safety and health.
Comfort
How comfortable your CrossFit shoes on your feet will be a matter of personal preference, but it's certainly an important consideration. Feeling comfortable in your shoes as you train is one of the most important things you'll need to look into, and what one person feels is comfortable to them when they train can be different from what you think feels comfortable to you. So, stick with your gut instinct and try on a few shoe styles.
One thing you'll want to look at when feeling out the comfort and fit of a shoe is the midsole width in the shoe. These can vary depending on the shoe type, and you want to find one that will best fit your type of foot (narrow, medium orwide feet).
Cushioning can also vary widely from shoe to shoe. Having too much cushioning in this type of shoe can throw off your balance when you weight lift. You need just enough cushioning to absorb shock while still keeping effective balance, and again, that depends on personal opinion. However, must feel that a quality CrossFit shoe has about 4mm of cushioning.
Features
When we researched the features of each shoe, we paid attention to the hooks and loops that make-up the closure of the shoe, as well as specifically placed materials that make the shoes, stand out. Some shoes feature elastic bands that hug the foot, making you feel more secure and providing a better fit.
Aside from these features, we also looked at the style and different color options that the shoes are offered in. Some shoes offer a low-profile and are only available in dark colors, while others allow you to demonstrate your own personal style.
Durability
There is no doubt that your CrossFit shoes are going to get a total workout, along with your body. For the intensity of the sport, you're going to need a durable shoe that will last you many sessions. You will be engaging in all sorts of exercising, including running, squats, weight lifting, jumping, push-ups, and more. For most of these movements, you would have a specialized shoe. However, in a fast-paced CrossFit class, there simply isn't time to change shoes.
For a durable shoe, you'll want to first take a look at the materials used to make the shoe. While mesh is a great breathable addition for the upper, it isn't always durable. Rubber soles are ideal (for almost any sport) and the design on the bottom will enhance the traction. Aside from the materials, figuring out how durable a shoe is in real life, depends on those who have used them. To determine the durability, we always scroll through the best and worst reviews to give you a true overall consensus.
Top 10 Picks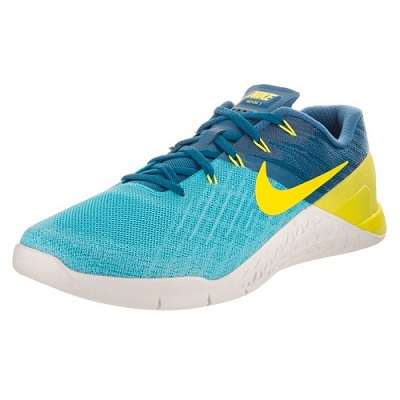 Nike's Metcon 3 are one of the most popular CrossFit shoes out there and for good reason. Not only are they aesthetically pleasing, but they also provide plenty of versatility and durability for all your outdoor and indoor sporting needs. These shoes are made to handle a wide variety of activities, like weightlifting, gymnastics, and running, providing you with a great shoe if you enjoy doing a wide range of sports.
Read more
Support
Nike's Metcon 3 CrossFit Shoes stand out against its competition because of the ability of these shoes to easily handle a wide range of activity with effective foot protection and comfort. Made for intense activity and workouts, you can do anything from hiking to heavy lifting in these shoes.
Made with a durable rubber sole, these shoes help absorb shock to the feet and legs no matter what activity you decide to utilize them in that day. They also come with flywire and mid-fit technology, which locks your foot in place and increases balance and performance while you work out.
Comfort
The upper is made of mesh, which is similar to most Nike shoes, even ones not designed for CrossFit. This allows for enough freedom of movement to be comfortable, while the sole and flywire keep your feet secure. The mesh also provides breathability, so your feet will stay dry no matter how hard you train.
Features
With a wide variety of colorways, and sizes ranging from US Men's 6 to US Men's 18, you're sure to find a size and color option that works best for you. While some other CrossFit shoes either fit too wide or too narrow, the Nike Metcon 3 CrossFit shoe fits true to size and comes in multiple width options.
Nike's Metcon 3 foot-locking technology adds stability while you weightlift, helps you transfer weight when running, and even helps you grip better while climbing.
Durability
These shoes aren't just constructed from durable materials, but they are also reinforced in high-wear areas. While there is a sizing issue, there have been little to no overall durability complaints. For the price, you get a lot of durability and versatility with these shoes, and a comfortable amount of stable foot protection.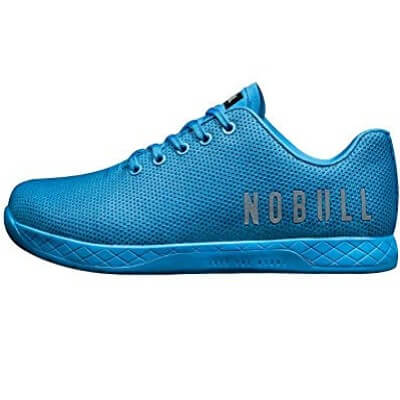 No Bull's CrossFit Trainer offers a nice balance of various sporting benefits that makes it versatile for a wide variety of workouts and sports. It's one of the most comfortable CrossFit shoes out there on the market and works great for people that need to be on their feet all day, or want to be comfortable while working out.
Read more
Support
The upper part of the No Bull CrossFit Trainer is made from a seamless one-piece material known as SuperFabric, which is very strong, breathable, and helps protect your feet from abrasions. The SuperFabric plates are also made of a flexible mesh base layer, meaning you are not only protected from injury but also know the shoes will move as you move.
Comfort
No Bull's CrossFit Trainers give you the chance to climb, run, lift, or do just about any sport or workout you need. Made with lightweight, breathable technology, these shoes are very flexible and move with your feet, meaning you're never restricted while you're performing your activities, and your feet will stay dry throughout the course of your training.
Features
The No Bull CrossFit Trainers are also designed with an outsole lug pattern, making the shoes versatile and flexible while they still provide you with plenty of traction support. Plus, these shoes come with high carbon lateral and medial guards, protecting the sides of your feet. The super-low drop ensures stability during all sorts of movements, from running to lifting.
Durability
The lugs on the bottom of the shoe are strong and specifically designed to handle many terrains without a struggle. The one-piece SuperFabric upper construction also aids to the overall durability of the shoe.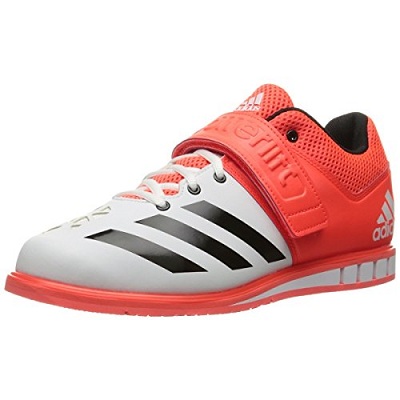 Adidas's Powerlift 3 CrossFit Shoes make great weightlifting shoes, but also have additional benefits that make them versatile for CrossFit training and competition as well. Adidas made these shoes to be powerful, stable, and durable, helping absorb shock when moving and holding up well for a wide variety of activities.
Read more
Support
These shoes also come with an extra-wide design that lets the foot spread, meaning you'll have a shoe that works with your foot to help boost your performance. Plus, there's a snug-fitting upper part area with a wide midfoot strap on the shoe, adding an additional boost of support. This strap also allows for a more customizable fit, without it digging into your foot.
Comfort
Adidas's Powerlift 3 CrossFit Shoes are designed with a lockdown fit, meaning your feet will be held into place and stable, adding plenty of extra support and shock absorption as you move and workout. Also, the shoes are made to be flexible and move as you move, adding some versatility to your movements.
Features
These shoes are also made with a high-density die-cut wedge midsole, putting you closer to the ground and adding even more stability and balance for better performance. These shoes fit comfortably and provide a wide range of versatility and support to keep your feet protected.
Durability
The synthetic leather outer is made with tank-like durability in mind, without sacrificing support or comfort. Customers have been impressed with the overall feel and construction of these shoes. There have been minimal concerns about their durability.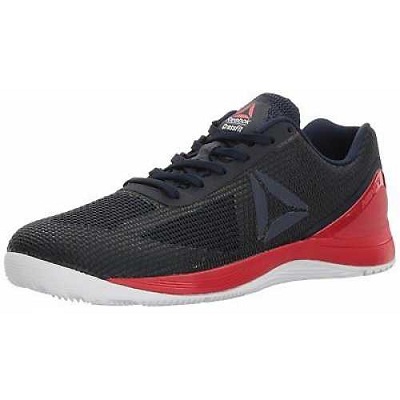 Reebok's Nano CrossFit Shoes have been a very popular buy for CrossFit enthusiasts for many years, and it's because these shoes perform well at a lower price. While these shoes are made with many CrossFit features, overall, they do seem to have more of an emphasis on weightlifting, with less emphasis on the comfort needed to provide good running performance.
Read more
Support
Reebok's Nano CrossFit shoes are made with a solid external heel counter, which helps stabilize and support you as you lift weights. Plus, the sole on the shoe is made from crystallized rubber, adding more flexibility to the shoe so that it moves the way you move. Reebok's Nano shoes also come with a power launch toe box, a 4mm heel-to-toe drop, and updated Nano tooling.
Comfort
While they put a bit less emphasis on the comfort needed for a long run, the Reebok Nano Crossfit shoes perform well across a range of other sports, including climbing. The multi-surface outsole on these shoes is designed to improve grip and to boost your climbing experience.
Features
Another benefit of Reebok's Nano shoes is their stylish design. These shoes come in a wide range of sizes, running from US Men's 6.3-13. They're also available in a breadth of color options, making these shoes look as great as they work. Given this, you'll be able to easily find the perfect pair for you.
Durability
These cross trainers are low-profile overall and offer a lot of stability, durability, comfort, and balance within a range of sports activities. For the most part, customers have been happy with their longevity, but some have mentioned that the outsole could use some improvement.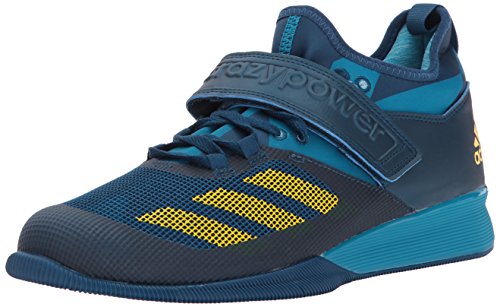 Adidas made its Crazy Power CrossFit Trainer to be a versatile performance shoe that can do well throughout a wide variety of cross-fit training movements. It's affordable, and for its price, it really performs well in many areas, especially loaded carries.
Read more
Support
Inside the Adidas Crazy Power CrossFit Trainer, you find a sock-like lining that really grabs your foot for extra stability and support, plus a wide forefoot strap and solid laces to get your foot in the right spot. The shoe also has grooves on the forefront area so that you get a nice amount of flexibility as the shoe moves with your foot.
Comfort
One thing to remember when ordering this shoe is that it tends to run larger, so you want to make sure you get the right size and the perfect fit to really boost your performance. However, this Adidas shoe is all about enhancing your footing foundation and providing you with a supportive, stable base of balance so that you can train well and play harder.
Features
These shoes work well for a variety of sports and training purposes, with a comfortable, secure fit and effective shock absorption. Plus, they come in a wide variety of colors and styles, making it easy to find a design you really want to wear.
Durability
The TPU sole and heel construction is solid and durable. However, the synthetic material on the upper makes us question the overall durability of the shoe as a whole. Some reviewers have noted that with heavy use, they may only last about six months.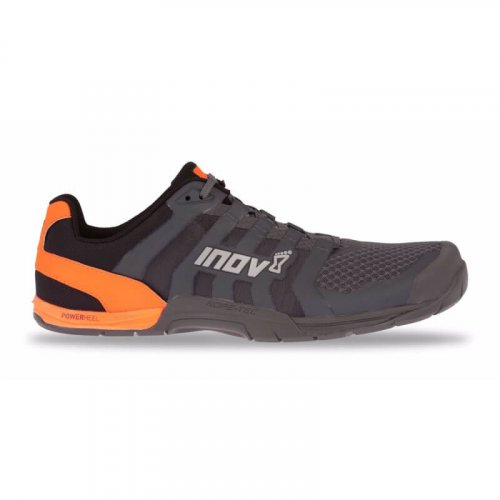 The Inov8 F-lit 235 V2s are designed by a lesser-known brand but are another favorite of CrossFitters. These more natural barefoot feel shoes are super lightweight and flexible but with a great grip. It is designed to fit more snugly and move with your foot while providing a wide toe box and supported heel to aid in lifting.
Read more
Support
This shoe provides support for most exercises without getting in the way. It is more flexible and snug-fitting than other cross-training shoes and allows athletes to feel less restricted during plyometrics, cardio, and climbing exercises. With a wide toe box and structured heel, you will still get great support and stability to keep weight in your heels while lifting and squatting.
Comfort
With met-cradle lacing system providing a snug but flexible security to lock the foot in place so your shoe will move with your foot.
Features
With a design to fit like a glove, people love the secure and flexible fit. The shoe is especially popular for cardio buffs who are not accustomed to the sturdier feel of lifting shoes.
Durability
These shoes seem to be pretty solid. We can thank the rubber sole, overall fit, and overlay construction for that. There are not many reviews to the contrary and it seems as though just about agrees that these shoes are in it for the long haul.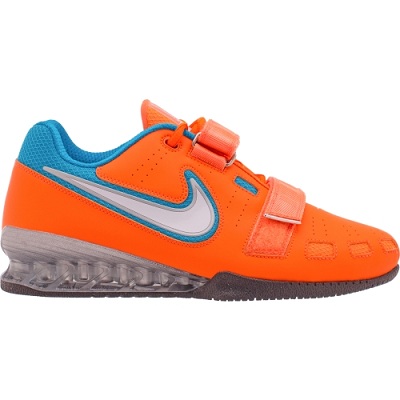 Nike built their Romaleo CrossFit shoes to be very durable and meant to withstand all types of use and abuse that comes with versatile cross-training. Nike's shoe gives you an all-around great choice that is lightweight, stable, and also locks into your foot, meaning you'll get a balanced foundation to help you through all your workouts.
Read more
Support
Nike's Romaleo 3 CrossFit Shoes are designed to be lighter than many other CrossFit shoes, and the midfoot section is also narrower so that it hugs your foot and supports it with a snug fit. The heel on this shoe is a three-quarter inch TPU heel, meaning it's very solid and won't compress.
Comfort
Inside the TPU heel, the area itself is hollow so that the shoe is lighter, but the material on the heel is made with pylons for even more stable support. Plus, this shoe has a tacky outsole material, helping to lock you in better to the floor.
Features
To make sure your foot stays locked securely in the shoe, there is synthetic upper with integrating lacing that includes double hook-and-loop closures, locking the foot in place. The top of the shoe also has elastic so that the shoe will move effectively as you move.
Durability
While it does seem as though Nike cut a few corners here, we didn't think it was enough to leave it off of the list. The buckles are made from plastic and, for this price, we would expect metal. The velcro has also be known to show premature wear and tear. However, for some people, the results and comfort that they get from this shoe outshine these couple of flaws.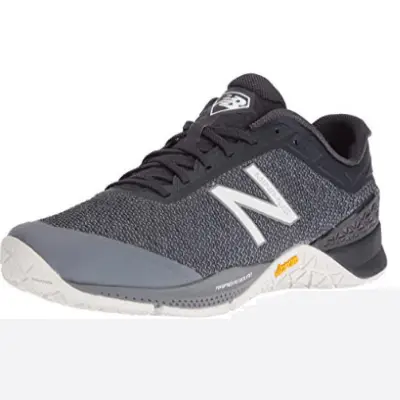 From the Minimus collection, the MX40V1 is a welcomed addition to our list. With a 4mm drop, these shoes are very versatile. The midsole is responsive and the Vibram sole provides just enough traction. This shoe provides a comfortable fit that will help you excel in all areas of workouts and CrossFit.
Read more
Support
This shoe gives a decent amount of support, which is one of the reasons that it is so durable. As far as cushioning, it falls in between a well-cushioned athletic shoe and a barefoot running shoe. It does lack a bit of support but also provides you with increased sensitivity and flexibility. The REVlite midsole is responsive and lightweight. Additionally, the Vibram outsole provides decent traction and great flexibility.
Comfort
Compared to previous Minimus shoes, these shoes have a much more true-to-size fit. If anything, they may run a bit narrow but you can order the shoes in wide if needed. The footbed can be removed and even replaced to ensure comfort. Additionally, these shoes are lightweight and won't drag you down during any sort of CrossFit exercise.
Features
Bringing you a 4mm drop, these shoes are ideal for many different exercises. They are lightweight and versatile. The drop is slightly low for a running-only shoe, but as an overall CrossFit exercise shoe, it's great. To add even more comfort, the upper of the shoes is made from breathable mesh and the overlays don't have exposed seams that could possibly cause blisters.
Durability
Looking at these shoes, you may not think they look durable. The upper mesh does raise a few red flags, despite its comfort and breathability, but there are other durable materials that make up for it. There is synthetic material in all of the high-wear areas, including the toe box and heel area.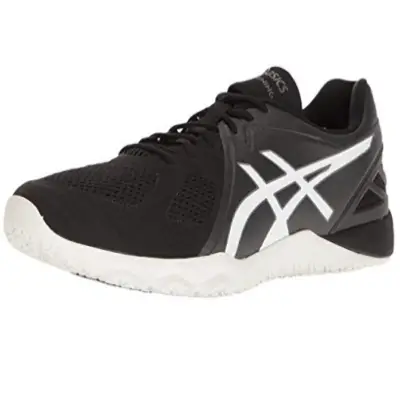 A great option for CrossFit, the Conviction X has been specially designed for high-intensity training. With a 4mm drop and great flexibility, you'll be able to switch from workout to workout without issue. We especially love the materials that make this shoe incredibly durable.
Read more
Support
The removable sock liner provides comfort, support, and breathability. The dense and durable shape of the heel holds your heel in place during lifts and other exercises. The shoes provide great power stability and are more or less perfect for CrossFit.
Comfort
There is just enough cushion in these shoes to keep you comfortable, but not enough to keep from being able to feel the ground below you. The Convinviction X fits true to size and is neither too narrow nor too wide. For added comfort, the sock liner is perforated for moisture drainage and breathability.
Features
At 10mm in the heel and 6mm at the toe, these shoes have a 4mm drop. The forefoot offers great flexibility for toe-running or climbing. If you were going to use these shoes for a regular run, the heelstrike may feel a bit clunky after some time. After lacing up, if you have too much lace material flying around, you can ball it up and tuck it into the tongue of the shoe.
Durability
These shoes are quite durable! Just looking at the shoe, you can see the thought process behind where each material was laid. The bottom of the shoe is made from abrasion-resistant rubber that gives you great tread and grip. The synthetic leather upper wraps around the shoe and protects high-wear areas. There are also mesh panels, which are less durable, that provide comfort and ventilation.

10

. Asics Gel-Fortius 2 TR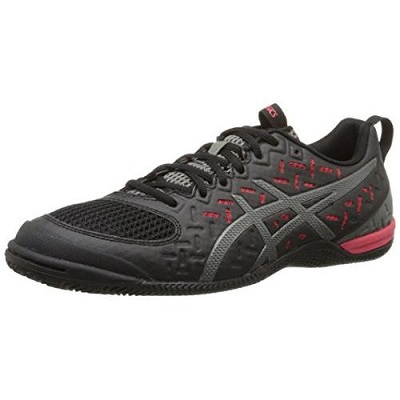 The Asics Gel-Fortius 2 TR CrossFit Shoe brings you a low-profile CrossFit training shoe that is both affordable and beneficial, and also minimal but a good option for the price. This shoe has an excellent flat food bed area, which makes it very stable and comfortable for a wide variety of training activities.
Read more
Support
The Asics Gel-Fortius 2 TR CrossFit Shoe has a wide variety of features that make it versatile for cross-training, including a reinforced toe cap for protection and a sticky outsole that helps hold your grip as you climb ropes. Plus, this shoe is also made to help you with heavy lifts with its steady stability and firm heel.
Comfort
The Asics Gel-Fortius 2 TR CrossFit Shoe is also designed to give you great protection as you run, because its mid and forefoot area are very flexible, allowing the shoe to move and adjust to your foot as you run. Plus, this shoe is designed with an air mesh "chimney system" that breathes and offers excellent ventilation for your feet.
Features
These shoes are designed to fit closely and comfortably for added support, balance, and also to help with shock absorption. You'll get a lot of durabilities even during your longest and hardest workouts with this comfortable shoe.
Durability
Durability is not a concern with these shoes. However, strong materials can make the shoe a bit stiff at first. The rubberized toe cap helps to add durability by not rubbing down the materials in this area and allowing holes to form.

Subscribe to our Newsletter