Best Push-Up Handles and Bars
In a
Hurry? Editors choice: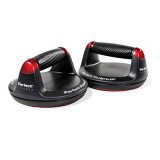 Test Winner: PERFECT FITNESS ELITE

Anyone can get down on their hands and knees and perform some push-ups without any help from additional devices. So, with that said, why would you go out of your way to learn how to buy a product that you technically do not need? Think of it this way, if you were doing some carpentry, would you rather use manual or electric tools? Sure, most carpentry tasks can be achieved with the use of hammers, nails, and screwdrivers but wouldn't they be much easier with screw guns, drills, and brad nailers? The same concept applies here as using a high-quality pair of push-up handles is going to relieve strain on your wrists and also place your hands in a more neutral position. But, you need to learn how to weed out the bad models from the good ones.
Standout Picks
Criteria Used for Evaluation
Comfort
Do you really want your hands to dig into plastic or metal?
If there is something you need to know right away it is that there are different types of push-up handles out there and each of them will alter in their design. Most specifically, the type can really dictate the provided comfort. For example, you can opt for cheaper models that are made of plastic. With these, if there is not enough padding, you will feel the plastic dig into your hands (which will not be pleasant). Of course, you also have U-shaped or S-shaped models and these will typically remain comfortable until a certain point. Due to the narrower size of these models, the grips may end up "biting" your hands and after a certain number of reps may become uncomfortable.
You also have models that sport flat round discs (sometimes with ball bearings attached that allow the entire base to be rotated). Either way, though, you really want to look for models that implement a sufficient amount of padding. No matter what materials were used in the engineering process, none of them will be comfortable. But, the foam grips can make up for this and enhance your grip when you begin to sweat, also.
Stability
Ensuring the handles remain stable during use will be essential.
The last thing you want while you are doing push-ups with your new device is for your hands to slip out from underneath you. In order for this to be prevented (outside of needing an optimal grip which was discussed in the last section), each of the handles needs to be stable. This really is a simple concept but there are many options out there that will fail in this area. As with the comfort, however, the different design types can play a role in stability. For example, most plastic models will come with rubber caps on the end. Along the same line, U-shaped and S-shaped models will often sport rubber caps. These are intended to enhance stability but sometimes, they do not do their job very well.
The same goes for options that are flat except that these will typically include non-slip rubber pads on the bottom. And, even if the handles you have your eyes on do not, you can always modify the bottoms with some custom non-slip pads. Of course, with all this being said, the surface you plan to use your pair on will also play a role in the provided stability. If carpet is your surface of choice, then this issue will be minimized (but not with surfaces such as hardwood).
Durability
Not only should the model you pick be built to last but it also needs to support your weight.
Clearly, you want the model you buy to last but this is also where you need to assess your own weight. Not to point the finger at any of you but if you are a larger individual, then this section will be of the utmost importance to you. Of course, if something is cheaply constructed then anyone can break it. Most of the time, you will either see push-up handles crafted with metal or plastic. Though plastic models have been known to be cheaper and to bend easier, some of them can still offer great quality. Not too many people, though, will argue that it is better than metal when it comes to pure strength and longevity. Then again, if you do buy decide to go with metal (such as steel) then rust could end up being an issue.
What you really want to focus on, though, is finding models that will support your weight. Typically, sellers will document what their specific handles can support. Oh, and outside of the main materials, some designs will have integrated padding that wears down too quickly and too easily. Just a few things for you to keep in mind during your search, after all.
Portability
You never know when you will want to take your handles on the go.
First off, you may be wondering why you would ever need to travel with your push-up handles. Well, the reason you would is actually incredibly simple. Due to how compact they will be, you can take them with you to utilize in different locations. For example, you could take them to your local gym, a friend's house, or even to the park on a sunny and gorgeous afternoon. Anywhere that you can do push-ups, bring them along. But, is every single model out there portable?
For the most part, you could logically say yes. Yet, and this is to be expected, there will be certain designs out there that are more portable than others. First and foremost, the design type and size will come into play. As an example with S-shaped or U-shaped handles, when you go to place them in your duffle bag, they can be intertwined together to save space (which will not be possible with certain types). Additionally, some models will even be constructed in multiple pieces and will separate for more compact storage.
Style
No, this is not the most important section but hey, style sells, right?
Admittedly, this is not the most important buying consideration that you will need to make. In the grand scheme of things, you could even make the case that this is utterly irrelevant. And, without a moment's hesitation, it can be claimed that the style should never supersede any of the previous criterions that have been documented. So, with all that rhetoric being spewed, why is this even on here, in the first place?
The main reason is simply that sometimes the little things really do make a difference. No, the style (in regard to the visual appeal) of push-up handles is not going to affect the performance. At the same time, though, you may want them to look "stylish". After all, engineers out there are smart and some of them will even offer their model in different color combinations (typically with the grips). They say sex sells but the same could be said for style.
OUR TOP PICKS FOR THE BEST PUSH-UP HANDLES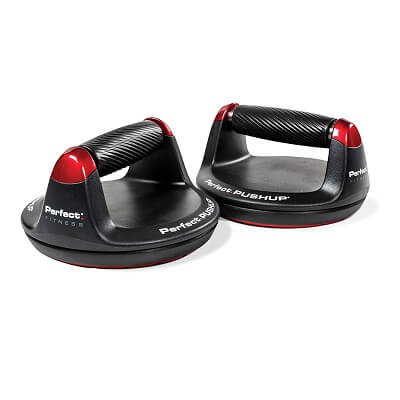 Now, Perfect Fitness actually has released a few different versions of their Perfect Pushup. This right here is known as the Elite version and that name is really apropos, let's just say that.
Read more
Comfort
Now, these are designed with ergonomic grips that have been equipped with rubber in a spiral pattern. Admittedly, though, after long stints, your hands will begin to feel discomfort.
Stability
Due to the treads that are integrated on the bottom, these are not going to slip on you. In fact, this will be the case on most floor surfaces.
Build Quality
Overall, this is why the Elites are so much better than any other Perfect Fitness model out there (and any model from any other brand, quite frankly). Their construction is superb and can handle 400 pounds of weight.
Portability
Each one of these handles will easily fit in your gym bag if you plan on taking them to your local gymnasium or any other location.
Style
While most of the core is black, the tint of red on each side of each model stands out very nicely.
Overall
Looking at this option with no bias, about the only addition that would have made them even better is more padding. As is, the Elite bars from Perfect Fitness are still the best in the world. You could also check our our guide about best pull up bars, which is another great addition to your home gym.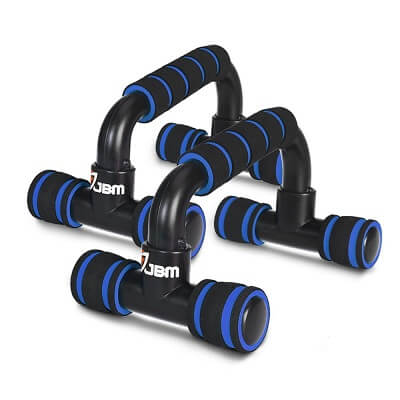 Most noteworthy about this next option is the fact that JBM designed their handles out of durable polypropylene. Of course, the foam padding is not the greatest, admittedly.
Read more
Comfort
Without question, the padding that has been integrated is nice to have. Yet, JBM could have done their consumer base a solace by making the size of the tubes and the padding less narrow.
Stability
Much like there is padding for the grips, there is also slip-resistant rubber that has been engineered on each end of each of the handles.
Build Quality
Indeed, JBM went with polypropylene to construct their bars and this allows them to support massive weights. One user, in fact, claimed their 260-pound husband used them with no issues.
Portability
When you need to pack these up and take them with you, the bases can actually be removed. This will end up saving a ton of space in your duffel bag.
Style
There are actually a few different color options available and while this is somewhat trivial, it still nice to have some variety available.
Overall
Anyone with larger hands may find these too uncomfortable due to their narrow nature, admittedly. For everyone else, the stability, durability, and portability make these almost a must-have.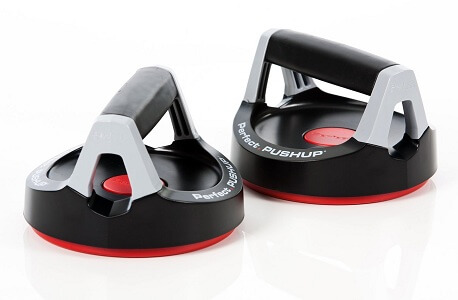 This is another version of the Perfect Pushup from Perfect Fitness but these actually sport ball bearings and this allows them to rotate while you use them. For certain, this is the biggest selling point of this option.
Read more
Comfort
For whatever reason, Perfect Fitness did not add padding to the underside of these. So, the exposed undersides can cause discomfort. In spite of this, each handle features a ball bearing system which allows them to easily rotate.
Stability
Speaking of the undersides, on the bottom of these there are integrated rubber pads. These will enhance the stability on any surface that you use them on.
Build Quality
The Perfect Pushup Elite bars, which landed at the top of this list, have these beat in regard to the construction. Yet, with that said, the build quality is still solid here.
Portability
With relative ease, you should be able to find room in your duffel bag for each handle.
Style
Once again, a combination of red, black, and gray was used to craft these. And, at the end of the day, it really is tough to go wrong with that combination of colors.
Overall
If you wanted to save a little money and wanted push-up bars with ball bearings then this will be a great option for you. It goes to show that even though the Elite bars are better, these are not obsolete.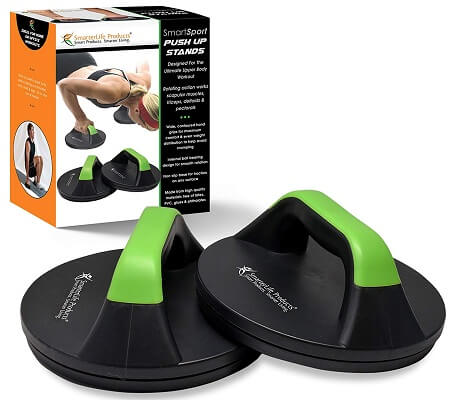 Much like with many of the options offered from Perfect Fitness, these right here can easily be rotated and are circular in their construction. Also, their non-slip base grips ensure excellent stability.
Read more
Comfort
The wide and contoured design of the grips themselves coupled with the ball bearings in the bases makes these very compelling. The problem, really, is the lack of padding.
Stability
No matter what type of surface you want to use these on (carpets, rubber mats, marble, hardwood, etc.), the non-skid pads that are integrated on the bottom will provide slip resistance.
Build Quality
Yes, these are mostly comprised of plastic. While these are not the toughest handles around, they are free of PVC, latex, phthalates, and glues so that is nice.
Portability
The lighter composition makes these even easier to transport with, quite frankly. Of course, this tradeoff is not that necessary due to the fact that these are already compact in size.
Style
The bright green grips couple very well with the all-black design. Not too many complaints will be made about the style, let's just say that.
Overall
While Perfect Fitness has taken this very design concept and done it much better, there is still a lot to like about these bars. After all, they did secure a spot on this list for a reason.

5

. GARREN FITNESS MAXIMIZA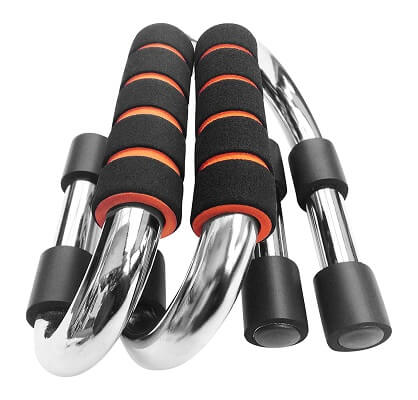 These bars are much, much different than the typical offerings that you will see from a brand such as Perfect Fitness. Admittedly, they are on the smaller side but do offer great strength, stability, and comfort.
Read more
Comfort
The foam padding that has been integrated is pretty sufficient. Of course, what is also nice is there are two different grip sizes for you to choose from.
Stability
For the record, there are caps on the bottom of these that enhance the stability. But, due to their small nature, they can roll on your from time to time.
Build Quality
No joins, welds, or pieces are present and each handle is also chrome plated. However, a few users have complained about the longevity of the padding (claiming it can rip too easily).
Portability
Due to the curvature of these, you can actually save some space when you store or transport them. They are also not heavy, either.
Style
What is interesting is the different grip sizes sport different grip colors. The Classic sports orange and black grips while the Ultra has black and blue padding.
Overall
Indeed, these are completely different than the previous two models. Perhaps they could have been engineered larger but for most of you, they will enhance your experience greatly.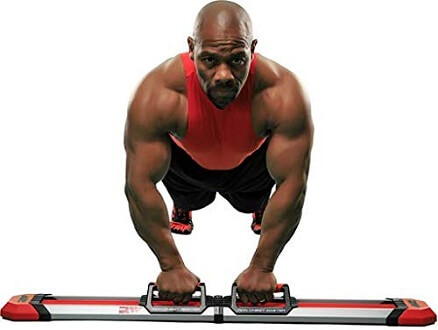 Yes, these are handles but they are actually included on a master machine. Though you will pay a little more money for this model, the Arc Movement technology makes it well worth it.
Read more
Comfort
Though the grips on the handles themselves are pretty good, some previous buyers have noted that this is not the best option for shorter users.
Stability
The main premise of this machine is that it utilizes Arc Movement technology to improve your experience. However, the engineers should have equipped the bottom with some type of rubber backing as it slides too easily.
Build Quality
All in all, the bearings that have been built in can withstand up to a total of 600 pounds of pressure. This makes this fit for everyone.
Portability
Even though this may not be as compact or as portable as individual handles would be, it is still not too unreasonable to store or transport.
Style
This is really an excellent combination of red, black and silver, and will probably turn some heads, quite frankly.
Overall
For those of you looking for something a bit more advanced, then you should really consider investing in this model. And, you could even add some non-slip gripping to the bottom to fix the sliding issue.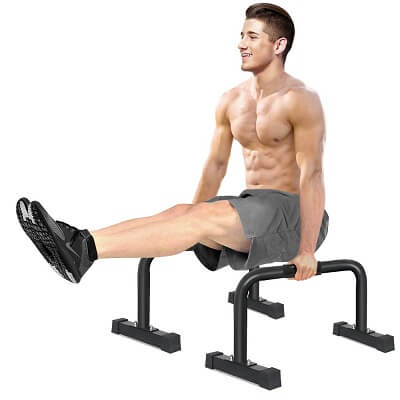 Right away, just by glancing at the photos, you can tell that these are much larger than prototypical models out there. The 14-inch tall risers, however, do offer you more room for different movements.
Read more
Comfort
In addition to the raised height, these are also equipped with U-shaped handles that measure 1.5 inches in diameter. Also, removable padding has been integrated for enhanced comfort.
Stability
As you can see from the design of the feet, these will remain stable on all floor types. This is due to the non-skid rubber caps that have been added to the feet.
Build Quality
Though the metal that is used is thin-walled, it is able to support up to 330 pounds. On top of this, the steel has been powder coated to protect it from rust and corrosion.
Portability
Simply due to the larger nature of these, they will be a bit more cumbersome to transport. With that said each bar weighs six pounds and is not overly difficult to move.
Style
At the end of the day, you can't go wrong with the straight black design of these.
Overall
Without question, these are simply different. But, if you are looking for push-up handles that are well-built and offer many different exercise options then these could be exactly what you are seeking.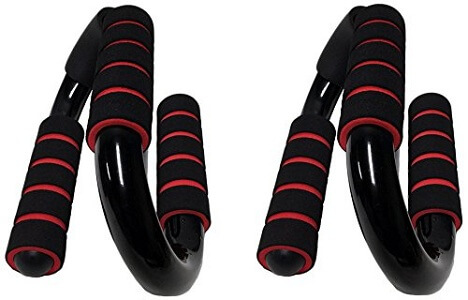 Much like with a previous entry on this list, these are designed in a unique pattern that allows you to use them in different manners. All in all, there are a total of three padded, foam grips.
Read more
Comfort
As stated, there are actually three different foam paddings that are implemented. Each of them offers slip resistance and suitable comfort, though, while you are performing.
Stability
Due to the narrow design of these, they can be unstable at times. For some of you, the curvature may not be what you are accustomed to using.
Build Quality
Each handle is simply one giant piece with no joins or welds present. Additional, each one is made of high-quality steel and can support 275 pounds (in total). Yet, some buyers have noted that the padding tears too easily.
Portability
Even though these will not break down for storage purposes, they are still lightweight and easy to transport overall.
Style
The foam padding is a sweet-looking combination of black and red. For virtually everyone, the style here will be appreciated.
Overall
The S-shaped curvature of these handles will either appeal to you or force you to seek other options. The tri-padding design, however, is very nice and something you do not see often.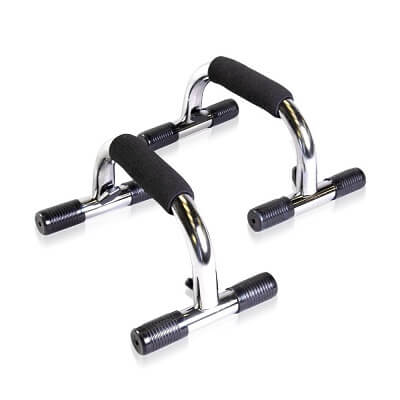 For popularity and name recognition alone, CAP Barbell's push-up handles deserve some praise and accreditation. Of course, they are also well-designed so that helps.
Read more
Comfort
Each bar is covered with neoprene-type foam. Yet, one buyer went out of their way to heavily criticize this padding, claiming it to be atrocious and practically useless.
Stability
On some surfaces, such as hardwood, the feet will end up giving a little. Still, the hard rubber footpads do enhance the stability overall.
Build Quality
For the price of admission, it is tough to beat the quality here. These are chrome plated and are not as flimsy as even some other metal options on the market.
Portability
Let's just say that there should be no issues present in regard to the portability of these. Of course, they do not come apart, to point out.
Style
If you are not a big fan of the chrome plating then you can opt for a straight black option. Honestly, both choices are excellent.
Overall
CAP Barbell would have helped their cause if they would have implemented superior padding here. Their push-up handles are still great, though, and you can always wear exercise gloves to make up for the lack of padding.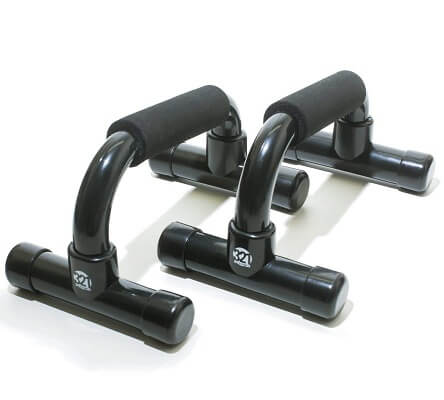 What is really neat about these handles is the fact that the pieces can be detached for easier transport. While some of you may prefer models that are solid pieces, these are quite good.
Read more
Comfort
The combination of the angle that these place your hands and wrists in and the foam grips makes for suitable comfort and grip.
Stability
To fix the issue of stabilization, you may want to invest in some non-skid pads to stick on the bottom of these. Of course, as is, slipping can be a persistent issue.
Build Quality
Though these were engineered using mostly plastic, they can withstand at least 310 to 320 pounds (as claimed by the seller) and are "guaranteed" not to break.
Portability
The bases can be detached from the main handles and this is very convenient when you are looking to save as much space as possible in your duffel bag.
Style
If you are a fan of fitness equipment that is not flashy, then you will love the visual appeal of these. The matte black finish (some may say it is closer to dark gray) combines well with the black grips.
Overall
Even though the engineers should have addressed the stability issue, with minor modifications you can fix it yourself. Doing so makes this model pretty great overall, honestly.

Subscribe to our Newsletter