Best Gym Gloves
In a
Hurry? Editors choice: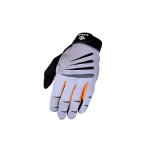 Test Winner: Bionic Premium

How many of you out there currently exercise at the gym or at your home without gloves on? If you do, then do you find that your performance is hindered slightly when you are performing certain workouts? Or, to rephrase this question, do you think your life would be easier with gym gloves? Well, maybe you can't answer that question because maybe you do not know enough about them. That is why you are here today, right? Getting away from the never-ending list of questions, there is a lot you should know about these specific kinds of gloves because they are not like ordinary pairs. There is some serious thought that needs to go into the buying process so let's get started, shall we?
Standout Picks
Criteria Used for Evaluation
Protection
The entire purpose of buying this type of glove, to begin with, is for the protection they provide to your hand.
Arguably the main reason you are even here is that you are fed up with blisters and calluses that can result after your long and grueling workouts. Indeed, one of the prominent functions of any gym glove is to protect your hands and they must do that efficiently. You see, blisters and calluses begin to form when there is excessive friction between your hands and the surface you are gripping. When you wear a glove that protects your hand, though, this risk is all but eliminated.
This then brings up the question, however, of how this is achieved. First off, the glove is going to absorb most of the pressure that can be involved with various workouts. Secondly, most of them will have integrated padding and this essentially adds a barrier between your hand and whatever piece of gym equipment you are using. Thus, this adds support and comfort at the same time. However, too much padding is also not necessarily ideal as this can restrict your flexibility. Finding the perfect amount is what you are after.
Effectiveness
Grip and flexibility are two crucial components and you need to keep both of them in mind.
If all your hands needed were protection then you could slap on any old pair of gloves on and be good to go. However, everyone knows that is not going to cut it here because the pair you invest in also needs to be effective. Two of the main areas to assess are the grip and the flexibility. Starting with the former, it really goes without saying that this is vital. Gym gloves that do not offer a secure grip will be more of a hindrance than an advantage and can also be considered safety hazards. Not only can you slip and fall as a result but any equipment you are holding (such as dumbbells) can slip and cause serious damage (depending on the weight).
As for the flexibility, this becomes important when you are performing different kinds of workouts. Depending on the exercise, you may not want to be at the mercy of the momentum unable to adjust your hands because of the stiffness of the gloves. Plus, you need to be able to wrap your hands around the bars on gym equipment. Also, one last thing, some options will also have built-in wrist straps and this can be ideal to provide much-needed support for your wrists when you lift heavier weights.
Breathability
You are going to sweat and that means the gloves need to be breathable.
Truth be told, you should not have to think real hard on this one. Anyone who understands basic human anatomy understands that when your body endures repetitive movements for extended periods of time or is exposed to hotter climates, sweating is the result. This is not going to be news for anyone and you may be pondering to yourself why it was even stated, quite frankly. Well, it is the primary reason why this section is so important and as obvious as it is, the breathability is going to be a major selling point.
In order for a pair of gloves to be more breathable, or any garment for that matter, one of two features needs to be present (or both). Either the materials themselves need to be able to wick away moisture from your skin or there needs to be implemented materials that allow for air circulation. For the latter, any type of mesh material is going to be ideal. Optimally, though, you should really look for both. A glove that can wick away moisture and allow for ample airflow is going to be that much more efficient when it comes to its breathability.
Materials
The importance of the quality of the materials can't be overstated enough.
There are some products out there where you can get away with going cheaper. For example, with some technology devices, you can opt for a cheaper model that lacks some of the top-end features of other models (but one that is still built well). However, that really is not going to cut it here. You see, you almost can't go cheap because that will mean that the construction is cheaper. And, this will also mean that the designer will probably go with more cost-effective materials and construction methods. In short, this means you should not pay attention to the price and just focus on the quality.
Some common materials you will see are neoprene, leather and nylon. And, even though nylon is very tough and durable in its own right it is actually a step down in terms of quality (as compared to the other two). Top-end leather and neoprene are fantastic choices that should last quite a long time. Of course, you should also look for the seams to be double-stitched as they will be the area of the glove that will be prone to wear and tear.
Fit
You guessed it, the fit is essential. Plus, the performance is dictated a lot by the fit.
In order for you to obtain an optimal grip and therefore be satisfied with your new pair of gym gloves, they will need to fit you properly. But, how do you know what size to buy? It is easier with footwear as you can access the current shoe size you have and go by that. In this case, though, you will probably not need to worry about the length. Granted the pair you want is fingerless, you can simply focus on the width. As you would measure your hand for general gloves, do so in the same manner here. If you are unsure on how to do that, you can always access online tutorials.
However, and this is one of the most frustrating aspects about buying clothes, not all models will be sized accurately. This is where conducting a little research on your own can become useful. If you take some time to see what previous buyers have reported about the sizing, you can gauge how they will fit you. For example, if the general consensus is a specific model runs large, then you should probably order a size down.
OUR TOP PICKS FOR THE BEST GYM GLOVES
Subscribe to our Newsletter