Best Rowing Machines
In a Hurry? Editors choice: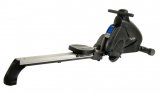 Test Winner: Stamina Avari

A great rowing session out
on the water
is unbeatable. However, weather and water conditions don't always give us that luxury. Not only is rowing enjoyable, but it's also a great form of exercise. Typically, you can find these machines in your local gym but why pay a membership fee when you can have your own
personal machine at home
? For those who have never rowed for exercise before, you may not be familiar with how great and
relaxing
a good row session can be. Rowing machines are special in that they offer a full-body workout, but you are able to adjust the tension, speed, and of course, and length of your workout. Check out our top picks below and get started.
Standout Picks
Criteria Used for Evaluation
Top 10 Picks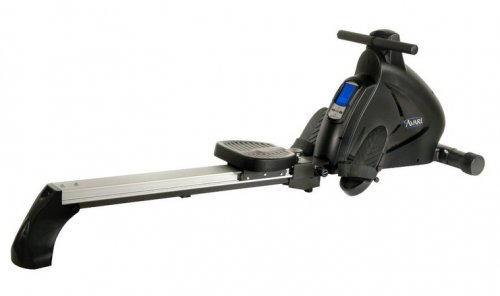 Stamina's Avari Rower is an easy-to-use rowing machine that's also very easy to put away and built with components that are highly durable. This rower provides a nice full-body workout and can handle up to 275 pounds.
Read more
Model
This is a magnetic rower that offers a fairly simple aerobic exercise that consists of three-phase strokes. It works the whole body and offers great results.
Ease of Use
Stamina's Avari Rower comes with detailed step-by-step directions that help make this machine easy to assemble. This rower comes with three main components you need to put together, and the time it usually takes to set up the rower is around 30 minutes.
Features
This rower comes with seven workout programs, and one of them is customizable so that you can use it as you progress. Plus, it is extremely quiet and provides the right amount of resistance to help you build your strength.
The monitor on Stamina's Avari gives you an InTouch Fitness application and an LCD screen that's easy to see and provides you with several options when you work out. You'll be able to see your exercise data and easily adjust the rower's settings.
Comfort
While the seat on this rower can feel a bit awkward when you exercise, you can always use extra cushioning or a towel to fix that issue. The handles are cushioned and comfortable, and the machine is very easy to fold up and put away.

2

. Sunny Health & Fitness SF-RW5515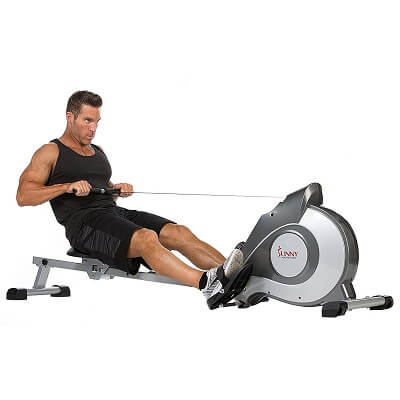 The Sunny Health and Fitness SF-RW5515 is a sure win when it comes to choosing a rower that is quality and has tried and true results with many users.
Read more
Model
This magnetic rower is designed with a durable frame, and it comes with wheels to allow for easy portability. Along with this, it can comfortably hold a user up to 250 pounds.
Ease of Use
With eight different speed selections, a smooth rowing track, and the firm grip that the pedals offer, you are sure to feel secure and row with complete ease.
Features
There is a large LCD screen that allows you to keep track of calories burned, time rowed, and time display.
This machine offers eight levels of resistance through a magnetic tension system. The seat provides you with optimal comfort as it is padded for long row sessions. To ensure your feet stay in place, the foot pedals are large and have anti-slip features. The pedals also feature adjustable straps to make sure your feet stay in place.
Comfort
The seat of this machine provides impressive cushioning and makes your exercising more enjoyable. Additionally, the handlebars are made from foam and will help you avoid callouses.

3

. First Degree Fitness Newport Challenge AR Fluid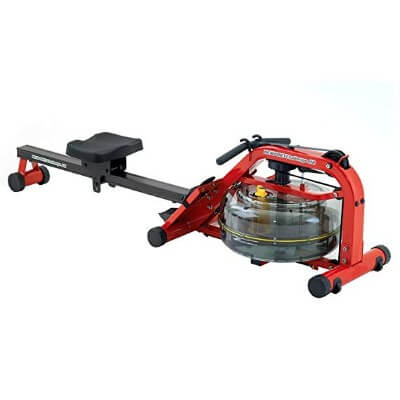 First Degree Fitness's Newport Challenge AR Fluid Rower provides you with a rower meant to mimic rowing while out on the water and is designed to be both attractive and durable. Plus, this rower comes with a nice warranty and also operates with an ample amount of smoothness.
Read more
Model
First Degree Fitness designed their Newport Challenge AR Fluid Rower with a sturdy metal frame that's meant to be compact when it's stored away. It mimics the exercise of rowing out on the water and provides a great workout.
Ease of Use
One great feature of this rower is how easy it is to adjust the resistance levels, and the smoothness of the stroke the machine gives you. This rower is designed to be simple but still pack a punch with exercise. It's very easy to fold up and put away, and simple to set up.
Features
This rower comes with preset workouts designed into the computer, and an efficient monitor that provides you with your work out data on an easy-to-see screen. You'll be able to pick a work out program and keep track of your vital signs each time you exercise. You also get a USB port designed into this machine to help you use other work out apps when you exercise.
Comfort
It also comes with adjustable footpads and a very comfortable seat, so that you never feel uncomfortable when you use the machine.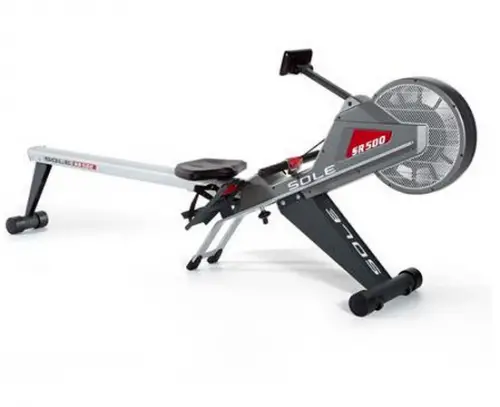 The Sole SR500 Rower is built to give you an adjustable resistance level that's easy to use even while you exercise. This rower offers a lot of durability plus several features that make it a smooth and effective workout machine.
Read more
Model
Sole's SR500 Rower comes with a strong aluminum glide rail that can accommodate a bevy of body types, and pedals that are easy to adjust. It uses magnetic-air resistance. You also get the ability to adjust your resistance level easily because the dial is located on the rower's handlebar, so it's easy to reach even when you are exercising.
Ease of Use
Sole's SR500 Rower is easy to setup up, and very compact. You can fold it down to store it, and it has wheels on the bottom of it, making it very simple to move.
Features
The monitor on this rower comes with a 5.5 inch LCD screen feature 12 programs to help you with your workouts. You'll also see your exercise data on the screen while you exercise.
Sole's SR500 Rower provides you with a smooth full-body exercise program because of the easy to reach resistance adjustments on the rower. It also comes with a high seat and can handle up to 315 pounds.
Comfort
The high seat of this machine makes getting on and off of the router much easier. There honestly isn't an abundance of cushioning in the seat nor handles, but the machine is comfortable enough.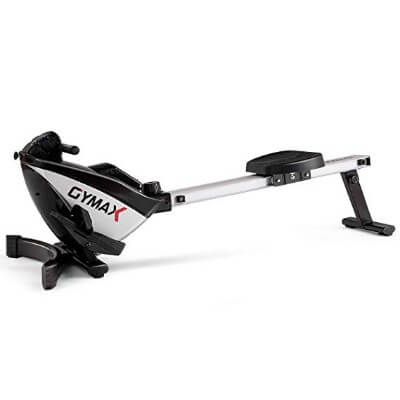 The Goplus Magnetic Rowing Machine is a simple and effective machine. While this machine may not live up to the $1,000 machines you have used at the gym, this machine is a great value for the price.
Read more
Model
The design of this rower is quite simple. It uses a magnetic tension system and provides you with eight different resistance levels.
Ease of Use
Designed with simplicity in mind, both the monitor and resistance levels on this rower are easy to adjust. Plus, the rower easily folds up to save space when not in use.
Features
The LCD Monitor on this rowing machine is made to be simple and easy to use. It displays counts, calories, scan and time. The display has no extra features and will help to keep you focused on your workout.
The aluminum beams ensure a quiet workout and the magnetic tension system offers 10 levels of resistance. The LCD monitor on this rower is easy to use, however it does not measure distance, only repetitions.
Comfort
The aluminum and alloy beams ensure a quiet exercise with a padded seat and non-slip handles. The pedals are textured and feature velcro straps. This unit only weighs about 50-pounds, which is great for mobility but can only hold a maximum of 220-pounds.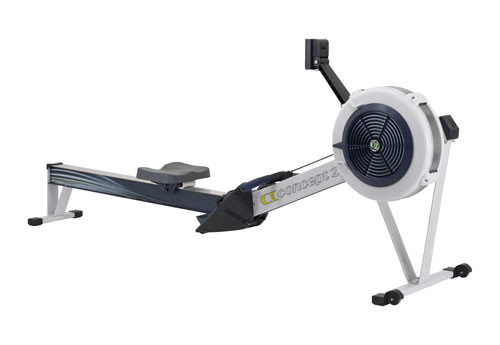 Concept2's Model D Rower combines a lot of resistance and fantastic programming in one durable machine to help give you the best full-body work out possible. Plus, it's relatively affordable and simple to use.
Read more
Model
Made to use air resistance each time you make a stroke on the machine, this rower can provide you with a lot of resistance while still being easy to adjust. It also gives you several workout programs to help boost your exercise time while you train.
Ease of Use
Concept2's Model D Rower is very easy to put together and takes only about 30 minutes to set up. It's also very easy to store since all you need to do is fold it up when you aren't using it.
Features
The monitor on the Concept2 Model D Rower, known as the PM5, gives you a list of work out programs as well as some games you can use to get back in shape. You can also easily move data with the USB port on the device, and track your vital signs as you exercise.
Comfort
Concept2's Model D Rower has a durable steel frame and a comfortable set of handles to help keep you going strong. You also get adjustable foot pads and wheels that make it easy to transport the rower when you need to move it.

7

. Stamina Body Trac Glider 1050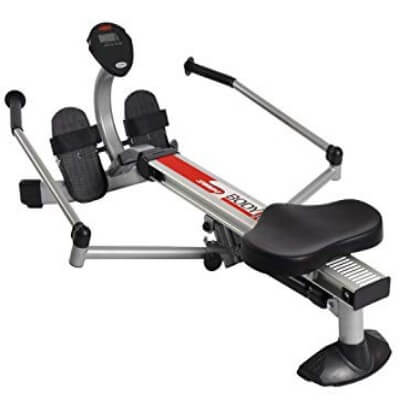 The Body Trac Glider 1050 is a simple machine that works well. The screen gives you just enough information without being a distraction. It mimics the feeling of being out on the water and fits easily in almost any room. A more comfortable seat would be nice, but this machine is so affordable that it leaves you with some pocket change to purchase a seat cushion.
Read more
Model
The Stamina Body Trac 1050 uses hydraulic resistance. It is easily adjustable and gives you the feeling of being out on the water. This specific model has a weight limit of 250-pounds.
Ease of Use
Starting out with the assembly of the machine, there's no need to worry. Following the well-written step by step instructions make it an easy task. A reviewer without much experience said it took him about 45-minutes. When you are not using the machine, the arms fold in to make it easier to store. One thing that would make storing the machine much easier if it had wheels.
As for using the machine, the arms of the machine are strategically placed to truly give you the feeling of being on the water. There are textured footplates and straps to keep your feet in place while rowing. Reviewers wish that there were a designated heel stopper, but a quick DIY hack can fix that.
Features
There is a simple LCD monitor that shows general statistics. It shows you the duration of your workout, stroke count, calories burned, and total strokes accumulated. To check out your progress while rowing, you can simply touch the "scan" button to see the statistics on the screen, each for six seconds.
As for a warranty, the frame comes with a one-year warranty and the parts come with a 90-day warranty.
Comfort
The overall positioning of your body on this machine is comfortable. The padded and molded seat seems to be just okay. While we would like to see more comfort added to the seat, for this price, we can't complain much.

8

. BodyCraft VR 500 Commercial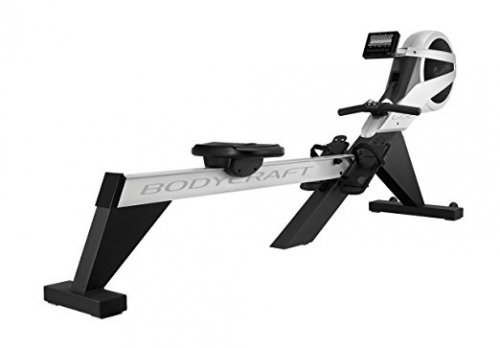 BodyCraft's VR 500 Commercial Rower is designed to offer you an effective workout machine that can produce excellent results. With this rower, you'll get smooth performance and an easy-to-use system.
Read more
Model
BodyCraft's VR 500 Commercial Rower is made with a fan you can control electronically, 32 resistance levels, and smooth performance. Plus, it also comes with a heel rest and foot straps you can adjust easily each time you work out.
Ease of Use
BodyCraft's VR 500 Commercial Rower comes with step-by-step directions that make the setup process easy, although the manufacturer does offer to help set-up this rower at an additional cost. Also, this rower comes with an easy fold and roll system so that you can fold it up when you aren't using it in less than a few seconds, and then use the child safety locks for added protection.
Features
Designed with an LCD screen that also features an LED-backlit display, the text on the screen is easy to see and allows you to keep track of your workout progress. Plus, the monitor is simple and easy to use, making your exercise time much easier.
Comfort
BodyCraft's VR 500 Commercial Rower has a comfortable grip system with an aluminum handlebar, and also gives you an easy way to adjust resistance with the push of a button. Plus, the system is made to store easily and designed to last.

9

. WaterRower Natural with S4 Monitor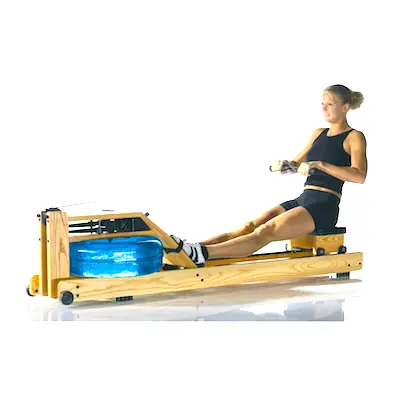 WaterRower's Natural Rowing Machine provides you with an excellent full-body work out machine that's easy to use and developed with a lot of variety in programs. Manufactured to handle all skill levels, this machine works great for people just starting out, or those wanting a more intense workout.
Read more
Model
Since this rower has a wooden design, it offers a very smooth stroke performance, and also operates quietly. Plus, the water flywheel on this rower brings you plenty of options for resistance to help you meet your work out goals.
Ease of Use
WaterRower's Natural Rowing Machine comes without many parts to piece together, and includes a full set of directions. It's very easy to put this machine together, and it also folds up easily for compact storage.
Features
Manufactured with an S4 Performance Monitor, you'll be able to easily see your work out data and also utilize the various programs on this rower. The monitor is simple and efficient, and you'll always know where you stand each time you exercise.
Comfort
The design of this rower is very attractive, since it comes with hand-crafted wood, making it stylish in appearance when compared to other rowing machines. It also features a comfortable seat and easy-to-use handles, so that you'll always feel content whenever you exercise.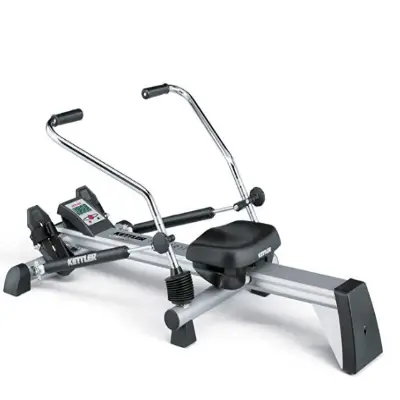 Hailing from Germany, Kettler has been manufacturing furniture, exercise equipment, and children's toys since 1949. The Favorit rower is a great example of the strong and durable craftsmanship that you can expect from Kettler. It boasts 50 different levels of resistance and has a comfortable and smooth-gliding seat.
Read more
Model
This hydraulic rower is most notably known for its durability. Almost everyone can agree that it is a strong, durable, and well-made machine. The Favorit is equipped with 50 different levels of resistance. Overall, the machine has a weight capacity of 285-pounds.
Ease of Use
While setting up the rower is fairly straight forward, you can also pay an additional fee to have someone come to your house and assemble it for you. As for changing the resistance, you untighten a marker and re-tighten it to your desired knurl mark on the oars. There aren't exactly notches and it can be difficult to get each resistance level in the same exact spot on each oar.
Features
The highly contrasted LCD screen shows six functions all on one screen. You'll be able to see time distance, strokes, pulse rate, frequency, and energy consumed. Included with the machine, is an ear lobe clip sensor. This sensor provides a shockingly accurate reading of your heart rate.
As for the warranty, the frame has a lifetime warranty and a three-year warranty for parts and electronics.
Comfort
Similarly to the impressive durability, this machine is impressively comfortable. The seat is large, well-padded, and glides easily. Additionally, the footplates offer a natural pivoting motion, as if you really were out on the water.

Subscribe to our Newsletter