Best Pedal Exercisers
In a
Hurry? Editors choice: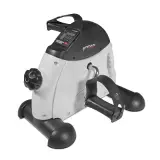 Test Winner: Titan Fitness

We live in a highly stressful society where the majority is having a hard time maintaining a perfect balance between career and health. However, we are also aware of the effects of stress and overworking in our lives. So despite the busy schedule some of us spare some time attending
yoga
classes before after work. There are others who go to the
gym
or run to sweat toxins and stress out of their body. A great way to get a proper cardio workout is with a pedal exerciser. We have reviewed our top picks below to get you on the road to better well-being.
Standout Picks
Criteria Used for Evaluation
Size
Another important feature that you should give special consideration is the pedal height. Lower pedal height gives you the opportunity to exercise even under short desks or tables while making you feel more comfortable. In order for you to pick the right equipment that will fit your table, you should know the height of the desks or tables where you plan to put under it the equipment.
To determine if your target brand could fit under your table, you can do some of the practical things. For instance, the height of the product is 8 inches from the floor to the tallest point of the pedals. You can sit on your chair and elevate your feet eight inches. If your knees tough the desk, you can adjust the height of your chair to the level where your knees do not hit on the table.
Fit
One important factor that many users point out in staying motivated and encouraged while using their pedal exerciser is the smooth feel it gives them. This is the momentum one feels when riding a bike on a good and smooth road. Your exerciser should give you this kind of feel to help you enjoy exercising. It should not have jerky pedals that will just annoy you and cause you to stop your activity.
One problem user complains is the jerky pedal. There two kinds of jerky motions that users have experience. The first kind is when you pedal and you feel a jerk with low or high resistance. The second kind is the jerky pedals when used on high resistance. While these are common, there are brands that have better technology or mechanisms and rather offer a smooth pedal motion.
Durability
Exercise equipment like pedal exerciser is specially crafted to cater to specific needs. This is the reason why, in general, this type of equipment is uniquely designed. It is important that before buying this equipment, you should check on the design that fits your preference and your needs. If your work requires you to sit for long hours, and you plan to bring this exercise tool to your work, make sure that it will fit under your office table.
It could also be helpful if you choose a design that is not too loud to catch your boss' and your colleague's attention. The design should also blend naturally with the interior design of your office. Although it will be placed under your office table, it would be great if it jives with the aesthetics and feel of your workplace. Aside from these, the design of your exerciser must also be inviting or encouraging. There are many instances when you get tired or demotivated of using an exercise equipment because its design is dull and uninviting.
Features
The pedal exerciser is one of the numerous exercise tools that you can use to help you get some exercise despite your busy schedule. This is a very simple device that you can use even if you are at work or at home. And the best thing about this tool is that you do not have to go to the gym to get your daily dose of exercise. With the countless varieties, styles, features, and designs available in the market today, choosing the best pedal exerciser could be a daunting task.
In coming up with our top ten, there are several criteria that we include to filter the best product that deserves your time and money. You could also use these criteria as factors to be considered in buying the product. With the right techniques, you can get yourself the best equipment and the best value for your money. Getting something that reaps you numerous benefits and advantages will make you realize that the product you purchased has ultimately saved you lots of cash.
To secure the placement of your feet on the equipment, adjustable straps are needed. The most common type of adjustable straps is Velcro. Most users like this type of strap since it is easy to detach and is durable.
Subscribe to our Newsletter