Best Agility Ladder
In a Hurry? Editors choice: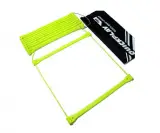 Test Winner: QuickPlay PRO

When you really stop and think about it, it is incredible how the simple products in life can end up being the most beneficial for you. Take agility ladders as an excellent example as though they are as simplistic as it gets, they are also one of the best pieces of training equipment that you can use to
enhance your agility
.
The reason for this is you can employ several different movement patterns when you are using one. And, even though you may associate this kind of
equipment with athletes
, anyone who is anyone can get great use out of an agility ladder. But, as with anything else, you need to understand what features to look out for when you go to buy one (and being exposed to some of the best available options on the market also never hurts). Today, we cover both.
Standout Picks
Criteria Used for Evaluation
Durability
While these are not built ruggedly, they should still be competent.
Now, it has been said a few times that agility ladders themselves are not expensive pieces of equipment. But, that does not insinuate that they are cheap in their respective constructions. And, when it comes down to it, there are two points of emphasis that you need to prioritize here. For starters, you will want to assess the design of the straps. These types of ladders will come equipped with two full-length straps (with rungs that fit in-between them) and they should be at least somewhat durable and resistant to fraying. This is why you will see most straps made with nylon webbing. Nylon webbing is one of the most popular in the world and it is specifically known for its strength and strength and durability.
Now, the second aspect was just alluded to and that is the rungs of the ladder. For the most part, these will typically be made with plastic. While that is okay, you may want to look for models that are designed with heavier duty plastic such as polypropylene. This is actually a type of thermoplastic and it is not only tough and robust but also extremely versatile. Ladders with these types of rungs will not break as easily as inferior designs.
Adjustability
You may want the rungs to be able to be adjusted for enhanced versatility.
Even though there typically is not much disparity between agility ladders when it comes to their height (most will be right around 15 feet long), the same can't be said when you get into how many rungs they have. This is going to differ brand to brand and it may be more important than you think to analyze how many rungs a specific model has. After all, this goes hand-in-hand with designs that are adjustable. But, what exactly is meant by "adjustable agility ladders" and what is the point of them being adjustable anyway? All this refers to is that the rungs of a specific model can be spaced to your liking (within a certain point).
The reason why you would want to adjust the spacing between the rungs is that it can completely alter the training experience. After all, rungs that are farther apart can allow you to make longer strides and those that are closer together can allow for more energetic movements. However, not all models will sport adjustable rungs and if this is important to you, look for those that do. And, going back to the number of rungs that there are, this can either enhance or limit the amount of space you have to work with.
Accessories
Some models on the market will come with other accessories that you can use.
What is really great is there are plenty of sellers in the world that package their agility ladders with other accessories. And, typically, these accessories are very similar from a seller to seller. For example, some manufacturers out there will provide you with metal anchors to better stabilize the ladder when it is on the ground (and others will not). Also, you may see some of them offer you instructions, guides, or even eBooks to go with your purchase. And, just to make a quick note, with several options on the market, there have been sellers who have complained that they never physically received the eBooks. Remember, eBooks are simply electronic copies of printed books and are not "physical" in their appearance. So, if you do not receive them with your order, you will need to contact the seller to get them to email them to you.
Moving on, many agility ladders will also come with disc markers. These look like small cones and they can be used for certain training drills and such. Along the same line, some models will come with "off-the-wall" items such as speed hurdles. Then again, there are also options on the market that will pretty much be devoid of any additional items and accessories.
Portability
>Most options will come with carrying bags so do take note of that.
A tool such as this can really be used anywhere when you think about it. After all, it is not as if agility ladders are cumbersome in their design. But, with that being said, it can be made a lot easier for you if the option you go with comes with a dedicated carrying bag for transport. Now, it is worth noting that this is not necessarily mandatory as you may already have a custom bag that will work perfectly for something like this. However, also note that a majority of the sellers on the market will include a custom carrying bag with your purchase. If they do, though, and they also include a bunch of accessories, you should ensure that everything is going to fit inside comfortability and easily.
That last word ("easily") was key because of that transitions right into this next section. Even though this type of equipment will not be incredibly hard to transport, there are models out there that will be slightly annoying and mind-numbing to fold up and unravel, quite frankly. This really all comes down to how flimsy the ladder is because the more it is, the more likely it is going to tangle up when you go to take it out of your carrying bag. Just something you should think about is all.
Color
Look for models that can easily be seen when they are on the ground.
For most products in the world, you talk about their color in a sense of user preference. In other words, it typically all comes down to the consumer when choosing the color of a specific product. However, that is not really the case here as there is actually some legitimate logic that goes into selecting the color of your agility ladder. If you look at enough options on the market, you will begin to notice that virtually none of them are designed with dim colors and colors of a darker shade. The reason for this is you need to be able to see the rungs clearly when you are performing training exercises. This is especially an issue if you plan to use your agility ladder in low-light conditions (closer to night or in darker rooms, for example).
Some of the most popular colors that you will see utilized are yellow, neon green, bright orange and blue. And, as long as the offered colors are bright and potent enough for your needs you can then choose which one of the colors that you prefer.
Our Top Picks Best Agility Ladders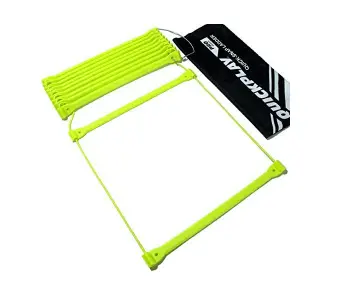 One of the primary reasons why this model tops the list is thanks to its special design. It is specifically optimized to be tangle-free which will not only save you time but also your patience.
Read more
Durability
In addition to the fact that the rungs of this model are made with high-impact polypropylene, the ladder itself is constructed with Type III, 7 strand paracord (which ensures tangle-free experiences).
Adjustability
Not only can you quickly and easily adjust the individual length of each of the rungs but they are also not going to move around freely when you do so.
Accessories
As great as this model is, the seller does include many other accessories to speak of. In specific, it would have been nice if an anchor would have been included.
Portability
This does come with a free carrying bag but it is unique in its design. In conjunction with the ladder itself, it is going to almost guarantee that tangling will not be an issue when you go to take it out.
Color
The bright neon/yellow color of this tool makes it very easy to see when it is placed on the ground.
Overall
Even though this is not a set like many of the other options on the market are, it is hard to say that there is another superior agility ladder out there. Some may feel differently but this is as good as it gets.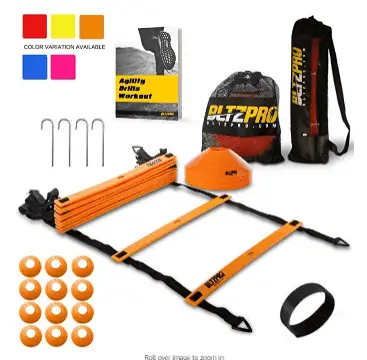 This right here is just a well-designed set and even though the included cones are not impeccable, the ladder itself is equipped with durable rungs and heavy-duty straps.
Read more
Durability
It is noted that this set is designed to last season after season and it seems like this declaration is pretty accurate. Both the straps and rungs have not been cheaply engineered, let's just say that.
Adjustability
As with most models out there, this is equipped with adjustable rungs. This allows you to tailor the experience to your liking which can make all the difference in the world.
Accessories
Though included accessories are present here, this section is not without controversy. Firstly, some buyers noted they never received the promised eBook and, secondly, the included cones need to be weighted down during moderate winds.
Portability
With your purchase, you are actually provided with two different storage bags. These can account for the agility ladder and the other accessories.
Color
As a nice little bonus, this set is offered in a few different colors. Just some of them available are orange, blue and red.
Overall
The value with this option is through the roof. Not only are you provided with a high-quality agility ladder but you also get two storage bags, spikes, and several field cones.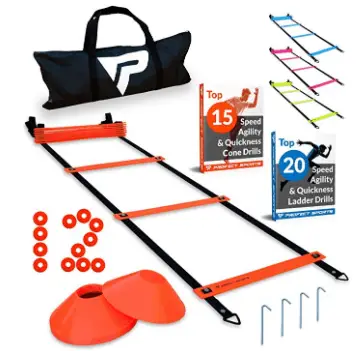 Yet another well-designed set, this is packaged with 4 metal anchors, 12 disc cones, an agility ladder and a couple of eBooks. Of course, several buyers have not received the eBooks.
Read more
Durability
Thanks to the riveted straps and the durable rungs, this ladder should last you for several seasons to come.
Adjustability
Now, in a bit of a twist, this model actually has fixed rungs. While this will be disappointing news to some of you, you can commend the company in their efforts to attempt to eliminate the issue of the rungs sliding around like crazy.
Accessories
In addition to the ladder itself, this set also includes two bonus eBooks, 12 disc cones and four metal anchors. However, several consumers have reported that they never received the two eBooks.
Portability
The good news here is you will not need to account for a carrying bag yourself. After all, Profect Sports provides you with a well-designed one.
Color
A few different color options are provided for you. You have the option of bright orange, fluorescent pink or fluorescent yellow.
Overall
If you are okay with the fact that the rungs of this model are fixed then there is no reason why you should not be compelled to go with it. You just may have to get ahold of the seller if you do not receive the eBooks.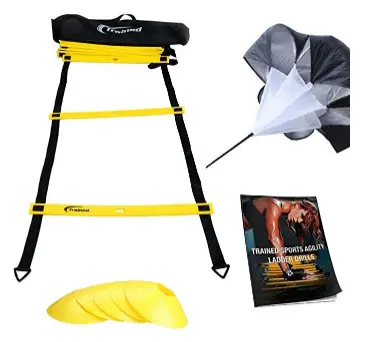 From top to bottom, this bundle provides exceptional value. The agility ladder itself sports multiple rungs that can be adjusted and training cones are also included.
Read more
Durability
Even though the rungs are made with plastic, it does not take away from the fact that they are durable (and flat to prevent injuries).
Adjustability
Due to the fact that you can individually adjust the rungs, it makes this agility ladder ideal for all different types of skill levels and ages.
Accessories
In addition to the included training cones, you also receive a speed chute. Oh, and an eBook is supposed to be sent to your email (if it is not then you need to contact the seller).
Portability
This is another seller who provides you with a custom carrying bag. As such, this makes it much easier to transport this ladder from location to location.
Color
The straps are actually black but all of the rungs are bright yellow. As you may have guessed, this makes them incredibly easy to see on any type of terrain.
Overall
Agility ladders are simple tools and the one included in this set exemplifies that perfectly. But, it is also not flawed in very many ways which helps its cause greatly.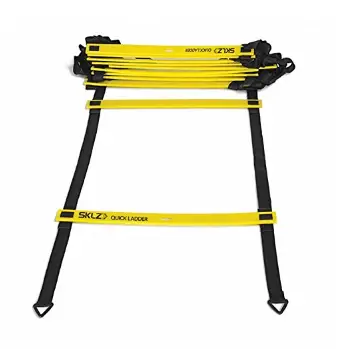 Even though this may not blow you away, hundreds of previous buyers have really enjoyed the benefits of using this specific model. It may not be the most premium option but it more than gets the job done.
Read more
Durability
Yep, the rungs are made with plastic and they are not the most durable out there. With that said, it is also not like the plastic utilized is pathetically cheap and brittle.
Adjustability
From the box, the rungs are preset to a specific standard. However, with that said, at any time you can adjust them to adapt to the spacing that you desire.
Accessories
No, this is not the most comprehensive set on the market. After all, included with the ladder is a very basic booklet and four stakes for enhanced stability.
Portability
Past the fact that a carrying bag is included with this set, the ladder itself also folds up rather easily which makes it much easier to pack (clearly).
Color
The black straps coupled with the bright yellow rungs is a combination that very few of you out there will have any problems with.
Overall
This remains one of the most popular options on the market thanks to its practicality. The rungs may not be able to survive World War III but they are pretty solid overall.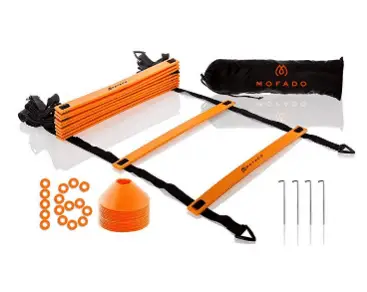 What an excellent value this is and even though you will need to contend with tangling, this ladder does exactly what it needs to do pretty darn well.
Read more
Durability
Overall, this comes with a flimsy agility ladder. This is not too big of a deal other than the fact that it can become tangled much too easily.
Adjustability
This is advertised for everyone from kids to professionals as it comes with plastic rungs that can be adjusted. This allows you to either increase or decrease the spacing.
Accessories
First off, you are provided with a full set of 16 field cones for appropriate drills. Additionally, this set comes with four metal pegs that can be used as stabilizers.
Portability
Mofado is yet another seller that provides you with a carrying bag. With this included, you can pack up everything inside for enhanced portability.
Color
Both the rungs of the ladder and the included cones are bright orange. All in all, not too many of you are going to complain about that.
Overall
Yes, you will need to content with tangling but that is not an uncommon issue with most models on the market. It is also another option that offers exceptional value.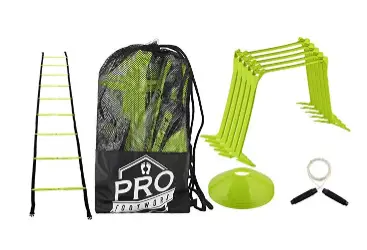 As you can tell from the title, this is much more than an agility ladder. While one is included, this set also is packed with speed hurdles and field cones.
Read more
Durability
The rungs of this speed ladder are made out of shatterproof materials. However, the included hurdles have been prone to breaking.
Adjustability
What is interesting to note here is that the hurdles that are included can be adjusted to various heights. Very easily, you can change their heights from 6, 9, and 12 feet.
Accessories
As has been mentioned, this set does come with speed hurdles. Additionally, you also receive various training cones and a jump rope. Overall, this is an excellent set.
Portability
A mesh bag is included with your purchase and it can hold many of the items documented above. Oh, and the ladder itself does fold easy for storage so that is a plus.
Color
The cones, speed hurdles and rungs of the ladder are all neon green. As with most of the other options on the market, the color is not an issue at all with this set.
Overall
As great as this set truly is, there have been many buyers who have questioned the quality of some of the components. That said, this is still really good overall.

8

. YES4ALL Agility Ladder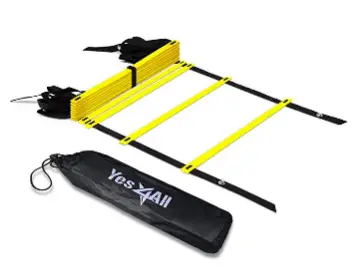 All in all, this is one of the most popular options on this list. Overall, it is mostly justified but some reviewers have mentioned the slight build quality and weight issues.
Read more
Durability
There have been many previous buyers who have noted that this would have been better with a little more weight. As such, it does not lay on the ground well or fold up that well, either.
Adjustability
There are 12 rungs in all and they can be adjusted up to 15 inches in space. This gives you a lot of space to work with, let's just say that.
Accessories
While there are not too many accessories to speak of here, you can actually choose different lengths for this model (with options available for 11, 15 and 25 feet).
Portability
As mentioned, this does not really fold up well but the good news is that a carrying bag is included with your purchase for no extra cost.
Color
Of the different heights available, there are also variations of either blue or yellow available (though not all of the sizes may be available in each of the colors)
Overall
For what it is, a lot of you are not going to complain too much about it. Sure, it could be a little more weighted but it does perform what it needs to do.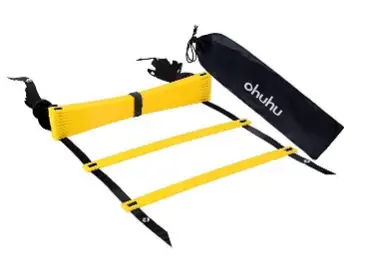 Ohuhu has been known to design and manufacture some high-quality products in the past so it is no surprise to see them on this list. Their adjustable agility ladder is another good one.
Read more
Durability
The rungs are crafted of high-quality polypropylene and this allows them to withstand accidental pressure from time to time. Of course, the ladder as a whole does tangle rather easily.
Adjustability
This is equipped with 12 individual rungs and each of them can be moved around within a distance of 15 inches. This provides you with a ton of leeway in where you situate them.
Accessories
Honestly, this is pretty much devoid of any additional accessories. Not even stakes were included which would have helped to make this more stable.
Portability
Ohuhu is yet another manufacturer that delivers a bonus carrying bag with your purchase. It is nothing incredibly special but it gets the job done.
Color
If you are sick and tired of seeing yellow rungs on agility ladders then you can actually go with blue here. Though subtle, this is a nice option to have at your disposal.
Overall
For those of you who are buying agility ladders for all the accessories that they come with, you will be disappointed with this option. But, it is great for those who just want a well-designed ladder.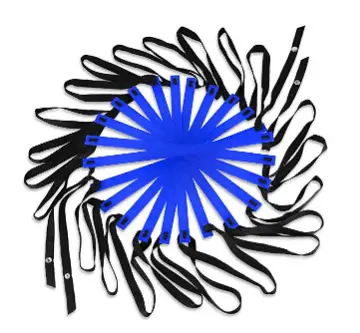 Due to the fact that this type of equipment is generally inexpensive, it makes sense that most of the options on the market are flawed in many ways. This is another example of such but the flaws can't take away from the effectiveness of the design.
Read more
Durability
Overall, the "durable and high-quality" plastic utilized is just okay. It is pretty thin but it does get the job done.
Adjustability
Now, the rungs are adjustable but a few buyers have pointed out how annoying the process of doing so can be. Just count on adjusting them taking longer than you think it will.
Accessories
This really just included an agility ladder and nothing else (outside of the included carrying bag, of course).
Portability
Indeed, as mentioned, this does come complete with a carrying bag. Admittedly, though, this could have been a bit clearer in the description.
Color
GHB does not provide you with the most sensational variety in the world but they do offer their model in either blue or yellow (the color of the individual rungs).
Overall
Yep, this is not the most premium option out there and it is all but devoid of any additional items. Yet, it secured a spot on this list because it is affordable and practical.

Subscribe to our Newsletter