Best Yoga Books
In a Hurry? Editors choice: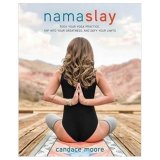 Test Winner: Namaslay

There are infinite benefits that one can reap when they choose to
add a yoga practice
into their life. In addition to helping with flexibility and overall body strengthening, one can become more mindful, grateful and spiritual through the practice of yoga. Whether you're a beginner or a seasoned yogi with years under your belt, there is always something more to learn about this
beautiful form of movement.
This is why we've compiled a list of the ten best yoga books currently on the market. Through reading these books, you'll not only learn more about the principles of yoga or postures you can do, you'll learn more about yourself, what makes you tick and, who knows, maybe you will even find yourself. Let's take a look now at which ones made our top ten list and what makes them better than other options on the market.
Standout Picks
Criteria Used for Evaluation
Top 10 Picks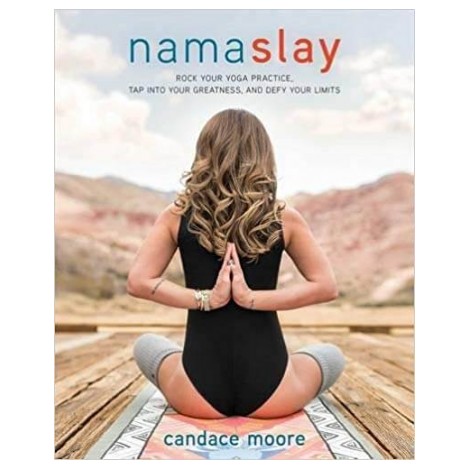 This book from author Candace Moore took the number one spot on our list for several different reasons. It comes highly recommended by hundreds of readers and employs a very distinct visual format that sets it apart from other yoga books currently on the market. Let's dive a bit deeper and see what else one can expect from this product.
Read more
Materials
Namaslay takes a modern (and somewhat hilarious) approach to the very ancient practice of yoga. While its style may not be for hardcore yogis, we think that this book will meet the needs of a certain subset of readers. It's edgier than other options in the bookstore but it's still artistic and beautiful, making it a great book to display in your home or yoga studio.
Use
Namaslay features three different 30-day yoga programs for readers to embark on. They have different focuses depending upon your needs. Need to destress? There's a program for you. Have a weak core? We can work on that! Back pain? Namaslay has you covered.
Size
This book has 416 pages.
Features
If you're looking for a funny and heart-centered approach to your yoga practice, you're going to love Namaslay. Author Candace Moore peppers in information about her own story and struggles with illness and her mental health. There is something that everyone can relate to in this book.
Value
This is an affordably priced paperback. We love that it has a modern-day approach to yoga and isn't filled with complicated theories or confusing words. It is a great choice for beginners and intermates yogis.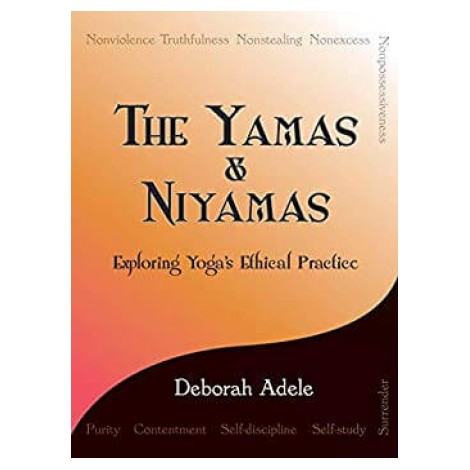 Taking a drastic turn from the light and fun nature of the book in our number one spot, we have this option by Deborah Adele. If you're into the practice of judging books by their cover, you will likely immediately notice that The Yamas & Niyamas: Exploring Yoga's Ethical Practice is much more serious in tone than Namaslay.
Read more
Materials
This book is designed to act as a spiritual pathway for people who want to practice yoga. The Yamas and Niyamas are 10 ethical guidelines that are important to yoga. It's going to teach you about the ethics and roots of yoga in a way that is very structured and easy to understand and relate to.
Use
This book is best read in tidbits rather than poured overall in one day. Treat The Yamas & Niyamas: Exploring Yoga's Ethical Practice as you would a fine piece of chocolate – enjoying one piece at a time, savoring the taste.
Size
This book has 192 pages.
Features
As you read through this book, you will learn about ten guidelines (5 Yamas, 5 niyamas) that will help you to open up doors in your life, this is what you need to invest in.
Value
If you want to take a more serious and traditional approach to your yoga practice, this is the book for you. You're going to learn a lot about taking ownership of your life through the ethical practice of yoga. It will provide a lot of value to serious yogis and those who are yoga teachers in training.

3

. The Complete Guide to Yin Yoga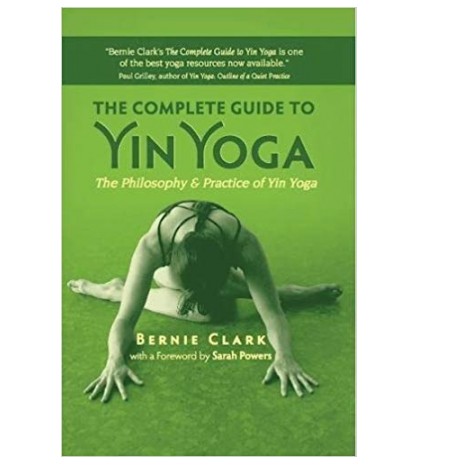 This book from Bernie Clark is a comprehensive look into the philosophy surrounding yin yoga. This type of yoga is a slower-paced and more modern style that involves holding postures for a longer amount of time.
Read more
Materials
Readers can expect this book to be true to its name, it truly is a complete guide to the practice of Yin yoga. It includes illustrated portions describing how one can practice this style alongside descriptions and photographs of different poses (or asanas).
Use
As mentioned, the practice of yin yoga involves holder postures for longer periods of time. This allows yogis to reflect deeply on their journey and tap into the meditative benefits of their practice.
Size
This book is 296 pages.
Features
There are over 24 different postures outline in The Complete Guide to Yin Yoga: The Philosophy and Practice of Yin Yoga. Each posture is accompanied by the benefits of the pose, how to get into it, contraindications and other pertinent information.
Value
This is a very affordable book and is worth the rather small investment for yogis who are interested in tapping into the benefits of Yin yoga.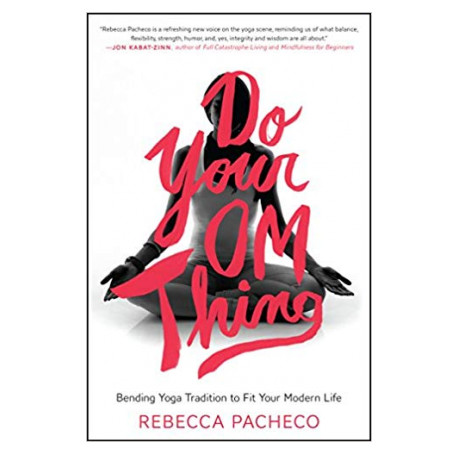 A fresh take on age-old practices is brought to you by Rebecca Pacheco in this book. She has been practicing yoga for over twenty years and also has an English Literature degree. Combining her knowledge of both realms, she brings us this great addition that is suitable for any level.
Read more
Materials
Just from reading the title, you can hear the sense of humor of the author and get an idea of the writing style. Inside these pages, you'll find fresh take and easy to understand explanation of all things yoga- from mindsets to poses and everything that lies in-between. Many reviewers have described this work as sincere, modern, and inviting.
Use
Whether you are devout lifetime yogi, in the middle of a course, just starting out, or just feeling lost, this is a great option. It provides a modern take and explanation of the great lessons and practices that have been engrained in this philosophy for thousands of years.
Size
If desired, this book could be read in just one day, or you could stretch it out over a few months by indulging in just a few pages each day. It has a total of 291 pages.
Features
Chances are, you won't read this book just once. Many readers like to mark certain passages for the future. Even more, readers say that they invested in this item to read once, but keep it on hand and find themselves referring to it often. It is much more than simple explanations and words, it is relatable and enjoyable to read.
Value
Depending on how you choose to receive this item, the price changes. You can choose from a paperback, hardback, or read it on your kindle device. While having this on a kindle is very convenient, this makes a great coffee table accessory. Even with the varying prices, we think this is a great investment.

5

. Inner Engineering: A Yogi's Guide to Joy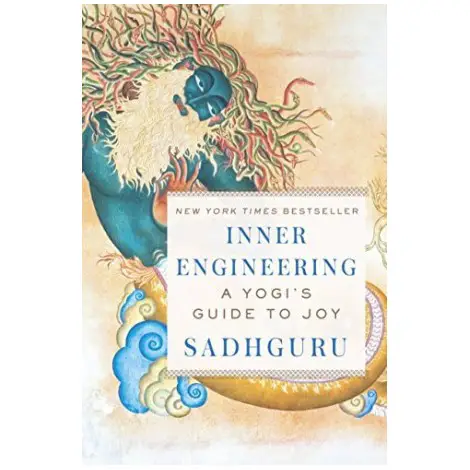 Available on Kindle, as an audiobook, as a hardcover or paperback and even as an audio CD, Inner Engineering: A Yogi's Guide to Joy by Sadhguru is readily accessible for you, no matter how you choose to digest it.
Read more
Materials
The author, Sadhguru, tells his story of his own awakening and his personal journey into enlightenment. This book is meant to serve as a spiritual guide for your own personal growth, though as well.
Use
The book is broken down into two distinct sections - one about Sadhguru and his personal journey and one section about yoga and how it affects the body, mind, energy, and joy.
Size
This book is quite lengthy at 278 pages.
Features
This book is not only a look into the life of Sadhguru but a guide for helping readers to find a job in their lives. There are a number of different practices included in the book that is aimed at helping the reader to handle nearly every aspect of their lives from food to sex and love.
Value
No matter how you choose to digest Inner Engineering: A Yogi's Guide to Joy, we think you're going to be able to appreciate the cost and the value of the information you'll receive for your investment in return.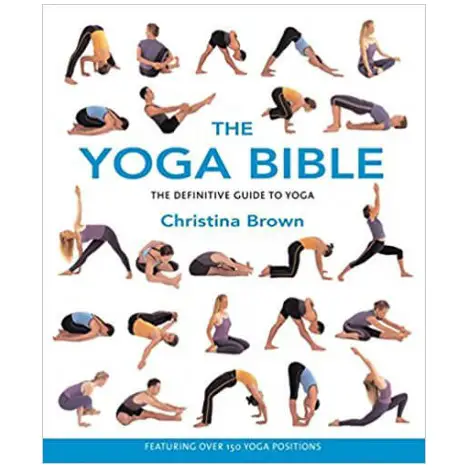 This is one of the most instantly recognizable yoga books on the market today. Author Christina Brown really hit the nail on the head with this one. Whether you're a complete beginner or an intermediate yogi wanting to switch things up, there is something for you in The Yoga Bible.
Read more
Materials
The Yoga Bible is an incredibly comprehensive guide for people who want to practice yoga on their own terms. It will help you to find a balance between the mental and physical realms of your life.
Use
This book contains over 170 different yoga postures from some of the main schools of yoga. If you're a bit lost in your practice, The Yoga Bible will help you to find a sequence that speaks to your individual needs and your ability level. One thing we really liked was that there is a section in the book that focuses on using yoga for certain medical conditions.
Size
The Yoga Bible is a big book with a whopping 400 pages.
Features
The author, Christina Brown, has been a yoga teacher for nearly 25 years. She uses her vast knowledge on many different aspects of yoga and yogic philosophies to create an easily digestible guide that truly acts more like a bible than a book.
Value
The Yoga Bible is a bit more expensive than some of the other options in our buying guide. We do think that it's a worthwhile investment, however, especially for beginners who are looking to start their own practice at home.

7

. Yoga Sequencing: Designing Transformative Yoga Classes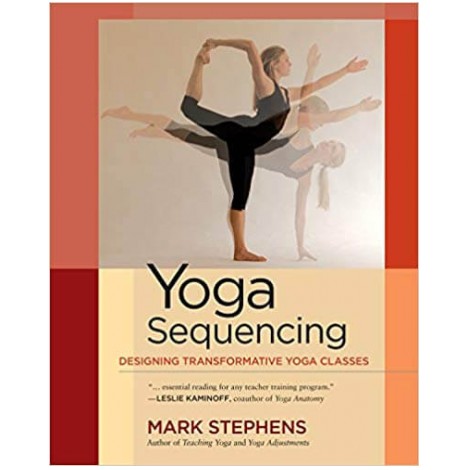 This book by Mark Stephens is a great little investment for yoga teachers who want to learn how to plan and sequence their own classes. Though it is meant more for teachers than individuals, one could still use this book to plan their practice as well.
Read more
Materials
Aside from going very in-depth on over 150 different yoga asanas, Yoga Sequencing: Designing Transformative Yoga Classes is a great book because it provides readers with guidance on different breathing and meditation techniques that are truly to thank for providing yoga with its transformative powers.
Use
This book has over 2000 instructional photographs and an accompanying guide that goes in-depth on over 150 yoga postures.
Size
This book has a whopping 528 pages.
Features
The book has over 67 different sequences of yoga poses. There are options for everybody and every yoga experience level. Whether you're teaching beginners or advanced yogis, children, teenagers, seniors, or people struggling with mental health issues, there is an asana in this guide for you to use in your classes.
Value
We were quite surprised at how affordable this book is when you consider all that you are receiving in return from your investment.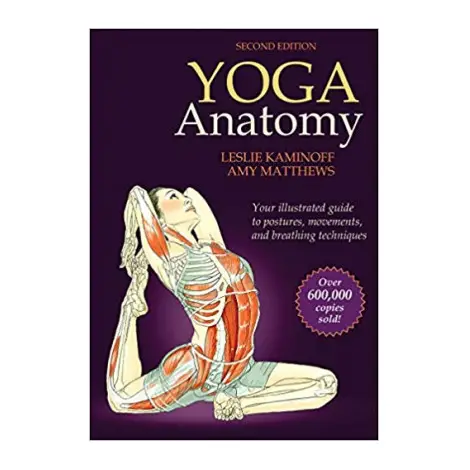 To get a deeper understanding of what your body is experiencing in each position, Yoga Anatomy is full of photos and in-depth descriptions. It includes information about breathwork and how that affects muscle movements, as well.
Read more
Materials
Do you ever stop to think during your practice, "How is this difficult pose even benefiting me? Where should I be focusing my energy? Why don't I feel anything?" It's fine, we have all been there. Yoga Anatomy will help you understand what muscles you are using in each pose and even how a slight change will hurt or help you.
Use
For the casual yogi, this book may not have much value. However, if you are fascinated with anatomy, looking to learn more about the exercise, or if you are an instructor, this is a great choice. It will not only help you to settle into the poses, but it will also give you insight into making adjustments on your students.
Size
This colorful book is filled with 288 pages of useful information.
Features
This updated version has been sold over 600,000 times. It features full-color photos and easy to read, but scientific, text. Many reviewers agree that having the actual book is much more useful than having the Kindle version.
Value
As with many other options, the price varies for hardback or Kindle. Luckily, neither price is outrageous. This is a great guide to have on hand at home or in any studio.

9

. Light on Yoga: The Bible of Modern Yoga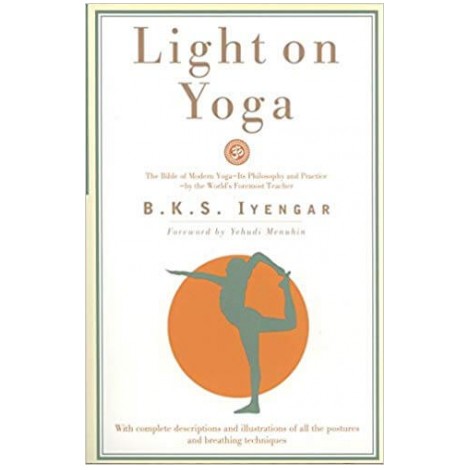 B.K.S. Iyengar, who passed away in 2014, was one of the greats when it came to modern yoga philosophy and practice. He founded a modern style known as Iyengar Yoga and his book, Light on Yoga: The Bible of Modern Yoga, is a true testament to the wisdom and knowledge that this man had.
Read more
Materials
This book is considered to be a true classic and one of the most comprehensive books on yoga asanas.
Use
We loved that this book had alternate pose suggestions for some of the more difficult postures. The book also has an asana guide that'll help readers go from complete beginners to advanced yogis.
Size
This book has 544 pages.
Features
This book is broken down into three parts. Part one is an introduction. Part two focuses on yoga asanas, bandha, and kriya. Part three is about pranayama, including hints, techniques, and effects.
Value
Regardless of if you choose the paperback or spiral-bound option, Light on Yoga: The Bible of Modern Yoga is still an affordable book one should consider investing in.

10

. The Yoga Sutras of Patanjali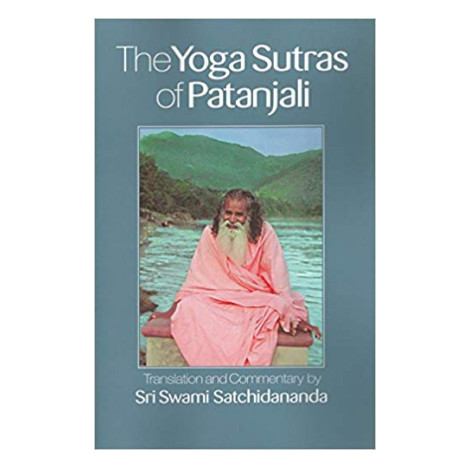 The next addition dives slightly deeper into the practice. It is a true philosophy book that will enhance many aspects of your life if you are open to it. It has been said that this book was originally written 2,200 years ago. While it has been modernized, it still holds true to its teachings.
Read more
Materials
The style of yoga discussed in this book is Raja Yoga (aka Royal Yoga or Ashtanga). This is a style that focuses intensely on the physical as well as the energetic practices. There is further conversation into each verse, making each one easier to connect with and understand.
Use
This will most likely only call to die-hard yogis. If you are an instructor, it is a great way to add traditional and unique Sanskrit into your classes. On the other hand, if you are searching for mental clarity, without the humorous twist of other options, this would be a great choice.
Size
Many reviewers have said that, despite the number of pages, this book takes a long time to read. Many find themselves reading only a few pages at a time and then setting it down to reflect. In total, there are 272 pages.
Features
Perhaps the most useful text of this book is the Sutras that are followed by the original Sanskrit, translation, and transliteration. Another great feature is the added commentary by Sri Swami Satchidananda. He offers advice through personal experiences of achieving harmony.
Value
This insightful literature is actually cheaper than many other options on our list. It is available in paperback or for a Kindle. It is an original, accessible, and philosophical text that will call to everyone in a different way.

Subscribe to our Newsletter