Best Yoga Swings
In a
Hurry? Editors choice: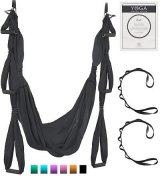 Test Winner: UpCircleSeven

Have you ever heard of the concept of aerial yoga? If you have, it is probably why you are here today and if you have not, you are probably just curious what on earth a yoga swing is. Well, this product is used for the aforementioned exercise and it is basically an enhanced version of it. And while this guide is not being created to teach you the ins and outs of aerial yoga, it is being comprised to educate you on how to buy the proper swing for the exercise. Doing so is not too much of a grueling process and you really just need to keep some obvious factors in mind. Of course, there may be a few features that catch you off-guard that you are not familiar with but that is okay. Granted you stick to this guide, you should be in good shape.
Standout Picks
Criteria Used for Evaluation
Durability
Given these bad boys will be holding your weight, they need to be strong, durable, and long-lasting.
Given the nature of yoga swings, it should not be too much of a surprise to you that their durability is of the utmost importance. Then again, it should not be much of a surprise with any product you purchase, to be honest. But, in this regard, it all comes down to the material makeup and the load capacity. Both go hand-in-hand as, without durable and strong materials, the load capacity will naturally be lower. Now, these types of swings can be made with a plethora of different materials. For example, some will be made of silk nylon, others of polyester taffeta, and even some of high-strength parachute material.
While each material is a little different, all of those aforementioned can provide excellent quality. For example, both nylon and polyester are synthetic fabrics that are highly durable. But, while nylon tends to be a little softer it is also a bit stronger than polyester. Then again, polyester is very resistant to abrasions, which is nice. As for parachute material, this can actually be made with a wide range of raw materials such as canvas, Kevlar, or even nylon. At the end of the day, though, keep an eye out for the load capacity. Ideally, you want to shoot for at least 400 to 500 pounds and maybe even more.
Features
There are a number of key features to keep an eye out on in order to ensure your complete satisfaction.
Possibly a more appropriate name for this section would have been accessories rather than features, but we digress. That is because there are three main features (or accessories) that you need to keep a keen eye out on. The first of which is the handles. First off, each individual handle needs to be made of durable materials but they also need to be comfortable. So, you may often see plastic handles that are covered with thick foam to add optimal grip and comfortability. Yet, the number of handles is also important. Most of the time, there will be six (three on each arm) and this provides with a full range of motion in 360 degrees.
Secondly, and these are more accessories than anything, look out for both daisy chains and carabiners. You are probably familiar with the latter as carabiners are metal loops that come with a locking gate and they are used to attach the swing to certain mounts. They should not be cheap and flimsy because they will be supporting you. As for daisy chains, these are quite handy. While they have a reputation for being unsafe, they can be used to adjust the height of the hammock.
Ease of Use
Practice makes perfect and mounting this type of a swing is not different. But, included hardware and instructions are nice touches.
Here is a quick question, how hard do you think it is to install and mount a yoga swing? The answer you provide is probably going to be dependent on your skill level. In other words, if you have expertise in this area and have mounted similar products before, you may think it will be a breeze. Perhaps it will to you but for others, it will not be that simple. Unfortunately, most sellers have a habit of not including any physical instructions with their model and instead, either give you access to an eBook or YouTube videos (or nothing at all). If all else fails, though, you can look up online tutorials and videos on how to mount these bad boys both indoors and outdoors.
It is not just the simplicity that you need to be concerned with. You should also pay attention to if the seller includes any hardware with their model. To mount your model on any sort of head beam or even your ceiling, you will need proper hardware. It is not too big of a deal if you need to buy mounts and hardware separately but if the seller provides them to you, it is also hard to beat that.
Portability
If you have any interest at all installing and using your yoga swing outdoors, it will probably need to be transported from location to location.
You may want to keep an eye out for an included carrying bag. Most manufacturers will include this with their model but not all of them will so be wary of that. The bag itself does not necessarily need to be bulletproof but it should be a sufficient size. If you have to literally cram every component of the swing into the bag, perhaps it is more of a nuisance than it is worth (as you can always invest in one separately).
Color
Is the color the most important feature? Of course not, but it can come into play in a minor way.
Some of you out there may believe that this is silly but you know what, it can actually come into play. Of course, it should never be your top priority and this means ever. If a low-quality model has a superior color over a higher quality model, choose the latter, please. All this section is alluding to is if there are a few options that you are stuck between (that all are high in quality) you could select the one that has your desired color. It should be kept as simple as that because as soon as it becomes a top priority, you need to sit back and realize what truly is important.
OUR TOP PICKS FOR THE BEST YOGA SWINGS
Subscribe to our Newsletter