Best Yoga Socks
In a
Hurry? Editors choice: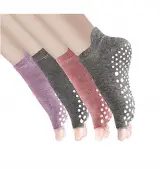 Test Winner: Cosfash

There are usually two types of people on the planet: those who like to wear socks all the time and those who don't. If you have ever tried to engage in a yoga class wearing the socks you wear every day, you might have a little bit more trouble engaging certain poses because your feet keep slipping. Luckily, there is a product that will fill your need to always
keep your feet warm
and covered, but it will also give you more traction on the soles of your feet to prevent slipping so you can fully extend into a downward dog without struggling to keep your feet from slowly sliding back. We are talking about yoga socks and below have outlined why these accessories are so important when taking
your next yoga class.
Standout Picks
Criteria Used for Evaluation
Style
A variety of design was one of the key features we kept an eye out for. We ensured to include a wide variety of styles and cuts to appeal to most tastes. The separated and open-toe designs are more for those that aren't too concerned about keeping their feet warm, but they still want to have a good grip on the floor as well as a full range of motion. Separated closed toe options are a little less popular, but they allow users to have nice and toasty toes while still having a good grip on the floor and range of motion. For those that just want a simple design that looks much like the pair you would wear running, we made sure to include simply closed toe cotton options (which were typically much more affordable). Another design that users love is ballet design. This design comes down very close to the bed of the foot and has mary jane like straps that keep it in place. These won't do much about keeping your feet warm, but it will keep bacteria out and allow you to really grip the floor.
Overall you want a comfortable and stylish pair of yoga socks to help maintain the sweat from your foot and give you the grip you need to perform the poses brought to you from your instructor. We have included a variety of designs and are confident that one of these options will be the one that is best suited for you.
Materials
Everyone knows that when you are on the hunt for the perfect pair of socks, the material is the key. We made sure to hunt down those styles that were made from cotton materials because cotton is comfortable, breathable, and most importantly- it is easy to wash. Some brands that used elastic or polyester as their main material often ran into a few problems getting their grips to stick to the bottom of such a slick surface. What we noticed from the nylon and polyester options was that users often complained that the smaller grips would either pop off while they were using them, or they would come off in the washing machine. Styles that utilized cotton as their main material seldom ran into the issue of grips coming off.
Overall you want a pair of yoga socks that will be durable and will feel comfortable against your skin while doing yoga. The last thing you want is to be doing a yoga pose and feel as though your socks are causing you discomfort.
Size
This was something important that we considered because a design that is too tight or too loose is generally going to give you problems holding specifics poses or making transitions. Generally, we made sure to select brands that had at least 80 percent of past users pleased with how their style fit. One size fits all scenarios aren't ideal for these types of products, because they aren't something that you are just going to shove into a shoe. A great fit is important because you will be primarily wearing these independent of shoes, and you will be making sharp and precise movements while wearing them.
If you have something that is just flopping around on your foot because it's too big, it isn't going to help you to achieve your best performance. While quite a few brands offer their products in one size fits all, we tried to fish out the brands that offered you size options, and we really like companies that went so far as to offer not only various sizing options but also a detailed sizing chart.
Value
It's hard to achieve zen when you keep looking down at your feet during a downward dog and being reminded how much money you spent on your footwear. For the most part, these yoga socks are generally offered at a pretty affordable price point. For our list, we tried to hang out in the middle of the road in terms of cost. The cheaper options that come in large grouped packs may seem appealing, but those styles often won't even make it to the washing machine before falling apart.
Saving money is important, but wasting money on terrible gear is a terrible shame. Even though we tried to steer clear of the lower end options, we also wanted to make sure that we didn't select the higher-end designs that have a needlessly high price tag.
Subscribe to our Newsletter