Best Foot Warmers
In a Hurry? Editors choice: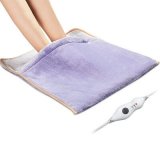 Test Winner: Proaller Heating Pad

Pop quiz: how many of you that are currently reading this guide has experienced cold feet? Not the actual expression that references you having serious doubts but in regard to the literal meaning of cold feet? Chances are, every last one of you have experienced this and while we are not about to dive into the reasoning behind it happening, we have a solution. Well, technically, "we" do not have the solution but rather this guide offers you with a solution. This "solution" is a foot warmer. Now, foot warmers come in many different styles and choosing the right one will come down to your needs and preferences. But, along the way, you will find that there are several factors that can make or break specific models. So, with so much to discuss, let's get started.
Standout Picks
Criteria Used for Evaluation
Effectiveness
Is there really a point to a foot warmer that can't warm your feet? As obvious as it sounds.
It really all comes down to the performance, does it not? No matter what you do in life or what you buy, the performance is literally everything. And foot warmers are not exempt from this notion. But, with so many different styles available, which ones outperform others? Well, this can be a difficult question to answer as individual designs and specific technologies and fabrics can make all the difference in the world. Take heating pads, for example. These typically will work via electricity (whether wired or battery-operated). Depending on the technology at play, some models will heat quicker and distribute the heat better. But, with electrical models comes the reassurance of knowing that the heat is never going to stop.
Now, what about non-electrical designs such as packets, socks, and boots. Well, with socks and boots, the materials will need to be warm and there must be insulation. For example, wool fabric and duck down insulation. Oh, and as far as air-activated warmers are concerned, these are some of the most popular due to their simplicity (and can deliver heat for hours).
Comfort
Your feet not only need to be warmed but they should also be comfortable in the process.
Naturally, if your feet are uncomfortably cold then warming them is going to provide a suitable amount of comfort. However, these sections go far beyond the elements of heat. As that has already been discussed, let's look at the physical comfort that you can expect from a foot warmer. Again, it goes back to the style and the craftsmanship of the design. But, most models will be designed to encapsulate your feet (either with boots, socks, or pads). So, you can look directly at the fabric composition to determine the comfort as certain materials will deliver more comfort than others.
Take plush or merino wool fabric, for example. These fabrics are naturally soft and when in direct contact with your skin, will provide an ample amount of comfort. Other fabrics, such as polyester, cotton, and nylon, can be great, as well. Also, do not forget about breathability. Yes, for products that are designed to provide heat it seems nonsensical to bring up the breathability. Yet, moisture control is important especially when sleeping. Do you really want your feet to sweat? Ideally, there should be just enough air circulation and breathability to prevent hotspots.
Features
This will not come into play with all models but for some, the features will be as important as any other aspect.
There is one big-time advantage to opting for electrical foot warmers or any models that implement advanced technology. Of course, this means that they have enhanced functionality and fancy design features. Now, with regular insulated socks, boots, or even regular air-activated packets, they will all but be devoid of any design features. With boots or socks, you can always look for features for adjustability and security (such as Velcro straps and elastic tops) but it typically will not be anything more than that.
But, with technology at play, the functionality can become increased. In most cases, there will be two main features to look for. The first is if you can change the heat settings. Possessing the ability to do so will allow you to adjust the current heat to your liking. This small bit of versatility can make all the difference in the world. The other feature is an automatic shut-off feature. With designs that require constant electricity, accidentally leaving them on can draw unnecessary energy. Also, if you fall asleep with one, without an automatic shut-off feature, it could end up overheating you.
OUR TOP PICKS FOR THE BEST FOOT WARMERS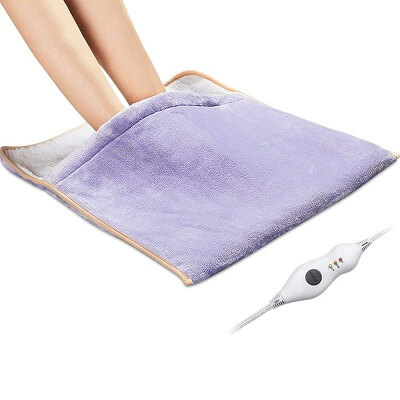 Technology is of the essence with this design and when you need to warm your feet when kicking back and relaxing, there probably is not a better option out there than this.
Read more
Effectiveness
Outside of its heating efficiency, this pad is also ideal for treating sore muscles. Do note, though, that this only heats from the bottom and not the top (so you may need to flip it if the top of your feet get cold).
Comfort
Thanks to the luxurious ultra-plush flannel construction (which is present on both sides), you can rest assured that this will deliver a superb amount of comfort to your skin.
Design Features
In addition to the three different heat settings, this also comes equipped with a two-hour automatic shut-off feature. Oh yeah, and it is powered via its 10-foot cord.
Style
This is made for sitting or lying as it is 22 inches wide by 21 inches deep. In fact, it can even accommodate two pairs of feet if someone else wanted in on the action.
Advanced Features
Now, this does come with a controller but the issue is there is no way to bypass the automatic shut-off feature.
Overall
This right here is beyond impressive. With that said, it is not a flawless design but it is not hyperbolic to claim that this is the best foot warmer on the market.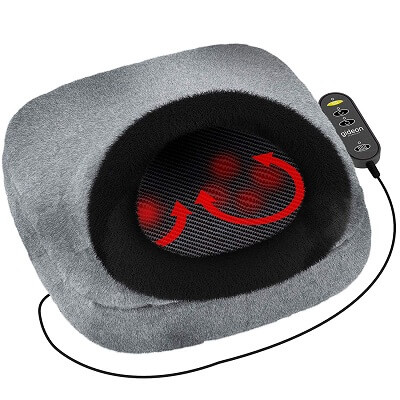 What is interesting to note about this next model is that it is also a foot massager. So, you receive the ideal combination of heat and relaxation in one convenient package.
Read more
Effectiveness
While the combination of heating and massaging is tremendous, a common complaint about this model is that it does not heat very well. Go in expecting warmth and not heat as you would receive from a heating pad.
Comfort
Gideon ensured that comfort would not be an issue here as their foot massager is complete with luxurious ultra-plush fleece fabric.
Design Features
With eight different levels of deep penetrating massaging nodes available, you can really maximize your experience. In addition, there is an automatic shut-off feature that can be set for 15 minutes.
Style
Almost think of this as a giant slipper. When you want your feet warm, you merely slide them inside the base and let the technology do its magic.
Advanced Features
Probably the most advanced aspect of this design is that it can act as a massager. What is interesting to note, though, is that the massage balls can't individually rotate different ways.
Overall
As a heater, this is solid. As a massager, this is masterful. Combine them both together and you have a great product that pretty much everyone will adore.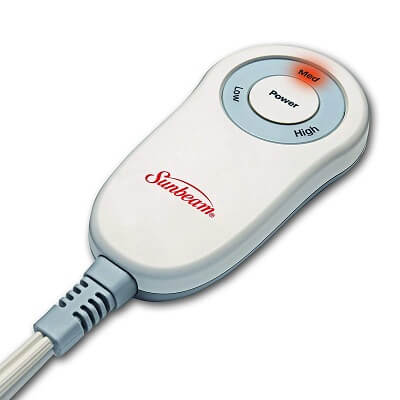 We go from one unique design to another. This one from Sunbeam is essentially a heating pad that is designed to rest at the foot of your bed and can warm your feet throughout the night.
Read more
Effectiveness
In regard to the performance, some users have commented that this pad is not the best at evenly distributing the heat.
Comfort
Now, the actual fabric makeup of this model is ideal as it is 100 polyester and fairly soft. But, the potential issue is the bulkiness as this is just that, bulky.
Design Features
Interestingly enough, it is clearly claimed that this comes with a three-hour automatic shut-off feature (and three heat settings). But, some users have reported that their shut-off function did not work.
Style
This right here is designed to fit right under your sheets on the end of your bed. With it there, you can rest your feet on top for optimal heat.
Advanced Features
To avoid the annoyance of getting up to control this pad, it comes with a PrimeStyle controller that sports ThermoFine technology.
Overall
What is nice about this option is that it can rest right on your bed and (for those who do not like sleeping with slippers or shoes) you do not have to "wear" it.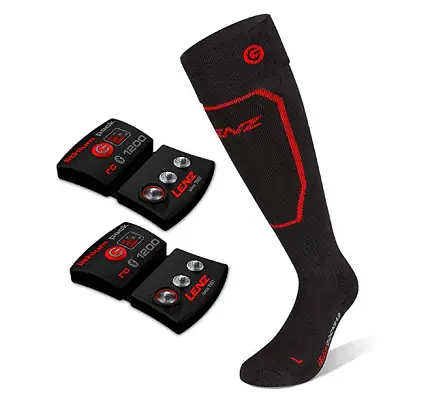 If you can ignore the ludicrous price tag of this design, which is not easy to do, you can get one of the best overall designs on this list. Though, the price is warranted somewhat by the functionality.
Read more
Effectiveness
Based on the limited feedback, it seems that the RCB 1200 is ideal at warming your feet but does not really provide immense heat. On colder days, it should do just fine, though.
Comfort
This is mainly comprised of polyester and nylon but also has shades of merino wool. And, it is designed with ergonomically knitted padding for enhanced comfort.
Design Features
Though this is a sock, it does come with lithium packs. With these, you can choose your level of heat and the batteries should last around five to six hours (at the lowest level).
Style
The included lithium pack can be attached by folding over the top of the sock and you really do not notice it being there. Overall, this only heats the balls of your feet and the toe regions.
Advanced Features
Outside of the lithium packs, there are really not too many advanced features to speak of. For the price, it is not absurd to expect some form of additional functionality.
Overall
Look, typically, it is not fair to judge the quality of a product on its price. And, while that is not necessarily happening here, this does seem overpriced (although it is still a top-notch design).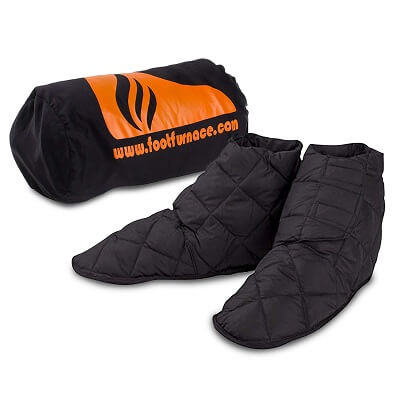 If there was one integration that would have made this even better it would have been an outsole. As it remains, however, these slippers are great at delivering warmth but they will not replicate actual shoes.
Read more
Effectiveness
As mentioned, 180 grams of duck down are utilized here and this provides all the warmth your feet will need. Duck down is an excellent material used for insulation purposes.
Comfort
In addition to the duck down, this is made of soft fabric that adds comfortability. But, despite being made of breathable nylon, some users claim breathability can be an issue.
Design Features
Though no technology features are built into this design, these bed slippers are equipped with two Velcro straps that allow you to tailor them to your needs.
Style
As these are slippers that utilize the natural insulation properties of duck down, they can be worn freely. But, due to the lack of a sole, be careful not to wear them around the house too much as they will wear quickly.
Advanced Features
No power is needed and at its core, this design is very simple and lacks any advanced features of any kind.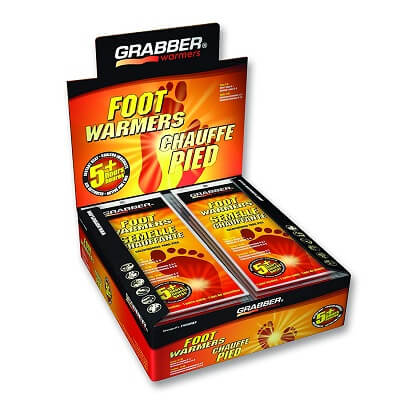 There is a strong likelihood that you have either seen these types of foot warmers or you have actually used them. What is nice about them is their simplicity and performance.
Read more
Effectiveness
It is advertised that these will begin warming in around 15 to 30 minutes. What is nice about them is they will last five-plus hours. Yet, they do not work that great in really cold temperatures.
Comfort
This design is really not about comfort but here is what is nice, when placed inside your shoes this insole will not make a hard clump and will not be uncomfortable.
Design Features
Simplicity is the name of the game here. There is no integrated technology or design features to worry about.
Style
Literally, all you need to do is remove one warmer from the package and shake it up. After which, place it in the interior of your shoe and you are good to go as it is air-activated.
Advanced Features
Really, there are no advanced features to speak of because, remember, this design is devoid of physical features.
Overall
All in all, it is seriously hard to beat the value here. You receive 30 pairs of these exceptional foot warmers and while each one is designed to be used once, they last a while.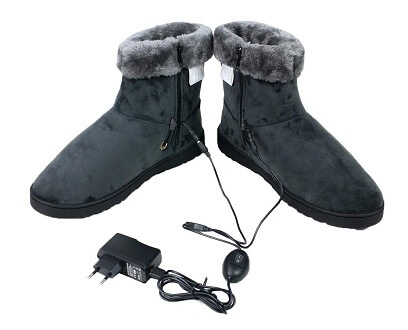 Unlike battery-operated designs, these warming botties are powered via a five-volt USB outlet. While you will need to deal with the accompanying cable, the end result is worth it.
Read more
Effectiveness
Due to the fact that this uses the latest carbon fiber heating technology, it is able to provide heats up to 109 degrees. But, as many users have pointed out, it takes a bit for the heating process to kick in.
Comfort
Due to the lack of cushioning on the bottom, you probably need to wear thick socks in order for them to be comfortable.
Design Features
There are two levels of heat you can select from, which is okay. Also, because this is corded, you are limited in your movement which can be a nuisance.
Style
It has been alluded to but these are booties that are designed to be worn. And, they are corded and produce their heat with the assistance of electrical power.
Advanced Features
Interestingly enough, the included cable is detachable. This comes in handy when you do need to move and walk with these on your feet.
Overall
Yes, there are issues with this design and some of you may feel this should not be on this list. But, the overall design is able to overcome the flaws at play.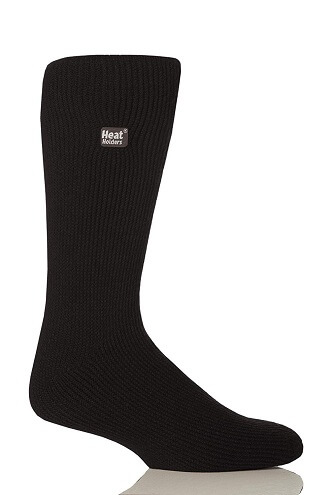 There really is nothing too extraordinary about this last option. These are merely a pair of thermal socks that use their unique craftsmanship to provide warmth for your feet.
Read more
Effectiveness
In spite of the simplicity of this option, it is able to deliver optimal comfort. This is thanks to its specially developed heavy bulk yard and its thermal qualities.
Comfort
On top of the fact that this is mostly made of acrylic (with a mixture of nylon, polyester, and elastane added) the interior has been brushed to increase the softness.
Design Features
Here is a major problem with this model, admittedly. There is no elasticity at the top of the socks and what happens is they will slide down too frequently.
Style
Could it be as simple as a sock? Well, in this case, that is precisely the case.
Advanced Features
Most of you probably expected this but there are not too many advanced features to speak of here.
Overall
When it comes to straight-up performance, these socks reign supreme. However, they fall short in other areas and that hurts their quality a bit.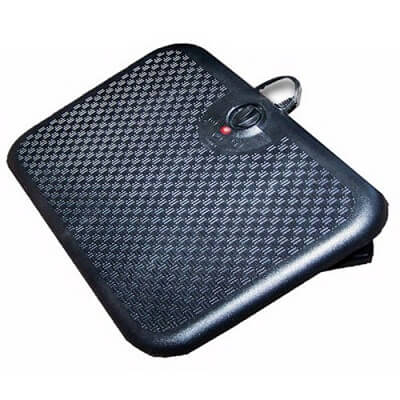 Now, this right here is a different design entirely. It pretty much combines a 105-watt heater with an ergonomic footrest and the result is pleasant.
Read more
Effectiveness
As compared to a standard space heater that will crank out around 1200 watts of power, this only uses 90 watts. Still, though, some buyers have alluded to the fact that it can become uncomfortably warm.
Comfort
Really, this is not meant to deliver supreme comfort. It is merely a footrest and thanks to its two plastic legs, it can be elevated to a comfortable position.
Design Features
There are both adjustable height positions and heating settings that you can tamper with. About the only feature missing, however, is an automatic shut-off feature.
Style
Yep, this is simply a footrest that you place your feet on when you need them warm.
Advanced Features
It certainly would not have hurt to package this with a cheap remote as the on/off switch is located in an inconvenient location. Also, the settings can be hard to read at night.
Overall
Truthfully, this is a brilliant concept that is executed pretty well, for the most part. Some key features would have helped to put it over the top, though.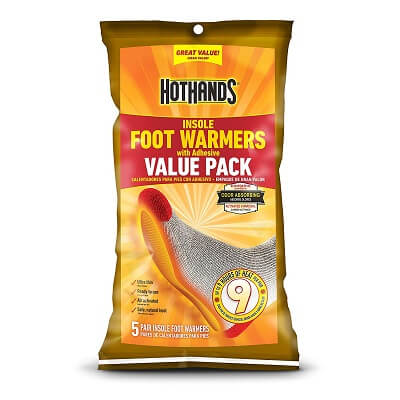 Much like an option earlier, this is another set of insole warmers. Along the same line as other similar designs, all you need to do is remove the warmer from the package and shake it to activate it.
Read more
Effectiveness
It has been mentioned by a few users that these do not work the best when you are stationary. But, while moving around and walking, these can provide warmth for up to five hours.
Comfort
One thing to note is that these are quite small. So, if you have larger feet then these may not comfortability fit into your shoes.
Design Features
The lack of features here is not really an issue because the design is meant to be as simplistic as possible.
Style
As with the other similar foot warmer, you simply take these out of the package, shake them up, and insert them into your shoes.
Advanced Features
Much like the regular features, this is all but devoid of advanced features but it is not too big of a deal, considering the price.
Overall
For what these are, they are pretty good. Although, it is the type of product that is not going to blow your socks off. So, be aware of that.

Subscribe to our Newsletter