Best Foot Warmers
In a
Hurry? Editors choice: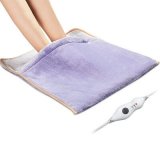 Test Winner: Proaller Heating Pad

Pop quiz: how many of you that are currently reading this guide has experienced cold feet? Not the actual expression that references you having serious doubts but in regard to the literal meaning of cold feet? Chances are, every last one of you have experienced this and while we are not about to dive into the reasoning behind it happening, we have a solution. Well, technically, "we" do not have the solution but rather this guide offers you with a solution. This "solution" is a foot warmer. Now, foot warmers come in many different styles and choosing the right one will come down to your needs and preferences. But, along the way, you will find that there are several factors that can make or break specific models. So, with so much to discuss, let's get started.
Standout Picks
Criteria Used for Evaluation
Effectiveness
Is there really a point to a foot warmer that can't warm your feet? As obvious as it sounds.
It really all comes down to the performance, does it not? No matter what you do in life or what you buy, the performance is literally everything. And foot warmers are not exempt from this notion. But, with so many different styles available, which ones outperform others? Well, this can be a difficult question to answer as individual designs and specific technologies and fabrics can make all the difference in the world. Take heating pads, for example. These typically will work via electricity (whether wired or battery-operated). Depending on the technology at play, some models will heat quicker and distribute the heat better. But, with electrical models comes the reassurance of knowing that the heat is never going to stop.
Now, what about non-electrical designs such as packets, socks, and boots. Well, with socks and boots, the materials will need to be warm and there must be insulation. For example, wool fabric and duck down insulation. Oh, and as far as air-activated warmers are concerned, these are some of the most popular due to their simplicity (and can deliver heat for hours).
Comfort
Your feet not only need to be warmed but they should also be comfortable in the process.
Naturally, if your feet are uncomfortably cold then warming them is going to provide a suitable amount of comfort. However, these sections go far beyond the elements of heat. As that has already been discussed, let's look at the physical comfort that you can expect from a foot warmer. Again, it goes back to the style and the craftsmanship of the design. But, most models will be designed to encapsulate your feet (either with boots, socks, or pads). So, you can look directly at the fabric composition to determine the comfort as certain materials will deliver more comfort than others.
Take plush or merino wool fabric, for example. These fabrics are naturally soft and when in direct contact with your skin, will provide an ample amount of comfort. Other fabrics, such as polyester, cotton, and nylon, can be great, as well. Also, do not forget about breathability. Yes, for products that are designed to provide heat it seems nonsensical to bring up the breathability. Yet, moisture control is important especially when sleeping. Do you really want your feet to sweat? Ideally, there should be just enough air circulation and breathability to prevent hotspots.
Features
This will not come into play with all models but for some, the features will be as important as any other aspect.
There is one big-time advantage to opting for electrical foot warmers or any models that implement advanced technology. Of course, this means that they have enhanced functionality and fancy design features. Now, with regular insulated socks, boots, or even regular air-activated packets, they will all but be devoid of any design features. With boots or socks, you can always look for features for adjustability and security (such as Velcro straps and elastic tops) but it typically will not be anything more than that.
But, with technology at play, the functionality can become increased. In most cases, there will be two main features to look for. The first is if you can change the heat settings. Possessing the ability to do so will allow you to adjust the current heat to your liking. This small bit of versatility can make all the difference in the world. The other feature is an automatic shut-off feature. With designs that require constant electricity, accidentally leaving them on can draw unnecessary energy. Also, if you fall asleep with one, without an automatic shut-off feature, it could end up overheating you.
OUR TOP PICKS FOR THE BEST FOOT WARMERS
Subscribe to our Newsletter