Best Camping Chairs
last updated:
Feb 24, 2020
When getting ready for a weekend of camping with friends and family, you want to make sure before you go that you have every piece of gear you need to help you have an enjoyable and fun time. The obvious pieces of gear would be your tent, sleeping bag, clothes but many forget something to sit on. A camping chair is such a vital piece of gear to bring camping as when you are sitting around the campfire you want to be comfortable or if you decide to hang out around the campsite during the day and catch some sun, you have somewhere to lounge. If you are sick of sitting on the ground or a log and being uncomfortable, I think it is time to invest in your own camping chair so on your next camping trip you can relax and be comfortable.
In a Hurry? The test winner after 15 hrs of research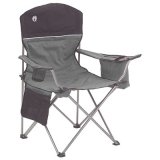 COLEMAN OVER-SIZED QUAD
Why is it better?
Comfortable
Larger for people who want more room or are a bigger build
Cooler
In a
Hurry? Editors choice: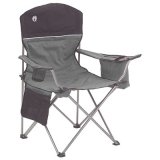 Test Winner: COLEMAN OVER-SIZED QUAD

17
Researched Sources
1.6k
Reviews Considered
15
Hours Researching
17
Products Evaluated
Materials
Weight
Use
Features
By Default
Criteria Used for Evaluation


Materials
When you start looking at camping chairs you will notice that there are many different construction materials, all of which every manufacturer will claim that they are using the best for the purpose. Here is a rundown on the different materials used in the manufacture of camping chairs.
Aluminum Alloys
Many chairs have poles made from an aluminum alloy. The specifications may state aluminum but it will be an alloy of aluminum because pure aluminum would be too soft and does not have the tensile strength. Aluminum alloys are a mixture of aluminum and other metals to maximize the strength and minimize the weight. Most aircraft are made from aluminum alloys for this reason.
Depending on the other metal mixed with the aluminum is the important factor manufacturers have to decide on. Aluminum alloys are graded with a serial number which tells you what other alloy is used in its manufacturing. 2000 series aluminum contains copper, 3000 series aluminum contains manganese, 4000 series aluminum contains silicon, 5000 series aluminum contains magnesium, and 7000 series aluminum contains zinc. 7000 series aluminum has the highest strengths of any aluminum alloy. The higher the series number the stronger the aluminum alloy. Lower than 4000 series stress corrosion cracking can be a problem. Higher than 7000 series is overkill for a chair and probably too costly.
TH72M Advanced Alloy
TH72M is an advanced alloy made by the Dongah Aluminium Corporation (DAC) in Korea. This alloy DAC have taken Titanium for its strength and aluminum for its lightness with some other materials to make an alloy stronger than other lightweight alloys. How have they done this is actually quite a simple idea. Standard aluminum alloys tubes or poles suffer from the problem of "stress corrosion cracking".
To counter this problem previous alloy poles and tubes have been made with a thicker tube wall, this increases the weight but actually does nothing to increase the strength of the pole. The new TH72M alloy has overcome the problem of "stress corrosion cracking" meaning that the poles and tubes made from this material do not need to have as thick walls which reduce the weight a whilst maintaining the strength and life of the pole. On top of this TH72M is stronger and lighter than other aluminum alloys. As this is a new material you should expect to pay a premium for its use in any camp equipment you may buy.
Man-made synthetic fabrics are usually used as fabrics for camp chairs. The most commonly used are Nylon, Polyester, and Rip-stop Nylon. I am sure most people have come across nylon and polyester and know them to be strong and easy to care for fabric. The main advantage of this fabric other than the strength to weight ratio is the ease of care. Both are resistant to mold growth and they don't lose their shape when wet. However, you might see on specifications terms such as 600d Polyester and Rip-stop Nylon.


Weight
The average camping chair weighs about 2.5-pounds. While this might not sound heavy, to begin with, each ounce adds up quickly when your bag is packed full of gear and camping supplies. The ultralight models, such as the Monarch, weigh in at slightly over one pound. Other, more intricate and less backpacker friendly models, such as the Coleman Quad, weigh about eight pounds.
While it is true that camping chairs are extremely versatile and be used outside of the campground, it may be a good idea to invest in more than one type of chair. While it is definitely possible, you might not want to use the same heavy beach/camping chair with a built-in cooler while you are hiking the Pacific Crest Trail as you would on a leisurely beach day with no hiking involved.
Lightweight models need to be engineered and designed carefully to minimize weight. This means that some features of the traditional type chairs have to be removed or modified. Most lightweight chairs are comfortable, but for the most part, they lack armrests and cup holders. On the brighter side, many lightweight models feature a storage pocket of some kind.
The area where the manufacturers make the most savings in weight is with the use of lightweight metal alloys and fabrics. The use of less metal tubing drastically reduces weight. Manufacturers are able to do this by reducing the seat height from the ground and reducing the back of the chair height as well. As you look closely at many of the options out there, the biggest difference in most lightweight chairs, if not all, is that they are not folding chairs, but are more similar to a tent. This means that the poles need to be fixed into shape and the fabric attached to this frame.
In reality, it is easier than it sounds to set up one of these chairs. However, because fewer metal poles are used, the stability of the chair is affected. If you throw yourself into one of these chairs, you can expect the chair to tip and throw you off the back. After mentioning all those downsides, the lightweight chairs that have made it to our top 10 list are well made, comfortable, and most importantly lightweight and take up little space when packed.


Use
Backpacking or walking
If you think you will be walking for some time before reaching the destination where you will want to have a chair to relax on, then weight and size will be of optimal concern. Just because you plan to walk or hike for a few hours doesn't mean that you shouldn't be able to relax with some luxury in your camp.
The use of lightweight and strong alloys has improved the weight and pack size of many chairs, but sometimes you will be losing some comfort and stability. Often the lighter the chair the lower the chair is to the ground. This is because to reduce the weight the manufacturer has to reduce the amount of metal used, the easiest way to do this is by shortening the pole, and therefore the chair is lower to the ground. This shouldn't be a problem unless you find it difficult to get out of a low chair.
Days at the beach
The beach may not be the place you think of that you will need a chair. For a lot of people, a towel on the sand is all they need. But for me with kids, the days of being able to lay back and sleep on the beach are gone. I have to have a constant eye on my children to check they are not about to get knocked over by a rogue wave or swimming just a little too far from the shore.


Features
Camp chairs have come a long way from the fold up lawn chairs. Portability and easy to use has always been important along with the strength and sturdiness of the chair. This has meant that in the past you lost out on comfort to compensate for the need for portability and weight. That is no longer the case, camping chairs as with all camping equipment have advanced over the years, so that camping is no longer living rough, but more living in luxury with the beauty of nature.
Most people would only think about taking a piece of camping furniture with them if they were using a car as transport, the added weight of a chair on your backpack was just not feasible. But with the ultra-lightweight chairs now available it is an option. So before going out and making an impulse purchase, it is important to consider how and where you will be using it the most. Overall camping chairs have come a long way and now come equipped with extra features like rocking abilities, coolers, etc. So look for a comfortable chair and any extra features are a bonus!
Expert Interviews & Opinions
Most Important Criteria
(According to our experts opinion)
Experts Opinion
Editors Opinion
Users Opinion
By Default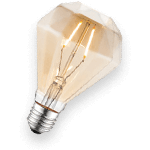 All the frills
Think about where you will mainly be using your camping chair. Is weight important? Do you need a carrying case? Do you need a cupholder? Do you need a chair that won't sink into the ground? Do you prefer a chair with ventilation? A chair that you can fold up and fit in your backpack?
Size Matters
It is important to know the weight limit and size of the chair. If your hunny comes to sit on your lap are you both going to tumble to the ground and break the chair? Is Shakira coming to your bbq and will her hips fit in your Travel Chair Joey?
Other Factors to Consider


Style
You might be amazed at the different styles of camping chairs that exist. While which is best is all a matter of preference, each chair has their redeeming qualities, along with some features we wish we could change.
A classic camping chair has 4 legs, two armrests, and is fairly stable. These tend to be most similar to a folding chair in terms of size and shape. While these chairs carry a normal weight and an affordable price tag, they do their job and nothing more.
A stool chair is a great option for the minimalist hiker. This chair lacks in comfort and features but is incredibly lightweight and packable. Of course, the stool chair will be lower to the ground and doesn't provide as much safety and could easily turn over if you sit on it incorrectly.
A low chair is a great option for some people. Low chairs are smaller and require fewer materials making them lighter than traditional camping chairs. Because these chairs are already so close to the ground, your risk of coming off balance and falling out of the chair is quite low. The downside to low chairs is if you have a bad back or knees, it may be difficult for you to bend up and down to get in and out of the chair.
Frequently Asked Questions
q:

If I want a very lightweight chair, will that affect the features I can get with my chair?

a:

Typically, the more lightweight the chair you purchase, the fewer features you'll find on the chair. Many brands will remove certain features to make their chairs more lightweight. So, if you know there are certain features you really want with your chair, you'll need to think about getting those specific features if you are searching for a lightweight chair.
q:

What do I need to know about setting up my camping chair?

a:

Most of the camping chairs we've provided for you on our list are very easy to set up. However, if you go off our list and purchase something else, you'll want to make sure you pay attention to the reviews on that product. You don't want to wind up with something that's hard to use. If the set-up is a concern, then make sure you pick a camping chair that's rated and reviewed to have a simple set-up.
q:

Do I need to pay attention to the size of my camping chair's seat?

a:

Yes, you do. If you wind up with a camping chair that has a small seat and you are a larger person, this is going to cause problems for you. So, make sure you pay attention to the size of the seat. Most smaller people don't mind seats that are smaller, but if you want the room to move or know you need that extra support because you are a larger person, then make sure you purchase a chair with decent seat size.
q:

What do I need to consider about camping chairs if I have back problems?

a:

If you have back problems, you want to make sure you purchase a comfortable camping chair with a lot of support and stability. Also, some camping chairs are designed to sit up higher and provide higher back support, so these are all things you should pay attention to if you want to make sure your chair can comfortably support your back.
q:

What are the most important qualities to look for in a good camping chair?

a:

Comfort, durability, and portability. It the chair isn't comfortable, you aren't going to want to use it. Also, if you plan to be carrying the chair and you find that it is too heavy or too hard to pack up and carry, again, you won't be likely to use it. Durability is another important factor because you want to get the most bang for your buck and make sure your chair will last you for a while.
q:

How can I choose the most durable camping chair?

a:

This is a great question, as you will most likely want your camping chair to last for years to come, and a fantastic place to start for durability is with rip-stop fabric. Rip-stop fabric is very durable and will also help prevent tears and abrasions in the chair. With a quality rip-stop chair that also has sturdy aluminum poles, you should be good to go for quite some time in terms of the chair's lifespan.
Subscribe to our Newsletter