Best Weighted Hula Hoops
In a Hurry? Editors choice: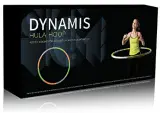 Test Winner: Dynamis

For the past few years, using the best weighted hula hoops for fitness has been an ongoing trend. They have become one of the best tools to help switch up workout routines. One of the reasons why people took a liking to them was because of their entertainment aspect. They make workouts more fun, especially for people who dread going to the gym. Whether you use the product to hoop, swing, or dance, the fact is that you will be burning calories all through. The remarkable thing is that the amount of calories you burn is more or less equal to that of people taking on
intense workouts
. Depending on the weight you are using, several minutes of use is equivalent to; 420 sit-ups, 40 minutes of swimming and an hour's worth of jogging. The benefits associated with this new form of exercise are tremendous.
Standout Picks
Criteria Used for Evaluation
Size
Only buy the kind you can handle.
Before making any purchases, you need to know the size and weight of the specific product. Doing so will place you in a better position to pick out the one that suits you. If you are new to hooping, it is highly recommended that you start with a regular one and switch to a weighted option as you gain experience.
The goal is to make the hoop smaller and more substantial as you gain experience. A modest size demands faster turning, and more energy as the load placed on your body is more significant. Users tend to struggle at first but end up getting used to it with time.
Comfort
Comfortable hoops are harmless.
Hooping involves using your body to make the ring move around. Picking out a comfy option is essential because the product will be in direct contact with your body. When you choose poorly, you could end up with bruises or worse. There is no way you are going to feel motivated under such circumstances. Before you select the product that is right for you, make sure you analyze their material and padding to avoid such inconveniences.
Compatibility
The right selection will work in your favor.
Beginners, intermediate and advanced users have specific types of equipment they should use. You should always check the product specifications to ensure that you are purchasing the right band as per your skill level. Beginners need to take extra precautions because they could do more harm to themselves if they use the wrong kind of equipment.
Features
Know what differentiates one from another.
As you have noted by now, brands have different weights to offer. Some of them focus on the build of the rings to ensure that they create sturdy products. Others go as far as to use materials that can withstand wear and tear. Such brands intend to appeal to people who want durable products. There are also companies that come up with different variations, in terms of design and even color at times. Users then get to choose between regular smooth rings and those that have modifications like rivets.
These types of features help users narrow down the available options. They then get to choose what will help them meet their training needs based on their preferences.
Best Weighted Hula Hoop Reviews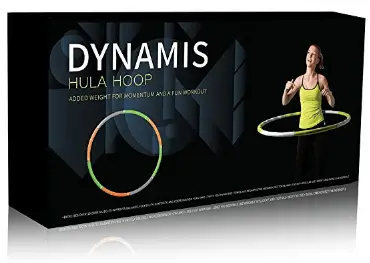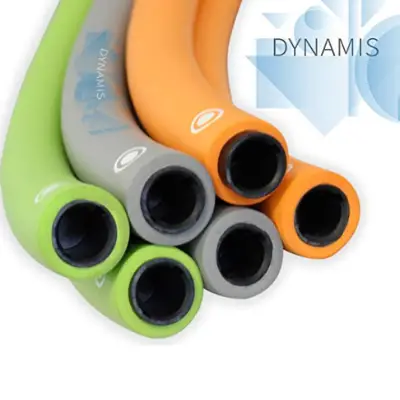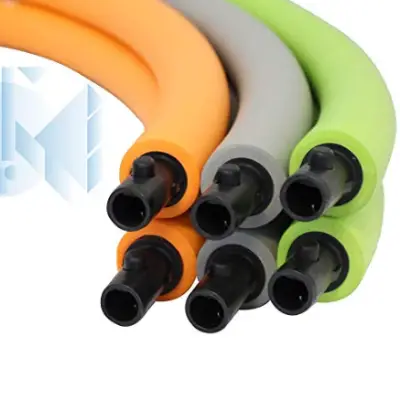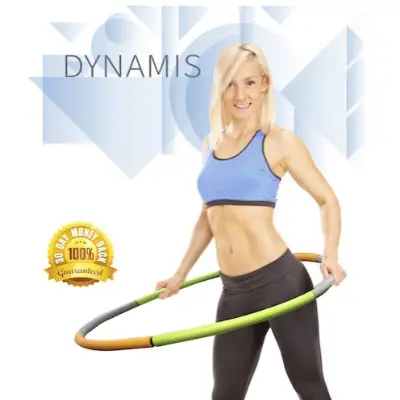 As much as we want to keep fit, it's easy to get bored along the way. Dynamis promises to help add some fun to your workout routine. It is weighted to help you attain your fitness goals. You will find yourself looking forward to using the ring, and forgetting that you are exercising. Once you purchase the best hula hoop for weight loss, you will understand why more and more people are adding them to their fitness routines.
Read more
Size
This weighs about three pounds. The company does not mention its diameter, but it is a standard adult alternative. Its weight also makes it portable, since you will be able to travel with it as you wish.
Comfort
When using this, you will realize that it has a perfect balance to it. It will not feel awkward even though you'll still be getting used to using it. The hoop's exterior has extra foam padding. This padding is one of the main reasons why the ring is so comfortable.
Compatibility
You can buy one if you want the original version. However, the company also offers a limited edition version for the same. It is a worthy purchase for users with different skill levels. Nonetheless, the fact that it's slightly over three pounds makes it a better choice for more experienced or older users.
Features
This best weighted hula hoop for exercise has six detachable sections. Assembling it will not frustrate you; the process is simple and will take you a few minutes. It will also last you for quite some time. Its plastic core is durable and of the highest quality.
Overall
You can also use it to tone your biceps, triceps, shoulders, and thighs among other parts of the body. It won't just work on your core, but on other areas as well.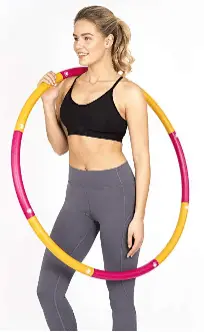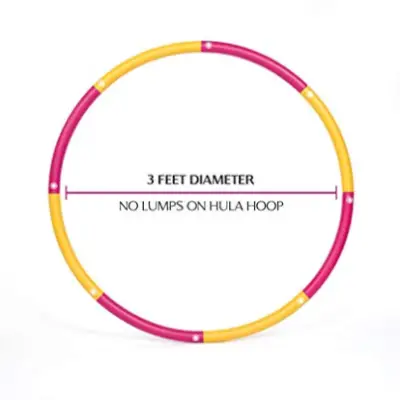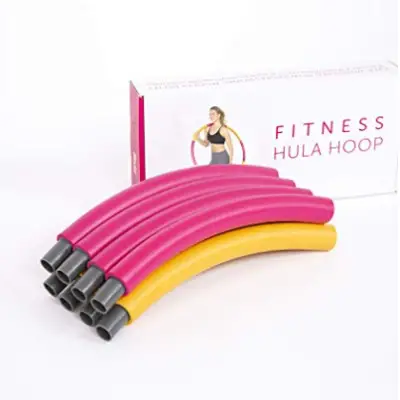 Healthy Model Life believes in mixing things up in an effective way. The company offers an alternative that will get you hooked and is easy to use. You can effortlessly multitask as you work out. With such convenience, you can catch your favorite show, or listen to your favorite tunes, while you work out. Not only will you be healthier, but you will also be a happier individual.
Read more
Size
It has a 36-inch diameter and weighs about two pounds. As such, most people find it easy to handle. Burning up to 400 calories, will not be an issue with this work out option.
Comfort
What makes it comfortable is the fact that it has a smooth design. The hoop does not have any bumps or modifications. You will also love the padding since it's of better quality than most of the products in the market.
Compatibility
It's an excellent fit for anyone who wants to add a work out tool to their yoga routines. At two pounds, the hoop is also beginner-friendly. It offers enough resistance without burdening you with its weight.
Features
The assembly instructions are easy to follow. The parts have a grey button that you need to press to align the next piece. Once you hear the pieces snap together, you can rest assured that they are safely connected. Whenever you want to take the hoop apart, you'll need to press the white button. The sections will effortlessly come apart after you do so. Carrying this best weighted hula hoop for beginners with you will not be problematic since the parts will take up little space.
Overall
The company advises users that great posture is vital. Watching your stance will result in an effective workout. That analysis is the best way to get the most out of hula hooping. You could also check out our guide about the best pilates rings here.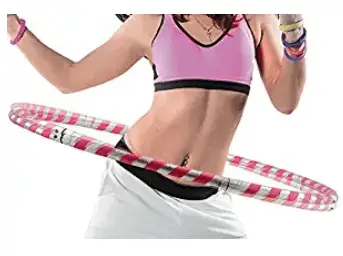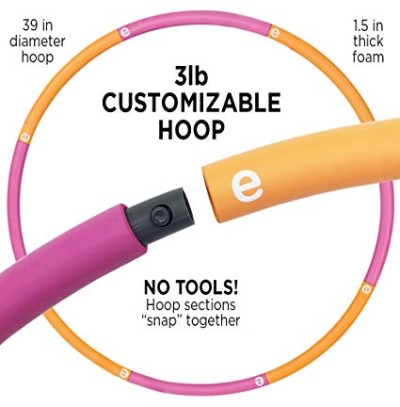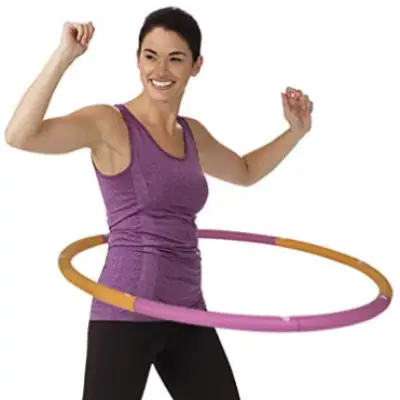 Maintaining the perfect waistline is not an easy task. Empower offers women a chance to stay fit and tone their bodies. According to the company, the design is specifically for the female body. Your purchase will get you a three in one alternative, which will help you conveniently attain your body goals.
Read more
Size
With this purchase, users get two weight options to choose from. You can select the 1pound model if you want a lightweight alternative. They also offer 3-pound options as well. Once assembled, the diameter measures about 40-inches. This size is suitable for anyone looking for a large ring.
Comfort
It's rare to find buyers complaining about experiencing discomfort. Nothing is going to get you distracted as you work out. The foam in its construction is very soft and gentle on the hands.
Compatibility
Empower offers choices for both beginners and experienced users. This particular one is light enough for people who are learning how to use them for the first time. The good news is that you can also select the heftier alternative mentioned above. Therefore, if you are an experienced user, you can opt for the three-pound option, since it will be more compatible with you.
Features
The remarkable thing about it is that you can separate its sections to get three different sizes. It initially has eight parts, which form the biggest when fixed together. Among the three, this is ultimately the most comfortable size to loop around. The downside to using it in this form is that you will burn fewer calories.
When you remove one section, it becomes somewhat medium-sized. If you are transitioning from the larger size, you are going to find this size more challenging. On the plus side, you are, without a doubt going to burn more calories with it. Once two sections are removed, the smaller becomes smaller and harder to use.
People who want to burn some serious calories typically use smaller ones. Compared to the two other sizes, you will burn about 100 times more calories per hour.
Overall
For the assembly process to be stress-free, this has snap button connectors. They are eight in number, for each of its sections. Also, it won't take you more than a few minutes to disassemble. So, if you are looking for the best exercise hula hoop, you should consider purchasing this one.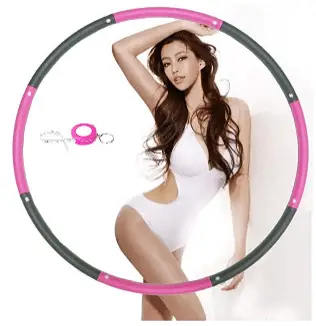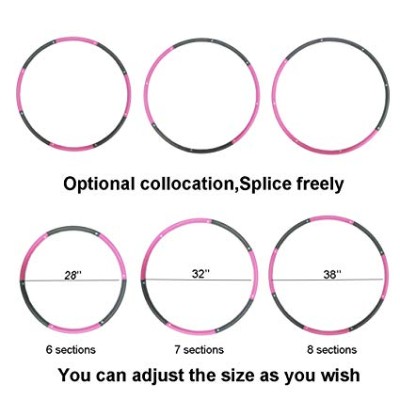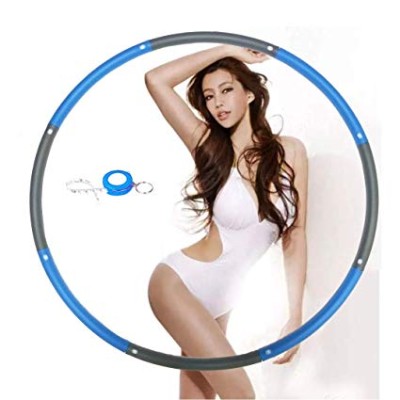 Neoweek hoops are some of the best selling in the market. What makes this purchase unique is the fact that the company offers an exercise plan to help buyers attain their goals. When buying you will also notice that they provide advice concerning user safety. As if that wasn't enough, you will also get more information on the benefits of working out with one. That should be enough to assure you that the company makes them with their clients in mind.
Read more
Size
At 2.3 pounds, this is convenient for different kinds of users to train with. It has a 38-inch diameter, so you can tell that it's big enough for smooth movements.
Comfort
According to Neoweek, theirs is comfortable enough for everyone. In fact, they claim that it is a good fit for kids and beginners alike. However, because it is weighted, you have to be careful about letting your young one train with it. The foam padding they use is denser than most. As such, it is so soft that it will not cause any injuries around the waist.
Compatibility
Here is a perfect fit for people with entry-level skills, a newbie-friendly alternative that works for anyone who has taken an interest in hooping.
Features
It's a highly versatile option that will come in handy when dealing with multiple users. The reason being, it has sections that make it possible to customize. Adults can alternate between eight and seven sections depending on the size they want. In case you want your kid to use it as well, you can connect six of its parts to create a smaller sized one.
Overall
If you started using them from way back, you would have noticed that this is more appealing when compared to traditional ones. It's more fashionable and personalized as well. It would make an excellent gift for anyone who wishes to incorporate hoops into their fitness routines. This product will be an excellent addition to your home gym equipment.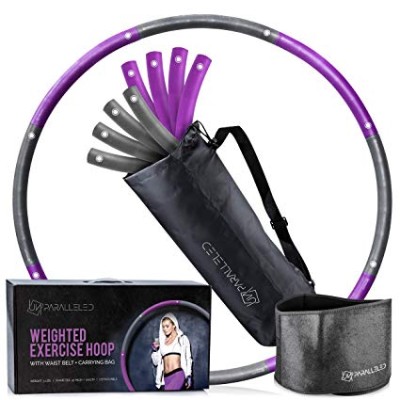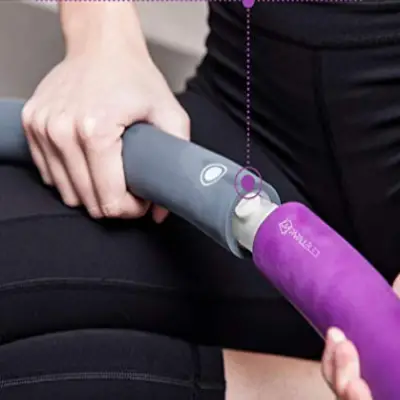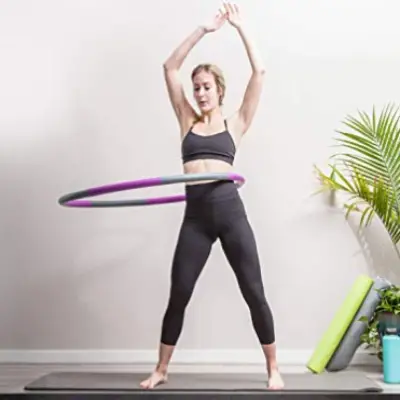 The name of this product is a good way to describe it. It is an impressive addition to our list. It has a diameter of 40-inches and weighs three pounds. If you are serious about getting into shape, this is a great sidekick to help you obtain those goals. Also included with this product is a waist belt and carrying bag.
Read more
Size
The diameter is about average, at 40-inches. The weight is quite heavy and, unfortunately, the only option. It weighs three pounds. There is no doubt that this ring will give you an intense workout.
Comfort
As you may have noticed, bruising is not an uncommon occurrence with these types of products. The unparalleled version is no different, but the company does take the extra step to include a waist belt that helps to protect your waist and hips while your body acclimates to this new form of exercise. The inside of the product is made from strong non-recycled plastic and the exterior has a thick foam padding.
Compatibility
As we mentioned before, the diameter of this product is not adjustable. The manufacturer claims that this is a hoop for everyone, however, it may be too heavy for beginners.
Features
For most reviewers, putting the ring together was a breeze. Others claim that it takes some muscle to ensure that the pieces audibly click together. The push-button design is quite strong and, when assembled properly, ensures that the product will not come apart without intent. When you are ready to dismantle the ring, a convenient carrying case is included.
Another perk of this option is the color selection. You can choose from purple and gray, pink and gray, or black and gray. Whether you see this as good or a bad thing, the product is also scented. General consensus tells us that it is a lavender scent, however, "spray paint" has also been a guess.
Overall
Something that we are always happy to see offered with these products is a 100% satisfaction guarantee, and this product offers just that. Many reviewers have been impressed by the customer service of Unparalleled. This has proven its durability and effectiveness, but it may be too heavy for some.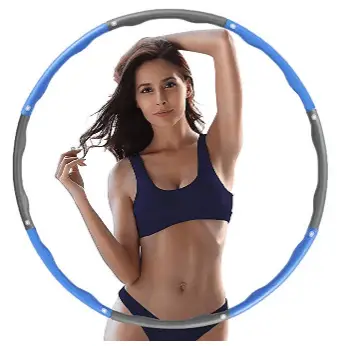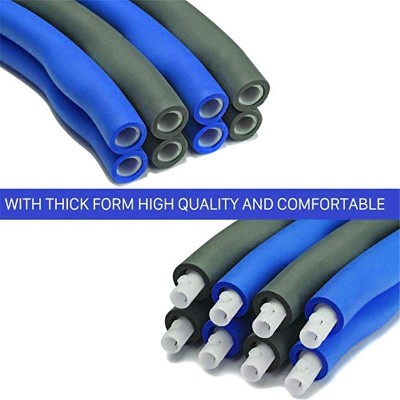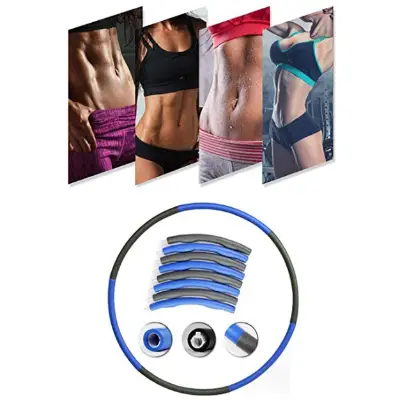 Brave Tarzan is available in four different colors. You can get one in yellow, red, green, and blue. Compared to other brands, Brave rings are much more advanced. Their structure is modernized, and the company gives priority to ergonomics. What makes their brands stand out the most is their impeccable construction and durability.
Read more
Size
The total weight is two pounds. However, it does not have a specific magnitude. The company describes it as a universal size alternative that can fit everyone. It has sections that can be connected and adjusted as per each user's needs.
Comfort
This offers users a perfect fit. Its construction is ergonomic, and as you train, it will increase your efficiency. It has excellent internal padding that will ensure it does not slip while you're hula hooping. Because of this, you will manage to exercise more without harming yourself. It is safe to say that this will be massaging your waist as you work out.
Compatibility
The fact that it is customizable makes it compatible with everyone. It's the perfect one to get on a budget when there's more than one user involved. You will end up saving on additional costs by buying one high-quality product.
Features
Most deteriorate when they are left out in the sun for some time. Brave Tarzan uses materials that are resistant to UV radiation. That makes their rings some of the most durable in the market. If you purchase one, you won't have to worry about any damage from the sun. Even their hoops consist of hard PE; they are still eco-friendly.
What's even more impressive is the fact that they are also weather resistance. The company boasts that people can use them regardless of the weather conditions.
Overall
If you have been searching for a long-lasting alternative, then you have finally found the perfect fit. Not only will it serve you for a while, but it is also highly effective as well. You should also check our guide about pilates bars here, as these products will go great together for your exercises.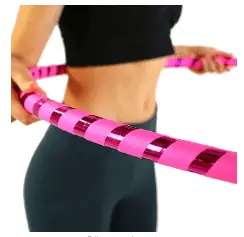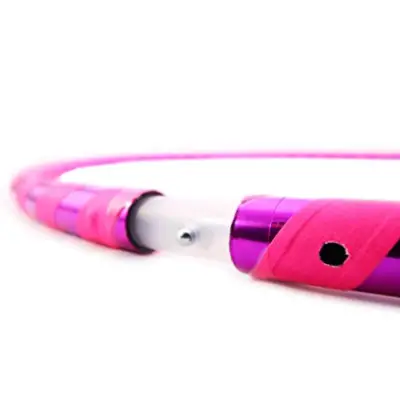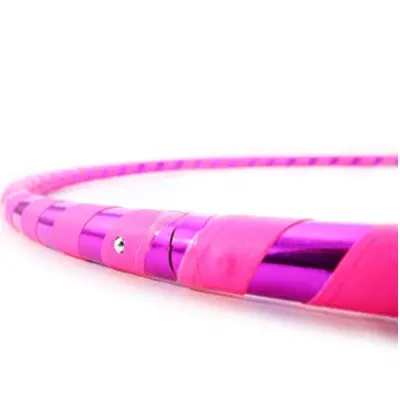 The Spinsterz is a hoop crafting company that has been in business for over ten years. They are dedicated and passionate about offering the best products to their customers. It's not surprising that all their reviews are outstanding, seeing as they are one of the top brands in the industry. They know what works and what doesn't, and that's why the brand's products are always popular.
Read more
Size
The company has several size varieties to choose from. You can get a 36-inch, 38-inch, 40-inch, and 42-inch diameter. The company has a guide that buyers can use to select their appropriate size. The chart compares one's weight and height to determine their hop fit. As such, users get results because the hoops they buy are precisely for their body types.
Comfort
They are handmade by people who enjoy using them as well. It's not surprising that they portray premium artisan-ship. They are incredibly comfortable because of the care and attention to detail put into their construction.
Compatibility
These are for people of all gender and age. You can confirm this since the size chart is for both men and women. The company also has a variety for all skill levels.
Features
If you have purchased one before, you will notice that setting up this one up is an entirely different process. You will first need to cut the box open. Make sure you remove the plastic and tape. Since the band is under high tension at this point, it is best to pull it apart away from your face.
After doing so, you need to wait for at least twelve hours. During this time, it will open up naturally to give you an easy time when connecting it. After the twelve hours, connect the tubing end to the white connector. Make sure it is secure by pushing down the button. The two parts should slide in and click.
Overall
You don't stand to lose anything by trusting the brand. The company is well known for its top-notch hoops and excellent quality.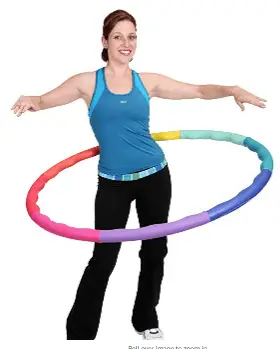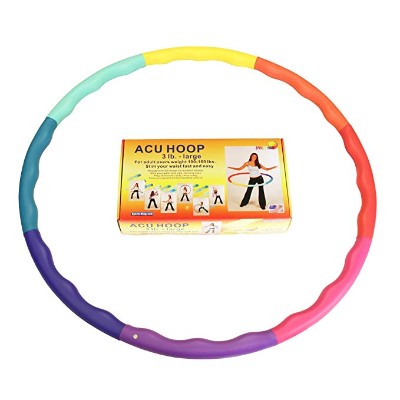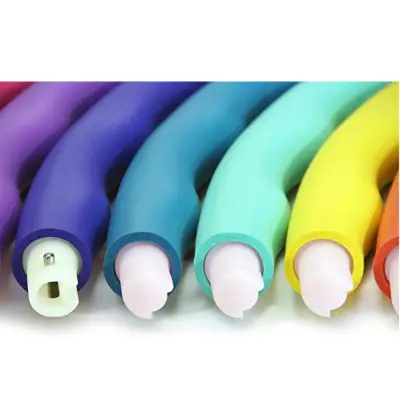 Sports Hoop products have GS certification. What this means is that the hoops have gone through testing for safety. The Acu is one of the best performing series of bands from this brand because they provide results. When you buy this, you'll be getting yourself a product that has also surpassed international quality standards.
Read more
Size
These are quite heavy since it weighs about 4pounds. It also has a 40-inch diameter, making it a medium-size option.
Comfort
This has a different design that consists of wavy ridges in its interior. It takes some people a couple of training sessions before they can get used to the seams. Once you do, you will barely even notice they are there.
Compatibility
You will only be able to use this if you weigh between 100 to 140 pounds. Users who do not fall in the mentioned category can still find compatible bands from other brands. This particular option is also too heavy for the average user. You need to have advanced skills to handle all this weight.
Features
The company has a patent on the wavy ridges design. These ridges are useful when it comes to core muscle stimulation. The force they provide is concentrated and provides intense stimulation. Toning hip muscles, back, and stomach will be more comfortable than ever.
Overall
The company also provides a chart to help users make the right informed decisions. This is perfect for weight intensive exercises.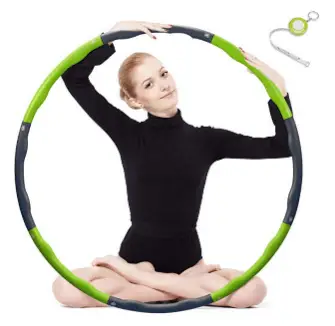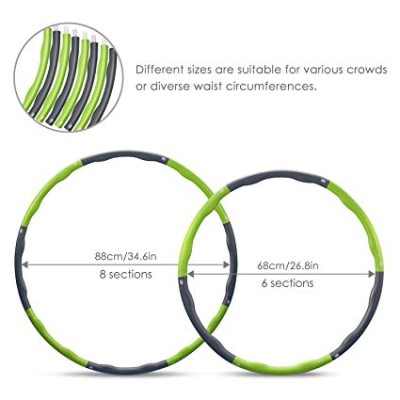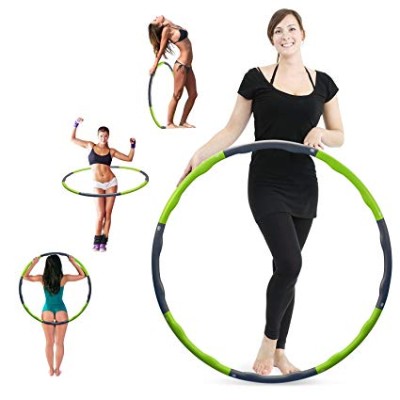 You will find this product appropriate for different applications. If you want better heart health, to lose weight, or to have some fun, Kuyou will meet your needs. Furthermore, it is budget-friendly, and you can get one for everybody close to you.
Read more
Size
At two lbs., and a diameter of 34.6 inches, light and easy to operate. Like many of the brands on this list, it has eight sections. You can reduce the number to six sections hinged for it to be suitable for a smaller person or you intend to have an intensified workout session. Its smallest diameter is approximately 26.8 inches.
Comfort
It supper foam cushioning guarantees that your abdomen won't get hurt or feel like its overbearing to use. It has a design that expertly and gently massages your waist. The pressure resembles that of an actual shiatsu massage. There is no doubt that you will feel fantastic later on. Users do not experience excessive pain, like with other types.
Compatibility
Everyone, be it an adult or kid, will find this product worthwhile. You can link either six, seven, or eight of segments together to get a much more custom fit. Everyone will yearn for a turn, once they see how much fun you're experiencing. Additionally, the well-contrasting color options have a subtle mesmerizing effect.
Features
It has an easy assembly design. To connect it, press on a button intuitively placed below the foam. Insert and jam the small part of the pipe into the more prominent end and release the hook. Taking it apart is just as easy, by pressing on the button, pulling it apart, thus disjointing it. The manufacturer also adds a free ruler, so that you can track your waist-toning journey.
Overall
This is available in blue, green, or rose colors. Because of its price, you can comfortably purchase more than one. Besides, if you feel it does not meet your needs, you can return it and get a refund.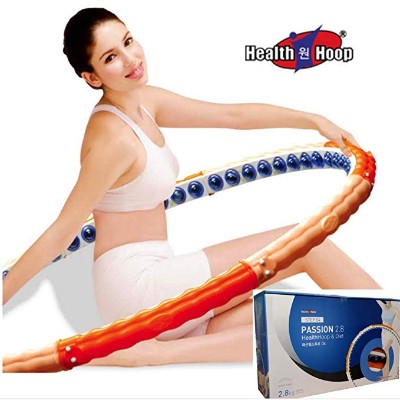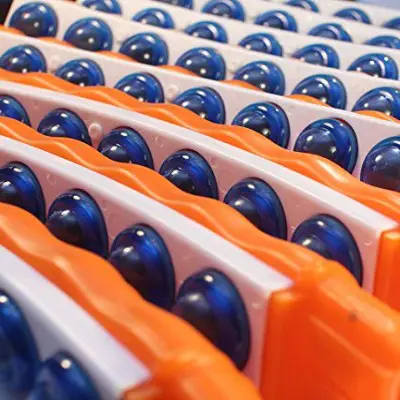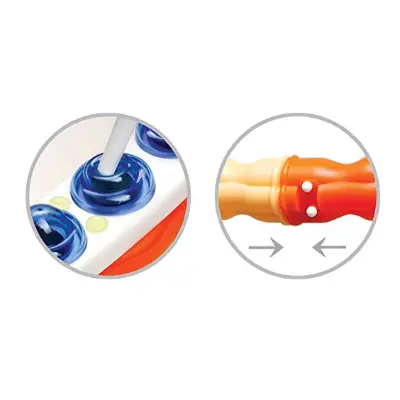 Just by looking at the Health Hoop, it may remind you of the arms of an octopus. The blue "suckers" that you see here are actually air pods with magnets inside. You'll be surprised to read about the benefits of magnets when exercising. This is a very heavy option and is only recommended for advanced users.
Read more
Size
Let's go ahead and get this out of the way- this is a very heavy one. It weighs 6.17-pounds. This is only intended to be used by expert level hoopers. The diameter, which is not adjustable, measures 42.5-inches.
Comfort
Many users have experienced severe bruising when starting out with this product. This product should not be over-used and you should ease yourself into it. To combat discomfort, there are 64 air cushions on the interior. This feature makes the body contact more bearable.
Compatibility
Health Hoop has a system of hoops available. This is the fourth level, out of four. As you read before, this product weighs 6.17-pounds and is intended for expert levels. This is absolutely not an option for beginners.
Features
This ring separates into eight sections. To put the ring together, you simply click the pieces into place. One of the most interesting features of this product, besides the air cushions, is what lies inside the air cushioning pods. Magnets. Magnets are said to increase the blood circulation in the area of the body that they touch. With increased blood circulation, your muscles will heal faster, meaning less pain and faster results.
Overall
If you are looking for a more Eastern approach to hooping, this is a great choice. The magnets inside the air-cushioned pods help to increase blood flow and heal your muscles faster. In case you didn't catch our warning the first few times, this is a heavy ring that is only intended for advanced users!

Subscribe to our Newsletter