Best Pilates Rings
In a
Hurry? Editors choice: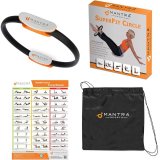 Test Winner: Mantra Sports

If you have any interest at all in Pilates then you should definitely look into a pilates ring. Without question, it is one of the most popular pieces of home gym equipment to use in the world of Pilates and is often referred to as a pilates magic circle. In addition to other benefits, using a pilates ring can
enhance your balance
, endurance, and
muscle strength
. But, while buying one is not really too cumbersome of a task, there are still key design features that you need to assess. Doing so will ensure you invest in a model that you are satisfied with as that is the true name of the game. But, before looking in-depth at all the features you need to analyze, take a gander at some of the best pilates rings that are available on the market today.
Standout Picks
Criteria Used for Evaluation
Materials
The materials come into play not just for longevity but also for resistance.
There really is not an extensive list of features to look out for when it comes to buying a the best pilates ring. But, without question, one of the most important ones is the actual materials that are used for construction. And, this all starts with the main material. Now, from model to model, this can be a different material. For example, some will be made of metal, others of rubber, and some with either plastic or fiberglass. Each material has its own properties and will provide differing levels of stiffness and performance. Then again, the designer can also add more or less resistance to make the workout more strenuous or easier.
But, which material is best? Well, flexible metal and fiberglass are really good and can provide a suitable amount of resistance for those looking for a muscular challenge. As for rubber, these models tend to be on the softer side and may not provide the level of stiffness that some of you desire. It really comes down to your skill level and what you feel comfortable doing, though. Everyone's body is different so simply invest in the model that you think will be suitable for your body's needs.
Comfort
This is huge. If the ring digs into your skin and does not have suitable padding, it will be unbearable.
This right here can make or break your purchase and make or break your entire experience with a pilates magic circle. Yes, finding the right resistance level is critically important but what good is it if the circle itself digs into your skin and is painfully uncomfortable? The answer is pretty much worthless as no one should endure a painful exercise (as that defeats the purpose of working out). Here is the good news; it is not too hard to find a model that offers optimal comfortability.
The reason that statement can be made is that you really just need to look for pads on the inside and the outside. Most models will be equipped with EVA foam pads that will be engineered on the inside and the outside. With the foam in the interior of the magic circle, it allows you to comfortability perform other exercises. As for EVA foam, this is one of the best materials to look for as it offers incredible benefits such as impact absorption, thermal insulation properties, and supreme comfort.
Portability
While most models will naturally be portable, you can still look out for a carrying bag for convenience.
Most of the time, they measure 14 inches and are not cumbersome by any means. They also tend to lay flat and will also not weigh much at all. So, you now may be asking yourself, what is the point of making this a main buying consideration if all models are portable, in the first place.
You know, that is a fair assessment and don't you worry a bit, there is a reason. This reason is solely to look for a carrying gym backpack. Now, this may not be an accessory that will end up defining your purchase. Yet, you may not own a personalized carrying bag and may not want to buy one separately. So, consider it a packaged deal when a seller includes their high-quality carrying pouch with their magic circle. Traveling with it in this manner will also ensure that it does not accidentally get damaged.
Accessories
There are a few key accessories to look out for when you are buying a magic circle.
Ah, speaking of accessories, let's talk about a few more, shall we? It is important to note that this section could have been renamed "included guides and instructions", to be honest. Because, if you are new at Pilates and really do not know what you are doing, an included guide can be really nice. Or, and one seller on this list provides this gym accessory, even a poster that provides illustrations of various exercises that you can perform using only a pilates ring.
Heck, it could even be a small guide that simply details some important workouts to perform. However, some sellers may just provide you with access to their online instructional content. Then again, some will literally provide you with their ring and nothing else (which can be a letdown). But, you can always access online tutorial videos yourself, which is a nice backup. Also, and there will be a few manufacturers who do this, you may even see additional resistance bands (which is another workout tool that can be used in the aid of physical therapy) included with your purchase.
Color
No, this is not everything but in the grand scheme of things, it can still play a role.
Alright, let's let the cat out of the bag, shall we? This is not a critically important design characteristic when it comes to Pilates rings. It should never be a priority in the buying process as the performance of a magic circle is infinitely more critical. But, there is a reason why some sellers will design their model in a plethora of different colors. Have you ever heard the slogan that sex sells?
Well, so does variety and it is amazing how easy it is to attach to something when you like the color. For example, you could have two identical 2017 Ford F-150s parked right next to one another. Let's say one of them is sky blue and the other is crimson red. Depending on which color you prefer, your thoughts will be skewed on which one you desire. The same process can be linked to magic circles when you think about it.
OUR TOP PICKS FOR THE BEST PILATES RINGS
Subscribe to our Newsletter