Best Balance Boards
In a Hurry? Editors choice: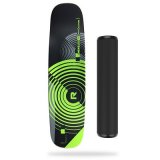 Test Winner: Revolution Core 32

In the society that we live in today where there are temptations around every corner, it seems like everyone is either thinking about or actually performing a weight loss method. Balance boards give many benefits for
runners
and athletes and these benefits are achieved through an approach which compels you to develop fast movements combined with stable
balance
. This is achieved through a clever design combining an unstably rounded lower section below an upper flat surface. This means you consistently work at developing your physical ability and psychological confidence for equilibrium repair, which is your bodies
center
for balance.
Standout Picks
Criteria Used for Evaluation
Top 10 Picks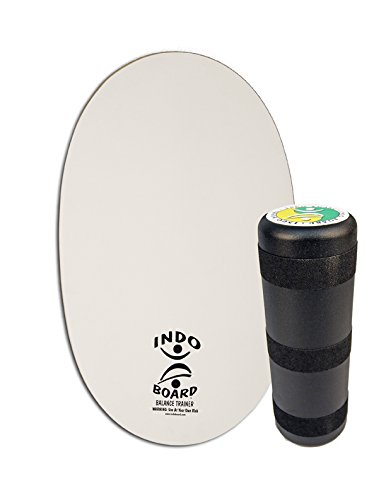 It almost seems to be a general consensus among the "balance board committee" that the Indo Board is the best there is. It is not a coincidence that many feel this way, as the quality and the design speak for themselves.
Read more
Stability
Besides the deck itself, this board comes with a roller that adds to the overall design. This bad boy is going to help improve your posture, stability, balance and even strengthen your core.
To ensure that you will not slip off the board, this does not account for literally falling off, the plywood that this was constructed from has coated with a non-slip surface.
Materials
The designers that are responsible for crafting Indo Boards do so with only the finest materials they can get their hands on. This ensures that you can get years of intense use from the Baltic Birch plywood and molded plastic.
Adjustability
Because the design is 100 percent ergonomic, you are able to optimize your workout to better fit your needs; which offers a high range of flexibility.
Size
The diameter of the deck measures approximately 30-inches while the roller clocks in at 6.5-inches in diameter. This will adapt to a wide range of heights and weights.
Overall
With every sense of the word, this is truly magnificent. What is not to like? It has been crafted to withstand years of abuse, can adapt to many sizes, and works terrifically as a method of improving your balance and core strength.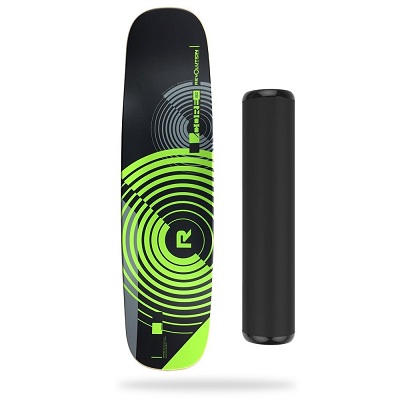 Between the Revolution 32 Balance Board and the Indo Board, you have a tough decision ahead of you. With the same rating, the superior board between these two could be decided with a simple flip of a coin. That is, truly, how amazing they both are.
Read more
Stability
No doubt, this was designed for junkies who are looking to have complete freedom within a board. While it will accomplish what most will, this is also ideal for pulling off skateboarding tricks such as kickflips and ollies.
The urethane grip tape that is applied to the surface of this board, which allows it to be non-slip, is designed in a way so there are gaps left on each side of the board. Revolution likes to dub this the sweet spot on the board.
Materials
This is a board that is designed to withstand abuse, that is just the nature of its construction. The roller that comes with it is crafted from high-strength material and the board itself is built like a tank.
Adjustability
Thanks to the fact that there are no tracks or grooves, there is a ton of freedom here. As Revolution points out in their description, the only thing that is going to hinder you is the lengths of your imagination.
Size
The roller is around 4.5-inches in height and the board itself is around 32-inches in diameter, which is actually larger than the Indo Board.
Overall
Do you see what we mean, it really is a toss-up? To be honest, you can't go wrong with either one and the greatest benefit to this version is the appeal it provides for skateboarders and snowboarders looking for enhanced balance.

3

. Revolution 101 Balance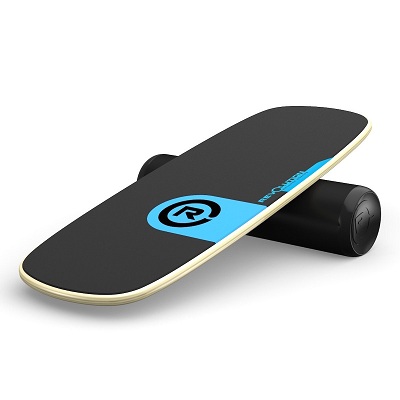 Revolution Balance Boards, simply put, understand how to design and craft a high-quality balance board. Their second straight appearance on this list should prove that and it is further enhanced when you see what their 101 Board is all about.
Read more
Stability
This roller board is ideal to improve anything that you can imagine. It can help maintain balance on a skateboard or snowboard, strengthen your core muscle groups, and even add stability for you.
Speaking of stability, the top of the deck is gripped with a Soft-Trak. Not only will this provide great traction, but it also happens to be one of the more comfortable grips out there.
Materials
Revolution claims their hardwood construction is bombproof. While this may be a bit over the top, the construction and high-quality finish will make it durable enough for indoor or outdoor use.
Adjustability
There is a feature that stops the roller from rolling too far away from you. However, if you are seeking more of a challenge, you can remove this feature.
Size
This board has a diverse size, with a 30-inch diameter and 4.5-inch roller diameter, in that your entire family will be able to enjoy its luxuries.
Overall
At times, this is too good to be true. While the edges of the board could have been more durable, even though it is not as if it will break within a few uses, the overall makeup and design make it ideal for everyone.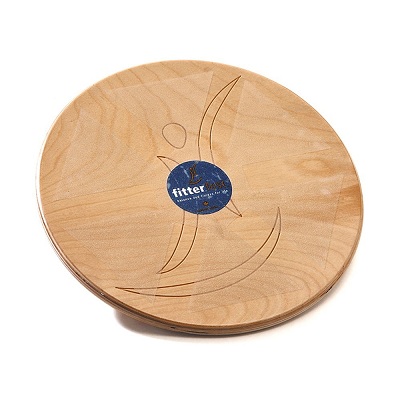 There is a tiny caveat that could deter some people here, the fact that the adhesive to provide traction is not suitable for bare feet, but you are in the all clear; granted, you enjoy using a balance board with your shoes on.
Read more
Stability
As opposed to the previous three balance boards, this is a wobble board. Being a circular design, this allows for a dynamic amount of movement and a different take on balance boarding.
There is an adhesive that is on the surface of the board. While it provides enough traction if you are wearing shoes, if you decide to go barefoot you may accidentally slip off the surface.
Materials
Wood is always a great choice for durability, depending on the type that is utilized. Thankfully, this board is designed with ¾-inch birch plywood.
Adjustability
Wobble boards are terrific for adjustability because the tri-level sphere allows you to achieve steeper angles if you wish; thus, increasing the difficulty of the experience. Plus, you can spin the device and lock it in three separate levels of height.
Size
The 16-inches of diameter should be suitable for most and is quite a common number when it comes to wobble boards.
Overall
For a wobble board, this stands at the top of the heap. One could state that the adhesive issue should have more of an effect on the overall rating. However, simply wearing shoes will fix the problem that is present.

5

. Isokinetics Adjustable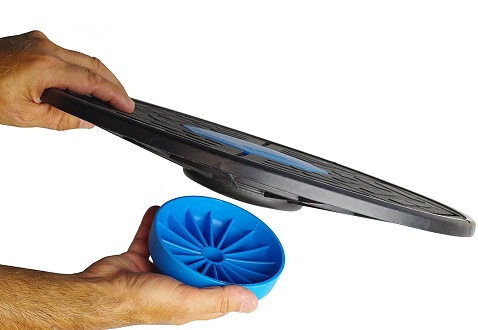 Users who grow tired of balance boards that do not offer adjustability will certainly not be disappointed with what Isokinetics has designed. With two different angles of difficulty, you will have double the trouble mastering this.
Read more
Stability
Besides being a wobble board, meaning it provides you with the ability to enhance your balance and core strength, it also includes holes in the design that allow it to be used with exercise tubing.
From the pictures of this board, you can immediately identify that the surface has been textured like a floor mat. This texturization provides you with a secure grip and enough traction to avoid slipping.
Materials
The main component that was utilized for this balance board is polyethylene. Being a very durable form of the material, this is aimed for a lifetime of use.
Adjustability
It is up to you how difficult you want to make the experience. The trick is the sphere that attaches to the bottom. If attached, you are left with a 15-degree angle but if you choose to detach it, the angle lowers to 10-degrees.
Size
While some people have griped that the base is not wide enough for them, the 16.5-inches of diameter is about what you can expect with wobble boards.
Overall
Despite its low ranking here, which is really a product of the competition, this is worth an investment if you treasure a wobble balance board that is built-to-last and that features adjustability.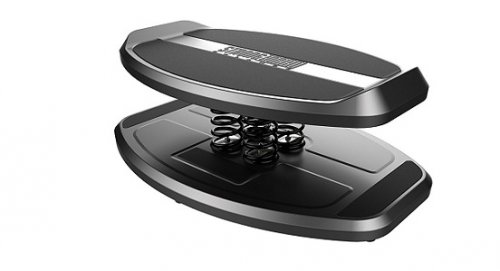 As compared to all the other boards on this list, the StrongBoard Balance Board is completely unique. Instead of orchestrating a traditional design, springs have been integrated below the deck to add an amazing dynamic of spring technology.
Read more
Stability
With springs that are added underneath the deck and above the ground, that are both dynamic and reactive, there is an entirely different level of skill required here. Simply standing on the board requires effort from your total core.
Because the surface of this board mimics the real-life movements of your feet and is rubberized for grip, you are guaranteed a safer experience.
Materials
Besides the implementation of springs, which you are already aware of, the entire board is constructed from state-of-the-art materials. In fact, this is a military-grade balance board that was manufactured in the United States.
Adjustability
While there are no components to necessarily physically adjust, the design is able to adapt for adjustability. It is ideal for use with one foot or two, planking on with one hand or two, or even v-sit exercises.
Size
This bad boy is a beast, that is for sure. The 25-inch diameter will be ideal for most people, but it can be a nuisance if you want to transport it with a weight of nearly 15 pounds (which is much heavier than most).
Overall
StrongBoard offers a new take for balance board gurus and they do so successfully. The springs add an entirely new dynamic that you must adjust and adapt to, making it worth it alone.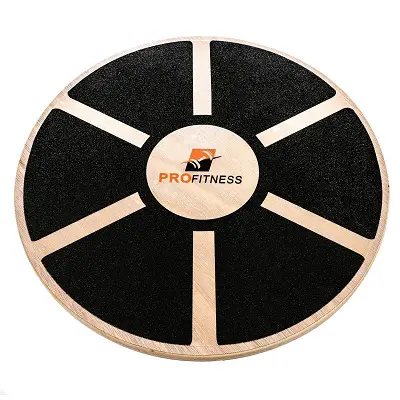 Being a wobble board, meaning it possesses a circular design, the ProFitness Balance Board will work differently than some of the other rocker and roller boards on this list. What is unique about this type is they only have one point that is making contact with the surface below.
Read more
Stability
This is a traditional wobble board, so you pretty much know what you are getting with this balance board. Its design helps you improve your core strength and flexibility.
Hardwood itself can be very slippery, especially to stand on. Thankfully, the surface has been designed with a non-slip top ensuring you will not randomly slip and injure yourself.
Materials
ProFitness did a fine job with their wooden construction. It is irrelevant whether women, men, or small children step up on this board, as it will hold up to 330 pounds of mass.
Adjustability
The sphere that is located at the bottom of this board is not adjustable. Instead, the curved bottom is simply attached to the board allowing it to "wobble" in all directions.
Size
As far as wobble boards go, this is the average size that you can expect. With a diameter of 16-inches, it should account for most people's bases. Plus, it is extremely lightweight making it ideal for easy transport.
Overall
Nothing but stellar quality is present here. Ideally, the designers would have crafted a surface that was a little more comfortable, but this wobble board will still accomplish all the goals that you set out for with it

8

. JFit Round Fixed Board



What is truly great about this balance board is you can optimally control the difficulty. Due to the titled angle, you can practice with the degree of difficulty that you prefer. Plus, as a whole, the construction and quality are superb.
Read more
Stability
Thanks to its design, being of a circular design with one fixed axis point, you can continue to improve your balance by messing around with the titled angle.
On the surface of the wood, the designers integrated a landing pad. This pad covers the entire surface and delivers you with a more secure grip than without it.
Construction
When it is claimed that this is designed with wood and nothing but wood, that is not an exaggeration in the slightest. Thankfully, this means that Jfit's board can withstand upwards if 400 pounds.
Adjustability
As opposed to the previous wobble board, this features a fixed angle of 14-degrees.
Size
It seems to be "the norm" with wobble boards when it comes to the diameter. At 16-inches, this should suffice for people short and tall.
Overall
In terms of pure workmanship, this is constructed wonderfully and should hold up for years on end. The lack of adjustability can be frustrating for those looking for an extreme challenge, but should not phase novice users.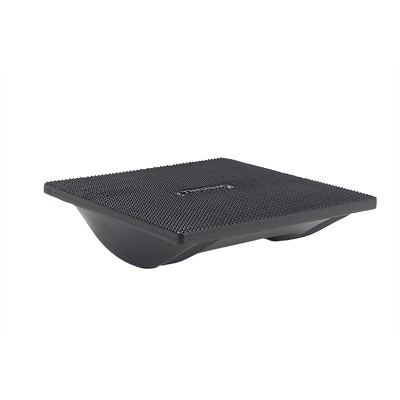 While the 14-inch diameter of this deck is certainly not the largest you can find, and could potentially prove to be too small for some, the TheraBand Rocker Board remains a competent model thanks to its heavy-duty construction and non-slip surface.
Read more
Stability
This is a rocker board, meaning it provides you with a linear plane for balance. With its 30-degree angle of deflection, this adapts to workout regimens extremely well.
The surface of the board is uniquely designed with a special tactile and this provides an anti-skid surface for your feet when you are training.
Materials
With a perfect combination of durability and lightweight nature, the black-molded plastic was a perfect choice for the material of this rocker board from TheraBand.
Adjustability
While it is not necessarily a bad aspect, for some people, there is only one controlled plane of instability. Unfortunately, when you master this arc you may then feel this is not suitable anymore.
Size
This is a bit smaller than some of you may like. With a diameter of around 14-inches, this is certainly not ideal for larger feet or those with a wider base.
Overall
Certainly, this is not the best balance board out there. Its lack of adjustability and size can be frustrating at times, but you still must give credit where credit is due (in terms of strength and stability).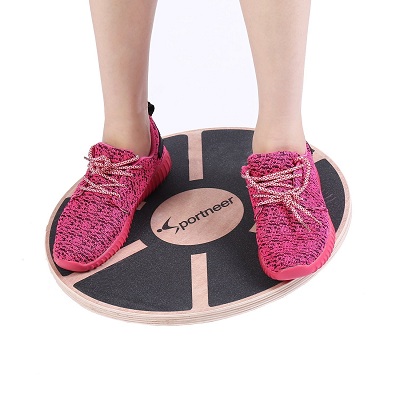 "Amazon's Choice" is not always spot-on accurate. In this instance, with the Sportneer Wobble Board, they fairly assess the competition and while it is not the best, it is certainly worthy of its own recognition.
Read more
Stability
The wobble platform is very popular and for good reason. As with others, this model will assist in strengthening a majority of your muscles and ligaments and is a great remedy for those rehabbing from a serious injury.
Opting against placing a non-skid surface that would cover the entire deck, Sportneer designed their surface to have gaps where the wood is still exposed (which should not affect grip too much).
Materials
This should hold up well to abuse and intense uses, thanks to the high-quality and durable wood construction that was implemented.
Adjustability
Given that this is a wobble board, you do have 360-degrees of rotation to mess around with. In terms of adjustability, the inclination angle can range from 10-20 degrees
Size
Sporting the typical weight and diameter of a wobble board (1.7 pounds and 16-inches, respectively), there is not too much that you can gripe about here.
Overall
It seems that the only design factor that Sportneer ignored was when their board would be used on hardwood flooring. Honestly, you should aim to avoid this at all costs. If you simply utilize it on carpet or anything that provides a grip, you should not encounter any issues.

Subscribe to our Newsletter