Best Balance Bikes
In a
Hurry? Editors choice: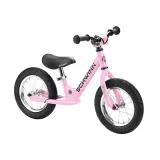 Test Winner: Schwinn

Young
kids
nowadays have different options for their source of entertainment. For one, there's a wide variety of video
games
and mobile applications to spend their idle time. On the other hand, there are other ways for them to enjoy their childhood by engaging in
outdoor
activities. One of these is by trying out balance bikes. These bikes are different from the usual
bikes
we know. Unlike the latter, the former has no pedals, has smaller wheels, and specially made for small children. These mini-bikes are usually intended for kids aged at least 18 months up to toddler age. These are perfect for kids who are still getting used to using pedal bikes and provide training before shifting to the latter.
Standout Picks
Criteria Used for Evaluation
Materials
Just as best ones have different wheels and tire types, they also vary in frame material. Common frame materials include wood, steel, and aluminum. Wooden-framed ones can be considered as classic, just like other wooden toys in general. However, it is also a heavy material especially when you carry it around although it does provide better ground footing due to its weight. More so, it should be given some extra care in terms of weather exposure and usage.
Meanwhile, a balance bicycle with aluminum frame is a more lightweight material than wood. Such frame material is excellent for young kids who are just starting out with balance bicycle. On the contrary, it may not be recommended for kids on the hefty side as they may find aluminum too light, it may not support their weight properly. Lastly, a balance cycle with steel frame is considered the cheapest material around, and it's durable too – at least according to many users. Steel material is also heavier but durable, as already mentioned. Young children may tend to be reckless with their things, which make steel frame materials ideal for them. It can withstand years of children's use and abuse.
Features
Some other may have other features that stand out from the other bikes. Likewise, it is also important to consider your budget when buying a balanced bike. Of course, the more feature-loaded and high-quality the bike is, the more you'll expect it to be expensive. Nonetheless, think of buying one as an investment. Most parents would buy one to be passed on to their next children after their older siblings have already outgrown it. Aside from features, one should also consider the child's overall safety when he or she is riding it. Meanwhile, tire types also vary among bikes. There are foam tires, and there are also pneumatic tires. The former is more lightweight, which can be ideal for young kids. It is also puncture and flat-resistant which can help you spare from changing tires all the time.
Size
As mentioned earlier, the best bike should have your child seated on the bike saddle with their feet flat on the ground and their knees slightly bent. These traits provide extra stability, power, and confidence to a child to control their own bikes. The seat height may also depend on your child's height, which is why it is also important to choose one that can be adjusted accordingly in the long run.
On the other hand, it is also important to choose a bike that is easy for your child to get on and off of. Hence, the right standover height of a bike should be an important consideration when choosing one. Apart from the ease of getting on and off, it lessens or minimizes the impact of pain in case they fall forward due to hitting the bike's top tube.
Durability
These bikes also have a wide variety of designs you can choose from. As we all know, kids are drawn to attractive designs and aesthetic appeal which can influence their choices and frequency of use of certain toys and other sources of entertainment. That is why manufacturers have specially developed them to cater to young children.
Aside from aesthetical appeal, a good one should also provide overall safety and optimum function incorporated in its design. After all, its nice-looking exterior will be useless if it's not generally safe to use by young kids. Hence, attractive exteriors, safety features, and overall easy handling should compose a thoughtfully-designed product.
Subscribe to our Newsletter