Best Outdoor Rugs
In a Hurry? Editors choice: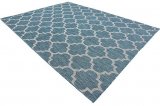 Test Winner: Unique Loom Geometric Teal

Embracing the
outdoor
space has become the extension of the living room thus it's only notable to invest in quality furniture, accessories, and yes, a quality outdoor product. One of the best ways to add a dash of color and elegance to any outdoor scenario is by using a beautiful outdoor mat. It beautifully weaves together its surroundings, furniture, and
comfort
. This accessory brings the indoor style to your outdoor space with its myriad designs and quality that endures for months and years to come. Outdoor mats should be able to withstand constant foot traffic and natural wear and tear. Some mats come with advanced fabrications fit for long-lasting use without compromising design. Shopping for the best mat is not more on just the colors but functionality as well.
Standout Picks
Criteria Used for Evaluation
Top 10 Picks
1

. Fab Habitat Copenhagen Gray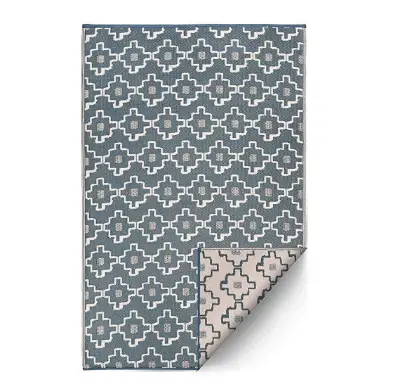 This design is eco-friendly and intricately designed by adult hands. Add a touch of color to your interior with one of its 8 beautiful designs.
Read more
Materials
It is made of polypropylene fabric. It has mold, mildew, and UV resistant features suitable for places with frequent foot traffic and direct sunlight. This multi-functional product is ideal for indoor and outdoor use. The fabric is resilient but won't scratch or damage your deck or patio. This item is stain-resistant and does well against wine, sauce, and coffee spills.
Ease of Use
It can be cleaned once a week at the most. Using hosed water and mild soap can easily clean debris. This should be air dried on both sides to keep moisture from being trapped in the bottom.
Sizing
This comes in five sizes: 3X5, 4X6, 5X8, 6X9, and 8X10. All of theses measured by feet.
Style
You can choose from 8 vibrant designs in shades of red, blue, and gray. It comes with trendy patterns suited for modern to conventional concepts.

2

. Unique Loom Geometric Teal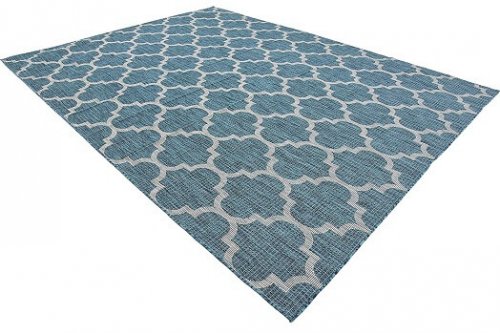 This is a beautifully made Moroccan-inspired design. It comes in 5 colors to fit conventional to modern themes.
Read more
Materials
This is made of polypropylene. It is mold, mildew, stain, and UV resistant and would be suited for frequent outdoor use.
Ease of Use
This carpet is easy to maintain using mild soap and water to clean debris and dirt. It also has a long lifespan so you don't have to worry about getting a new replacement any time soon.
In the cases of long winter months, you can just roll this in a tight plastic bag and store it in a dry place. Just plop it open again in your patio, deck, or lawn in time for summer. This product weighs 14 lbs.
Sizing
This item comes in seven sizes: 2X6, 4X6, 5X8, 6X9, 7X10, 8X11, and 9X12. All measured by feet. The small items may be used on the beach or for picnics.
Style
If you're a bit unsure about what kind of design you should go for, this is a good choice to come by. It features a wonderful geometric design and fits popular colored themes. It's durable and versatile that works well in various set-ups. This features a Moroccan lattice geometric pattern. It comes in five colors: black, rust red, blue, teal, and brown.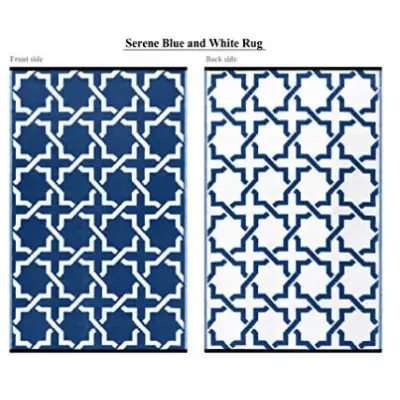 Beautiful geometric design and durability all rolled into one, this outdoor item fits most contemporary themes. You get décor and functionality in one product.
Read more
Materials
It is made of recycled plastic. This product is resilient against molds, mildews, moisture, and UV rays, suitable for patios constantly under direct sunlight. Designs stay firm even with prolonged sun exposure. This product weighs only 3 lbs.
Ease of Use
It's easy to maintain and clean. It's stain-resistant so you won't have a hard time clearing off coffee, wine, and oil stains.
Sizing
This comes in six sizes: 4X6, 5X8, 2.3X6, 3X5, 6X9, and 8X10. All are measured in feet. This may suit smaller patios and decks best.
Style
This versatile product is a good accessory for your outdoor décor. This comes in a beautiful geometric pattern, a safe choice if you still don't have any concept in mind. There are 11 color combinations to choose from. Whatever concept you may have, this item may suit most contemporary patterns often complementing two-toned color concepts.

4

. Safavieh Courtyard Collection Area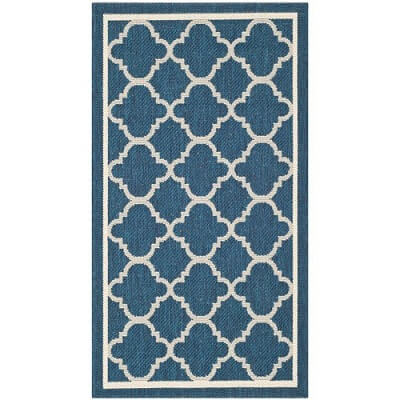 Exquisite courtyard design fit for outdoor patios or indoor living room spacers. This is a multi-purpose item that fits most themes.
Read more
Materials
This is made of polypropylene fiber fit for spaces with heavy foot traffic. It has a short pile height of 0.25 inches ensuring long-lasting durability. Despite its material, this is soft and won't leave any scratches on your decks or patios. These are power loomed construction to ensure that you're getting a quality product and wonderful decorative enhancements.
Ease of Use
It only requires regular cleaning using mild soap and water once or twice every week, depending on foot traffic. These are also made of durable fabric with designs that won't fade with regular cleaning. It is mold, mildew, and stain resistant and designs don't easily fade even with constant sun exposure. This can also be used indoors to cover floors in your living room, kitchen, and bedrooms. This weighs 11 lbs.
Sizing
This comes in 2X3 to 9X12 sizes fitting small to large spaces. All sizes are measured by feet. Smaller ones may be used as décors as well.
Style
This product comes in contemporary and classic designs fit for any theme. You can have your pick on conventional to smart patterns to complement your concept.

5

. Reversible Mats Patio Mat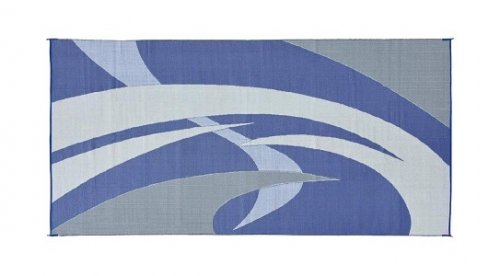 This is three-toned with a wonderful design fit for contemporary spaces. It's a multipurpose mat that you can use outdoor or indoor.
Read more
Materials
This is made of polypropylene material that's moisture, mold and mildew resistant. The color and design can also withstand constant sun exposure without showing signs of colors fading.
Ease of Use
Clean dirt, spills, and debris by hosing water on the item with some mild soap. Let it air dry on both sides so as not to trap moisture on the bottom. If you have wooden floors, you may want to let the floor completely dry first before placing the items back on top.
It's easy to maintain, weather resistant, and fit for heavy foot traffic. It also comes with a carry-on bag so you can use this in your trips to cover RVs against the heat of the sun or other outdoor activities. This item weighs 11.6 lbs.
Sizing
This comes in two sizes: 9X12 and 9X18. All measured by feet. These are suitable for larger patio and deck spaces.
Style
This product comes in 5 colors with three-toned themes. It may best suit contemporary concepts or if you want to add a splay of colors to your space. A combination of three-toned designs creates a bold statement or blends in nicely with your space concept.

6

. Seavish Cotton Printed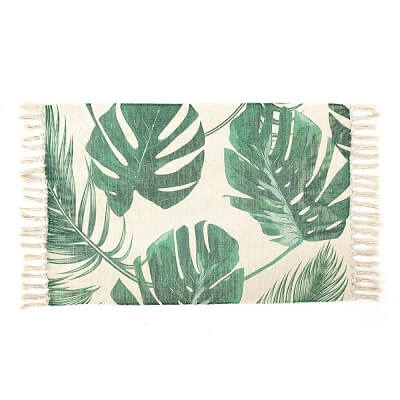 Whether you're going floral, tropical, or Bohemian, the design fits the theme. You can add this as décor or a multi-functional item on your porch or patio.
Read more
Materials
This man-made cotton can function as décor or a mat. It is non-reversible with grip skid resistant features to prevent slippage. The chindi braided construction ensures durability.
Ease of Use
Unlike polypropylene cloth, this is made of wool and will require extra care from stains, mildews, and molds. It should be machine washed using mild soap and warm water to take away dirt, some stain, and molds. Take note that these absorb liquid so stains may be unavoidable if not spot treated immediately. It can be used as a meditation mat, picnic throw and as a small or patio mat.
Sizing
This product comes in two sizes: 20 X 32 and 24 X 36. All measured by feet. For outdoor use, this may suit larger decks and patios. It is not suitable for lawns or other muddy environments.
Style
This is a hand-made cotton mat closed with a tassel fringe for accent. It comes in various colors and patterns from palm leaves, geometric, and mandala designs to name a few.

7

. Camco Large Reversible Patio Mat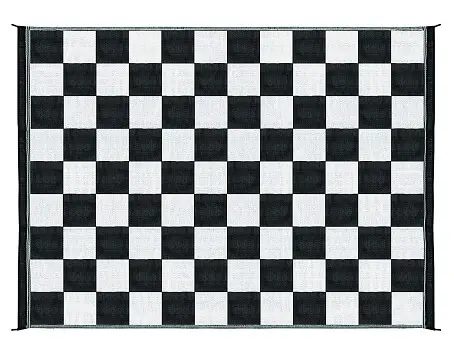 This is a traditional lattice designed patio mat that suits outdoor use. For a standard mat, this is a safe choice to fit most conventional or rustic themes.
Read more
Materials
This is a polypropylene outdoor mat that sustains in wet and dry seasons. It fits most outdoor spaces.
Ease of Use
This is easy to maintain and clean. Regular cleaning with mild soap and water can be done once or twice a week depending on how frequent the foot traffic is to space. It is also weather resistant so the product stays durable for months to years depending on your maintenance. During winter seasons, you can just fold this and tuck it away in a dry place to maintain its integrity.
Sizing
This comes in 4 sizes: 6X9, 8X16, 8X20, and 9X12. All are measured by feet.
Style
This brown and tan combination is best suitable for wooden decks. The lattice design accentuates a conventional theme in any space.

8

. Nourison Aloha Multicolor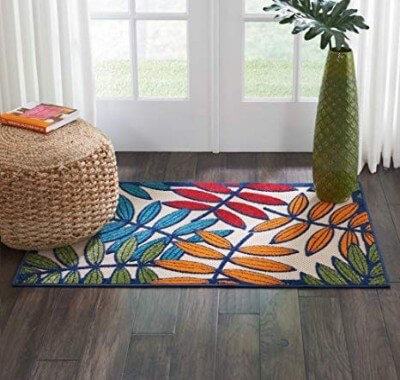 This is a floral-patterned rug and can be used indoors and outdoors. The design is an accent in itself.
Read more
Materials
It is made of recycled plastic materials suitable in almost any weather conditions. It is mold, dirt, and water resistant.
Ease of Use
The product can easily be cleaned from stains and debris by rubbing mild soap on the item and hosed with water. It is best to air dry on both sides to prevent moisture build-up. This item weighs 11 lbs.
Sizing
This product comes in seven sizes: 6 rectangular and one round. These will fit most patio spaces starting at 2'8" X 4' sizing. The round sized mat may fit smaller decks.
Style
These come in colorful blue, red, and green hues with a tan background. This may be ideal for most bright-colored settings.

9

. Splendid Exchange Hand Woven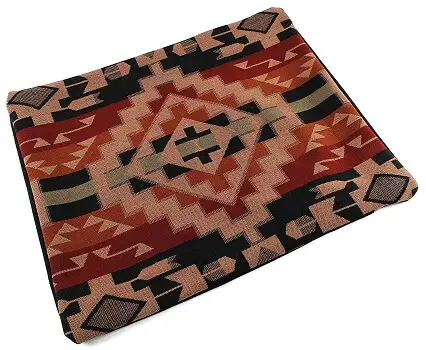 Exquisite hand-woven designs that serve as a centerpiece in itself. These are delicate ones that stand out in any room.
Read more
Materials
This is made of 70% acrylic and 30% polyester synthetic fibers. It works well either as an ornament or centerpiece.
Ease of Use
This may require dry cleaning only to maintain the integrity of the cloth. Never use iron or it can damage the fabric. It's best to hand wash or machine-wash on gentle cycle using color-safe soap. Air-dry it after washing to prevent stretching. Only use a fabric steamer to remove wrinkles.
Sizing
This product comes in 4 ft. X 6 ft. only. This may fit small to medium spaces.
Style
You can choose from a myriad of bold colors to accentuate your space. It fits Native American, Aztec, Cabin, or Southwestern decors. This is reversible and you can use in any closed outdoor spaces.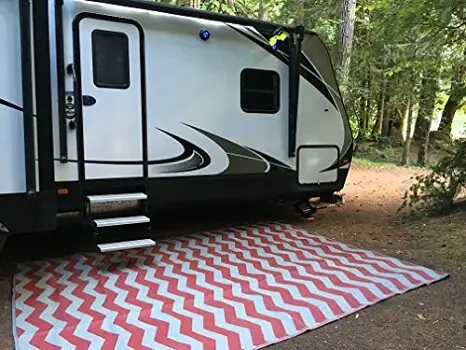 It features an eye-popping design for an outdoor mat. This is made for endurance from heavy foot traffic, travel, and extreme weather conditions.
Read more
Materials
This product is made of polypropylene. The woven design makes this a suitable item for lawn uses to prevent damage to your grass.
Ease of Use
Just use some mild soap and hose water to take off dirt and debris. Let it air dry and store in a dry place if not in use. Primarily used for off-road activities with your RV, this also serves as an outdoor mat in your patio or decks. This product weighs 7.7 lbs.
Sizing
This only comes in a 9 X 12 (by feet) size. It fits outdoor lawns and small to medium patios.
Style
This comes in two designs: chevron and floral. You can use this outside your RV or lawn for gatherings or camping activities.

Subscribe to our Newsletter