Best Robot Vacuums
In a Hurry? Editors choice: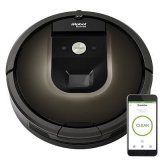 Test Winner: iRobot Roomba 980

If the modern trend continues, human beings are not going to need to lift a single finger to accomplish their goals. Autonomous vehicles are certainly a great example but yet another, and the one that is about to take center stage are robot vacuums. At their core, they are designed to automatically
vacuum certain rooms
in your household. Each model will have different technology and smart features that set them apart. The key to finding the right version for you is identifying these features to analyze which specific ones are more suitable. From basic models to self-reliant robots, we have provided you with the 10 best options available in this day and age.
Standout Picks
Criteria Used for Evaluation
Top 10 Picks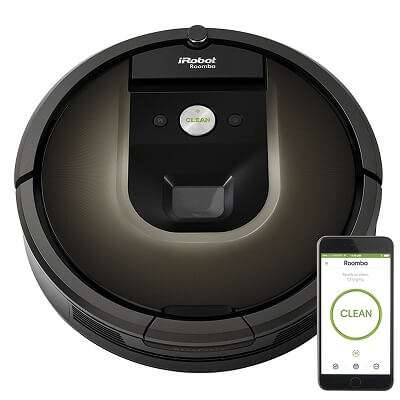 For anyone who has ever used one of the models of iRobot's Roomba series of robot vacuums, this top entry should not surprise you. Among the plethora of Roomba models, the 980 stands above the rest of its predecessors as the best robot vacuum.
Read more
Use
In conjunction with the iRobot Home App, which is not without its own flaws, you can clean and schedule any time you want. In addition, all Roomba vacuums are compatible with Amazon Alexa and Google Assistant.
Features
Thanks to integrated smart sensors, the Roomba 980 Robot Vacuum is able to detect objects and properly move around them.
Effectiveness
Because the cleaning head will automatically adapt its height based on the floor surface, this device is capable of cleaning all floor types. Past this, the Power Boost mode will output 10 times more power to better clean hard-to-reach areas.
Ease of Use
While standard maintenance, such as cleaning the filter, should be done, the tangle-free brushes ensure that you will spend less time maintaining them and more time relaxing.
Battery Life
iRobot rates their Roomba 980 Vacuum to continuously run for up to 120 minutes on a full charge. Yet, they specify that they ran tests on hardwood floors and that the run times can vary based on the surface.
Overall
It is safe to assume that many people will find it absurd to spend so much money on a robot vacuum cleaner. Given the quality of this device and how masterfully it is designed, however, if you have the money it is worth it.

2

. Neato Botvac Connected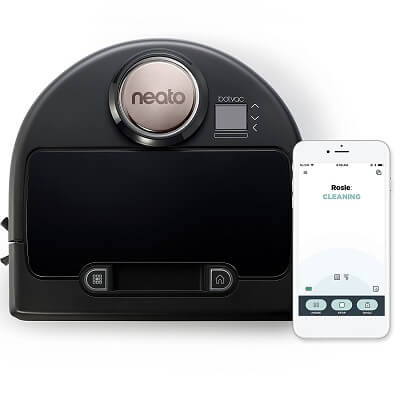 Neato Robotics has been around the block a time or two and while they have released several excellent robot vacuums, with another one making an appearance on this list, their grandest achievement may be their Botvac Connected Robot Vacuum.
Read more
Use
Using Wi-Fi technology, you can control this vacuum in conjunction with the Neato application. Of course, it is also compatible with Alexa. In addition, there are two modes of operation; an eco-mode and a turbo mode.
Features
This is as smart as it gets. With LaserSmart mapping and navigation capabilities, this device is able to detect real-time objects and map out the entire area to deliver more methodical cleaning.
Effectiveness
To clean closer to walls and tight corners, there is integrated CornerClever technology and unique D-shaped design. Plus, this robot vacuum is able to finish four times quicker than other models.
Ease of Use
When debris gathers inside of the brush, which is sure to happen from time to time, removing the brush is as simple as popping it out of place. After cleaned, simply pop it back in place.
Battery Life
Depending on the design mode that you utilize, the battery life will alter. For example, it is rated to last up to 120 minutes on eco-mode and only 90 minutes on turbo mode.
Overall
After assessing this vacuum from top to bottom, it is quite difficult to gather serious flaws that would prevent someone from wanting to invest in it. There are a few present but this is really, pretty much as good as it gets.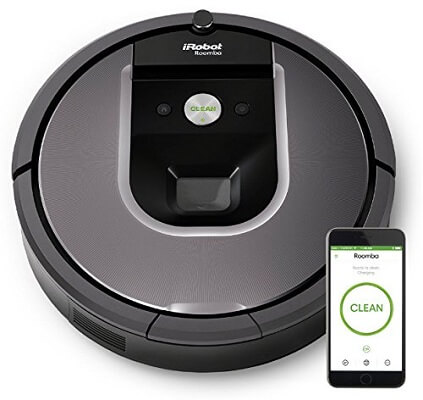 Wait, what is the difference between the Roomba 980 and the Roomba 960? Consider this a cheaper and less advanced version of the Roomba 980. However, with as good as that robot vacuum is, that is really not a slight against it.
Read more
Use
Much like its successor, the Roomba 960 Vacuum can be operated in conjunction with the iRobot Home App. But, it is also compatible with Google Assistant and Alexa.
Features
Due to the plethora of smart sensors that have implemented in this design, no place is unreachable (unless the vacuum can't fit underneath) and all objects will be detected.
Effectiveness
As opposed to its successor that can unleash up to 10 times more power, the Roomba 960 can only achieve up to five times more power. In addition, it can clean all floor surfaces due to its unique auto-adjust cleaning head.
Ease of Use
The tangle-free brushes lend a hand to reduce the amount of overall maintenance required for them.
Battery Life
In comparison with the Roomba 980, this is the biggest area where the Roomba 960 falls short. It is only rated to last up to 75 minutes before it needs recharged (and that number is for hardwood floors only).
Overall
This is, more or less, a watered-down version of the Roomba 980. However, if you are not ready to take the next step to a Roomba 980 Robot Vacuum, the 960 model is a great place to start.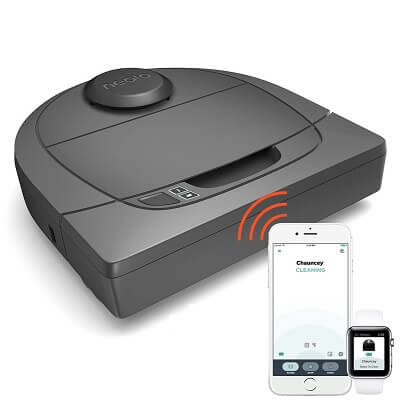 Neato Robotics makes their second appearance on this list and while their Botvac D4 is not quite as advanced as their Botvac Connected Robot Vacuum, it is still phenomenal. What makes it so efficient is it has built-in technology that allows it to detect furniture and objects and react accordingly. This newer version of this vacuum also features a No Go Lines feature to keep the vacuum out of unwanted areas.
Read more
How it Works
If you choose to, you can download the Neato app and control the robot vacuum from there. Or, for people without a smart device, you can simply press the appropriate button on top of the Botvac D4.
Smart Technology
Neato Robotics programmed their Botvac D4 with lasers to detect furniture and various other obstacles in its path. Due to this, it can properly navigate around them. An impressive new feature here is the No Go Lines technology. From your smartphone, you can set boundary lines so that the vacuum will not cross into a room that is off-limits. This is a great feature for sleeping babies or dirty teenagers.
Cleaning Efficiency
In places where dirt tends to hide, this is able to seek out thanks to its D-shape design and CornerClever technology. All in all, it is capable of cleaning all different types of surfaces.
Maintenance
This high-performance filter is reliable and simple to use. When the time comes, and it will, the dirt bin is incredibly easy to remove and cleanout. Also, it is simple to remove the brush if debris gets caught inside.
Battery Life
One of the main differences in this updated item is battery life. We still agree that the battery life is not up to par with other robot vacuums on the market. However, a continuous runtime of 75 minutes is not abysmal, per se. Yet, others will run for much longer than this.
Overall
It seems all great things in life have some sort of drawback. Indeed, the Botvac D4's caveat is its relatively poor battery life. Considering that it is programmed to return to its docking station when it needs to be recharged, though, it is not all bad.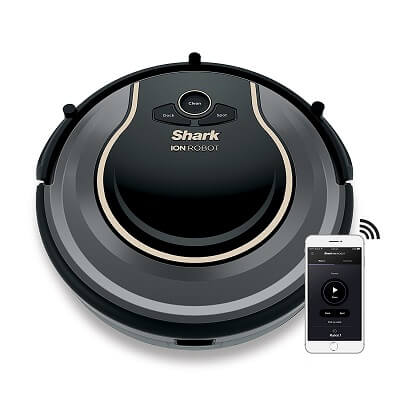 Shark has designed some amazing traditional vacuum cleaners but what about their ION ROBOT 750? Given its position on this list, it is safe to say that they have nailed it with flying colors.
Read more
Use
On either iPhone or Android devices, you can download the Shark ION ROBOT app to schedule and start cleaning. If your smart device has it, also, you can use Alexa.
Features
The smart sensor navigation and proximity sensors work with one another to seamlessly navigate the surroundings without bumping into incoming obstacles. Additionally, when it needs to be recharged, it is programmed to automatically return to its dock.
Effectiveness
Integrated dual-spinning side brushes manage to pull debris away from tight corridors; while the self-cleaning brush roll performs the bulk of the work sucking in all sorts of debris.
Ease of Use
Not only does the self-grooming system of the brush roll allow it to automatically untangle strings and fibers, the dustbin is easily detachable when it needs to be cleaned.
Battery Life
Per the product description, the lithium-ion battery integrated into this vacuum will last over an hour at a time.
Overall
Once again, you pay a pretty penny here. Robot vacuums are not cheap and when you begin to analyze what they bring to the table, it is understandable. Shark's ION ROBOT is a perfect example of that and will make a fine companion in your home.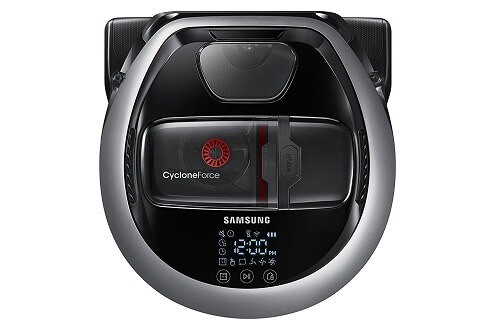 In the world of technology, Samsung is an utter juggernaut. It just so happens that they also designed quite the impressive robot vacuum. Their POWERbot may not be their bread and butter, but it is more than worth checking out.
Read more
Use
While various reviewers have stated their displeasure with the incorporated application, you can still sync this to your smartphone via Wi-Fi technology. Also, it can operate with Alexa.
Features
Literally, due to the onboard digital camera and smart sensors, this is programmed to scan the entire layout of the room it is about to clean. As such, it knows the exact location of everything in the room.
Effectiveness
As compared to Samsung's previous model, this is capable of providing up to 40 times the amount of suction power. If that was not impressive enough, specific technology allows this to extend out to reach debris in trapped corners.
Ease of Use
Due to the self-cleaning brush, it is able to maintain itself quite well. All other standard cleaning practices should not be an issue, either.
Battery Life
On one charge, the most you could get out of this would be 90 minutes. However, this is in quiet mode and this is reduced to 60 minutes and 30 minutes for normal mode and turbo mode, respectively.
Overall
Samsung is a rare manufacturer in that as soon as you see they designed it, you know it is, if nothing more, a quality product. They rarely will construct a low-quality device and even if you are not a fan of their smartphones, you should be impressed by this.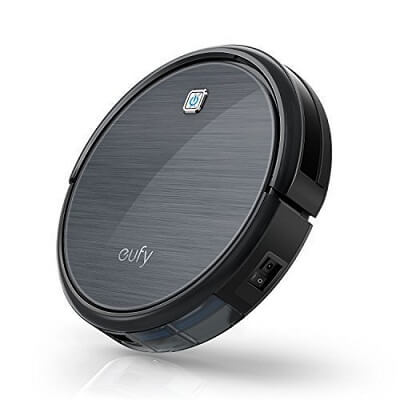 Past maybe the Roomba series from iRobot, arguably, no other robot vacuum is a bigger fan favorite than the RoboVac 11. Besides the fact that most people can actually afford it, it has a plethora of premium features to create a very intelligent machine.
Read more
Use
Coming with the base vacuum cleaner is a remote control, which allows for easier operation. With the simple click of a button, the RoboVac 11 will be off and running.
Features
Infrared-sensors have been implemented that help this robot vacuum detect obstacles so it can properly evade them. But, it also has drop-sensing technology that will prevent it from falling downstairs.
Effectiveness
It is pretty clear that the RoboVac 11 is not designed for thicker carpets. Still, however, its low-profile design and three-point cleaning system allow it to provide a thorough cleaning.
Ease of Use
Cleaning your machine should become a weekly task and when need be. The dirt and debris built-up inside can be easily removed and dumped out.
Battery Life
For up to 1.5 hours, which is roughly 90 minutes, the RoboVac 11 is rated to last on one charge. As compared to the competition, this is not the best nor the worst.
Overall
It sure is not difficult to see why this design would appeal to the average consumer. Not only is it a high-quality machine with an ample amount of technology built-in, but it is also affordable. It is tough to beat that combination.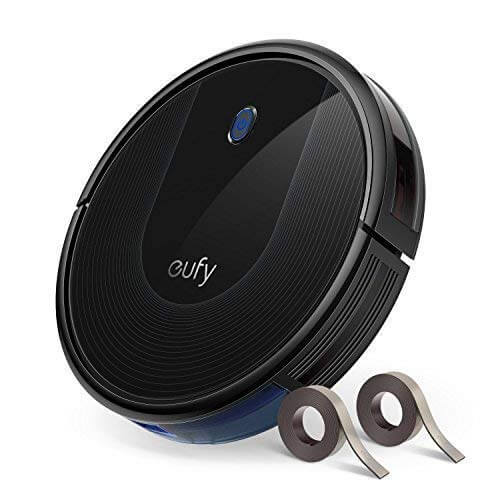 As a budget option, this should sit at the top of your list. This upgraded version of their popular 11 models, the 30 is very similar but the 30 has a sleeker look and comes with a 13-foot magnetic boundary strip you can use to show no-go zones. It has also amped up suction to help perform better overall.
Read more
Use
While the vacuum will start based on its scheduled programming, you can actually use the remote to initiate max mode. In this mode, the power of this machine will be put to the maximum.
Features
When its battery becomes low, the Robovac 30 vacuum will sense it and head directly to its charging station. In addition, with the use of multiple smart sensors, it avoids bonking on objects and falling downstairs.
Effectiveness
This upgraded model has stepped up its sucking power. It boasts 1500Pa over the last model's 1300Pa. This should mean that you have no issues with it picking up dirt and debris.
Ease of Use
Overall, much like other robot vacuums, properly maintaining this device is not too tricky. Thanks to the tangle-free roller brush, in addition, you should not have to worry too much about that.
Battery Life
Granted the advertised battery life is accurate, which can sometimes be exaggerated, this can run up to 100 minutes on a full charge. Given the lack of power, though, this does make sense.
Overall
Convenience is at the forefront here and despite the fact that the power is not the greatest, the other design features make up for it. This includes the fantastic battery life and smart technology.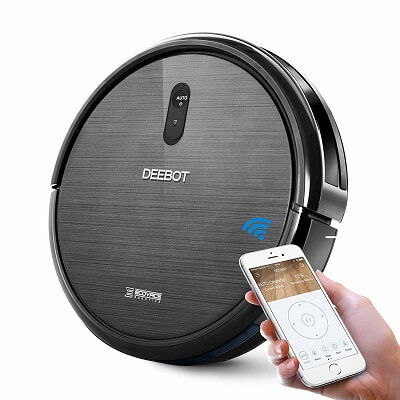 ECOVACS makes it very clear that their N79 Robot Vacuum is not intended for thick carpets, claiming the performance is poor. If used on hardwood and tile floors, however, the N79 can be your next best friend.
Read more
Use
With either your Apple or Android device, you can download the accompanying app to control the N79 robot vacuum. Granted you have access to a Wi-Fi signal, you are golden.
Features
While it is not programmed to map out its cleaning location, thus sometimes leading to randomness, it comes with a plethora of anti-drop and anti-collision sensors.
Effectiveness
It is a common theme with the lower priced models; this is not ideal for thick carpets. Yet, its dual-wide reach and innovative helix design provide optimal performance on tile and hardwood surfaces (or thin carpet).
Ease of Use
For your convenience, a full set of complimentary cleaning tools are included with your purchase. If you then reference the instruction manual, you will find detailed steps for cleaning this device.
Battery Life
Expect this vacuum to run on one charge for up to 100 minutes. Depending on the type of surface it is cleaning, this number could vary.
Overall
At the end of the day, you get what you pay for. Do not get this twisted; this is a great device that is more than worth an investment. It is just, if you are looking for more power and advanced technology, look elsewhere.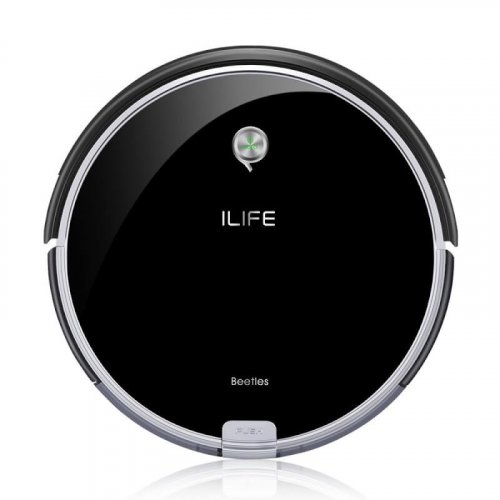 Another option for ILife on our list is the A6. While the A4 is a budget option, this new, more powerful model isn't as budget-friendly, but is it worth it? We think so. There's a new design on the brush and cyclone system so it will work better on carpeted floors, something the A4 fell short on.
Read more
Use
This design is as easy as it gets; access to an included app is not even required. Nope, you simply press the button on the surface once for small rooms (30 minutes of runtime) and twice for larger rooms (up to 50 minutes).
Features
Most of the premium features, such as the ability to evade obstacles and prevent falls, are incorporated into this design.
Effectiveness
With a new brush system upgraded from the A4 model, the A6 picks up more dust and dirt, especially on carpeted surfaces.
Ease of Use
Life suggests cleaning the side brush, wheel, suction inlet, and the sensor hole at least two times per week (unless you do not use it often).
Battery Life
When compared to the rest of the pack, the 160 minutes of battery life lands it on the higher end of our list for runtime. That's a great thing if you have a bigger home.
Overall
This is not the most recognizable robot vacuum on the market, and when compared to some of the most elite ones, it has a hard time stacking up. Still, it cracked this list, and that proves it is a high-quality device.

Subscribe to our Newsletter