Best Smart Speakers
In a Hurry? Editors choice: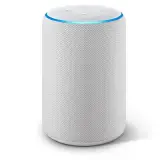 Test Winner: Echo Plus

Do you remember the movie Smart House from Disney back in 1999? Back then the idea of verbally commanding an item to dim the lights or
change the temperature
seemed outrageous. Alas, look how far we have come! These days, homes are full of unsuspecting virtual assistants, typically known by the names of Siri, Alexa, and Bixby. Progressing even further, many of these devices have developed the ability to be used not only as your right-hand man but also
as a speaker
. As convenient as this is, it adds a whole other set of features to research and understand, such as compatibility and sound quality. To make the process of choosing a smart speaker easier on you, we have rounded up the top ten current best options on the market today. Go ahead and re-gain the reigns in your household.
Standout Picks
Criteria Used for Evaluation
Top 10 Picks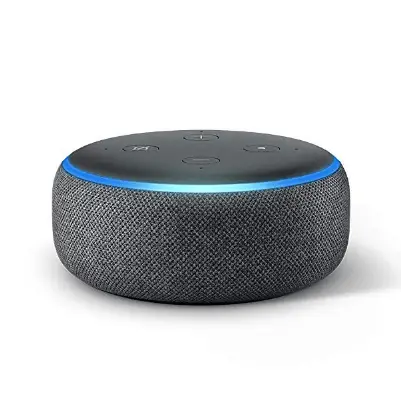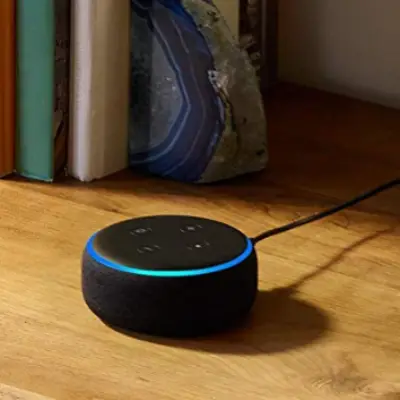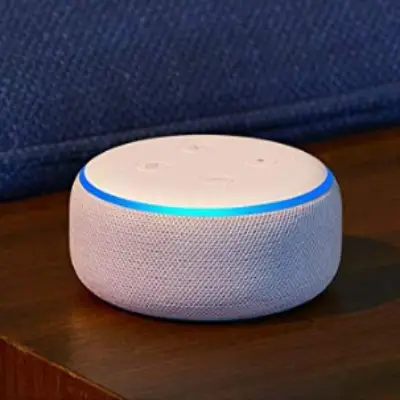 Echo dot speakers are some of the most popular alternatives in the market. The third-generation Echo dot launch was towards the end of 2018, and it has done well for itself. If you have owned the previous models, then you will agree that it looks and even sounds better than its counterparts. With over 25000 positive customer feedback, you can rest assured that it is worth purchasing.
Read more
Sound quality
You will immediately notice that the speaker produces a louder and richer sound. It comes with a speaker that's half an inch larger and more powerful than its predecessors. The speaker delivers clear, crisp sound that's never distorted even when playing at full volume. Once you use it to listen to music, you will immediately realize the difference in the quality of its previous models.
Connectivity
It has a 3.5mm audio cable, which you can use to connect to other speakers. Alternatively, you can still link them using Bluetooth. With Advanced Audio Distribution Profile support and an Audio and Video Remote Control Profile, you will experience an entirely new world of convenience. It also comes with Alexa, having better skills and smarter than ever before. Alexa will now play games and track your fitness, among its other 50,000 capabilities.
Ease of use
If you're running short on time, you can ask Alexa for some assistance. It can read and update you on current news, answer questions that you need quick answers to, and even control other compatible smart devices in your home. The voice control feature is one of the most valuable things about owning this Echo Dot. When busy, you can make it lock the doors for you, adjust the thermostat, or even turn the lights on for you.
Features
Listening to music has never been this enjoyable. All you have to do is give a command, and your favorite songs will be playing in no time. Users can stream music from; Sirius XM, Amazon Music, Spotify, and Apple Music, among others. If you also love listening to audiobooks, you can do so whenever you want, using Audible.
Overall
The Echo Dot is an exceptional gadget, which you can purchase unaccompanied or with a few accessories. If you want a smart lighting system for your home, you can get one that has an intelligent lighting kit worth twenty dollars. The other purchase you can make is that of an Echo Dot and Smart plug combination.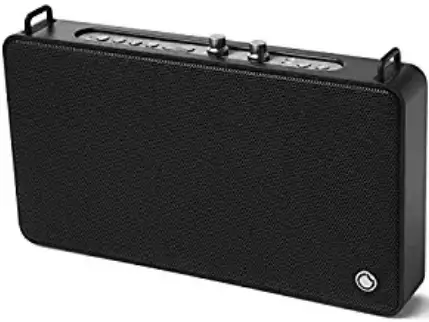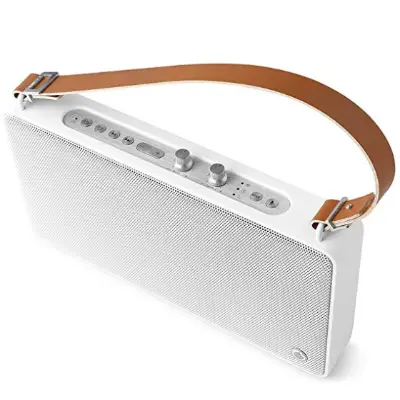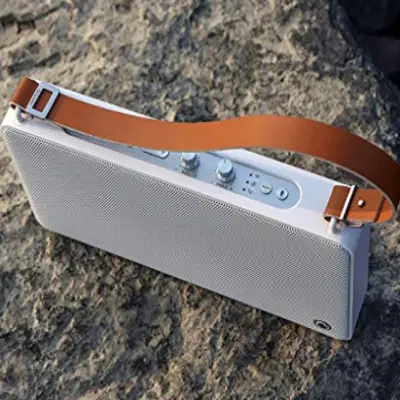 The guide would not be complete without this GGMM speaker. It is a double award-winning alternative, which has surpassed both new and older brands in the market. The company won both the Reddot Design Award and the IF Product Design award in 2017, thanks to this speaker. That should give you some assurance about what it's capable of and its quality.
Read more
Sound quality
Its quality will undoubtedly surprise you. The speaker can handle all kinds of music and offers better sound than some of the top brands in the market. It affords excellent bass, so you don't have to worry about any sloppy thumping. Regardless of where you are, the music will still sound hi-def. You will love hearing the detail in the songs and the level of clarity it offers.
Connectivity
Users can connect it with Wi-Fi, Aux, Wi-Fi routers and Bluetooth. What makes this GGMM option beloved is the fact that it is compatible with several Smart Home devices. You can use it with TP-link, ecobee, Smart Things, Wemo, and Philips Hue. Additionally, the speaker is also enabled for Amazon Alexa.
Ease of use
You will still be able to use the Wi-Fi connectivity, even when you are 160ft away. The best thing about its connectivity is the fact that you can switch up the audio devices that you have linked to it. You can do so with up to 16 gadgets, without disconnecting any of them. With Alexa's voice service, you won't have to lift a finger to order pizza, among other things. Multi-tasking will be the order of the day for you.
It also has hands free calling. You just have to make sure you connect the E5 speaker via Bluetooth to set this up. You can receive calls whenever you want, which comes in handy when there's some level of urgency. They designed it such that users don't need to take out their phones. The speaker has an inbuilt microphone that will work as long as you speak towards it. To make it conveniently portable, the speaker also comes with a removable PU strap.
Features
You can recharge it as soon as it runs out of battery. However, before that happens, you will get up to 15hours of playback. Its in-built battery capacity will definitely come in handy when you are outdoors or traveling. Users can easily customize their experience, thanks to its adjustment knobs. Since the bass and treble knobs are built-in, setting the speaker to your liking will be effortless.
If you like to listen to online stations, this speaker will be an excellent match. It comes with a favorite function that allows you to save up to six stations. It's also very versatile, as it works well with all Apple products, Windows operating systems, and Android.
Overall
You will be able to play music simultaneously in different rooms. It is possible to do so if you have two or more E5 or E-series speakers. You can connect at a maximum of ten speakers at a time when using this function. To top it off, you can also get a surround sound experience. All you need to do is stream the L and R channels, and you are good to go. They can also be controlled wirelessly, using the GGMM E Series app.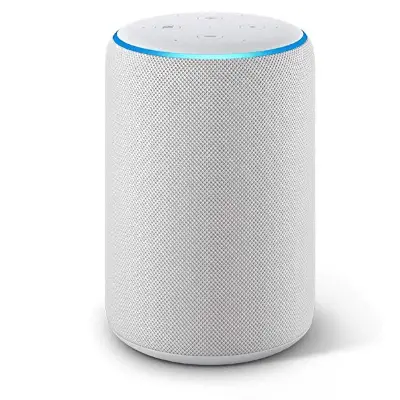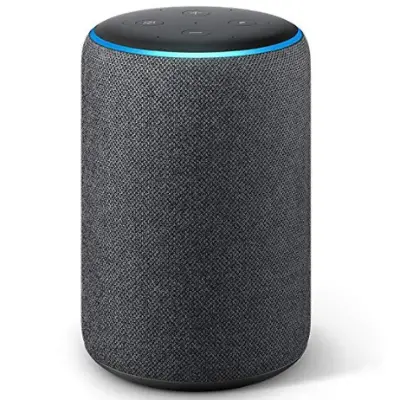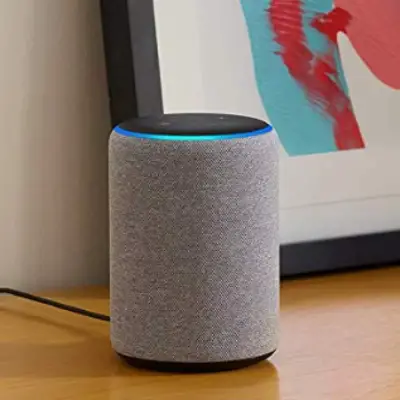 Even the second-generation Echo Plus is slightly smaller than the Echo Dot model; it still has a ton of benefits that warrant its position in this ranking. It's not the size that matters, but what the item can actually do for you. Each new version of the Echo smart speakers has more advanced features than its predecessor. So, if you still haven't upgraded from the first generation, you are going to love this alternative.
Read more
Sound quality
You will love the dynamic bass response it offers. All the speakers it uses are premium and powered by Dolby play. Users get to enjoy 360-degree audio, and the vocals are delightfully crisp. The fascinating thing about it is that you can adjust the equalizer using your voice. If you want stereo sound, all you have to do is connect a second Echo Plus speaker and you are set.
Connectivity
The speaker has several connectivity options. Its Bluetooth will make it possible to stream audio from your Echo to a Bluetooth speaker or from your mobile to the Echo. It has Advanced Audio Distribution Profile support, which makes that possible. You will be able to voice control of all the mobile devices that are connected. It has an Audio and Video Remote Control Profile that is responsible for that feature. However, users who have Mac OS X devices will not have the luxury of using the hands-free function. You will also not benefit from it if your Bluetooth speaker requires pin codes.
The Echo Plus also has Wi-Fi, which supports 5 and 2.4GHz networks. You should note that it doesn't work with peer-to-peer Wi-Fi networks. The other bonus that comes with purchasing the speaker is that it also has a ZigBee smart home hub. The hub is built-in and can support; in-wall switches, sensors, plugs, locks, and ZigBee light bulbs.
Ease of use
It has a straightforward setup process. First, you need to plug in the Echo Plus. Second, install the Alexa app and connect it to the internet. After doing so, you can ask Alexa to help you with anything you want; be it music, news, and weather, to mention a few. Setting it up with compatible devices is also simple. You'll just ask Alexa to discover your appliances, and it will help you connect your compatible smart home devices.
Features
You can get Alexa to play music from different sources. It has a multi-room music function, which makes it possible to hear the same music in different rooms. However, you need to have compatible Echo devices for this to work. The fascinating feature has to be how users can make announcements across separate Echo devices in different rooms in the house. You don't need to go to anyone in person when you can just tell them what you need from your location.
Overall
Echo Plus can hear you even when there is music playing, and you're coming from a different direction. It has noise cancellation, beam-forming technology, and seven microphones, which make it highly efficient.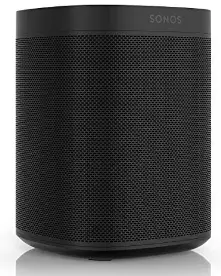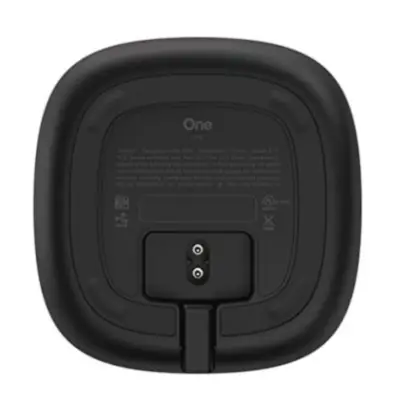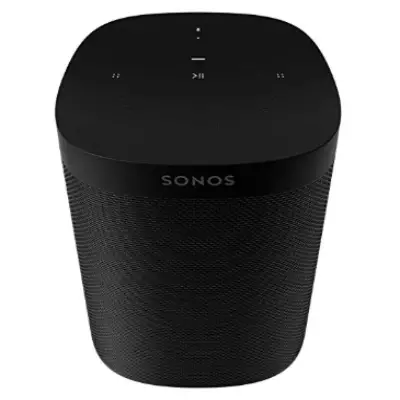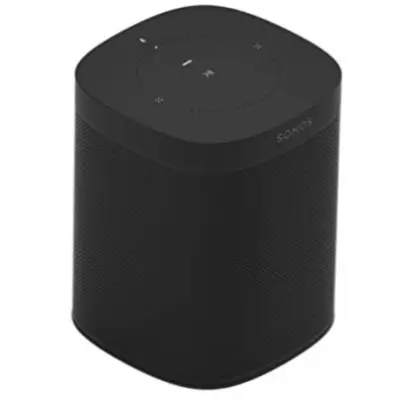 Sonos is a big player in the industry, with a significant following among smart-home owners. You can get this speaker in white or black. If you cannot afford to get a brand new one, you can still buy a good quality used speaker for less. You can finally be a part of the smart experience, without having to spend beyond your means.
Read more
Sound quality
If you have never owned a Sonos smart speaker before, its performance will astound you. Most users cannot get enough of its room-filling sound. It's every bit as fulfilling as you hope it will be.
Connectivity
Buyers who have a Sonos Home Sound System will benefit the most from this purchase. You can connect the system with your speaker to enjoy music in different areas of your house. Streaming music using Wi-Fi will also be a bonus.
Ease of use
Will a built-in Alexa, you will have a ton of things at your disposal. Alexa can inform you about the traffic situation before you leave your house. You will get the latest news at your disposal and enjoy your favorite tracks whenever you please.
Features
Installing the speaker will not frustrate you. It is so user-friendly that even older people can do it themselves. It comes in a portable size, and the fact that it is versatile makes it useful for a variety of applications.
Overall
One of the main reasons why this purchase is worthwhile is the fact that the speaker is durable. It is going to serve you well and make you grateful that you made the purchase.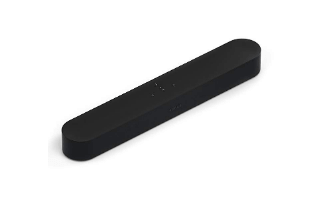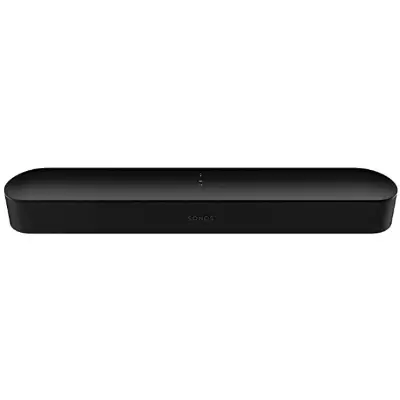 The next alternative we are going to look at is the Sonos TV soundbar. It is an excellent fit for people looking for wireless home theaters. Buyers have the option of getting it in white or black. You can purchase it alone, or you can go for the option with the short cable or that with the long one. Additionally, the company offers a beam purchase that comes with a mount.
Read more
Sound quality
The company likes to describe the beam as one that offers an immersive listening experience. The speaker has full sound stages. They are broader and more spacious than you would think. You will find it's bass performance adequate and the dialogue very clear. Most users find it surprising that such a compact speaker can offer such sound.
Connectivity
As long as you have an 802.11 b/g/n router, you will be able to connect the speakers to your home Wi-Fi network. It only supports that particular network configuration. If the Wi-Fi becomes unstable, you can wire it directly to your router. It has a 10 to 100 Mbps Ethernet port, for this purpose.
Ease of use
You will be able to manage your movies and shows just by asking Alexa. Adding a video streaming device that is compatible with Alexa will work to your advantage. A good suggestion is getting Fire TV, to operate everything at the highest convenience. You may even end up forgetting how to use the remote control. Setting it up is quick and straightforward. You first need to make sure the beam is connected to power. Connect it to your TV as well and then download the Sonos App. Once you install the app, just follow the given instructions and you are set.
Features
You can easily make a home sound system, by wirelessly connecting Sonos speakers. If you have a sub and some rear speakers, you will also be able to create a home theater system. It is compatible with Apple devices: so you can use Siri and Airplay whenever you want.
Overall
Sonos offers free tech support for 60 days from the delivery date. In case you are stuck, the technicians can help you when setting up, configuring, connecting, and troubleshooting as well.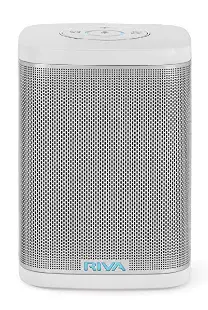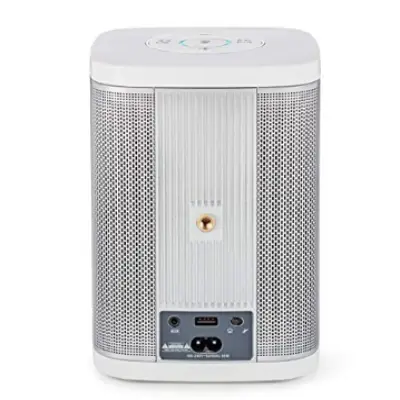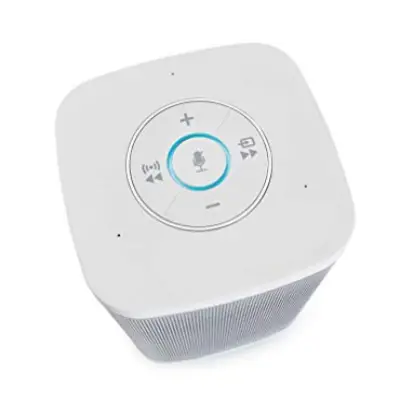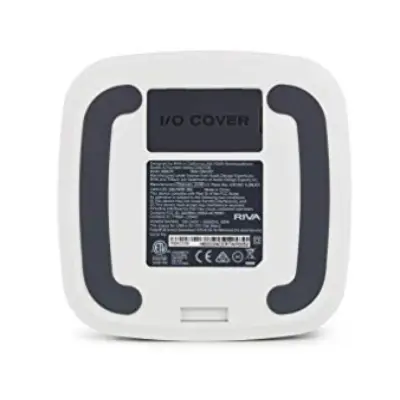 Who wouldn't want to listen to music when soaking in the tub after a long day? Unlike most speakers, the Riva concert will not limit you, since it is splash resistant. Therefore, you can take it with you when heading to the pool or the beach on a hot day. Some people even use it when in the kitchen as they do the dishes and clean up. You can rest assured that you are getting your money's worth with this purchase.
Read more
Sound quality
You will find it fascinating, thanks to its patented Trillium technology. The tech mixes up the stereo signal from the left and right. It then creates a stereophonic image by output via three channels. It does so in such an incredible manner while retaining its audio quality regardless of the volume.
Connectivity
With the variety of options available, you will always be entertained. Users can connect the speaker via USB or Aux input, Spotify Connect, Wi-Fi, DLNA, Bluetooth, and Airplay.
Ease of use
Users can personalize the speaker sound, based on their preferences. Users who want privacy can effortlessly mute Alexa's microphone. Make sure you download the Riva Voice app and the Alexa app if you're going to control it remotely.
Features
Users can simultaneously use the speakers and charge their devices. If you want an additional power source, you can purchase a battery. It has a 15-hour capacity that will come in handy outdoors. To connect it, you will need to attach it to the bottom of the speaker.
Overall
Once you get used to the multi-room music feature, you'll find it difficult to do without it. Fortunately, the speaker is well equipped and has everything that you would need.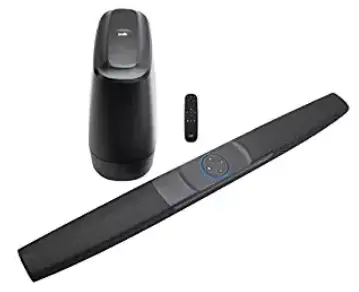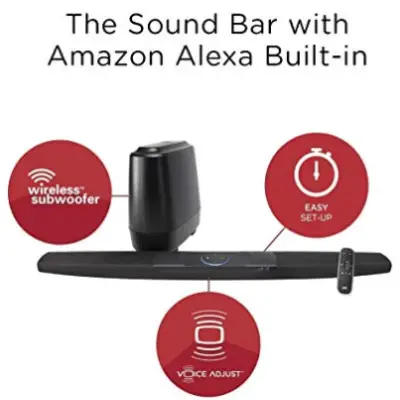 The Polk Audio speaker is for TVs and home theatre systems. It looks like any other soundbar, and it comes with a sub-woofer for enriched bass. You can control it with Alexa, a remote control, or manual buttons at the center of the bar.
Read more
Sound quality
You will get 260 watts with the bar and subwoofer cumulatively. It also has built-in Dolby and DTS surround sound. Even though it is not that loud, it is adequate for most homes. Besides, the audio is detailed and defined. Users can also adjust the bass independently.
Connectivity
With the remote, you can quickly mute or reduce the volume on the soundbar so that Alexa can hear you better. Alternatively, you can solely use the remote for basic options like turning it off or changing the inputs. Users can connect it to the TV as well, using two HDMI ports. It also has a USB port to play music from a flash drive.
Ease of use
It is so simple to link the whole system: the subwoofer and bar are connected independently to the power socket. After downloading the Polk Connect app, you will get easy to follow instructions. It won't take you more than 20 minutes to get everything right.
Features
With Alexa built right into the soundbar, it has an edge in the market. On the other hand, you don't need Alexa or the internet, to access some of its primary functions. The back of the systems has keyholes, which you can use to hang the bar and subwoofer on the wall. Mounting them to a wall adds to the aesthetics and enhances the sound.
Overall
For the price, this is definitely a steal. Many bars out there offer even fewer features and still cost more. Not only in terms of smart features, but also by lacking a subwoofer. More features and updates are anticipated all the same, over the air.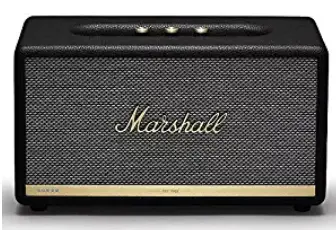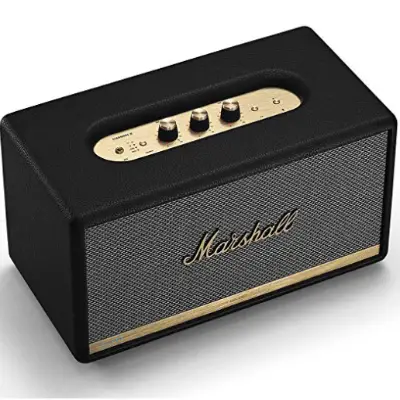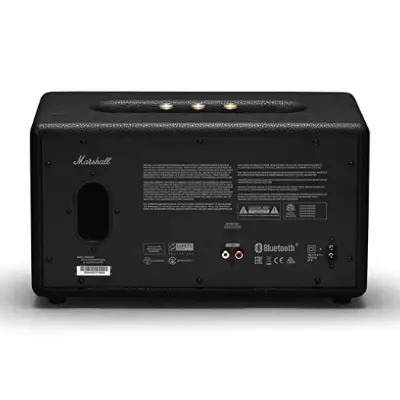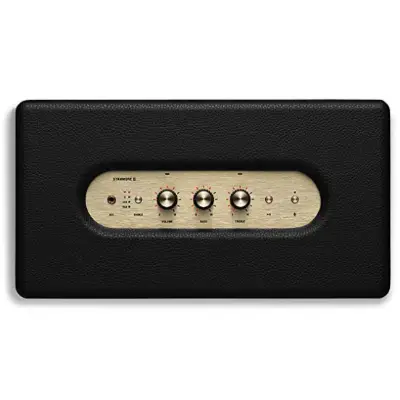 Marshall has been in business since 1962. Therefore, they know the tech world is ever-changing, and they continuously adapt to it. The design looks vintage; still, you'll be surprised to see how effortlessly it connects to Wi-Fi. The front of the speakers also has enticing LED lights for Alexa notifications. With their massive following, their quality has never been an issue.
Read more
Sound quality
Marshall has stayed in the game for long thanks to their continuous production of some of the best speakers. Therefore, you can be confident that you will get top-notch quality, with modern features. The sound is crisp and clear with amplifiers of 15 watts for the tweeters and 50 watts for the subwoofer.
Connectivity
This device can also connect to other Alexa enabled devices. Aside from having Wi-Fi connectivity, you can use a 3.5 mm input, Bluetooth connection, or RCA, to make the most of its features. Users can also connect to Alexa and request tracks from different compatible platforms and devices.
Ease of use
If you cannot connect to Alexa, you have the option of using the Marshall Voice app. The app offers many solutions including an equalizer function, to get the perfect frequencies. If that isn't your thing, you can also use its good-old analog controls to fine-tune your music.
Features
On top of having the far-field voice recognition, the speaker also has a noise cancellation function. As a result, Alexa will hear you well, even when the music is at maximum. This device recognizes what is playing, and distinguishes your voice from the music. You can also mute Alexa at the touch of a button.
Overall
Great sounds, from a compact device; that's what Marshall is all about. The brand has always been a force to be reckoned with. Their somewhat old school design is also nice and has a nostalgic effect.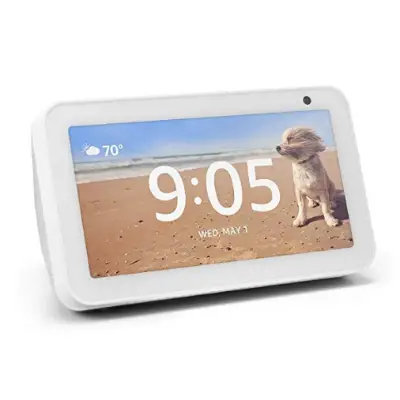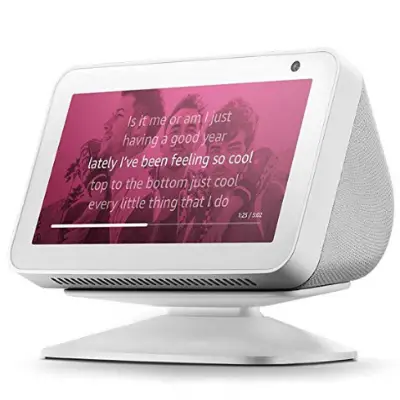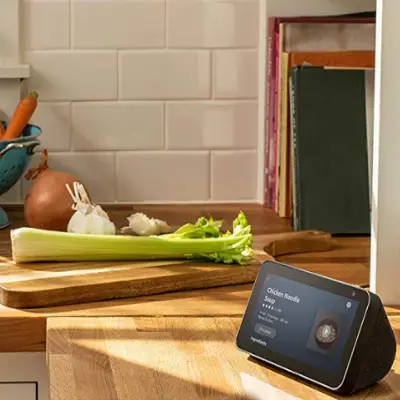 We are not sure if this is what the name intended, but this device is a show-stopper. Not only is it a dependable speaker, but it also doubles as a weatherman, a sous-chef, a TV, an intercom, and an alarm clock. If you are looking for an impressive multi-functional speaker, the Echo Show 5 is a great choice.
Read more
Sound Quality
This companion boasts a 1.65" speaker that delivers crisp and clear sound. Some reviewers were hoping that it would be enough to fill the whole house with noise, but alas, it is not that loud. However, it is a great speaker for one room use. In addition, if you wish to plug in another speaker or headphones, that is possible. There is a 3.5mm stereo output (cable not included).
Connectivity
After receiving this device, it is as simple as plugging it in and connecting it with your wifi connection. It is also outfitted with Bluetooth if you wish to connect it to other devices. The Echo 5 does not support peer to peer wifi networks. Once you have connected with the wifi network, you are also ready to get to know your new virtual assistant, Alexa.
Ease of Use
This interface is incredibly user-friendly. You can, of course, use it for all of your music needs, using apps such as SoundCloud, YouTube, Spotify, you name it. Additionally, you can create to-do lists, check the weather, traffic, read the news, read books, see movie trailers, and even use Alexa as a sous-chef. She can talk you through a recipe step by step. If you have multiple Echo devices in your house, after syncing them, you can use the Show 5 to make announcements throughout the house, such as "Dinner is ready!" If you have friends of family with Amazon Alexa-enabled devices as well, you can audio or video call them with this device also.
Features
All of the above functions are achievable thanks to the 5.5" touchscreen display with a 960 x 480 resolution. The one-megapixel camera isn't the best attribute of this speaker, but it's a lot more than many others offer. You can set the lighting functions to change throughout the day, for example, to dim at night and slowly brighten as you wake up. If the constant mic and camera make you a bit paranoid, you can disable them. You can turn off the mic and actually slide a small shutter over the camera. Overall, this companion weighs only 14.5-ounces.
Overall
If you are looking for a booming bass-heavy smart device for your next house party, this isn't it. If you are looking for a pleasant companion with impressive sound quality and unimaginable features, here it is.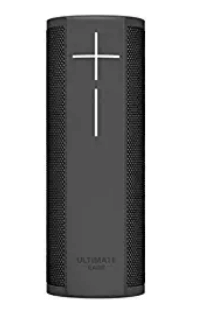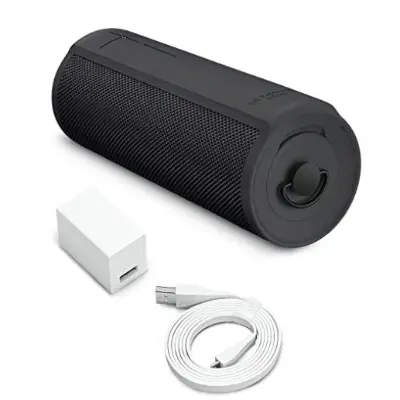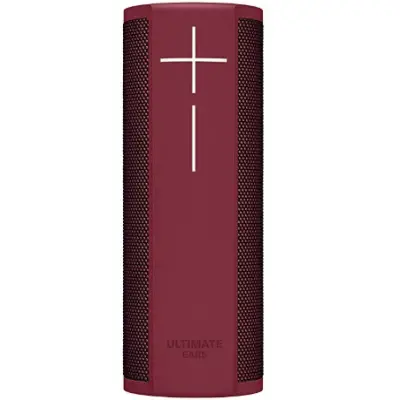 To close off our list, we have the Ultimate Ears BLAST. The best part about it is that it has a battery capacity of up to 12 hours. Therefore, you can take it with you anywhere, and your days will be far more entertaining. We mean anywhere in every sense of the word since it is also waterproof up to 1 meter. It can sustain under-water usage for a maximum of 30 minutes.
Read more
Sound quality
Blasting some tunes on this is sheer joy because it has speakers facing all around to produce a 360-degree sound. Therefore, audio is not restricted to one direction only, like in many others. It has a maximum volume of up to 90 dB, which is loud, and not forgetting clear enough for big rooms. The sound is bold and immersive even inside water.
Connectivity
It connects readily to the internet via Wi-Fi. For instance, where there's no internet, connect it to your phone (it doesn't have to be a smartphone), and play your music form via Bluetooth. The Wi-Fi range is up to 330 ft., while its Bluetooth is up to 150 ft.
Ease of use
You're probably looking at this review from a smartphone. If so, you'll be glad to know that, by downloading the intuitive Ultimate Ears application, you can access a host of utilities to control it. You will be able to play music directly from your phone if you are using an Android 5.0 and above or iOS 10.2 going upwards.
Features
It already has Alexa voice service, which allows you to give it all manner of commands. Users are looking forward to the update, which the manufacturer promised to make the device able to connect to other speakers for an enhanced volume.
Overall
Water resistance, unlimited connectivity, and portability are all you need in a smart speaker. You will like how it retains a minimalist appeal, even when you add a power-up charging dock to it. Additionally, the manufacturer ensures the device is always up to date, with regular updates. You also have the choice of getting one in; graphite, blizzard, blue, merlot, green, or black colors.

Subscribe to our Newsletter