Best Swimwear
In a Hurry? Editors choice: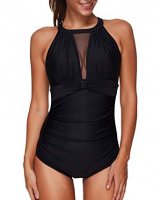 Test Winner: TEMPT ME WOMEN ONE PIECE

When it comes to summertime you want to make sure you have a stylish and fitting swimsuit to sport. There are plenty of fantastic aquatic adventures for you to partake in while having some fun in the
sun
. Maybe you are like relaxing by the ocean, or hopping on a boat and going tubing. Or if you are feeling adventurous next summer, you may even have a few surf lessons lined up.
Whatever you love to do, you will definitely want swimwear that not only looks great but feels comfortable and is durable. It can be hard to find a more comfortable and fitting swimsuit for women or
men
so we have made a list of the top ten best swimwear in the market today. For every swimsuit on our list, we also went into details regarding their pros and cons as well as their durability factors.
Standout Picks
Criteria Used for Evaluation
Durability
Swimwear, just like any other article of clothing will wear down depending on use and time. Therefore, it's important to consider how many times you expect to be wearing it. If you plan on going swimming every day this summer, you'll want a suit that is made from more durable material and has stronger seams, and even thicker straps where needed. And if you're a guy, you'll want to make sure that the mesh lining is strong enough to hold up during frequent use. If you're a woman, and an avid swimmer, consider getting a swimsuit without padding. It can misshapen over time and cause the suit to become ill-fitting and uncomfortable.
Value
Considering all that you could spend on your swimwear, it's nice to see examples like these, most of which fall into a very budget-friendly category. In fact, many of these examples are less expensive than many articles of clothing, or items that you carry with you every day. While it could be said that you get what you pay for, it's nice to see that sometimes, just sometimes, you can get a whole lot more quality instead.
Materials
Whether you're planning on using your new swimwear in the pool, by the lake, or down by the ocean, the material that it is made from can be critical in not only your comfort but also in how long the swimsuit lasts. Most of the suits on this list are made from a combination of Lycra, Spandex, and polyester. This combination of material provides the ability to stretch and twist your body as you swim and enjoy other aquatic activities.
Of course, there are some drawbacks to this combination of fabrics. For one, some people with sensitive skin might have a reaction to it. Also, depending on the proportions of the different materials, some swimwear may show signs of wear sooner than expected.
This is why looking at the quality and type of fabric is so important in buying a swimming suit. You can rest assured that you'll find the best swimwear that utilized the right fabric combination for your needs here on this list.
Fit
Finding the best swimwear really begins with finding the right size and fit for your body type.  Thankfully, there are more options in regards to sizing than ever before.  More and more swimwear makers are realizing that not everyone is a size 2 or even a size 14.  Having the right fit for your swimwear means a much more comfortable piece of clothing for your day at the beach.  You won't have to worry about the edges digging into your skin, or the suit sagging in all the wrong places.
The majority of these swimwear examples are shown to be true to size, or true to fit over half the time, with the majority of them reaching the threshold of nearly 85%.  So when you consider these suits, chances are you can choose the right size with confidence.
Top 10 Picks
1

. TEMPT ME WOMEN ONE PIECE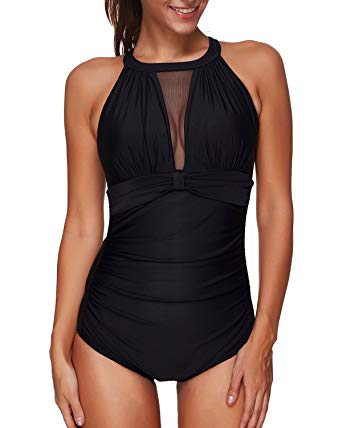 This Tempt Me Women One Piece High Neck swimsuit comes in 14 different colors and a large variety of sizes including XS,S,M,L,XL. Plus Sizes: 14 Plus, 16 Plus. It is made from a smooth fabric material that is known for being comfortable, stretchy, and soft. Tempt Me is a reputable swimwear online retailer that specializes in providing women with several different styles of swimwear in all types of body shapes and sizes. They are designed to help women feel more confident and sexy in them.
Read more
Durability
This swimsuit comes in several different size options including xs to plus sizes. Plus size women often have to search long and hard for well-fitting and flattering swimwear. While this suit is not perfect, it is certainly a welcomed step in the right direction. Like many swimsuits on this list, this one piece is easily cared for with the use of a washing machine and dryer. Simply use, rinse it off, wash it, dry it, and repeat as needed.
Value
While this swimwear might cost a little bit more than other examples, it is still within the price range of most quality clothes. It is still under the $30.00 price range and offers such a great fit.
Materials
This swimwear is made from 82%Nylon and 18%Spandex that offer a comfortable, soft, and flexible feeling while wearing it.
Fit
This swimsuit is designed to make sure that it not only fits correctly on bodies that have a bit more curves than what is often seen on the runways. Elastic material helps comfortably highlight the generous nature of a fuller figured body, and the adjustable shoulder straps make it easy to make sure the suit fits in the most flattering way. Add to that a very supportive under-wire system, it's hard to find a more comfortable, or attractive swimsuit. While it has been known to run a little small, the overall fit is true to form the majority of the time.

2

. SPEEDO MEN'S MARINA CORE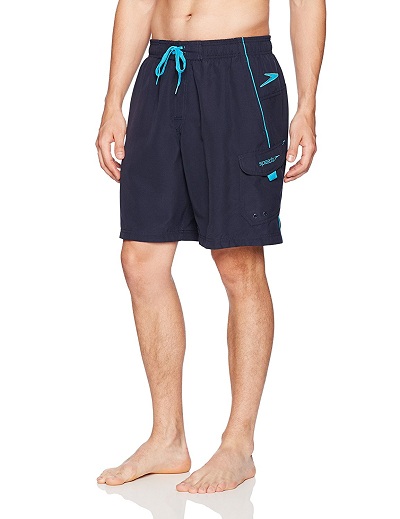 Love them or hate them, the Speedo brand of swimwear has been around for quite some time based on their quality and overall commitment to the athletically minded swimmer. These water shorts offer a new take on a classic design.
Read more
Durability
The Speedo brand invokes ideas of fashion athletic wear that have a high amount of quality and durability. While it may not share the classic Speedo design, these water shorts can easily become a great choice of the best swimwear available. Taking a page from the surfer scene, these water shorts have a bold fashion look that is not only easy on the eyes but also very comfortable to boot. The solid colors complement the wearer, whether they are surfing the beach or riding the waves.
Value
These water shorts are very reasonably priced considering the quality and materials used in their creation. While they may not be the cheapest option available, they do make sound economic sense. As with many of the other examples on this list, this swimwear is easy to care for. Just rinse off at the end of the swim and wash according to the directions when the time comes.
Materials
Made of brushed microfiber polyester, these shorts offer a great feeling against the skin, and a very comfortable mesh lining to make sure that you stay comfortable no matter where you are swimming. In addition, the trademarked "vapor plus" fabric allows for a quick-dry and offers UPF 50+ protection.
Fit
These mid-length water shorts feature a full drawstring waist and have been known to be true to a size approximately 82% of the time. It has a 20-inch inseam and has a wide range of sizes. You could also check out swim jammers for more swimming clothing.

3

. TYR DURAFIT ELITE DIAMONDBACK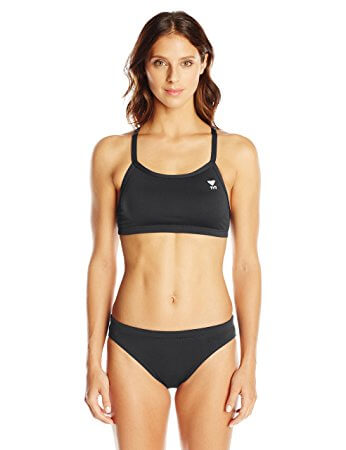 Here is a swimsuit that not only looks great, but will also stay put while you swim laps, paddle board, or play beach volleyball. To find out more about what makes this TYR Durafast Elite Diamondfit Workout Bikini our number one, read through the details below.
Read more
Durability
Because this suit is made with quality materials, it is very durable and offers about 300 hours of use. And not only is this swimsuit fully functional, but it also looks great too. It comes in various colors, so you have your pick of the litter when it comes to choosing an option that looks great.
Value
This swimsuit ranges from prices when it comes to its size and style. It can get a little pricey but with its quality, it is absolutely worth the cost for its longevity.
Materials
This swimsuit is made of both polyester and spandex. This means that it will be flexible enough to keep you comfortable, but the fabric is still firm enough to keep you supported. The lining has antimicrobial qualities so that your bathing suit doesn't end up smelling of becoming unusable.
Fit
In order to ensure that this suit has you feeling as comfortable and in place as possible, it is fully lined throughout. And for those who seek to spend their days outdoors, this two-piece has a UV protection of 50+. The range of motion offered in this suit is fantastic and is 360 degrees so that you can dive for a volleyball, prep your stance for the next big wave, or reach for that extra far away icy cold drink you've been eyeing.

4

. ZERACA WOMAN'S SPORT RACER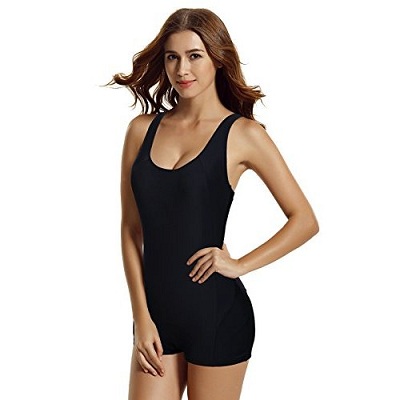 Designed with the athletic woman in mind, this swimwear is a great choice for those who enjoy taking a swim in the great outdoors and the pool in equal measure.
Read more
Durability
If you want a true swimmer's suit that offers a great range of motion at a fraction of the cost of the more expensive athletic swimwear on the market, this is a great choice. With a scoop neck, a racer back, and moderate leg line and rear coverage, this swimwear is a great choice for those who like their suits to be a bit more modest. This suit isn't machine washable, and the manufacturer recommends to hand wash the swimwear in cold water using nonchlorine bleach, and only when needed.
Value
Moderately priced, this is one suit that will certainly set a person back a few dollars, but with proper care, you'll be able to make that only back in no time at all.
Materials
Created from a combination of polyester and elastane, this swimsuit is of good quality, and only shows wear and tear with frequent use in a chlorine-rich environment, such as a pool, However, with proper care, the fabric should last through many seasons of swimming and enjoying the waves.
Fit
This swimwear usually runs a bit on the small size but has been known to be true to size approximately 62% of the time. While it does come in a wide range of sizes, the fit and structure of the swimsuit is geared more towards those of an athletic or thin overall build.

5

. AKULA MEN'S SHORTS SWIM TRUNKS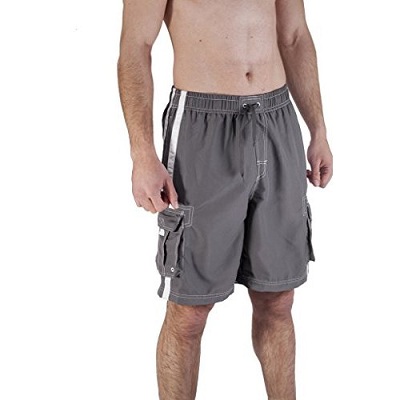 Looking for men's swimwear that truly does double duty both in the waves and out of them? The Akula Men's Shorts, Swim Trucks with cargo pockets are a great way to help keep your valuables secure, even as you enjoy the waves or the barbecue on the beach.
Read more
Durability
The Akula Mens Shorts Swim Trunks with Cargo Pockets is a great choice for those men who want the convenience of easy storage for their valuables and the ability to enjoy the waves in one pair of shorts. While we don't recommend swimming with your wallet in the pocket, it is still a great pair of swimwear to help you enjoy the summer day. One of the great things about this pair of swim shorts is the number of pockets included.
Value
These shorts are very affordable and offer high-quality workmanship at a fraction of the cost of the more expensive brands available online. While they are not the most economical choice by far, they are easily worth their price.
Materials
Made from 100% polyester fibers, this swimsuit is made to be quick drying and to provide UV protection up to a 50+ UPF rating under the right circumstances.
Fit
These swimming trunks run true to size the majority of the time and come with a full elastic waist and an adjustable drawstring closure for easier adjustment on the fly. There is a full range of sizes available, so finding one that fits you right is a fairly simple task. The internal mesh liner offers great and secure support for your manhood, as well.

6

. ATTRACO WOMEN'S SOLID PRO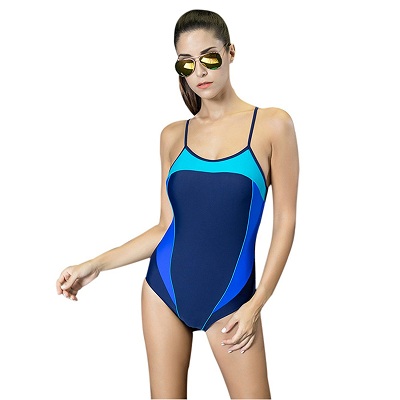 If you're looking for a great swimsuit that will keep you going for hours in the pool or among the waves, the Attraco Women's Solid Pro One Piece Athletic Sports Racing Swimsuit is a fantastic choice. Designed with the serious swimmer in mind, it's a great combination of form, function, fashion, and comfort.
Read more
Durability
Designed with the discerning athlete in mind this swimsuit is a great example of what happens when fashion and function merge. The results are a classic look with a truly functional style. This swimwear is designed for an athletic swimmer and allows for a great, full range of motion in the arms and legs with the crisscross back. It has a classic look, but may not be truly flattering on all body types, especially those who have a fuller figure.
Value
While it isn't the most budget friendly women's swimwear on this list, it is reasonably priced, considering that it could last quite a few seasons with proper care.
Materials
Made from a combination of nylon, spandex, and polyester, this swimwear is fairly easy to put on and take off, although the lack of lining can be a bit problematic, especially for those who are worried about their nipples showing.
Fit
This swimsuit is true to fit an impressive 82% of the time and has been reported to stretch easily and adjust as the body moves through the water. While it has also been reported to run a little small, the overall comfort and flexibility of this swimwear are hard to match.

7

. KANU SURF MEN'S HAVANA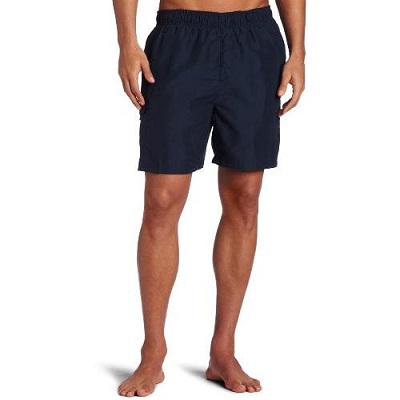 Sporting the classic look and a comfortable elastic waistband, this entry onto our swimwear list is a great choice for those times when having fun in the sun is on the agenda.
Read more
Durability
If you're looking for a great suit that has a great mixture of fashion, function, and comfort, the Kanu Surf's Men's Havana Swim Trunks is a fantastic choice. Available in a wide selection of colors, these classic swim trunks have a few added features that make them that much more appealing. For starters, the swim trunks have both side-seam and side cargo pockets, so you can easily go from a walk on the boardwalk to a dip in the pool without too much of a problem. The look is both classic and modern and flatters nearly every body type.
Value
Similar to the other men's swimwear on this list, these trunks are a great choice for those who demand quality even at a lower price.
Materials
This suit is made of 100% polyester, and the seams are well stitched and hold together well, even through multiple uses. The polyester material makes these shorts extremely easy to care for, just throw in the wash cycle with your regular clothes, and go from there
Fit
The Kanu Surf Men's Havana Swim Trunk sports between a 7-inch and 9-inch inseam, and an elastic waist that makes it easy to fit comfortably around your waist. One potential drawback is that the mesh liner may run a little small. You could also check out the swim parkas as they are useful when either the ambient temperature is mild to cold or the water is cold.

8

. COASTAL BLUE WOMEN'S SWIMWEAR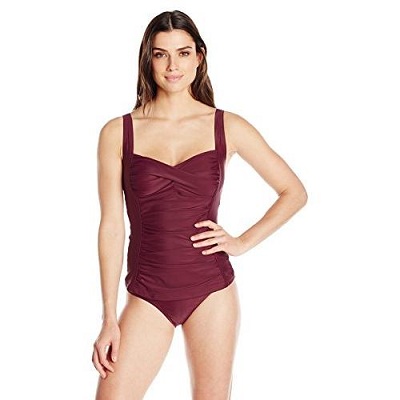 If you're looking for a classy, yet sultry look in a swimsuit that fits well enough for you to brave the waves, this swimwear is a fantastic choice.
Read more
Durability
If you're looking for great swimwear that is not only comfortable but also helps you to tuck and lift in all the right places, the Coastal Blue Women's Swimwear Classic Center Front-Twist One Piece Swimsuit is a great choice. Hearkening back to the sirens of the 1940s and 1950s in style and substance, this swimwear follows the adage that "everything old is new again". However, this suit also has given a great modern update to the look, bringing out its timeless fashion with ease.
Value
The swimwear option in this entry is moderately priced and is easy to afford for most budgets. While it isn't the most budget-friendly option on the market, it is certainly a great choice given the quality and comfort that you'll find.
Materials
Created through a combination of nylon, spandex, and polyester, this suit is designed to not only stretch and flatter the body but also to provide a great comfortable fit.
Fit
This is one suit that is designed to fit like a glove and to be flattering in all the right ways. It has been reported to be true to size nearly 82% of the time, which is rather astounding given all the variables involved.

9

. ALKI'I MEN'S HYBRID BOARD SHORTS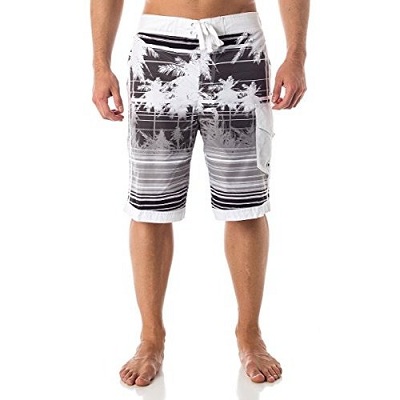 While these shorts may be a bit outspoken for some, there is no denying their overall comfort and durability when it comes to hitting the waves. The Alki'i Men's Hybrid Board shorts with mesh lining- Isla Palms is a great example of what happens when swimwear meets fashion-forward thinking.
Read more
Durability
The Alki'i Men's Hybrid Board shorts with mesh lining is a great choice for those who have a vibrant fashion sense, and the need for great comfort and practicality. The island palms and bright colors on this swimwear allow you to shout the fact that you're having fun at the beach without saying a single word. While it may not be appealing to everyone for those who have felt the island call, it will be unmistakable.
Value
This is truly one of the most affordable examples of men's swimwear on this list, and with good reason. Not only is the quality top-notch, but the price is one that will keep your wallet full and happy.
Materials
The material used is tightly woven and smooth and allows for plenty of movement where wanted and support where needed. Not only is it comfortable against the skin, but it easily holds up to multiple uses and washings.
Fit
These board shorts offer a 10.5-inch inseam and a wide array of sizes, ranging between small and 2XL, which has a 38 to 40 inch wist. It has been shown to be true to size the most of the time, and a Velcro fly and faux drawstring allow for a more finite adjustment as needed.

10

. COLUMBIA MEN'S WHIDBEY II HYBRID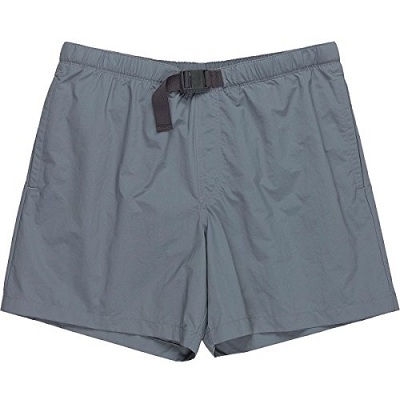 If you're looking for a pair of swim shorts that is not only comfortable enough to wear just about anywhere but also stands up to the rigors of life in and out of the water, the Columbia Men's Whidbey II Hybrid Water Swim Shorts may just be what you're looking for.
Read more
Durability
One of the great things about this swimwear entry is that they hardly look like swimwear at all. Many customers have chosen to wear them into public places, work at a landscaping job, or do work around the house in these shorts, and no one has been the wiser about the fact that they are actually wearing swimwear. The Columbia Men's Whidbey II Hybrid Water Swim Short has found the balance between practicality, comfort, and fashion to become one of the best swimwear pieces for men on the market today.
Value
These swim shorts are priced differently depending on the size and color desired, but for the most part, they are an economical choice, even for those on a tight budget. Their classic design and strong material and workmanship prove that you don't always have to spend a lot to get more than you expect.
Materials
The material is quick drying and offers superior protection when it comes to the sun with nearly 50 UPF protection. Comprised of a polyester interior with a smooth nylon lining, these shorts are quick to dry and offer a great feeling against the skin. With the nylon shell and polyester interior, these swim shorts can easily be thrown into the washer during your normal load without any real trouble. About the only annoyance that has been encountered is sometimes the drawstring will break with frequent washings.
Fit
Although this swimwear tends to run a little large in the thigh area, the waistband is often true to form, and also easily adjustable with a classic drawstring tie. There is plenty of room for the "family jewels" and the swimwear has found a great balance between fit and flexibility for when swimming beneath the waves is on the agenda.

Subscribe to our Newsletter