Best Beach Gear
In a Hurry? Editors choice: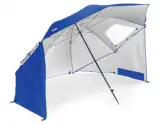 Test Winner: Sport-Brella Portable All-Weather and Sun Umbrella

When the sun comes out and summer is on its way, the first place many families head is the beach. The beach is a place to create memories, get a tan, and most importantly, relax. Many families spend hours enjoying what the beach offers. Now when spending so many hours at the beach, you want to make sure you are prepared and have the proper beach gear to protect yourself from the sun while also
maximizing your fun
.
When planning your next beach trip with the family, it can be tough to remember all the beach gear you will need to ensure your family has the most fun they can have. Below we have done the research for you and listed the top ten gear to bring to the beach to ensure you will have a memorable time.
Standout Picks
Criteria Used for Evaluation
Top 10 Picks
1

. Sport-Brella Portable All-Weather and Sun Umbrella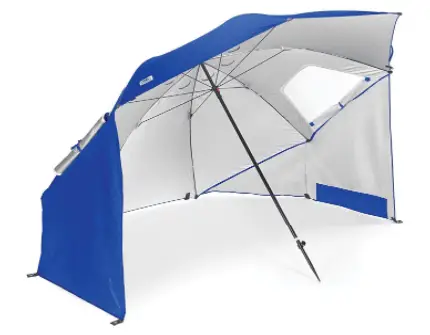 One thing we all know about going to the beach and bringing an umbrella with you so you can get a break from the sun and have shade is that most umbrellas can block out the sun. However, what most of them can't do is give you some protection from the wind and sand so that you get a more relaxing experience. One umbrella that can give you all of this is the Sport-Brella Portable All-Weather and Sun Umbrella, which can protect you from the sun, wind, and sand and even more surprisingly, has a very cost-effective price. It offers you a traditional design but much more protection, and you can afford it even if you are shopping on a budget.
Read more
Materials
The Sport-Brella offers a great design, and while it has a traditional look, it does far more than what most traditional umbrellas can do. This umbrella has three ground contacts and is made to be much sturdier when you stand it up than other umbrellas. This umbrella stays in place well and won't move or fall, and you'll also get a ventilation system with this umbrella.
Features
You'll get several amazing features with the Sport-Brella, and a nice-looking umbrella that offers a great design and a lot of functionality. First, this umbrella has vents if you want to use them so you can get some air and breathability. Also, it is designed to be very durable and sturdy so that it stands up and stays. Also, you get an umbrella built to be strong, reliable, and long-lasting.
Durability
If you want an umbrella that is reliable and that you'll be able to use for a long period of time, then this umbrella will give you that. Many umbrellas on the market today are made with cheap plastic parts that get destroyed quickly. The Sport-Brella is not like that, and only two of the parts are plastic—but the plastic is thick and reliable. The ribs on this umbrella are made of steel, so this is one durable umbrella.
Value
If you are looking for a durable, long-lasting and very effective umbrella that can do it all and protect you from the sun, sand, and wind, then this is a great umbrella for you. Not only is this umbrella both durable and reliable, but it also has an affordable price tag. That means you'll be able to afford it even if you are shopping on a budget, and you'll get a great product.

2

. Hydro Flask Water Bottle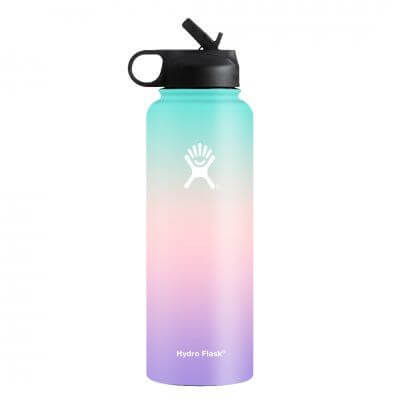 If you don't have space, arm strength, or desire to bring a cooler, you'll be stuck buying water bottles every hour or drinking warm water. Both of these options sound miserable to me. This water bottle from Hydro Flask is the perfect bottle to bring to the beach. It can keep your cold drink cold for up to 24 hours, even if the bottle itself is baking in the sun with you.
Read more
Materials
All of Hydro Flask's bottles are made from non-toxic, BPA-free plastic and food-grade steel. The bottle features a powder coating that will keep it from slipping out of your hands and also prevents condensation. The walls of the bottle are double insulated and vacuum-sealed.
Features
This bottle is offered in 10 different colors! There is a color to reflect everyone's personality. As for sizing, with this particular model, you can choose between 32-ounces or 40-ounces. Each version features a wide-mouth straw lid, making it easy to sip at any moment. While it doesn't happen often, it is worth mentioning that the wide-mouth straw lid is not leakproof. Hydro Flask does offer other, more secure, lids at an additional cost. In the unlikely event that you bring a hot beverage to the beach, it will stay hot for 6 hours. A cold beverage will stay cold in this bottle for 24 hours.
Durability
These bottles are fairly durable. If you aren't worried about a bit of cosmetic damage after dropping it, you will be fine. The outside is prone to dents with aggressive and clumsy use, but the inside and functionality of the bottle will not be compromised.
Value
For a water bottle, this may seem a bit expensive. However, the features that are built into this product are priceless. Depending on the size and color of the bottle, the price changes. Hydro Flask offers a lifetime warranty with all of their products. You really can't lose with this product and you'll also be helping the environment by cutting back on plastic.

3

. Rainleaf Microfiber Towel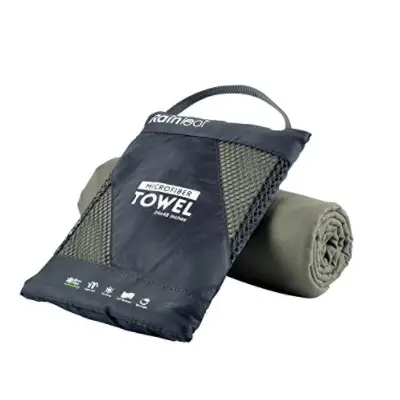 Rainleaf's Microfiber Towel is designed to give you a great towel you can use at the beach as well as other places because of its durability. It can be used at the gym, or for a picnic, or whatever your heart desires. This towel is made to be fast-drying, absorbent, and it also resists bacteria so you'll stay healthy. It is fully waterproof and designed to be very easy to carry. With its affordable price, you'll be able to afford this product even if you are shopping on a budget.
Read more
Materials
Rainleaf designed this towel out of microfiber material, and that makes it very soft to the touch, comfortable, and also quite durable. You'll get a towel that is antibacterial, very lightweight and is also waterproof and quick-drying. Plus, this towel is very portable and light so you can bring it along with you anywhere.
Features
This towel offers you a lifetime warranty and works well as a travel towel, or a towel you can take to the beach. It comes with a carry bag that you can use over and over again and that is also waterproof. You can easily stuff your lightweight towel in your carry bag, bringing you a lot of portability.
Durability
Rainleaf's Microfiber Towel is manufactured with a lot of high-quality products which might surprise you because the towel is so affordable. You'll get a very solid microfiber towel that is water-resistant, dries quickly, keeps bacteria away, and is built to last a long time. You'll be able to utilize it again and again and enjoy it as often as you like.
Value
You might think this towel can't be a great value at such a low price and that something about it must be cheap. However, it is actually quite durable and built to last, and it brings you a ton of great features like being waterproof and resisting bacteria. So you are getting a lot for your money.

4

. Tommy Bahama Backpack Cooler Chair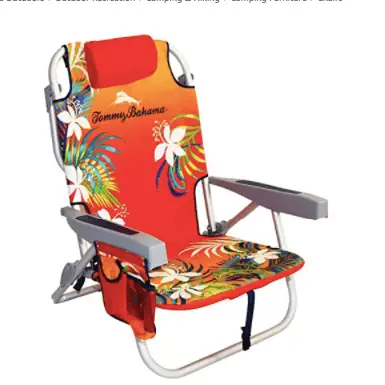 Tommy Bahama's Backpack Cooler Chair brings you a beach chair that you'll love having, and you'll wonder how you lived without it. You get a lot of great features with this beach chair, which is very lightweight, designed with several pockets, features cold storage for your food and drinks, and can be placed in five different positions. It is made out of 600D polyester, which means it is very durable and you'll be able to use it for a long time, and the aluminum frame is also corrosion-resistant. While this chair may be on the expensive end of things, it is one of those products that seems to last forever and will give you years of reliable use.
Read more
Materials
Tommy Bahama's Backpack Cooler Chair is made out of a durable 600D polyester fabric, which is a material that can last a long time and is also made to be abrasion-resistant and tear-resistant. You'll also get a very lightweight and portable chair that is very easy to carry along with you. While the chair is lightweight, it is also very strong and can hold up to 300 pounds. Plus, the chair's frame is made out of corrosion-resistant aluminum, so even the frame is built to last.
Features
Tommy Bahama' Backpack Cooler Chair comes with a bevy of features that are well-thought-out and will help you feel more comfortable and relaxed on the beach because you'll be able to find anything immediately. You get a pocket that is insulated and meant to be used with beverages, a cup holder, a towel bar, and a pocket for your cell phone.
Durability
Tommy Bahama's Backpack Cooler Chair is comprised out of several high-quality materials that wind up providing you with a long-lasting product. With the 600D polyester fabric in this chair, you'll be able to use the chair for some time because that material is sturdy and also both abrasion and tear-resistant. The aluminum frame on this chair is also built to be rustproof, meaning the frame will also last. Also, the chair can hold up to 300 pounds of weight, so you'll wind up with sturdy product design.
Value
While this chair is priced a bit higher than many of our other products and also competitors' beach chairs, one reason this chair is more expensive than others is its high-quality materials, which don't come cheap. The polyester material is very strong, and the chairs aluminum frame is made out of rustproof aluminum. You'll also get plenty of great features and pockets, which means that you'll have a great chair that will last many years. Since the chair is so durable, it can save you money over the long run because you won't need to worry about replacing it for a long time.

5

. Utopia Towels Premium Quality Cabana Beach Towel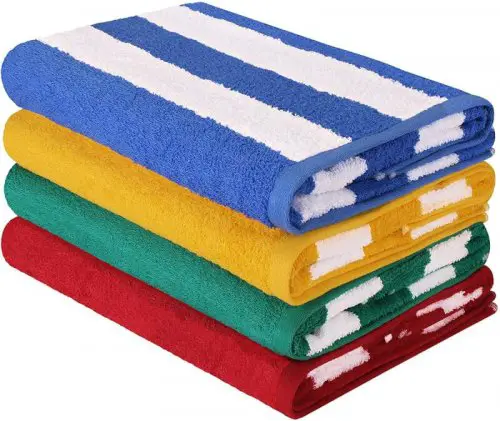 Utopia Towels offer you a lightweight design and a towel that can provide you with fashion and style while still being comfortable. It is comprised out of 100% organic cotton, and also feels very soft when you touch it. Made to absorb water very well, this towel will dry quickly and feel very soft against your skin and you'll also love how fast the towels dry.
Read more
Materials
Utopia Towels are comprised of 100% cotton and are designed to be lightweight and fast-drying. You'll get a soft and comfortable towel that will feel great against your skin, and you'll love the soft organic cotton weave. Being terry in nature, these weaves are the most absorbent of all kinds with loops on both sides that create extra surface area for completely drying off your body.
Features
Utopia Towels have a bevy of features that make it a nice choice if you want a well-designed towel made out of high-quality features. It gives you a nice weaved cotton design that dries quickly.
Durability
While this lightweight, affordable towel might seem like it should not offer you a lot of durability, it actually does. Made out of 100% organic cotton, you'll get a fast-drying and soft towel that is made to feel soft and comfortable. This brand is known as one of the best towel manufacturers on the market, and they always make durable, strong towels. This towel fits that standard with its durability.
Value
Utopia Towels are priced affordably, which means you'll get a great value here if you decide to purchase this product. This towel is built to last and made out of 100% cotton, so it is durable, washable, and also soft to the touch. You'll get a lightweight towel that you can use just about anywhere, and you'll love how soft and comfortable the towel feels when you use it.

6

. Timber Ridge Zero Gravity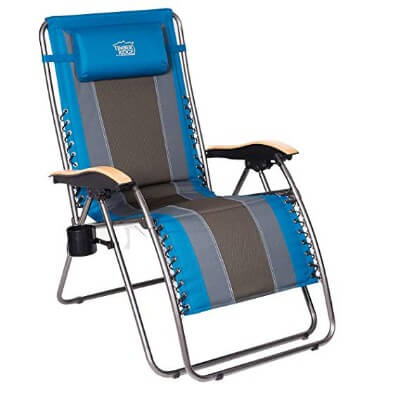 This chair from Timber Ridge brings you a lot of versatility as well as durability with this well-designed chair. It adjusts into three different positions so that you can find your comfort level easily. With a lightweight design, this chair is very portable and easy to bring along with you to the beach or anywhere else you want to take it. It is also designed to offer a lot of comforts since it is cushioned and comfortable. While it is a bit expensive than some of the competitor's versions, it is built to last and you won't need to worry about replacing it, so you can save some money in the long run.
Read more
Materials
Timber Ridge's Zero Gravity chair is designed out of a very strong polyester material that can repel water with ease and also offers you plenty of comforts. The frame is made from steel and features a powder coating and the armrests are made from wood, so they won't get too hot. Also, you get a well-cushioned design that has an open and closed face area so you have a pillow and arm slots you can access and use.
Features
This chair offers you a bevy of features that help make this chair a relaxing and comfortable choice. You can recline and adjust the chair to make sure you feel cozy, it is also built with plenty of cushioning. There is a detachable pillow that you can use for your head or lumbar support.
Durability
We love how durable this chair is since it is built to last for years. While it might seem expensive, you'll get a reliable chair you'll have for years. Comprised out of durable polyester material, this chair is also water-repellant and can hold up to 350 pounds, making it very sturdy. With its comfortable cushioning and its sturdy features, this chair is built to last.
Value
While this chair has a price that is higher than some of its competitors, it is built from high-quality materials and offers more features than many other chairs on the market today. With its durable polyester fabric and ability to hold up to 350 pounds, you know your chair will last for some time. With this chair, you'll get an excellent value since it is well worth the money.

7

. Saltwater Canvas Family Mesh Whale Bag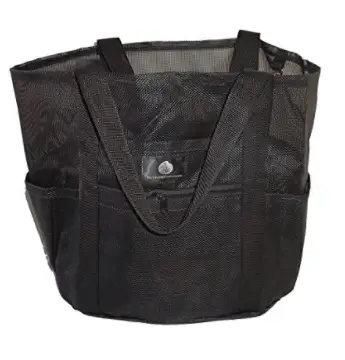 Saltwater's Canvas Family Mesh Whale Bag offers you a very durable bag that is also versatile. You can use this bag for the beach, on a boat, take it to a picnic, and really use it anywhere you want to go. It is very waterproof and weatherproof, so it will do a great job of protecting your items. You also get a five-year guarantee that this bag will never rip.
Read more
Materials
Saltwater's Canvas Family Mesh Whale Bag is comprised out of sandproof and waterproof black fabric that is also weatherproof. The key hook is made out of stainless steel, and you also get nine pockets with this tote, which gives you plenty of space to organize your items and keep them safe.
Features
Saltwater's Canvas Family Mesh Whale Bag comes with several features that you'll enjoy if you decide to purchase this bag. For instance, you can easily clean this bag by hosing it off, and since it dries quickly, it will be ready to use again in five minutes. It also comes with a never-rip five-year function guarantee. With nine pockets to help you organize your items, you get a very large bag that can hold a lot of items.
Durability
Saltwater's Canvas Family Mesh Whale Bag is made to be strong and comes with a very durable design and several strong materials. With its double shoulder straps and strong furniture mesh material, you get a waterproof and sand proof bag that is made to never rip, and also comes with a five-year guarantee.
Value
This tote bag is a bit more expensive than some of the other options you'll see from competitors. However, their cheaper bags simply don't equal the durability and excellent design of this bag. You get a five-year no rip guarantee and a strong mesh material making up the bag. You also get a waterproof and sand proof bag that you'll get plenty of use out of.

8

. Blue Lizard Sensitive Sunscreen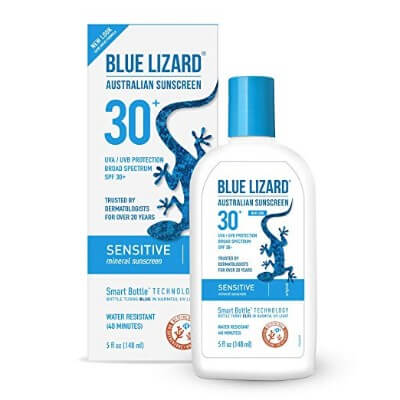 Sunscreen at the beach is incredibly important! Not all sunscreens are created equally, and I think we have all experienced that first hand with a painful sunburn. This sensitive skin formula from Blue Lizard doesn't contain any chemicals that could harm you or the coral reefs.
Read more
Materials
This is one of the purest sunscreens on the market today! Instead of using chemicals to protect your skin, Blue Lizard uses minerals. The titanium dioxide and zinc oxide work together and act like small mirrors on the skin that reflect the harmful rays from the sun. The sensitive skin version is paraben and fragrance-free.
Features
The Blue Lizard company is dedicated to not harming the coral reefs. This sunscreen as part of their "We love the reef" line and contains no oxybenzone or octinoxates. These two chemicals that are often found in sunscreen have been known to harm the reefs. This sunscreen is SPF30 and provides up to 40-minutes of water resistance. A fun feature of this bottle is that it turns from white to blue when in contact with harmful UV rays.
This sunscreen feels thinner than other popular sunscreens and goes on smoothly. It is easy to rub in and doesn't feel greasy.
Durability
As mentioned, this Blue Lizard sunscreen provides you with 40-minutes of water resistance and an SPF of 30. It is recommended to reapply your sunscreen every two hours.
The plastic bottle that the sunscreen comes in doesn't feel flimsy or slippery. The top is also plastic. Overall, it feels pretty sturdy but if not used carefully, or opened with excessive force, the plastic top could break.
Value
As far as sunscreen goes, this bottle isn't overly expensive. It comes out and goes on a bit thinner, so you are using less than you would with another sunscreen. It is easily absorbed into your skin and provides great coverage. All of this, combined with eco-friendliness makes it a great buy.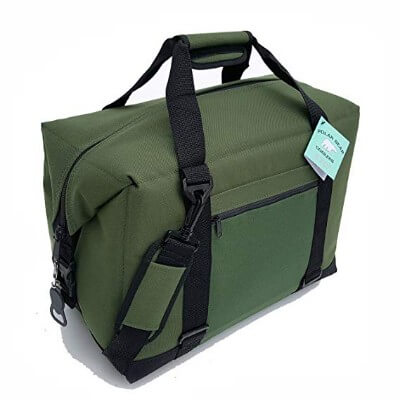 If you plan on bringing any beverages or food to the beach, you're going to need a great cooler. This cooler from Polar Bear is a great option because it is lightweight (about 3-pounds), durable, and well-insulated. It is made incredibly strong nylon fabric that will last you a lifetime.
Read more
Materials
This soft cooler is made from different grades of nylon. The inside of the cooler is made from antimicrobial FDA food-grade TPU double-coated nylon. There is also high-density foam insulation to keep your food and drinks cold. On the outside, the material is made from 1000D luggage-grade nylon. The cooler is also outfitter with strong YKK #10 weatherized and rustproof zipper.
Features
The manufacturer claims that this cooler can keep ice frozen for up to 24-hours in over 100-degree heat. Reviewers say that this is true and exceeded their expectations! There is a side zipper pocket that you could store trash bags or something small in. Also attached to the ultrastrong YKK zipper is a bottle opener.
Perhaps what makes this one of the best beach coolers is its weight. This cooler only weighs about three pounds! Once loaded, you'll be happy to have a lightly padded carrying strap. If you don't have room in the trunk, there are D-rings at the bottom of the cooler that you can use to attach it to the roof.
Durability
As you can tell from the materials used to build this cooler, it's quite durable. The seams are double hemmed and anchor stitch. The manufacturer claims that this cooler is leakproof, but reviewers have had issues. If you turn the cooler on its side for any reason, the liquid can seep out and into the material of the bag. As long as its water, this shouldn't be a big deal.
Value
The price of this cooler is slightly higher than we would like, but it also comes with a limited lifetime warranty from Polar Bear. We like the fact that this cooler is durable, can be used over and over, and isn't bad for the environment. As long as you remember to clean it out each time and take good care of it, this cooler will last you for many years.

10

. WAPAG Waterproof Bag Pouch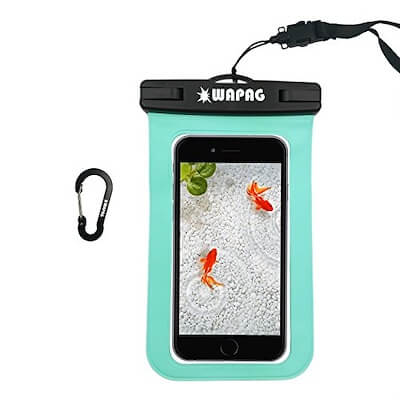 WAPAG brings you there waterproof phone pouch which is a great accessory for the beach. Many people want to bring their phones with them to the beach with for music, or to stay connected with there family and friends. If you are bringing your phone to the beach, you want to make sure it is protected and with WAPAG you know it will be.
Read more
Materials
The WAPAG waterproof pouch for your phone is built to be waterproof up to 100 feet. It is specially designed for diving, skiing, surfing, swimming, and all outdoor use. It is constructed with heavy-duty material to ensure you will never need a new waterproof case again, and WAPAG backs that up with there lifetime warranty.
Features
The WAPAG waterproof phone pouch features a waterproof design that is good up to 100 feet, a back and front transparent screen so you can take pictures or videos, and is big enough to fit any smartphone. A great accessory for any beachgoer.
Durability
The WAPAG waterproof phone much is built to last a lifetime and WAPAG backs this up with their lifetime warranty.
Value
The WAPAG waterproof phone case is a great accessory for any beachgoer, and the best part is it is affordable. If you are planning on bringing your phone to the beach, I would recommend the WAPAG waterproof phone case.

Subscribe to our Newsletter