Best Coolers and Ice Chests
In a Hurry? Editors choice: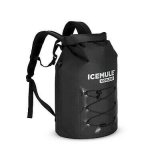 Test Winner: ICEMULE CLASSIC

A good cooler should be a piece of gear every household should own, as it can be used for home get-togethers,
camping
trips, days at the beach, pretty anywhere you need a cold drink when you're not near a refrigerator. Now most likely you have a cooler and are looking to update it or get one with a bit more capacity, or maybe you are looking to invest in your very first cooler. Whatever the reason we have you covered as the guide below will help you find the best
cooler
to help you create some awesome memories this summer season. Remember when looking for your next cooler or
ice
chest to keep in mind the portability, and capacity as those two factors can make all the difference.
Standout Picks
Criteria Used for Evaluation
Portability
No, there is nothing in the "cooler and ice chests rule book" that states you must transport it with you to various events. If you truly wanted to, you could invest in a cooler for the sole purpose of storing it inside of your home or your garage. But, oftentimes, and rightfully so, coolers are associated with social events, camping, vacationing, outdoor activities, etc. It is a high probability that you are planning on taking your cooler with you on certain occasions. Thus, it makes it extremely important for them to be user-friendly when it comes to portability.
For personal-sized coolers, this is not going to be an issue. After all, these kinds of coolers are specifically designed to accommodate one or two people; meaning they are light and compact enough to carry with ease. But, for ones that are made to be designed like a carry bag, it is nice to have an adjustable shoulder strap in case your hands get tired.
This idea of portability, however, truly becomes noticeable with larger and beefier coolers. With some of them, you will not be able to avoid them being heavy to lift. However, manufacturers can make it slightly easier by designing their cooler with dual handles with comfortable grips. Even if you need more than one person to transport it, comfortable grips can make all the difference in the world.
What some fail to do, and what all heavy-duty ones should have, is include a telescopic handle with attached wheels. Without them, there is a real chance that you will not be able to carry the cooler around (especially considering the included contents inside along with the weight of some coolers by themselves).
Insulation
Typically, with a product, it is smart to look at the overall design. However, when it comes to coolers and ice chests the outside is not nearly as important as the inside. For those who think otherwise, what good would a cooler be if it did not properly hold in cold air? If after a few hours your drinks are warm and your food is soft and beginning to spoil, then the cooler is utterly useless. It may just be the biggest selling point and if you noticed, all entries on this list had great to fantastic insulation technology.
Now, not all coolers will have the same type of insulation. Some models use PEVA lining with PU fabric, some ThermOZONE insulation, some Ultratherm insulation, and some PermaFrost insulation. As long as the cooler has some sort of insulation, and it is not cheap, that will conceal cold air for days, you should be in the clear. Past that, you may be looking to separate some of your refrigerated foods from your dry foods. That is what is nice about certain versions because they come equipped with a section for dry storage (usually at the top or under the lid). This allows you to store everything in one big cooler, but not having to eat cold potato chips.
Another selling point could be how deep coolers are, as you may want to stand up certain bottles and cans. Unfortunately, not every single cooler you find will be deep enough to adequately stack up multiple-liter bottles.
Capacity
This one truly goes without saying, but you need to make sure you do not overlook the simple aspects. There will never be any mystery to how much a certain cooler will hold, as most will distinguish it right away in the product title. However, figuring this aspect out beforehand can end up saving you money. Before you come to one conclusion on what cooler you may end up investing in, you need to assess what you are going to use the cooler for in the first place. Do you plan on bringing it with you on family camping trips? Are you the only one who is going to be using it or do you want it to accommodate multiple people? If so, how many people (several individuals at a social event, one or two guests at a local sports game, etc.)?
Simply, if you know for a fact you are the only one who is going to use it, then you should narrow your search for strictly personal-sized coolers and ice chests. On the contrary, if the cooler is going to be used when camping or going to parties, consider larger ones with higher capacities. Why is this important to begin with, though? Just like everything else in the world (most of the time), the bigger and worse something is the more expensive it is. The same principle applies to coolers, so why waste extra money on a cooler that you (or a few people) are only going to use?
Features
Extra features on products is always an interesting criterion because you can easily make the argument that they are not that important. They usually are not features that are needed to make it succeed, but they are always fun to have. So, why not get a cooler and ice chest that has loads of additional features for your convenience. As you noticed, though, most of the models on this list have extra features that can put them over the top.
One prime example is the coolers that come equipped with cup holders on the lid. Now, why would this be of any use to you? Well, while sitting in your lawn chair you could use it as a place for your drink. This lessens the chance of you spilling it and having to clean the lid of the cooler. Or, how about the ones that present you with additional storage capabilities? Such as an attached cargo net for electronics or food items, front pockets, and side water bottle pockets.
Of course, there are also some exclusive features that some models offer. Take, for instance, the ability to transform the lid of the cooler into a mini-tablet, or being able to sit on top of the lid when resting, or the ability to mount it on the back of your trailer, truck bed, and boat.
There is no doubt that all these features are great to have, but none of them are necessary. Thus, you do not have to concern yourself with this if you do not desire to. Basically, think of these as added bonuses but not necessities.
Top Ten Coolers & Ice Chests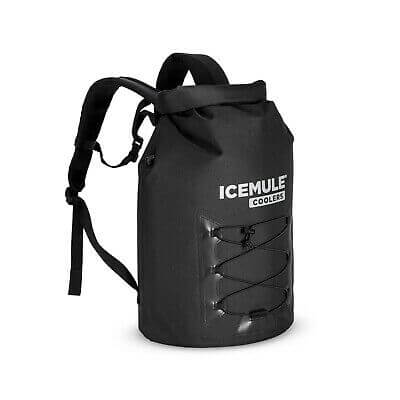 This cooler from IceMule is highly rated amongst their customers and for good reason. Not only is this cooler durable and has a great capacity to be able to store your favorite snacks and food, but it is also quite convenient to transport.
Read more
Portability
This cooler is great for portability, as it is a backpack when being used and when not being used easily and conveniently rolls up and can be stored.
Interior Design
This cooler is built with Polarlayer Insulation which will keep your food and drinks cold for 24 hours which is great if you are going away for the weekend. You also have the option to allow in the air to your cooler which will let out warm air and only contain the colder air.
Capacity
This cooler comes in three different sizes to allow you to get the cooler that will fit you and what you intend to use it for. It comes in a small (10L), Medium (15L), or large (20L).
Extra Features
The convenience of being able to roll up the cooler when not being used is great for storage and also the ability to allow air to be added or discarded from the cooler is great as it keeps your supplies cold and convenient.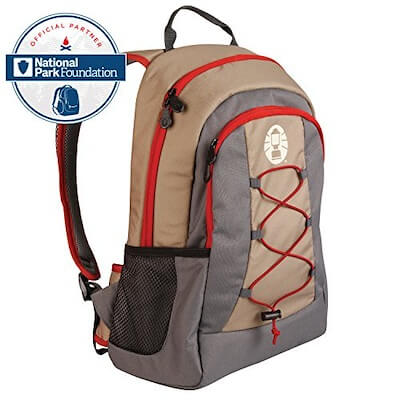 This cooler bag from Coleman is a highly rated and portable cooler that would be great if you are an avid camper, beach hopper, or find yourself on the go every weekend. it is conveniently a backpack to ensure that no matter what you have packed in your cooler, it will be easy to bring along with you.
Read more
Portability
What is more portable than a backpack and that is exactly what this cooler is. The convenient straps easily fit around your shoulders and the backpack is supported by your back, so even if the cooler has a little bit of weight, it will be no issue bringing it along with you.
Interior Design
The interior of this cooler is fitted with a germ-resistant liner and durable zippers to ensure that after you are done putting your supplies in the cooler, it will stay cool, so when you go to grab a drink, they are as cold as they were when you packed the cooler. There is also a front pocket which is not a cooler, but convenient, if you have some extra gear you want to pack that, does not have to stay cool.
Capacity
You can fit about 28 cans of soda or beer in this backpack, so there is plenty of room to pack all your snacks and drinks without issue.
Extra Features
The design of this cooler as a backpack is great and makes it easy to transport. The front pocket also comes in handy as you can store extra gear which lightens the load on your person.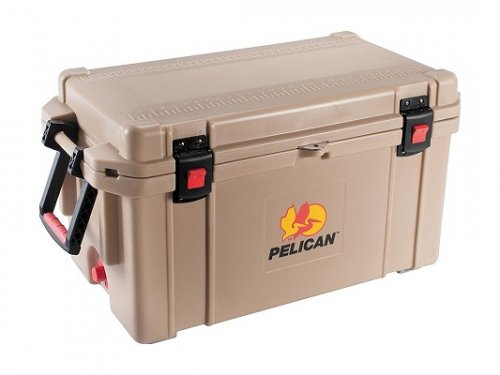 The Pelican ProGear Elite Cooler could have easily taken the top spot, but the steep price kept it from climbing any higher.
Read more
Portability
Molded right into the sides of the ProGear are dual, hinged handles that create a comfortable user experience.
Interior Design
For up to ten long days, this cooler can maintain cold contents; thanks in large part to its freezer grade gasket and 2" polyurethane insulation.
Capacity
This cooler is designed to hold up to 65 quarts of liquids/foods.
Extra Features
In addition to the molded handles on the side, there are molded in-tie downs and molded in-hasp with a steel plate. Not only is the drain tethered and sloped but it can be attached to the receiving end of a garden hose.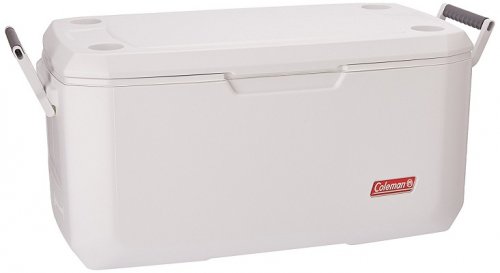 To accommodate for the most situations, there is not a better cooler than the Coleman Coastal Xtreme Series. In fact, it is the best cooler you can buy, period.
Read more
Portability
To ensure a pinch-free experience when carrying this cooler, there is a comfort-grip with no-crush handles. In addition, they are two-way handles making the cooler simpler to lift.
Interior Design
For up to six days, at outdoor temperatures of up to 90 degrees Fahrenheit, the ThermOZONE Insulation will keep ice un-melted inside. With insulation, all throughout the lid and the walls, it will keep the contents inside freezing cold for quite a while.
Capacity
This is a 120-quart cooler and it will hold approximately 200 cans.
Extra Features
As a bonus, the outside is coated with a UVGuard material that will protect it from the rays of the sun. Also, the lid accommodates up to 250 pounds; so anyone under that weight could sit on it as a stand. Plus, there are cup holders molded on top of the lid. The drain is leak-resistant and rustproof and users do not have to tilt the cooler to get all the excess water out.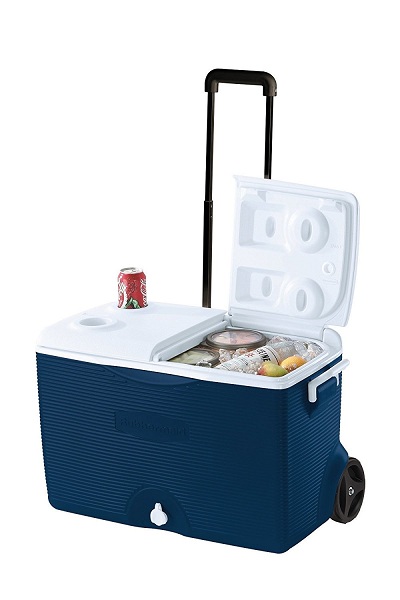 Much like the 48-quart cooler from Coleman, the Rubbermaid ice chest/cooler may not blow you away but it remains a great choice for anyone.
Read more
Portability
The 60-quart version has built-in wheels and a handle for moving. Meanwhile, the side swing handles have a comfortable grip and make moving it a breeze.
Interior Design
Thermal retention keeps all the contents inside chilled and the Microban liner is very simple to clean.
Capacity
There are different versions available, such as 10-quart, 20-quart, and 60-quart.
Extra Features
On the top are built-in cup holders to hold your drinks, while the split lid allows you to open the cooler without all the cold air being dismissed. Plus, the cooler is stain and odor resistant. The drain plug is located on the front of the cooler and will adequately remove excess liquids from it.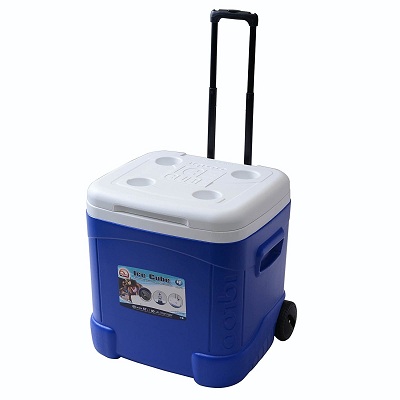 So far down the list, do not think for one second that these coolers are not fantastic. A great example of this is the Igloo Ice Cube Roller Cooler.
Read more
Portability
For easy transportation, the Roller Cooler comes equipped with a locking telescopic handle and durable wheels. When it needs to be lifted, there are molded handles on each side.
Interior Design
Inside the lid, there is a section for dry storage. While inside the actual cooler, Ultratherm insulation will keep the contents cold.
Capacity
This is a 60-quart capacity cooler, fitting around 90, 12-ounce cans.
Extra Features
On top of the cooler, there are four cup holders that have been molded in. To allow you to easily drain the liquid inside, the Igloo Ice Cube is equipped with a recessed, triple-snap drain plug that is resistant to leaks.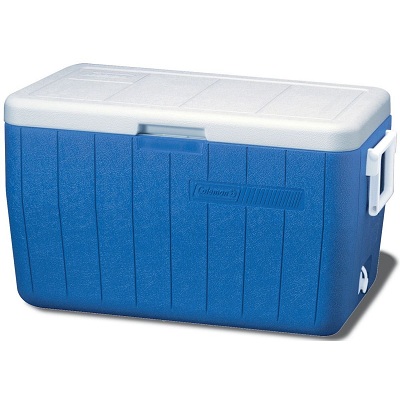 Coleman makes their way on this list once again. This time, with their 48-quart cooler and while this is not quite as sufficient as their others it still holds up very well.
Read more
Portability
Handles on each side of the cooler make it easy for one, or two, people to lift and carry it.
Interior Design
The 48-quart cooler from Coleman has ThermOZONE insulation that does not contain any harmful materials that will deplete the ozone layer. It also does a great job of insulating the inside of the cooler.
Capacity
As the name reveals, this will hold 48-quarts.
Extra Features
With the lid being hinged, it is fairly easy to grab items inside of the cooler. The included drain system is leak-resistant and it is incredibly simple to utilize it.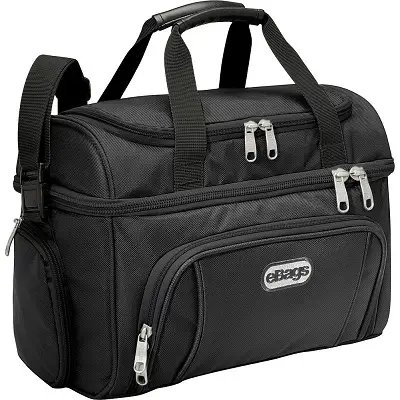 While the previous entry is the best overall cooler you can invest in, the eBags Crew Cooler II is the best single-person cooler on the market.
Read more
Portability
With it being designed for only a few people, it is small enough to easily transport. The included shoulder strap only increases the ease of use. What is really nifty, though, is the front pocket can be passed through and it can be passed through wheeled carry-on luggage.
Interior Design
The bottom is properly insulated to hold all cold beverages and food items with a replaceable PVC-free PEVA liner; while the top has a compartment that will store dry foods that do not need to be chilled.
Capacity
While there is not a set limit from the manufacturer, it can easily fit two people's lunch and multiple thermos packs.
Extra Features
On the sides of the cooler, there are water bottle pockets and in the front, there is a tip-out pocket that allows easy access for accessories. Anyone can easily lift the bag upside down and drain all the water out, then let it dry.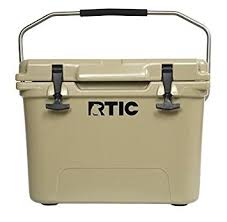 This cooler comes in at half the price of some other brands but it gives an incredibly good performance which is easily competitive. You get a very good cooler which can also be a cutting board, step stool, a bench, and a table top.
Read more
Portability
The cooler is a bit heavier than some other brands but in return, it can cover additional functions such as a cutting board, bench, tabletop area, and even a step stool. For lifting and carry a very good designed grip hand molded system
Interior Design
Up to 3 inches Insulated Walls. Open area for extensive stacked storage. Freezer Grade Gasket.
Capacity
For example, 30 plus bottles which will all stay very cold for a long time.
Extra Features
Here you get non-slip feet to keep your cargo steady. A locking system on the lid to prevent accidental opening. No need to fear damage when bringing this one into the wilderness it is even resistant to bears.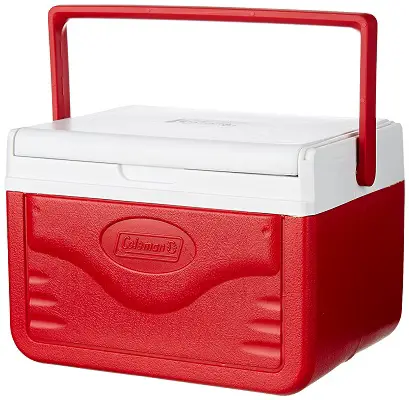 This is the first entry on this list to be a traditional cooler, but be intended for personal use. For what it is, it is absolutely superb.
Read more
Portability
This cooler can easily be carried with one hand with the bail handle. Plus, it is a personal cooler which means it is small in nature.
Interior Design
The inside material is made from liner and polypropylene which maintains stellar insulation.
Capacity
It does not hold too much at only five quarts; which would be around six cans.
Extra Features
The FlipLid is what makes this cooler unique and one of a kind as the lid will transform into a mini-table sported with beverage holders. As has been the theme will personal coolers, simply turn it over to properly drain it.

Subscribe to our Newsletter