Best Laptop Coolers
In a
Hurry? Editors choice: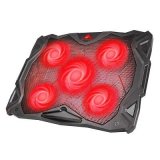 Test Winner: HAVIT COOLING PAD

It is extremely ironic that it can actually cause problems when you use your laptop on your lap. This is referring to the issue of overheating, for the record, and while this guide is not going to document and unravel the truth behind the manner, it is a good setup for this guide. And, quite frankly, it is one of the primary reasons why you are here today. If you have any interest at all in a laptop cooling pad then it must mean you are sick of your computer overheating on your lap (or in general). These devices are unique in their design and they implement specific materials and integrated fans to help dissipate the heat that is being emitted from your computer. But, they are not all the same and that means you need to know exactly what to look for when you go to buy one.
Standout Picks
Criteria Used for Evaluation
Effectiveness
For some of you, cooling pads will live and die by their cooling performance.
The main reason why you are here today is that you are sick and tired of your laptop overheating, right? While there can be other reasons, this is probably the main one. Now, it goes without saying that cooling pads are not permanent fixes to your issue and if your computer overheats too often then there may be internal issues going on. With that said, though, these devices are very useful but not all of them will cool with the same efficiency. In fact, not all models will even be designed with fans. Although, it is recommended that you avoid passive cooling pads (which do not have fans).
Of course, not all fans will be designed equally and it is important for you to analyze how much air a particular fan can push (which is measured in cubic feet per minute). Some models will also be designed with multiple fans (typically one large one and several smaller ones). All in all, the cooling power you require will vastly be dictated by your usage. If you have a gaming laptop and enjoy several hour periods of use, look for high-powered pads. One last note; pay attention to the noise factor. Yes, all fans make noise of some kind but you may want the overall noise kept to a minimum.
Compatibility
Without question, you need to ensure that the laptop you have will fit on the pad you buy.
Alright, so this section is not too tricky but it is extremely important. However, certain models are not going to be compatible with certain brands of computers and/or certain operating systems. Instead, all you need to reference is the size of your laptop (this is going to be the size of your screen). So, if a specific laptop cooler is designed to fit laptops up to 17 inches in size, it is irrelevant what the brand of your computer is. As long as it is not over 17 inches in size, it will fit just fine. What happens if you attempt to fit a computer that is not of the intended size, though?
Well, if it is larger, then the sides of the computer are going to hang off the sides. This is not particularly ideal but, in theory, it could still work. As for smaller units, they should be just fine. Typically, sellers will indicate a range of sizes to shoot for (such as 14.5 to 17 inches). For optimal performance, ensure your current laptop falls within the range specified by the seller.
Features
Yep, there are some specific features you will need to look for as they can be deal breakers.
Now it is time to start looking at the smaller details that can make or break your purchase. If you have found a model that sports the performance you desire and one that is compatible with your computer, then it is time to look at some design features (some of the adjustable features, in specific). For starters, nearly all models will be built with a stand. This comes in handy when you want to adjust the height of the pad. And, while the stability of your computer will be addressed later, you specifically want to look for how many height settings are allowed. Some models will allow only a few, while others several.
In addition to this, you may want to be able to adjust the fan speed and maybe even the lighting (if there is any). To do so, look for models that integrate a control panel for intuitive operation. The ability to control the fan speed, in specific, will be a deal breaker for some of you that is for sure. Oh, and you can also look for a model that is easy to disassemble when you go to clean the internal components.
Advanced Features
Mainly, keep an eye on the design of the USB ports for this section.
While most of the important features were just documented, one more very important feature needs to be analyzed. However, it is not necessarily mandatory and qualifies as an "advanced feature". To spill the beans, this is referring to USB ports. Cooling pads will be powered via USB so you always know that one of the ports will be reserved. Yet, some models will include more than one USB port to enhance the functionality. Because, you need to remember that unless you have an AC adapter, one of the USB ports for your computer will be required for the pad.
But, why look for just one port when you can look for several? Not all models will be designed in this manner but some will indeed double as a dock. In this sense, there may be three to four individual USB ports and these can be used to power various external devices. Again, this is not necessarily mandatory but it is something for you to think about.
Stability
If you do plan to elevate your cooling pad, you want to ensure that your computer will not slip or fall.
Even though this section is the furthest down on this list, it does not mean it is not important. In fact, it is utterly critical. But, it is only going to be vital if you plan to tilt the pad with your computer on the surface. When you do this, the pad needs to be properly designed to ensure that no slipping or falling results. In minor instances, your computer may simply land on your lap with no damage done. But, if you use the cooling pad on a desk (for example) and it is close to the edge, your computer could fall all the way to the floor if it is not properly stabilized.
So, after all of that rhetoric, how do you ensure that stability is not an issue? Well, firstly, look for models that integrate some sort of anti-slip holders. Having anti-skid mats on the surface can prevent the computer from slipping while on top. That is not enough, though, so also look for hinges or stoppers built into the front.
OUR TOP PICKS FOR THE BEST LAPTOP COOLERS
Subscribe to our Newsletter