Best Laptop Coolers
In a Hurry? Editors choice: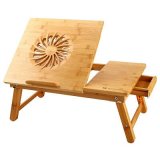 Test Winner: Nnewvante Adjustable

It is extremely ironic that it can actually cause problems when you use your laptop on your lap. This is referring to the issue of overheating, for the record, and while this guide is not going to document and unravel the truth behind the manner, it is a good setup for this guide. And, quite frankly, it is one of the primary reasons why you are here today. If you have any interest at all in a laptop cooling pad then it must mean you are sick of your computer overheating on your lap (or in general). These devices are unique in their design and they implement specific materials and integrated fans to help dissipate the heat that is being emitted from your computer. But, they are not all the same and that means you need to know exactly what to look for when you go to buy one.
Standout Picks
Criteria Used for Evaluation
Effectiveness
For some of you, cooling pads will live and die by their cooling performance.
The main reason why you are here today is that you are sick and tired of your laptop overheating, right? While there can be other reasons, this is probably the main one. Now, it goes without saying that cooling pads are not permanent fixes to your issue and if your computer overheats too often then there may be internal issues going on. With that said, though, these devices are very useful but not all of them will cool with the same efficiency. In fact, not all models will even be designed with fans. Although, it is recommended that you avoid passive cooling pads (which do not have fans).
Of course, not all fans will be designed equally and it is important for you to analyze how much air a particular fan can push (which is measured in cubic feet per minute). Some models will also be designed with multiple fans (typically one large one and several smaller ones). All in all, the cooling power you require will vastly be dictated by your usage. If you have a gaming laptop and enjoy several hour periods of use, look for high-powered pads. One last note; pay attention to the noise factor. Yes, all fans make noise of some kind but you may want the overall noise kept to a minimum.
Compatibility
Without question, you need to ensure that the laptop you have will fit on the pad you buy.
Alright, so this section is not too tricky but it is extremely important. However, certain models are not going to be compatible with certain brands of computers and/or certain operating systems. Instead, all you need to reference is the size of your laptop (this is going to be the size of your screen). So, if a specific laptop cooler is designed to fit laptops up to 17 inches in size, it is irrelevant what the brand of your computer is. As long as it is not over 17 inches in size, it will fit just fine. What happens if you attempt to fit a computer that is not of the intended size, though?
Well, if it is larger, then the sides of the computer are going to hang off the sides. This is not particularly ideal but, in theory, it could still work. As for smaller units, they should be just fine. Typically, sellers will indicate a range of sizes to shoot for (such as 14.5 to 17 inches). For optimal performance, ensure your current laptop falls within the range specified by the seller.
Features
Yep, there are some specific features you will need to look for as they can be deal breakers.
Now it is time to start looking at the smaller details that can make or break your purchase. If you have found a model that sports the performance you desire and one that is compatible with your computer, then it is time to look at some design features (some of the adjustable features, in specific). For starters, nearly all models will be built with a stand. This comes in handy when you want to adjust the height of the pad. And, while the stability of your computer will be addressed later, you specifically want to look for how many height settings are allowed. Some models will allow only a few, while others several.
In addition to this, you may want to be able to adjust the fan speed and maybe even the lighting (if there is any). To do so, look for models that integrate a control panel for intuitive operation. The ability to control the fan speed, in specific, will be a deal breaker for some of you that is for sure. Oh, and you can also look for a model that is easy to disassemble when you go to clean the internal components.
Advanced Features
Mainly, keep an eye on the design of the USB ports for this section.
While most of the important features were just documented, one more very important feature needs to be analyzed. However, it is not necessarily mandatory and qualifies as an "advanced feature". To spill the beans, this is referring to USB ports. Cooling pads will be powered via USB so you always know that one of the ports will be reserved. Yet, some models will include more than one USB port to enhance the functionality. Because, you need to remember that unless you have an AC adapter, one of the USB ports for your computer will be required for the pad.
But, why look for just one port when you can look for several? Not all models will be designed in this manner but some will indeed double as a dock. In this sense, there may be three to four individual USB ports and these can be used to power various external devices. Again, this is not necessarily mandatory but it is something for you to think about.
Stability
If you do plan to elevate your cooling pad, you want to ensure that your computer will not slip or fall.
Even though this section is the furthest down on this list, it does not mean it is not important. In fact, it is utterly critical. But, it is only going to be vital if you plan to tilt the pad with your computer on the surface. When you do this, the pad needs to be properly designed to ensure that no slipping or falling results. In minor instances, your computer may simply land on your lap with no damage done. But, if you use the cooling pad on a desk (for example) and it is close to the edge, your computer could fall all the way to the floor if it is not properly stabilized.
So, after all of that rhetoric, how do you ensure that stability is not an issue? Well, firstly, look for models that integrate some sort of anti-slip holders. Having anti-skid mats on the surface can prevent the computer from slipping while on top. That is not enough, though, so also look for hinges or stoppers built into the front.
OUR TOP PICKS FOR THE BEST LAPTOP COOLERS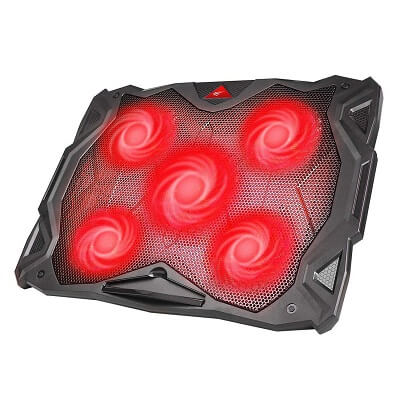 The top model on this list has about everything that you would ever want from a laptop cooler. This includes multiple integrated fans, extra USB ports, and multiple height and fan settings.
Read more
Cooling Efficiency
Not only is this designed of high-quality metal mesh that will draw heat away from your laptop but this is also built with five fans (one large and four small) for circulation.
Compatibility
This is going to be suitable for 17-inch laptops. Of course, this also means that smaller models will also work (anywhere from 14 inches to 17 inches is recommended).
Design Features
First off, you are able to adjust the height of this cooler to meet different needs. Also, the fan speed can be adjusted. Basically, the brighter the emitted light is the faster the fans will circulate.
Advanced Features
What is nice is there are multiple USB ports built into this pad. Now, do note that one of them is reserved to power the device itself so that leaves one USB port free of use.
Stability
To effectively prevent any slipping from occurring, there is a non-slip baffle that has been integrated into this design. This will save your computer from accidental damage.
Overall
Without question, this is about as good as it gets here. Even though the maximum fan speed could be faster, this is a minor gripe when you look at the bigger picture.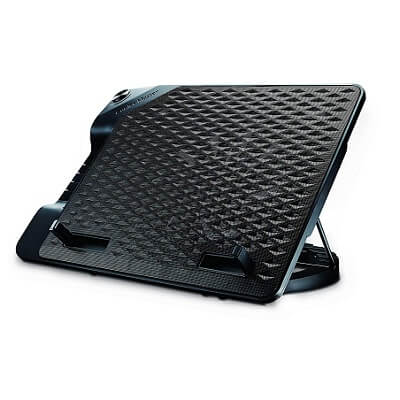 The NotePal series from Cooler Master is one of the more world-renewed series of cooling pads on the market. And, it just so happens that this offering right here is quite possibly the best.
Read more
Cooling Efficiency
The combination of the 230-millimeter fan and the special integrated circuit combine for quiet and powerful performance. After all, the last thing you want is to hear the fans working.
Compatibility
Now, the ErgoStand III is advertised to fit 17-inch laptops. However, various users have claimed that the size is smaller than advertised. With 17-inch models, these same users note that they will hang off the edges a bit.
Design Features
In total, the ErgoStand III can be adjusted to six different height settings. Of course, when fan maintenance is needed, it is also nice that the plate can be easily removed.
Advanced Features
Not too many models implement as many USB ports as this one has (with four in total). Also, this does have a built-in cable management system.
Stability
Cooler Master ensured that you would have no concerns over your computer slipping as they designed their ErgoStand III with adjustable anti-slip holders.
Overall
This does not come at a cheap price but the quality is worth it, make no mistake about it. But, do note that the advertised size is actually a bit smaller (according to several buyers).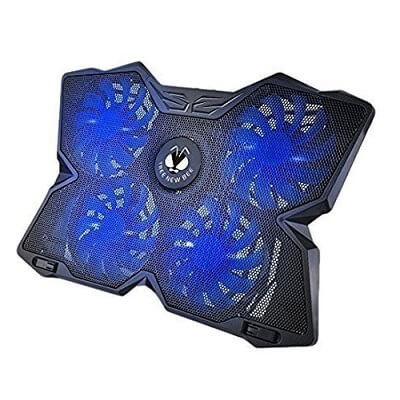 To say that this next option has received acclaim from previous buyers is an understatement. It is one of the most beloved options on the market and you will soon understand why.
Read more
Cooling Efficiency
The four built-in fans create a rapid cooling effect that efficiently cools down your computer. However, because of the lack of venting on the sides, it will not work the best lying flat on your lap.
Compatibility
Major brand computers from Apple and Dell (just to name a few) will fit perfectly on this pad. Overall, it accepts nearly all models sized 12 to 17.3 inches.
Design Features
Thanks to the built-in stand, this can be adjusted to multiple height settings. Furthermore, if the stand is being unused, it can be tucked away out of sight.
Advanced Features
Outside of the two USB ports that have been integrated, this pad is also outfitted with a built-in USB cable storage box.
Stability
What is really nice is there are high and low shield anti-skid mats that have been integrated in the front to prevent slippage. However, the plastic hinges that actually hold the computer can easily be bumped.
Overall
You really have to appreciate the minor features of this such as the built-in storage box and the integrated anti-skid mats. In addition to everything else, it goes to show the attention to detail here.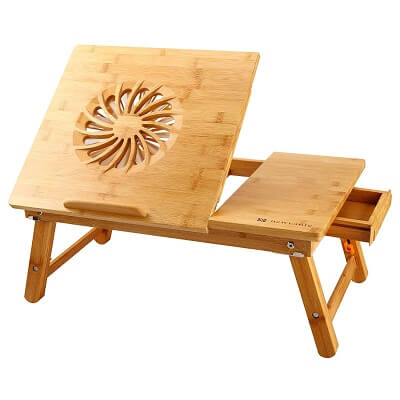 Now, this right here is completely unique from any other option on this entire list. Yes, it is a cooling pad but it is actually an entire desk that is specially crafted of bamboo.
Read more
Cooling Efficiency
In addition to the fact that bamboo itself is a natural heat-dissipation material, the quiet fan that is built-in allows for even better heat dissipation.
Compatibility
The actual desk is quite large but the portion that accepts your laptop will only accept limited sizes. A user claimed that their 15.6-inch size model had roughly one-quarter of an inch exposed on each side, for the record.
Design Features
The tray top can be adjusted to five different heights. Additionally, this desk can serve for many other purposes as it has a built-in drawer and other surface areas available.
Advanced Features
To be honest, this entire design is advanced because it is a desk. Now, with that said, it would be nice if there was a dedicated location for the fan's USB cord.
Stability
First off, there is a piece of wood built-in that will hold your computer in place. Adding on to this is the safety lock design that enhances the overall stability of the desk.
Overall
Yes, this can still be used on your lap, for the record. All in all, it is a design that will be appealing to several of you as it adds stabilization and a feasible means of cooling your computer.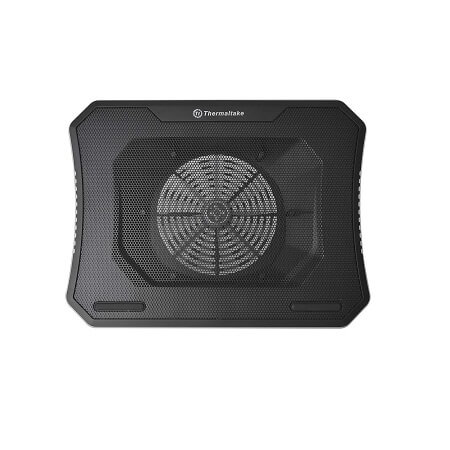 Due to the integrated LED lighting and the subsequent lighting modes that have been implemented here, many of you may feel this is too flashy. That is fair but most certainly, there will be those of you who will be appealed by this design.
Read more
Cooling Efficiency
Even though various buyers have reported that this needs a bit more airflow, it is designed with a steel mesh surface and also a 200-millimeter silent fan.
Compatibility
A huge incentive to buy this cooling pad is if you need a model for larger computers. It will be optimal for gaming notebooks up to 19 inches in size (which is fantastic).
Design Features
The built-in control panel is one of the most advanced features of this design. It allows you to change the color mode and the fan speed effortlessly. Oh yeah, and the stand can be adjusted to three different heights.
Advanced Features
Even though this lacks additional ports, it is designed with five different lighting modes. Those five modes include full lighted, blink, pulse, RGB spectrum and wave.
Stability
The height can be adjusted and when you do so, your laptop is not going to go anywhere accidentally.
Overall
Is this too much of flash over substance? That is up to you to decide but the lighting modes can actually be convenient in low-light conditions. And, this is also designed for larger gaming notebooks.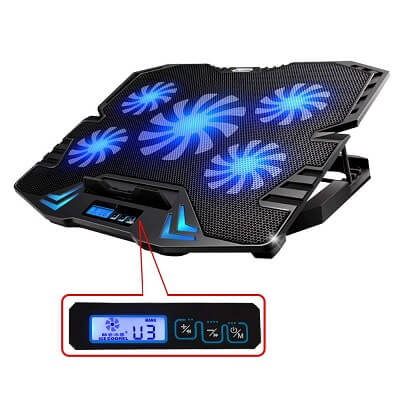 Thanks to the integrated control panel and the built-in USB hub, the TM-3 is another fan favorite. While the supplied fan power can be limited, it gets the job done for most users.
Read more
Cooling Efficiency
Even on the highest setting, the TM-3 has limited fan power, admittedly. But, it does sport five built-in fans in all (with four outer fans and one in the center).
Compatibility
Anything larger than 15.6-inch notebooks or laptops will see them hang off over the side.
Design Features
The integrated control panel and various height settings make the TM-3 a very compelling design. With the control panel, you can switch between six different fan speeds.
Advanced Features
In addition to the one USB port that is used to power this device, there is also an additional USB port integrated that allows you to utilize other peripherals.
Stability
Thanks to the hinged flap (that you can flip up whenever you desire), you can tilt your computer without worrying about it falling.
Overall
The TM-3 is not devoid of design features that much is for sure. However, some buyers have questioned its overall performance and it appears this is not ideal for hardcore users.

7

. COOLER MASTER NOTEPAL X3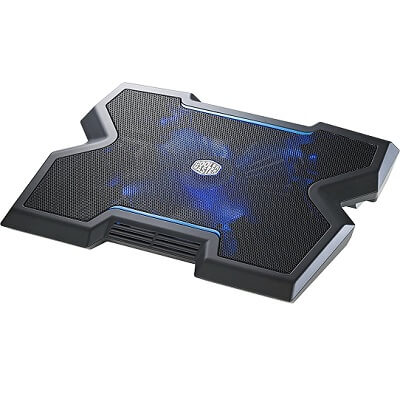 The X3 is another entry into the aforementioned NotePal series of laptop coolers from Cooler Master. Though there are some design flaws present, the X3 does perform very, very well.
Read more
Cooling Efficiency
As with most NotePal cooling pads, the X3 provides efficient cooling. It does so with a mesh surface and a high-performance 200-millimeter fan (in addition to the front vent).
Compatibility
Granted your laptop is not greater than 17 inches in size, it will fit just fine on the X3.
Design Features
While there is not an astronomical amount of height settings, you can adjust this to two different heights. Also, there is a built-in fan speed controller.
Advanced Features
Besides the full USB hub, the X3 is also outfitted with a row of slots along the bottom back edge and this can be used for cord management.
Stability
Though the surface has raised and lowered portions for stability, these actually limit the surface area that the laptop contacts (which can allow for slippage).
Overall
The X3 is a technically proficient cooling pad through and through. In spite of this, though, the stability issues can be troublesome if you want to tilt your computer screen.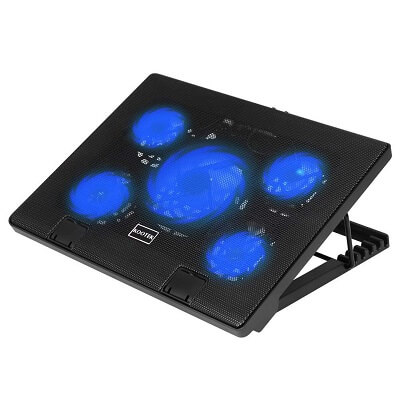 Even in spite of the minor issues and limitations that are at play here, this remains a go-to model for many users. Still, these same flaws could end up being a deal breaker for you.
Read more
Cooling Efficiency
While the metal mesh surface and the five built-in fans do provide efficient cooling, some buyers have noted that it can struggle to keep up with extensive use.
Compatibility
Due to the high variety of laptops that this is going to accept (most from 12 to 17 inches,) it is going to be a suitable choice for several of you.
Design Features
The good news is that the stand can be adjusted to six different heights. Yet, the bad news is the lights and the fans are not on separate controls. This means that can't be adjusted individually.
Advanced Features
To allow you to connect more external devices to this pad, it was designed with a dual USB hub.
Stability
As you can see from the photos, there are two stoppers that have been integrated into the front that will prevent your laptop from falling.
Overall
Not sure why Kootek decided to make their lights and fan speeds on the same setting but overall, as mentioned, this really is a good design that performs pretty well.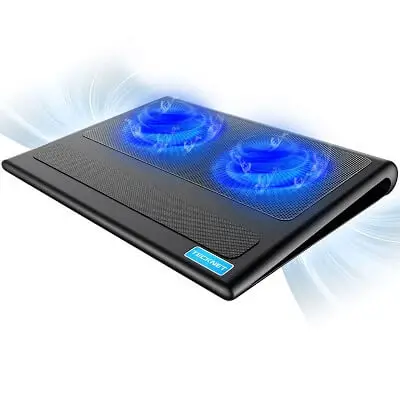 Due to the fact that this model is designed with an underside of plastic, it is not the best for resting on your lap as it is not particularly comfortable. Still, it can cool your computer so it has that going for it.
Read more
Cooling Efficiency
The dual intake vents and the curved shape of this cooler allow it to cool with great efficiency. Of course, the metal mesh material also helps.
Compatibility
With laptops from 12 to 16 inches in size, this pad is going to be perfect. This covers major models from Apple, Dell and Lenovo (just to name a few).
Design Features
There is an LED indicator light at the rear and this will signify if this device is working correctly. In addition, this can be angled in multiple positions.
Advanced Features
To account for any additional USB devices that you need to be powered, this sports an additional USB port.
Stability
In theory, there are grip pads on the bottom that prevent laptops from sliding. However, there have been a few users who have deemed these pads insufficient.
Overall
If you require a cooling pad that can be adjusted (in regard to its height) then this may not be for you due to the issues of stabilization. As is, though, this is very effective.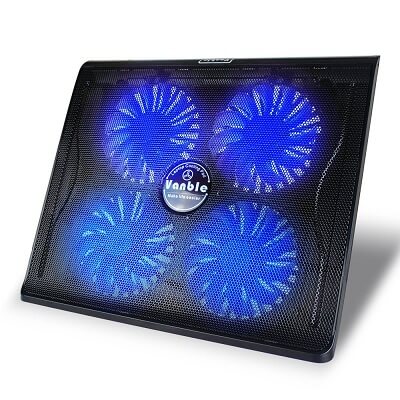 Though this last design is probably not going to blow anyone away, it is well crafted with some handy features. Of course, the VA-1 is also not exactly optimized for hardcore users.
Read more
Cooling Efficiency
The VA-1 has received complaints from various buyers due to its lack of cooling power. But, there are four built-in fans that spin at 1200 revolutions per minute.
Compatibility
One nice thing about the VA-1 is that it will accept laptop sizes up to 17 inches.
Design Features
Yes, this does double as an ergonomic stand. However, Vanble should have implemented a locking mechanism for the feet as they can collapse very easily.
Advanced Features
Though the USB ports that have been integrated are both placed in the back, there is a provided cable and also an extra USB port for additional devices.
Stability
The multi-directional, high-quality metal mesh provides your computer with a stable surface.
Overall
It is not as if this is a bad product, as it would not have secured a spot on this list otherwise. Yet, there are some noticeable drawbacks that prevent it from being superb.

Subscribe to our Newsletter