Best Portable Solar Chargers
In a Hurry? Editors choice: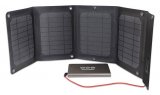 Test Winner: Voltaic Systems Arc 20

Not everyone likes to be cut off from the world when camping. Additionally, when traveling cross-country, you need a
portable source of energy
to power the electricity of your RV. Instead of depending on a
generator
or being forced to stop at a campground, portable solar panels can provide all of the electricity that you need. These types of chargers convert energy from the sun to charge the devices that are connected to it. They are great accessories to have in your camping or
emergency gear
as you will always have the sun to provide you with energy and ensure your devices have power.
Standout Picks
Criteria Used for Evaluation
Top 10 Picks
1

. Voltaic Systems Arc 20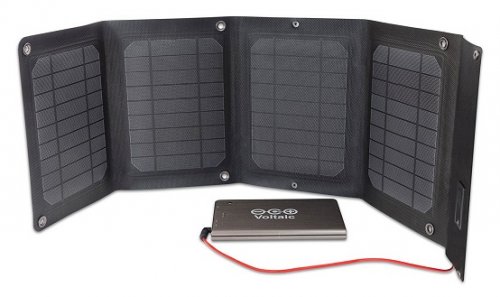 The Arc 20 from Voltaic Systems is the embodiment of what all solar chargers aspire to be. It offers you fast charging, a waterproof exterior, and compatibility for any device you can think of.
Read more
Capacity
With 20 watts of power, the V72 battery that is included can charge most laptops in 6.5 hours and around one hour for smartphones (under direct sunlight). The Arc 20 is designed to charge thousands of USB devices.
Portability
Past the fact that it weighs only 3.25 pounds, you have a few carrying options. You can either choose to stash it inside of a pack or mount it on a backpack or bicycle with the sturdy metal grommets.
Durability
Utilizing ETFE coating, you are promised folding panels that are waterproof, UV, and scratch-resistant. With this type of coating, you can expect it to last around three times longer than the average weather coating.
Features
For convenience, included with this panel is a USB-backup battery. So, even when the sun is not shining at all, you have a source of power as this battery will store its solar energy.
Overall
It is difficult to ask for much further than Voltaic Systems provides here. Outside of a minor issue with the LED lighting, as it does not properly signify how much power your device has, everything is as close to perfection as you can get.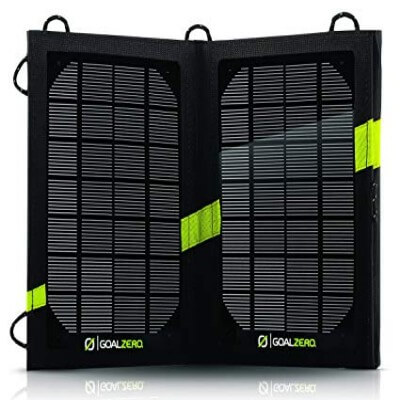 The Goal Zero Nomad is, as you may have guessed, a great option for the nomadic lifestyle. It is made to charge small devices, such as phones, headlamps, portable batteries, and mp3 players. This is a great option for travelers, but not ideal for RV life.
Read more
Capacity
If there is one downside to these panels, it's the wattage. The wattage of these panels is only seven. These panels can charge almost any device that is charged with a USB style charger, not including tablets. The smart technology integrated keeps track of the output. It recognizes if the device stops charging due to a 100% battery, or if it is because of a change in the weather or panels. If it is because of the weather, the panels will immediately start charging your device again when they receive energy.
Portability
This is one of the most portable panels on our list. It is easily folded up with dimensions of 6.5" x 9.5" x 1". With the kickstand attached, it weighs 17-ounces. With the kickstand detached, it weighs only 12.5-ounces. The kickstand allows you to position the panels to receive maximum sun. Additionally, a set of carabiners are included, allowing you to easily attach the panels to anything.
Durability
These panels have proven their durability through many treks. They are weather-resistant and come with a twelve-month warranty. Many reviewers have commented on the strength of the panels, and are impressed by the amount of rain and abuse they can handle. Obviously, you don't want to purposely leave them out in inclement weather for an extended period of time, but a rain shower won't hurt.
Features
There is a small zippered pocket on the outside that is great for storing cords or adapters. To easily charge your electronics without leaving them out in the sun, the panels fold into a tent shape, providing shade underneath. Additionally, when you are charging more than one item at a time, the energy output is evenly divided between each device.
Overall
For an extended jet-set, this is a great set of solar panels. They take up minimal space and weight and perform quite impressively. The integrated smart technology protects your devices from being over or undercharged. If you're looking for easy to use solar panels for your small electronics, this is a great choice.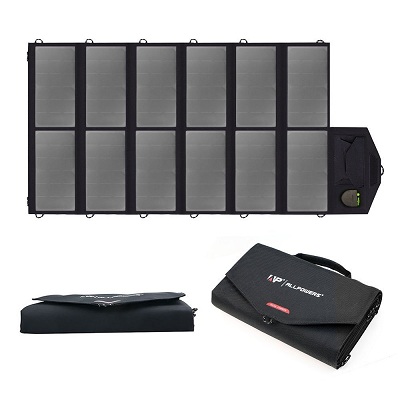 Slow and steady sometimes does win the race and this solar charger exemplifies that perfectly. While it can be a little slow-acting, it does a fantastic job od not only charging your devices but also protecting them against surges.
Read more
Capacity
The panel features dual-USB ports with iSolar Technology and also 18V DC output. This means you can charge 5V-powered gadgets and laptops alike. With 80-watts of power and a 22 percent efficiency rate, it will deliver the juice you need.
Portability
This exact same power output is 1/3 lighter than solar silicon. These panels weigh in just shy of four pounds. In addition to this, there are eyeholes that allow you to attach the solar charger to a backpack or other bag.
Durability
For outdoor use, the exterior is equipped with a dustproof, anti-shock, and water-resistant construction. But, these solar panels will also protect your connected devices from short circuits and surges.
Features
Besides the solar charger itself, this also comes with carabiners, USB cables, a DC cable, an instruction manual, a clip line, and a cigarette lighter plug. Depending on the price, you can either select a 5, 7.5, 10, or an 80-watt version of the same charger.
Overall
The addition of multiple wattage sizes is a nice touch, as those looking to save money can sport for less. However, truly noteworthy here is the superb protection and rugged construction. Rest assured, both the panels and your device will be safe.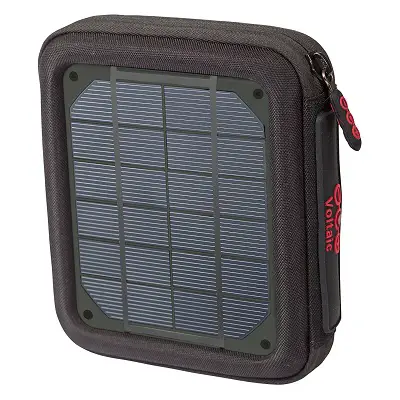 It did not take too long for Voltaic Systems to make another appearance on this list and their Amp Charger, while not quite as good as the last, is more than capable in its own right.
Read more
Capacity
With its wide range of compatibility, this bad boy will charge thousands of devices. But, as long as you are under good sunlight, it also succeeds in charging devices with a total peak of 4.4-watts at 6 to 12 volts.
Portability
With a weight of just over one pound, this will easily fit inside any bag you stuff it into. This could include dry bags, backpacks, duffle bags or any other travel bags.
Durability
To withstand abuse from the most rugged of environments, the folding panels are coated with a self-healing urethane to provide a scratch-resistant, UV-resistant, and waterproof construction.
Features
In times when the sun is not shining, which is likely to happen at some point, there is an included V15 battery that will store solar power. This way, you still have the means to charge your devices. For the first time, there are actually different selections of colors. You can choose from charcoal, silver, and orange.
Overall
The solar panels themselves do not offer an immense amount of wattage, but the backup battery can be used for additional power. Plus, its rugged craftsmanship makes it ideal for any occasion you can imagine.

5

. RavPower 16W Solar Phone Charger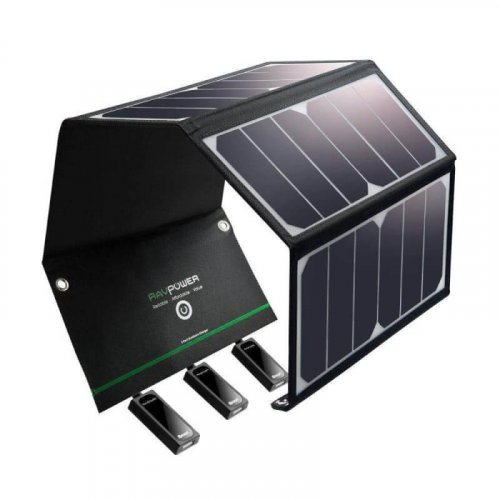 The RavPower 16W Solar Phone Charger is a great, moderately-priced option for those looking for a charger that will do the trick on those long nature hikes.
Read more
Capacity
With its solar power technology, this case delivers ultra-efficient solar cells (over 20 percent) to power your phone when it has access to direct sunlight.
Portability
At just 15 ounces, the RavPower 16W is lightweight especially for a three-panel design. While not the lightest on our list, it's definitely up there with the lightest. For its size that's especially impressive.
Durability
While there are some more durable chargers on the list, the RavPower 16W scores moderately. Most reviewers don't see any damage on normal use but also noted that the panels didn't seem quite as integrated as other options on the list.
Features
You can choose between 16W or 20W of power. The smart technology that is integrated into each charging port detects to optimal current for each device. There are for carabiner clips included that allow you to attach the panels to almost any sun-receiving surface, including your pack.
Overall
While there are some drawbacks to this option, there is plenty to like. The fast charge, compact and portable design, and ease of use is something that many outdoors people enjoy when wanting to charge their devices.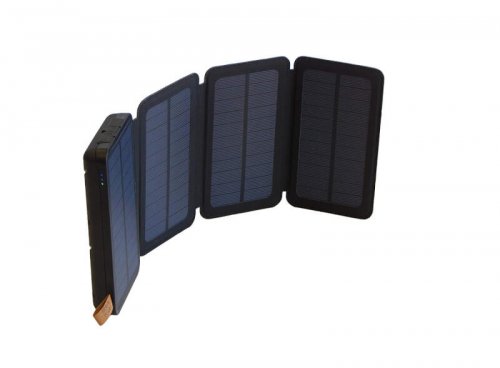 The SunJack Solar Charger is a great option for those looking for a sturdy and durable solar charger to take out into the wilderness. It will help to keep your devices charged while on the go and won't leave you stranded.
Read more
Capacity
Being built with SunPower solar cells, this is able to achieve an efficiency percentage of 22 to 25. To achieve the maximum amount of power it can, which is 4A with two ports, it can automatically adjust the current-voltage.
Portability
While it can be a little bulky, the panels can be folded down and fit snugly in any pack. But, if you wish to attach it, the eyeholes allow you to do that. Depending on the wattage, these panels weigh between 1.15-pounds to 2.7-pounds.
Durability
For your protection, more specifically for your devices, this solar panel is certified by the FCC, RoHS, and CE. In addition, it has surge protection and short circuit technology to prevent your devices from potential electrical failures.
Features
Three different wattages are available here, including 5W, 15W, and 25W. There are also two small power banks included that allows you to charge your items long after the sun goes down. When fully charged, each bank can typically charge a smartphone ten times.
Overall
Bulkiness aside, this solar panel would make a terrific addition to your arsenal of technology. Its solar technology, safety features, and foldable design truly do speak for themselves.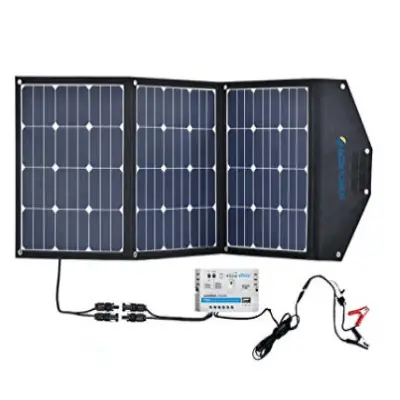 Versatility is the name of the game here. Acopower's panels can be used as solar panels or as part of a kit. They still manage to stay lightweight and portable, while providing maximum output for a variety of electronics and batteries. With a clearer instruction manual, these panels could make their way to the number one spot.
Read more
Capacity
The Acopower is a highly versatile panel, offering 150W from monocrystalline photovoltaic panels. These panels increase the conversion efficiency by 21.6%. At 5V, you can use the panels for small devices, such as phones, headlamps, or an mp3 player. At 12V, you can charge acid batteries used for many cars, boats, and RVs.
Portability
Considering the power that this panel holds, it is incredibly portable. It weighs only 7.9-pounds. It comes in its own "suitcase" and when folded up, it measures 22" by 17" and has an attached carrying handle. When unfolded, it measures 50" x 22". Reviewers love the fact that the panels all fold into themselves easily and it is easy to store.
Durability
Use these panels anywhere you wish. They are weather and water-resistant. Keeping them strong, they are made from industrial-strength PET polymer laminate. One reviewer commented that it would be useful if the panels came with stakes to put in the ground during high-wind situations. There is a 12-month guarantee included with your purchase.
Features
There are a few accessories included with these solar panels. You'll get alligator clamps that can be used when charging batteries, as well as two pairs of MC4 connectors. Additionally, there controller and wires are pre-installed.
Overall
This is a great set for the cross-country travelers or for a bug-out kit. These panels can charge phones and small electronics, as well as car batteries. Despite their great power, they still manage to remain portable and lightweight.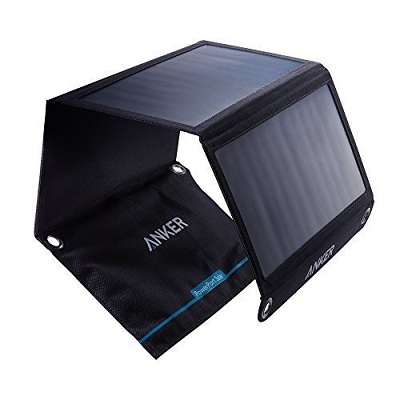 Compared to the rest, you may not see anything new and innovative here. But, what you will see is pure-quality and a solar charger that anyone should be proud to own and use.
Read more
Capacity
With dual-USB ports, the Anker Solar Charger can charge two devices simultaneously. Sporting 21-watts of power and an efficiency rate that ranges from 21.5 to 23.5 percent, you can rest assured that it succeeds where it matters the most.
Portability
Besides the fact that it is highly portable in its own right, with a foldable design, it features stainless-steel eye-holes that allow for easy attachment to backpacks and other objects.
Durability
Anker ensures that the solar panel itself and your devices will both be perfectly safe and secure. For the panel, it is crafted from an industrial-strength PET polymer with weather-resistant properties. Meanwhile, short circuit and surge protection technology protects your electronic devices.
Features
Included with the solar power charger are an 18-month warranty, a micro-USB cable, and a welcome guide.
Overall
When you have access to direct sunlight, it is hard to beat this solar panel. However, as soon as cloud cover arises the unit will power down. But, as you have already seen, this is more than worth an investment.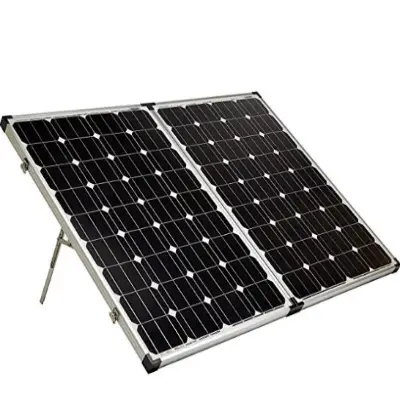 For life on the road, this is a great kit. It provides a punch of power and there are plenty of available accessories to customize the output to your liking. Zamp has become so popular in recent years that many RVs include Zamp Solar Ports. If you are looking for something to keep the comforts your moving-home going strong, this is a great choice.
Read more
Capacity
Generating 120 watts at 6.84 amps, you can expect about 30-40 amps per day. The panels are made to pair with dual six-volt batteries or twelve-volt battery systems. The main use of these panels will be to keep everything in your RV up and running. For smaller devices, such as phones, you will need to purchase a 12V to USB converter.
Portability
This is definitely a kit that you'll want to keep in RV. It is heavier than most of our other additions, but in turn, it packs a punch. It weighs about 32-pounds. It is also quite large. When zipped up, the dimensions are 32" by 20".
Durability
Yes, this kit costs a bit more, but it also provides you with more. It is weather-resistant and highly durable. It comes with a 25-year output warranty, allowing you to buy with confidence.
Features
Alligator clips are included with this kit, making it easy to connect to your RV. However, many RVs are already outfitted with Zamp Solar Ports, eliminating the need for alligator clips. One of our favorite features of this solar panel kit is the large digital display that shows you how much power you are using.
Overall
While this isn't a kit that you would want to carry in a backpack or fly with, for the amount of power it holds, it is still quite portable. This is a great solar panel kit to keep in your RV or as an emergency kit.

10

. BigBlue Solar Charger, 28W Solar Panel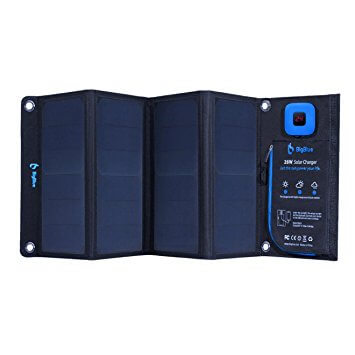 The Big Blue features a very wide compatibility capability with regards to using environmentally kind green energy for charging up all types of devices. This outdoor solar charger is good for hiking, exploring, camping, outward bound activities, wherever you are, if you want to create green energy this is the way to do it.
Read more
Capacity
The smart tech charging system gives a very good performance, when you plug in a device it is automatically detected and given the fastest charge-up speed while the panels remain under direct sunlight. Sunpower transformation is very efficient at around 21.5% - 23.5%, this means charge-up time is halved compared to many other traditional panels. High tech designed in Chip & Ammeter, the Solar Charger system is Big Blue 28W which reads out the number of amps and the internal chip which ensures a stable consistent charge.
Portability
This is very easy to carry and can easily be folded and stashed away in a holdall or backpack. This means you can take it anywhere without any difficulty. If you want to use it to charge your phone while on the move, you can use the provided straps to string the panels down your back and connected to your phone to keep it charged.
Durability
Constructed with a durable Polymer material which ensures the charger is weatherproof against light rain, fog or damp mist, the key construction material is industrial grade (PET) Polymer Fabric which comes with a full 24-month guarantee.
Features
The solar charger is compatible with iPad, iPhones, iPods,  Andriod operated phones from Samsung Sony, Nexus and comes with a micro USB cable (1x). It is compatible with all USB devices which can run with a 5volt input. Generally, by obtaining an extra cable, this will charge all phones/devices. The attachment for transferring the charge is via a micro-sized USB cabling which works with the majority of Android operated devices.
Overall
This system opens the door to being able to use green energy with minimal environmental impact, through using this we all play our part in being environmentally friendly.

Subscribe to our Newsletter