Best Car Emergency Kit
In a Hurry? Editors choice: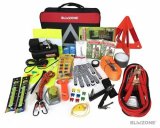 Test Winner: Blikzone

Flat tire? Dead battery? Bleeding child in the backseat? These just a few of the reasons that everyone should keep a car emergency kit in their car at all times. It is equally as important as carrying your license and insurance. If something were to happen, many of these kits include safety triangles and vests to help warn other drivers that you are pulled over. For more intense situations, some kits even include
first aid
products, blankets, and
snacks
.
For the optimist, this kit may seem moot. However, after one use or even having the ability to help out someone else, you will discover the value of these kits. Not only is it
great to keep one
in your car, but it also makes a great
gift
for a loved one.
Standout Picks
Criteria Used for Evaluation
Accessories
This number of supplies that are included is important for different reasons. First, consider that everyone has a different situation and need for the emergency kit. For a young driver who might only drive to school and back every day, then a basic, 15-item kit can be sufficient. On the other hand, if you are traveling with your RV across the country then a kit with a larger amount of supplies will be necessary.
When you are shopping for your kit, it's important to know that the manufacturers count each piece as one, so that means that each band-aid is counted toward the quantity of the kit. Don't get caught by surprise when you open the package and see a lot less than you think should be in your kit.
Contents of Kit
Again, this is important in determining what you will be using the kit for. You might also want to take into consideration the age and size of your vehicle.
If you have a newer vehicle, the chances of you needing some of the supplies are probably less likely than your older clunker would need them, however, that doesn't mean you shouldn't be prepared. What if someone else needs help? You can find many useful supplies for that purpose too.
While a fire extinguisher is an important piece of equipment for you to carry on board, it is rare that one should be included with these kits, so for that reason, consider it a bonus if you find one with the kit.
Another rare find is leather gloves. Most of them that are included in a car emergency kit will be made of a thin cloth and are not as protective. If you find a kit that contains leather gloves you should consider that kit as being of a higher quality than some of the others.
The more supplies you carry with you, the safer you are.
Materials
It's not just what's on the inside that counts. With a product like this, the design of the case is also something that you should look into. This can be important considering the space you can allow for storage and convenience. If you're looking for something you can put behind a seat in your truck then a larger backpack style might not suit your needs, but if you will be traveling across the country, the larger bag might be your better choice.
You might also prefer something with a bright color that's easy to spot at a moment's notice and maybe you would like a reflector designed on the back for added security.
Value
Price is always something to consider no matter who you are. You don't want to pay a large amount of money for something made of low quality. A car is obviously a large investment. No matter how hard you try, you can't always keep the unexpected from happening. Some of these kits may seem like an investment, but for the one time that you may find yourself stranded in the middle of nowhere, you will be incredibly thankful to have this emergency kit.
If you don't venture out much, you may not need a full kit. You might just need something basic for in town travel, so paying a larger price might not be what you are desiring.
Top 10 Picks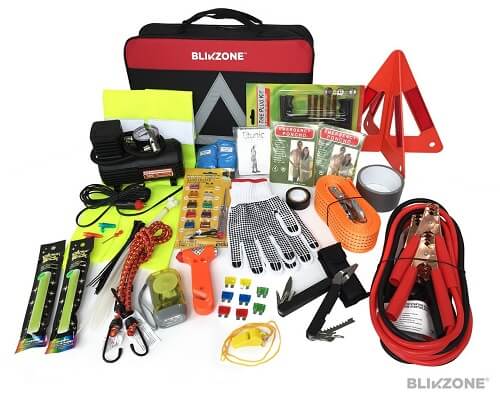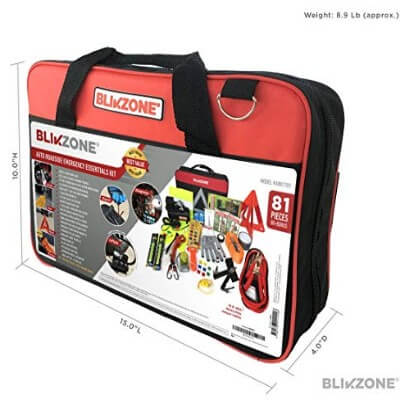 This Blikzone kit is a cut just above the rest and would fit perfectly with the more advanced driver who likes to travel. Your safety seems to be the top priority with this company as they have gone out of their way to pack in some of the best safety gear they could find.
Read more
Accessories
This kit contains 81- pieces of good quality emergency supplies that can be used in almost any situation.
The contents of this kit will keep you safe in even the most serious of situations. It includes a safety triangle, a flashlight, glow sticks, and a visible vest so that oncoming motorists will see you anytime day or night. A whistle is included to attract the attention of others when you are too far away to be heard and the set of ponchos and blanket will keep you sheltered from wet and cold climates.
Bilkzone knows that in the event of a flat or damaged tire it's important to have a tire plug pack and air compressor so they were sure to include them in this kit as well.
In the event you need to charge your battery, a set of cables have been included along with a route tester. Gloves, tape, fuses, globes, a tow strap, cords, ties, and a multi-purpose tool have also been added to this kit. In addition to all these safety tools, you will also find a window/seatbelt escape hammer.
If you want to add a tire gauge to this set, you have the option to choose the same kit including the gauge for only a few more dollars.
Materials
This compact nylon bag is designed with an easy carry handle and it opens flat for easy access. Inside you will find a mesh pocket and straps to keep everything conveniently in place during travel. It is designed to fit snug in the corner of your trunk and could possibly fit under your seat.
Value
This kit contains all the essentials needed anytime and in any climate. The tools are of good quality for the price. Overall, this kit is an excellent value for all it offers.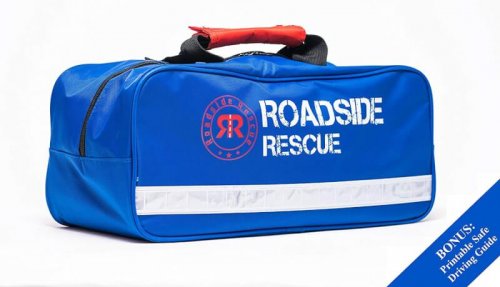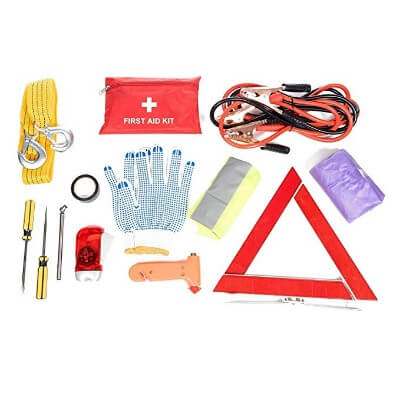 If you're looking for a kit that's almost as advanced as some of the others, but at half the cost, this one would be perfect for you.
Read more
Accessories
This roadside emergency kit provides the essentials packed firmly into the convenient zipper case and can be quickly pulled out when needed.
Starting with the safety triangle and flashlight, your safety will be the priority when you are in an area with less visibility.
There is a heavy strap for towing when you're stuck in the mud and the battery cables will be at your side when your vehicle needs a boost. A poncho and blanket will keep you warm and dry and the tape, basic screwdrivers, tire gauge, and gloves will come in handy when you need a quick, side of the road repair.
A window/seatbelt hammer is included with this kit to help you escape in a hurry and the basic first aid supplies are an added bonus.
Materials
Designed much like a cosmetic travel bag, this soft case provides a zipper closure that easily opens for quick access. In addition to the main bag, the first aid supplies stay nice and organized in their separate zipper case that fits nicely into the larger kit. The case is lightweight, compact, and will tuck easily in your trunk or spare tire compartment.
Value
The price of this one is less than most on this list and it offers plenty of value for what it offers. It falls at a perfect price point for those last-minute gifts or raffle items.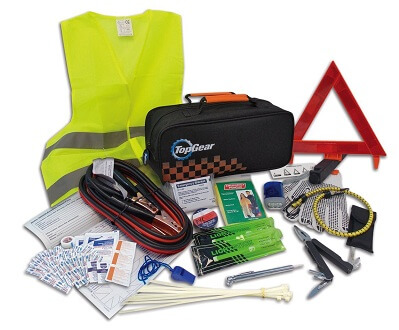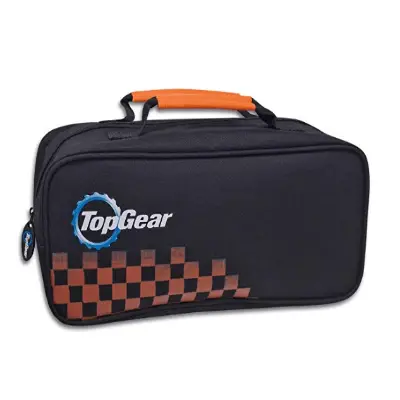 A little more than basic, but a bit less than advanced, this kit would be perfect for your college student who has a hefty commute. You will have peace of mind knowing that this kit has the basic, easy-to-use tools and safety gear to keep your child safe and secure.
Read more
Accessories
Depending on your needs you can get this one in a 53 or 66-piece kit. It is also available as a 55-piece stand-alone first aid set.
The 66-piece kit comes with all the necessities needed to take care of the basics such as the battery cables and tire gauge. Use the tape, ties, and chord to hold things together while using the multi-purpose tool and you can put on the gloves for warmth and protection. Stay safe with the safety vest and triangle; get the attention of others by using the whistle or shine the flashlight and glow sticks in the air for alerting others that you need help.
When it's cold and wet you will find a blanket and poncho tucked inside this kit and the basic first aid supplies and official police forms are also included in case of minor injuries and accidents.
Materials
Although this case is small and compact, everything fits inside like a glove and there is enough room to add a few additional necessities of your choice. The bag is simple and can be carried like a travel case. The zipper easily opens from the top making it simple to find all your supplies quickly. It will hide away perfectly in your trunk, so you will have plenty of room for everything else.
Value
This one compares to the others in value, but it sets the bar high in the quality category. It's strong and sturdy with all the necessities you need so the money spent makes it well worth the investment.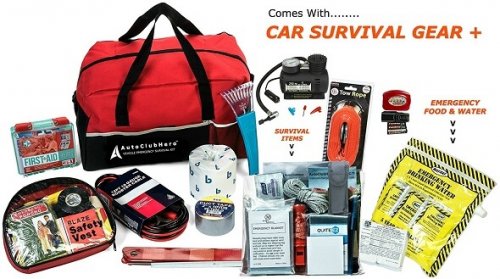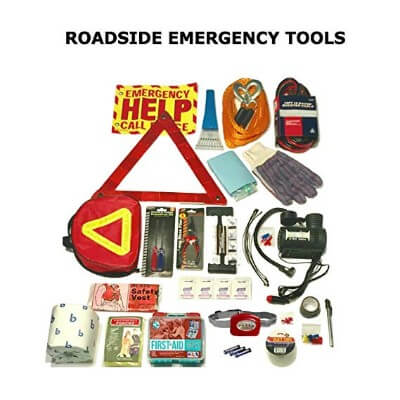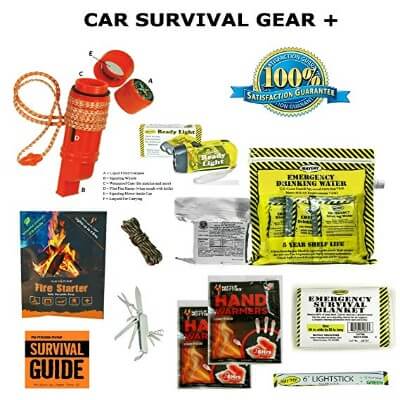 For survival and repairs, this kit has it all! If you plan to travel for a few hours, this is the one you will need. It includes everything to fix the most common problems, it includes plenty of safety gear, and you will stay warm and hydrated for a good while.
Read more
Accessories
This emergency kit provides 185 pieces for safety and survival in all climates anytime day or night.
There is so much to list with this one from the safety triangle to the types of lights offered. These are just some of the things you will need to keep safe when you least expect an emergency to arise. When it's wet and cold you will have a poncho and blanket ready for use. Nutrition bars and water packets are included in case you're stranded for a long period of time and a generous amount of first aid supplies are available if you need them.
There is a tow rope in the event you need to pull yourself or someone out of the ditch, battery cables for when your car needs a boost, a small air compressor, tire plugs with a gauge, a multi-purpose tool along with an additional basic tool kit just in case, a whistle to get attention, tape, and a paracord for keeping things temporarily intact.
Gloves are included to keep your hands protected and warm during the repairs and to complete this kit you will find an ice scraper, compass, and toilet tissue. This one has everything you need to survive through a cold night in the mountains and will keep you safe in the dark.
Materials
This bag is designed in the style of a smaller duffle bag with a double easy to hold handle along with a shoulder strap and a zipper opening. It is large enough to hold additional supplies you might want to add, and its stylish red and black colors are easy to spot quickly when your trunk is full.
Value
This is on the higher end of the price category but with all that's included in this kit, you can't go wrong.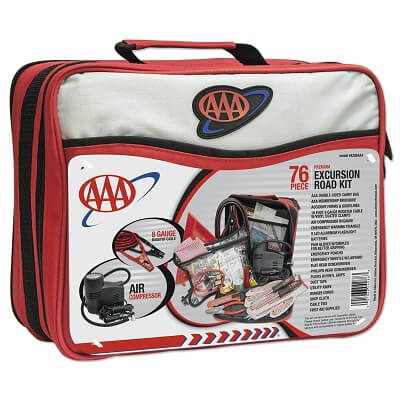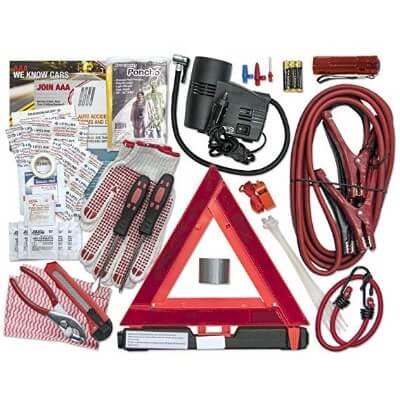 This is the perfect gift for a grandchild. It isn't something that kids think of or believes they will need, so coming from you they will be sure to keep it just in case they might decide they need it after all. It comes with enough supplies that you will be able to relax while knowing they are protected, and maybe you might want to consider throwing in a gas card while you're at it, you know, so they can be sure to visit you on occasion.
Read more
Accessories
This kit includes 76 of the most important necessities you will need if an emergency arises.
Although this kit contains many of the same things as the others it does not include the safety vest or the tow rope. It does, however, come with the safety triangle and an air compressor, which is always a plus in every kit and the flashlight includes the batteries.
In addition, the kit also contains battery cables, a tire gauge, a rain poncho, some gloves, an alert whistle, a few basic tools, tape, a knife, cords, and ties. Some first aid supplies have been thrown in with this along with literature and official forms in the case of an accident.
Materials
This fabric bag resembles that of a lunch box and opens as such with a zipper. The inside contains a mesh compartment to keep the smaller things secure and an additional clear plastic zipper storage bag can be used for first aid and other like supplies. The bag seems to have enough room to hold all the included supplies with just enough room for you to throw in your extras. It can easily stow away in your trunk and possibly under the seats.
Value
There are a lot of necessary tools and supplies in this one so even though the price may seem to be a bit higher than some of the others, keep in mind that everything in this kit is important and made with quality.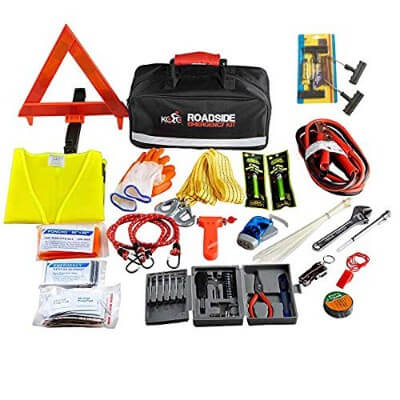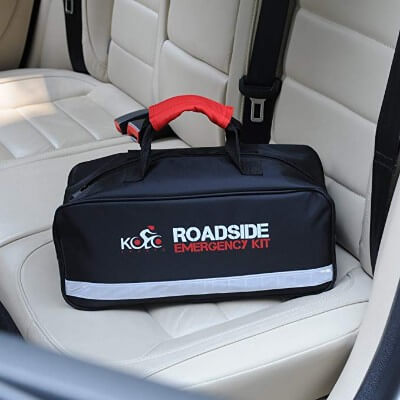 If you are looking for a reasonably sized kit that has a little bit of everything (and more!) this is a great option. There is a decent first aid kit included, as well as thoughtful extras such as a mylar blanket and a seatbelt cutter. The bag itself also features a reflective strip to help you easily spot it in the dark.
Read more
Accessories
This kit comes with 156-pieces in total. Ninety of those pieces lend themselves to a first aid kit. The first aid kit includes items such as band-aids, cotton, tape, alcohol pads, and tape. The first aid kit is well stocked but best used for minor cuts and scrapes.
Aside from the standard car emergency kits, you'll also find a few extras in this kit. Items such as safety triangles, jumper cables, a window breaker, a seatbelt cutter, and tools are also included. In the event of poor weather, there is also a rain poncho and a mylar blanket.
Materials
While the exact material of the bag isn't listed, reviewers have mentioned that the material feels strong and durable. The bag is black but features a large reflective strip to help you find it in the dark. The handle of the bag is red to help further. Additionally, there is a prominent label on the bag which is convenient to help others find the bag if you are unable to get it yourself. The measurements of the bag are 14" x 6" x 6" and it weighs 6.1-pounds. This is a great size, considering all that it holds. There is a little bit of room to add extras, but not much.
Value
This bag is offered at a very reasonable price. It offers a great array of tools, safety items, and first aid. There have been some complaints about the durability of the products, but (hopefully) you will not be using this kit often. If you are looking for an everyday emergency kit, you will need to invest at least three times the price of this kit. For the occasional bad day or accident, this kit will provide you with more than enough.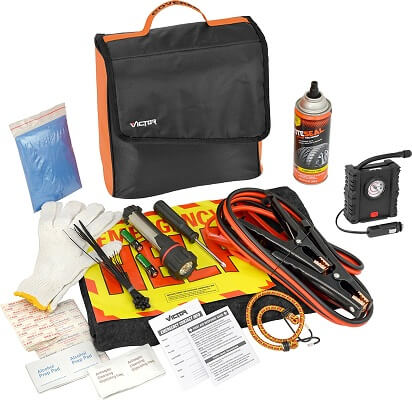 If you're looking for a kit that fits somewhere between the basic and more advanced ones on this list, check out this one to see if it fits in your category.
Read more
Accessories
This kit comes in your choice of 36, 57, or 104-pieces, with this review based on the 104-piece kit, which offers the most value.
This kit includes the basics with a few extras thrown in such as the compact air compressor. You will find the can of tire seal will come in handy when you get a flat and the battery cables will be at your service when you need them. There are a poncho and a blanket, so you will be covered in the middle of a rainstorm and the flashlight will help keep you safe in the wee hours of the morning when you're stranded out in the middle of nowhere.
Some ties, an elastic cord, a basic screwdriver, and some gloves have been thrown in to help fix those unexpected repairs along the way, and the help sign along with the contact cards are an added bonus. In the event of a minor injury, you will also find the basic first aid supplies to be a blessing.
Materials
This bag is much different from the others. It stands in an upright position so that when it's open you would be looking down inside to find your supplies. It is a heavy-duty bag, but it closes with Velcro rather than the standard zipper like the others and it has a handle on the very top for easy transport. It is black in color with a bright orange accent and the triangle is embedded in the bag for added safety. It should fit conveniently behind the seat of a truck and it will tuck away nicely in any trunk.
Value
The price of this one fits between the rest, and even though it does lack what some of the others offer, it is made sturdy with a fair amount of quality in the supplies.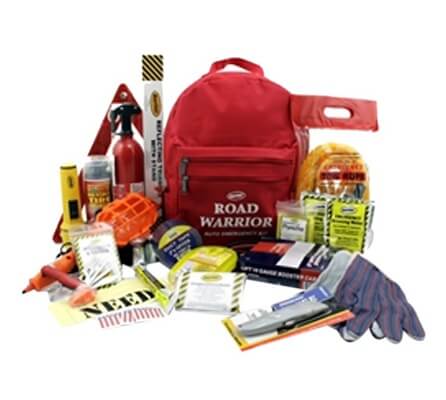 For those times when you have a flat tire out in the middle of nowhere, or in the middle of the night, this kit has just what you need when it comes to safety. Great for an RV the Urban Road Warrior is ready for battle no matter what the situation is that lies ahead.
Read more
Accessories
With at least 20 items in this kit, there is enough to keep you safe and warm until help arrives.
Safety comes first and that's why you will find the triangle to be an important asset and the flashlight is there to keep you safe from falling over unexpected obstacles. Use the glow sticks to alert oncoming traffic.
A spotlight was thoughtfully put into this kit, so you can see under the hood when using the included battery cables. When your tire goes flat there is no need to worry because this kit comes with a tire repair solution and a tow rope is included to get you out of those inconvenient places.
It's very rare to find an emergency kit with a fire extinguisher, but this one is an exception. You never want to use it, but there is comfort in knowing it will be there if you do. Included are extra things such as a poncho, leather gloves (another rare find), and a blanket for those wet cold climates. A swiss tool, tape, and a knife were added for extra repairs and survival. Use the whistle to get attention and the sign and banner are additional emergency necessities. To complete this well thought out kit, water packets are included.
Materials
This kit is well housed in a good quality backpack. There are two additional pockets on the outside that will keep your supplies safe and organized and the straps are strong enough to keep everything secure on your back. Although it's larger than some, it's big enough to hold all your supplies along with some of your additional add-ins.
Value
This one comes with a larger price tag than some of the others on our list, but it's still below the highest, and for everything it offers, the price is exceptional.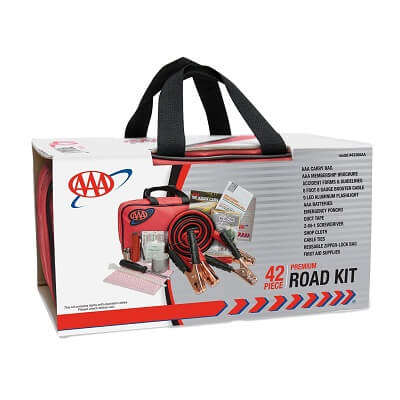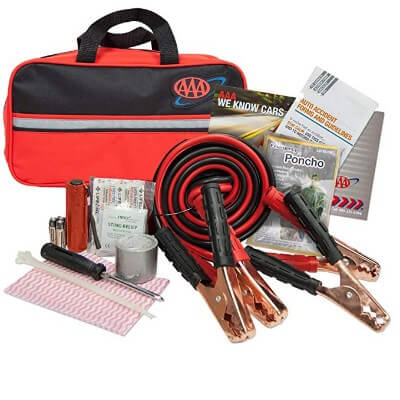 This is the perfect beginners kit for the first-time driver. It has enough to keep them safe, yet it's not packed with so much that they will feel overwhelmed.
Read more
Accessories
This 42-piece kit is basic, but it provides the necessities anyone will need for many of those common roadside disasters.
Although this kit doesn't contain all the supplies offered in the other kits, it does provide a battery cable which is still one of those must-haves in every vehicle. There is a flashlight for looking around under the hood or use it to get the attention of oncoming traffic. As with the other kits, this one does come with a basic screwdriver, tape, and some ties. Everything you need for a fast fix until you can get it into the shop. There is a poncho in case it's raining, and basic first aid supplies for minor injuries.
Materials
Just like the supplies, the bag is also basic, but it's tough enough to get the job done. When you unzip the bag, it will open flat so that everything will be in plain view and simple to get at. It provides the usual carrying handles and the red color is easy to spot from a distance. It is big enough for the possibility of adding a few more necessities and it will tuck away safely in your trunk.
Value
The price of this one is just what you would expect from a basic kit. It's fair, and it will fit into anyone's budget.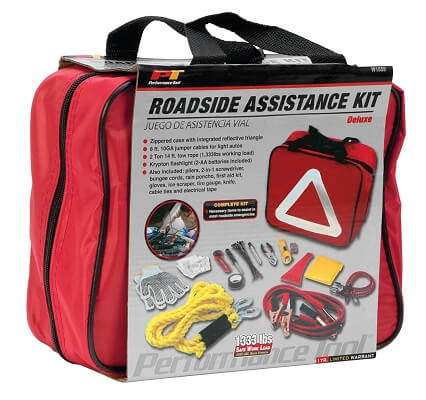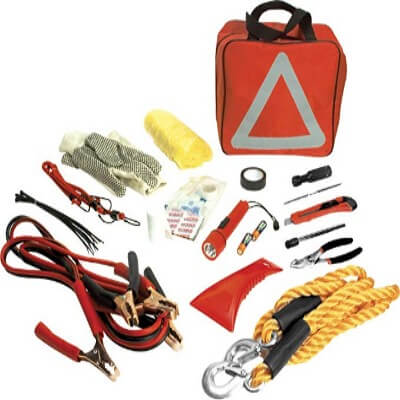 This is another kit that comes with the basics, but it's complete with all the necessities needed when you least expect a problem. Watch your friends light up with excitement when they win this in the raffle at the next company picnic!
Read more
Accessories
This kit comes with approximately 15 basic supplies necessary for when your car breaks down or if you should have a minor injury.
With the basics at hand, you will have no worries when your battery dies because this kit comes with a set of cables to help you get up and running again. Although there is no blanket in this kit, there is a poncho in case of rain or snow and the flashlight will guide you through the dark wet night.
A tow rope is included in case you get stuck and the ice scraper will help keep your windshield clear. There is also a tire gauge, tape, a knife, some basic tools, ties, an elastic cord, and some simple first aid supplies. A pair of gloves has been added to keep your hands protected and warm. This seems to be a well-supplied kit and perfect for young drivers.
Materials
The case has a similar design to most of the others on this list with a zipper opening and a double handle for easy toting. It is a bright red with a reflective triangle molded into the bag for added safety. The case is rugged and constructed of good quality. You should have no problem fitting this necessary kit into the trunk of your car.
Value
Considering this kit is a basic one, the price is right on point where it should be. It is priced in the lower category and will satisfy your piggy bank.

Subscribe to our Newsletter