The Best First Aid Kits
In a
Hurry? Editors choice: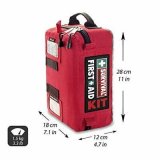 Test Winner: Survival

Every single
household should have
should have at least one first aid kit on hand. First Aid kits are important because they have a variety of medicines and
tools to help
in case of a medical emergency. Many homes still do not have a first aid kit and are not prepared in case a family member gets into a medical emergency. These first aid kits are inexpensive and worth the investment. If you are an
outdoor enthusiast
first aid kits also come in handy as most of the time you are out in the wilderness with no help around and in case an emergency was to happen a first aid kit can be the difference between serious injury and
staying safe.
If you agree and are looking to invest in a first aid kit, the products below are for you!
Standout Picks
Criteria Used for Evaluation
Use
If you are going backpacking, but your final destination requires setting a campsite you might need a more versatile first aid kit that will convert to a hiking kit as well. If you are stationed on your campsite most of the time, but you have planned daily hikes around it, it is never smart to go without a first aid kit; even if it is only for a day. It is normal that your first aid kit weighs a bit more than one of a more experienced backpacker or hiker. After a while, you will get more experience and you will be aware of which
items belong in your kit and which are redundant.
Also, if you are a beginner, it is important that you learn what every item of the first aid kit represents and how is it used. After all, there is no use of a first aid kit that you don't know how to use. Luckily, most kits have books included in the package that are explaining the basics of survival in the wilderness so this might help you avoid the training that is otherwise necessary for you.
Materials
Even if it is just a scratch, every wound should be treated, especially if you are spending more time in nature. Otherwise, you are risking infection and this will certainly ruin your whole trip. If you are at home, you would normally maintain the hands clean and wash them more frequently. However, when in nature, you never know if the water source is reliable and whether you can wash your hands with it before treating the wound. For this reason, a first aid kit should have either more pairs of gloves or hand sanitizer that will disinfect your hands before touching the wound.
Other items that are more preventive than for emergencies include a sunscreen, especially in summer when the risk of sunburn is highest. This is especially important if you are planning a family trip since kids tend to get sunburns easier than adults. A moleskin tape would also be useful for minor discomfort on your feet. It is recommended that you use a moleskin tape before even getting a blister. If you feel like there is a hot spot and you might get a blister, stop and use the moleskin tape. Even if you don't manage to prevent it, it will definitely feel a lot less painful than it can normally feel.
Another thing that comes useful for some people is lotion. And it is not for you to smell good. Instead, it is a great prevention against chafing and if this is a regular problem for you, then you must be prepared for it. Lotion would also help you with dry and cracked skin if you have such a condition.
Gloves, as previously mentioned are vital for preventing infections. However, they are not used for wounds only. Instead, it is recommended that you use latex gloves every time you get in touch with bodily fluids of every type.
Medication
Pills are especially important if you have some kind of allergy. Before spending some time in nature it is essential that you test yourself for allergies since there is a possibility that you are and you don't even know it. In fact, you would be surprised how often this situation occurs. If it proves that you are positive for some allergies, make sure you pack pills or adrenaline injections if you have severe allergy symptoms.
Even though the anti-diarrhea pills won't save your life, they will certainly save the day. If you know that you have stomach issues, it is vital that you prepare for this as well. Nevertheless, this type of pill is essential for all people, even those with a strong stomach. The reason for this is because if water sources are compromised with some kind of bacteria or viruses it is quite possible that your stomach feels the consequences first. The anti-diarrhea pills have inside them a coal component that destroys bacteria and it might prevent further poisoning altogether.
Pills for pain relief are something that every first aid kit has in its list. They are universal and they are good for minor situations as well as serious emergencies. They are used to prevent swelling or pain from any other type of injury.
Bandages
Even though you could manage without them, they will certainly come useful if someone scratches from a tree or a sharp object. They will protect the wound from the outside and they will maintain it clean. However, some alternative medicine doctors are recommending that you use band-aids only when absolutely necessary since by covering the wound you are prolonging its healing. However, if you are working something around the campsite, all experts agree that using one is better. And when you are back on the trail, remove it and let it heal naturally if you support this theory. After all, there are no pollutants up in the mountains.
Butterfly bandage
A butterfly bandage is something that we recommend that you double check if you have it into your first aid kit. It is intended to be used for deeper cuts and it works by pulling the skin on both sides of the cut together. This helps in keeping the wound clean and it helps it heal faster. It is always recommended that you clean a deeper cut wound before closing it with a butterfly bandage.
Gauze pads
A gauze pad will also be of use in the wilderness and it is used for covering larger affected areas. Duct tape is also useful for holding the bandage in their place. Even though it does not look very nice, it will certainly get the job done and you won't be focusing on the bandage all the time, but you will be able to forget all about it and enjoy the rest of your trip.
Portability
We admit that first aid kits are a bit of a boring necessity and not everyone wants to pay a lot of attention to choosing one for themselves. For this reason, we have suggested first aid kits that have high-quality components, and some are lightweight enough to be carried easily in your pack for trekking. While it can be highly tempting to grab an extra snack or two, rather than carry around a first aid kit (weight wise), if you opt for a lighter kit, you will barely notice that it is there.
Overall the portability is important for a couple of different reasons, the main reason it is important to have a first aid kit that is portable is that the emergency will most likely not occur right beside the first aid kit, so you want something that you can grab quickly and bring it to where the emergency has occurred. The other reason it is important to have a portable first aid kit, is if you are an avid outdoor enthusiast and travel, you want a first aid kit that is light and can clip on your backpack so if an emergency is to occur when you are alone in the wilderness, you will have the proper tools to treat the injury.
Effectiveness
The items included in a first aid kit should be all medical grade quality and satisfy the highest possible standards. Inside a first aid kit, you may find everything from safety pins to glow sticks to abdominal bandages. All supplies meet the OSHA and ANSI requirements which make a first aid kit suitable for workplace situations. When looking at investing in a first aid kit, analyze the contents and see if an emergency situation would arise if you would have the proper safety supplies to treat the injured party.
Subscribe to our Newsletter