Best Smart Water Bottles
In a Hurry? Editors choice: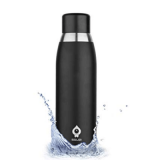 Test Winner: Pyrus

"It's time to drink water!" Who said that? Your mom, your watch, your significant other? Nope. It was your water bottle. With about 60% of our body being made up of water, you may be wondering why it is so important to drink more of this miracle liquid. Water helps to
cleanse toxins out of your body
, improves circulation, prevents the terrible feeling of dehydration, and even helps to lubricate your joints.
Knowing exactly how much you should drink is difficult to remember and to measure. However, with one of these smart water bottles, you don't need to think about it again. These items are customizable and will send you a signal when you should be drinking. Many have other great features, such as indicating the
current temperature of your water
or when you should dump it out and get a fresh glass.
Standout Picks
Criteria Used for Evaluation
OUR TOP PICKS FOR THE BEST SMART WATER BOTTLES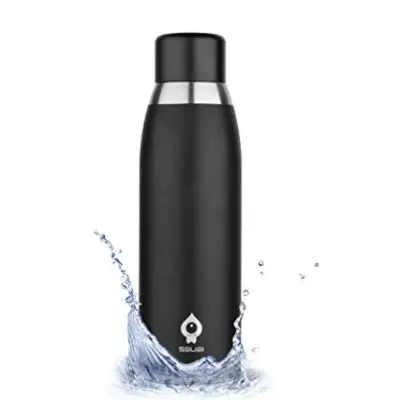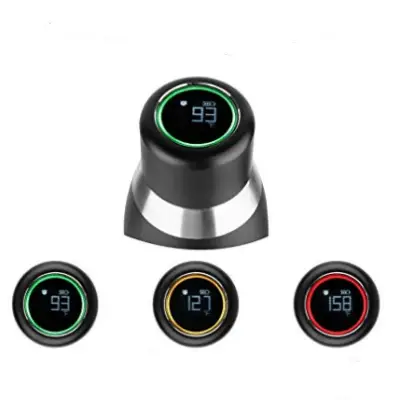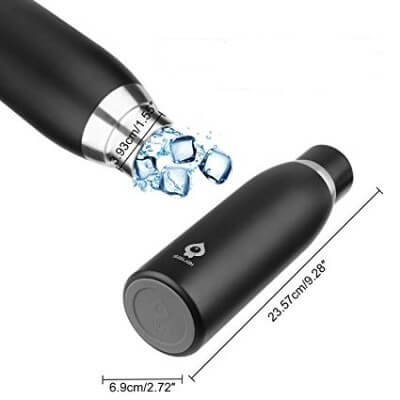 This sleek-looking bottle gives you all of the statistics from the lid. The LCD touchscreen alerts you of the liquid's temperature, purity, and you can also set hydration or medicine alerts. This option can be used for water, coffee, tea, or any other liquids you would like to take on the go.
Read more
Smart Features
This model holds the brain of the operation in the lid. By just tapping the LCD touchscreen, you can see the battery level, the current temperature of the liquid, and also receive water or medicine notifications. There is also a colored ring that lights up that gives you a faster insight into the temperature of the contents.
Materials
The Pyrus can keep your cold beverages cold for up to twenty-four hours and hot beverages hot for up to twelve hours. It is made with double insulated vacuum-sealed walls made from stainless steel. There is a gel pad on the bottom that prevents it from slipping and sliding on a wet countertop.
Advanced Features
Another great feature is the water purity protection warning. If the liquid you put in this bottle is not up to standard, a warning will flash on the lid.
Capacity
The Pyrus can hold up to seventeen ounces of liquid. This is one of the few items on our list that is ideal for liquids other than water. You can carry your tea, coffee, or infusions in this canteen as well.
Battery Life
The battery is in the lid, and therefore the lid will need to be charged. It is charged using a magnetic charger. A charge of just one and a half hours will last you about thirty days.
Overall
With so many great features and the ability to hold liquids other than water, this is a great option. There has been some unclarity with the alarms and directions, but most reviewers have figured out how to use all of the functions on their own.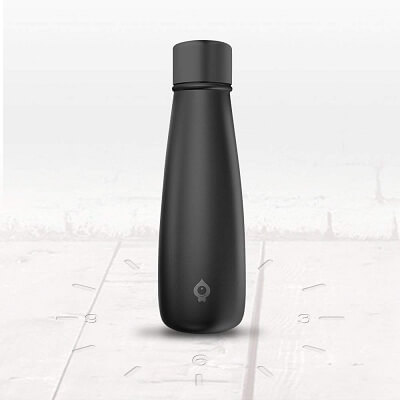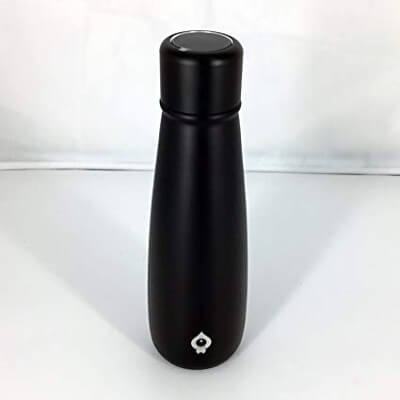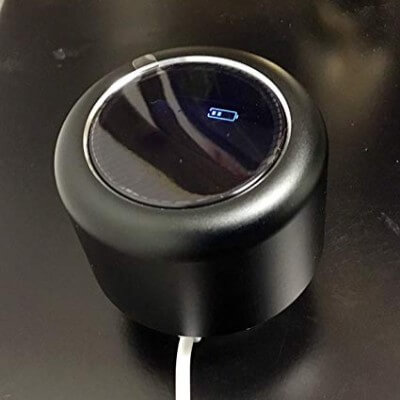 There is just something about stainless steel that makes it so compelling for this sort of product. Thanks to the integrated LCD touchscreen, as well, you can enjoy the functionality that you crave.
Read more
Smart Features
This is a lot like the top model in that the cap holds the LCD display. With it, you can see and access water purity, level, and temperature detection. Additionally, there is a water reminder beep that will alert you when it is time for you to take another drink.
Materials
In addition to the 304 stainless steel body, the cup cover is made of aluminum alloy. Oh yeah, and due to the insulation, this holds the temperature fairly well.
Advanced Features
Though there is an alarm clock built-in that can act as a medicine time reminder, it can't be set to your preferences which is a bit of a disappointment.
Capacity
Admittedly, the 13.5-ounce capacity of this bottle is not going to be enough for some of you. If you have the means to refill it whenever you want, though, then you should be fine.
Battery Life
This is rated to last right around one month on a full charge, which is exceptional. As for how to charge the battery, an auto attaching smart charging pad is included.
Overall
The magnificent appeal of stainless steel, the well-executed smart functionality, and the well-insulated body combine to make this an irresistible choice.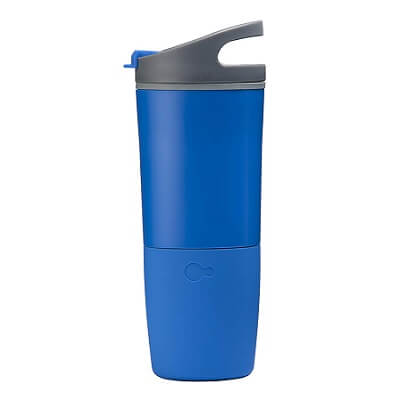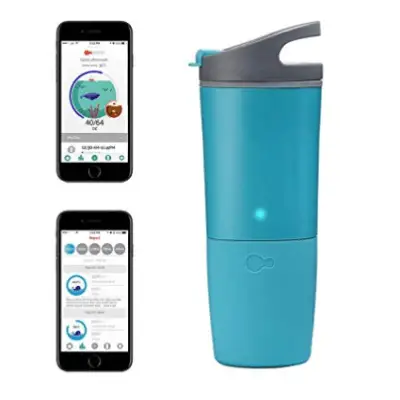 Now, this is an example of a model that sports Bluetooth functionality. With this, you can sync it to compatible smartphones to access the Ozmo app to gain access to other types of features.
Read more
Smart Features
At its core, this is able to measure and record both your water and coffee consumption. This allows you to get enough of the former and not too much of the latter, to be honest.
Materials
Even though this is not made of stainless steel, it is still double-walled and made of BPA plastic. It can withstand a decent amount of abuse because of this.
Advanced Features
Okay, so the setup can be a bit of a pain but this is equipped with Bluetooth technology. In addition to using the Ozmo app, this can also sync with Garmin, Fitbit, and Apple Health devices. Oh, and it can also auto-adjust your goals based on various factors.
Capacity
For an athlete, the 16-ounce capacity is just not going to cut it. But, based on the other smart water bottles on the market, 16 ounces is not too shabby.
Battery Life
Based on the experiences of two users, the battery life here is phenomenal. Even after a few weeks of use, the battery was still at 78 percent, according to one of the reviewers.
Overall
Sure, stainless steel is probably preferred by most over plastic but this is beyond impressive here. Granted you can deal with the possible setup issues, that is.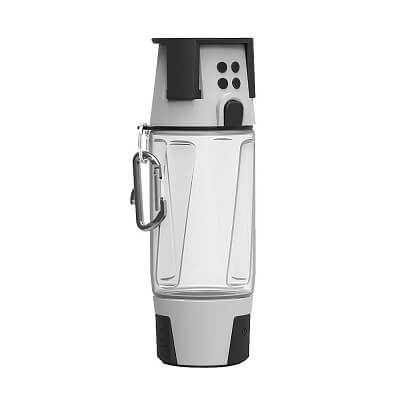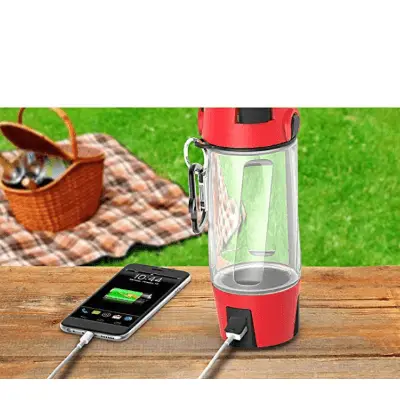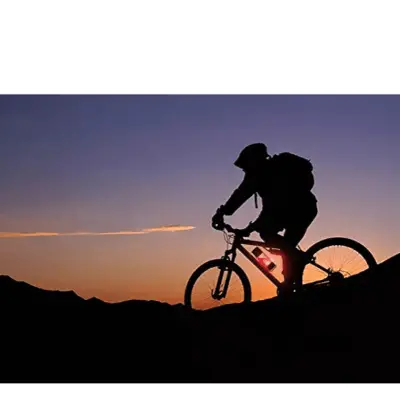 As opposed to models that will assist you in achieving your daily water requirements, this bad boy is more of an all-in-one package that focuses more on convenience for bike riders and campers.
Read more
Smart Features
This is not optimized for traditional use and, instead, is loaded with other types of features such as a built-in five-watt Bluetooth speaker and use as a power bank.
Materials
Overall, this is pretty clunky and it is also not insulated. However, the main body is made of BPA-free plastic and the straw extension is leakproof.
Advanced Features
In addition to the Bluetooth speaker, this is equipped with a microphone for hands-free connection, a hidden chamber to store your small valuables, and also an LED light for emergencies and bike rides.
Capacity
This has the ability to hold up to 20 ounces of water at any given time. In general, this is pretty good for this technology.
Battery Life
It is noted in the product description that a backup battery with a capacity of 4000 mAh is integrated.
Overall
Simply put, this may not be what some of you are looking for. All the bells and whistles are present here but it does lack the functionality of reminding you to drink as much water as you need to.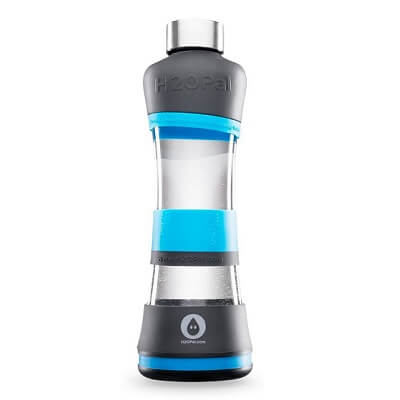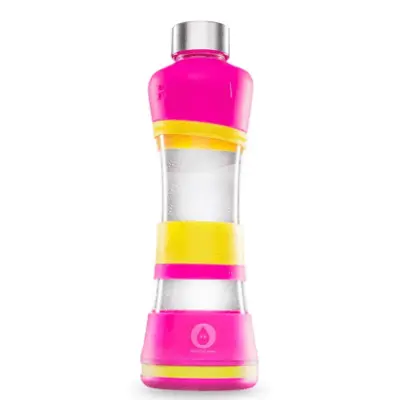 If you are looking for an option for on-the-go use then this is actually not going to be for you. Instead, with its glass construction, H20Pal really optimized their design for home and office use.
Read more
Smart Features
In addition to the fact that this tracks your hydration levels, it also auto-adjusts your goals based on a variety of factors such as your user profile, the weather, and even your activity.
Materials
As mentioned, this is made of glass and it gives it a premium look and feel. However, it is not insulated and it is not optimized for outdoor use due to the fragility of glass.
Advanced Features
Yes, this does work with smartphones but at the time of its release, the Android app was only in early beta. In the current time, syncing issues can still persist it seems.
Capacity
When compared with other models, the 18-ounce capacity of this bad boy lands it right in the middle of the pack, quite frankly.
Battery Life
With your purchase, you are provided with two batteries (one additional one). After around six months or so, the battery will need to be replaced.
Overall
Most models are either made of plastic or stainless steel so the glass body is a bit different. As said, for home and office use, though, this makes for an appealing and practical option.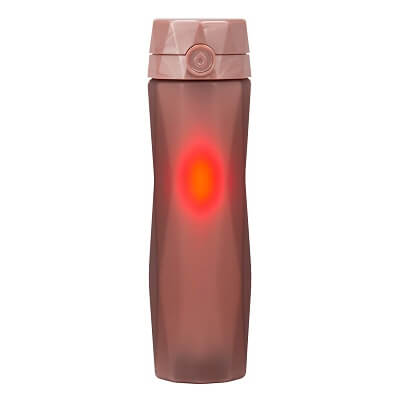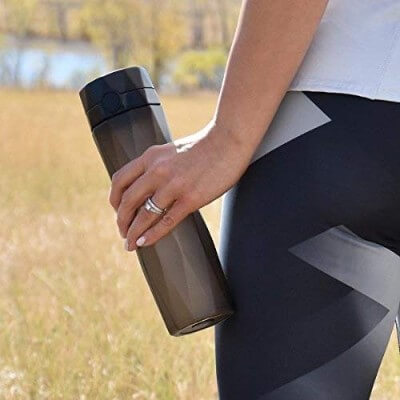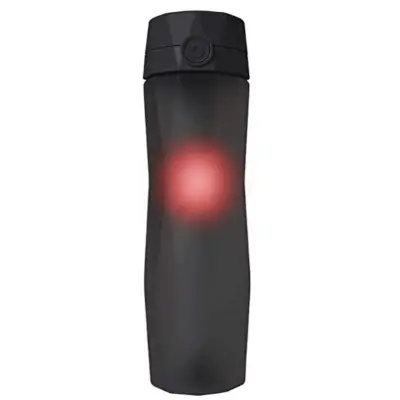 The Spark 2.0 is arguably the most popular option on this entire list. Some shortcomings do hurt its overall value but there are also specific features that are sure to draw you in.
Read more
Smart Features
Instead of an alarm, the Spark 2.0 emits lighting to alert you to drink water. Additionally, it also keeps track of your water habits to meet your daily hydration goals.
Materials
Probably the biggest issue with the Spark 2.0 is the fact that it is not well-insulated. As a result, it will not keep your drinks cold and it will create a lot of condensation on the exterior.
Advanced Features
Even though the app (for both iOS and Android) needs some improvements, it allows for more functionality. In addition, this can integrate with fitness trackers and is also equipped with a built-in sensor to keep track of how much water you have been drinking.
Capacity
The Spark 2.0 is popular for many reasons but one of them is the fact that it manages to couple smart features in a bottle that is also practical for exercise enthusiasts (it holds 24 ounces of liquid).
Battery Life
No charging is going to be required on your part as the battery included is replaceable. Furthermore, this battery is designed to last for a long time before needing to be replaced.
Overall
The app can be forgiven as there are literally thousands of apps in the world that are imperfect but the lack of insulation may be another story. In spite of this, the Spark 2.0 is truly a revelation.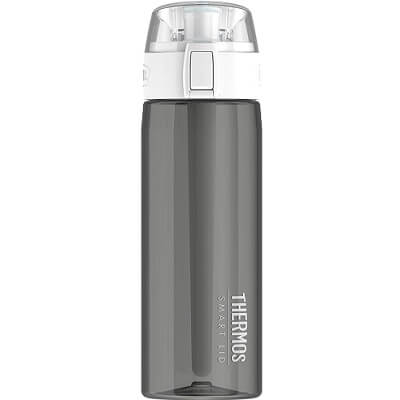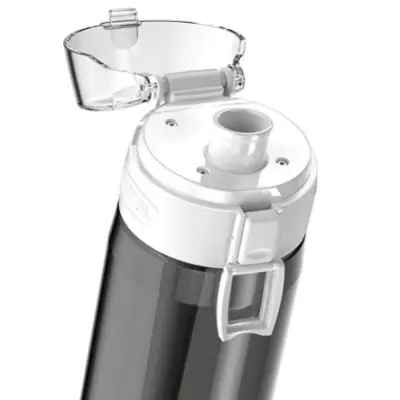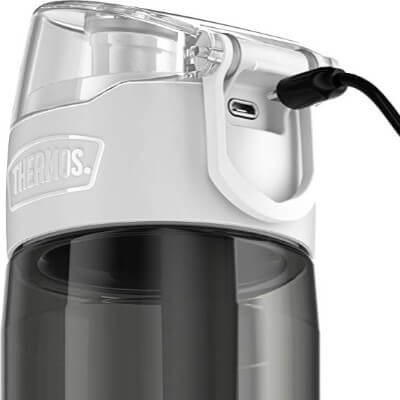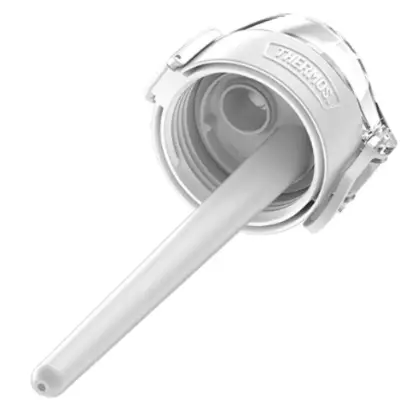 For the record, the main body of this model resembles a traditional water bottle. It is actually the cap that sports integrated technology. But, you really need an iOS device with this model.
Read more
Smart Features
What is most notable to point out is the integrated hydration calculator as it is able to suggest to you a hydration goal based on your personal data. It can also display real-time temperature readings, as well.
Materials
As one user described, this is really just a plastic water bottle with a fancy cap. The interior is not insulated so this is not going to keep drinks cold or warm, also.
Advanced Features
It is noted that this requires the use of an iOS7+ device. However, it appears that an Android app has surfaced. Either way, syncing can be an issue but you can access the great functionality of either app.
Capacity
With its 24-ounce capacity, this is a little better option for those of you who need to stay hydrated for longer sessions at a time.
Battery Life
Before needing to be recharged, the battery that is integrated here is going to last up to 12 days. While not bad, other options are better in this regard.
Overall
The enhanced capacity and smartphone functionality make this compelling right from the get-go. Of course, the hydration calculator certainly helps as it is brilliantly designed.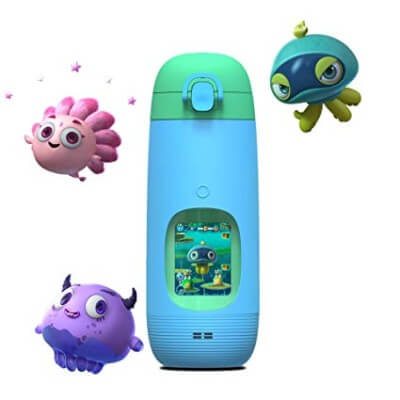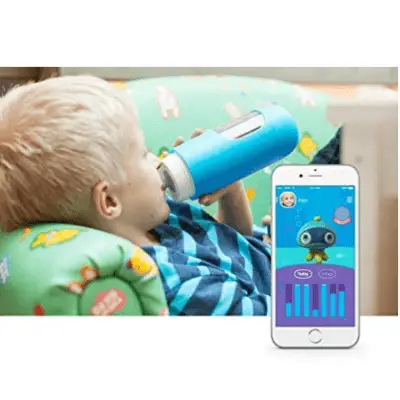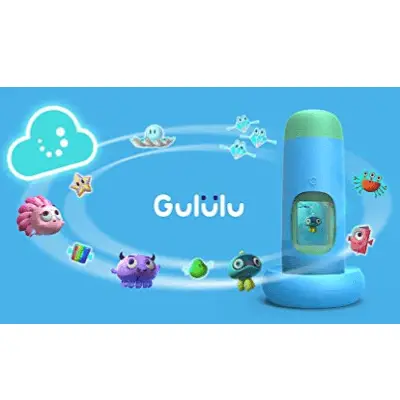 This unique addition is a fun way to get your child excited about meeting their hydration needs. The Gululu bottle is available in multiple colors and your child can also choose from multiple characters to show up on the LCD screen.
Read more
Smart Features
As this is geared towards children, the screen of this product actually has a little character that reacts to your child's drinking habits. The features are so advanced that the sensors can tell the difference between the liquid being drunk or being poured out. As your child drinks more, the character evolves. If your child is not consuming enough, the character loses energy.
Materials
The Gululu is made from BPA-free and FDA approved materials. The material of the two layers is not clearly listed but the material is shock-absorbing and durable. It is safe to assume that it is a blend of plastic and silicone.
Advanced Features
From the app, you can set specific goals for your child. If you have more than one child, you can actually pair multiple bottles to your app and see the differences between the two. There is also a sleep function that allows you to disable the interactive screen during certain hours.
Capacity
Oddly enough, the capacity is not listed by the manufacturer. However, from customer input, we can guess that the capacity is around sixteen to twenty ounces. This bottle is not insulated and will not maintain the temperature of the liquid.
Battery Life
This could not be easier to charge. It comes with a wireless charging dock. In just two hours, you are charged up for three days of use. However, many parents charge the bottle every night to take advantage of the updates as well. The updates include new stories and characters.
Overall
Reviewers have been impressed with the overall craftsmanship and the customer service provided by Gululu. This product also comes with a one year warranty. It is available in four different colors, including pink, blue, yellow, and green.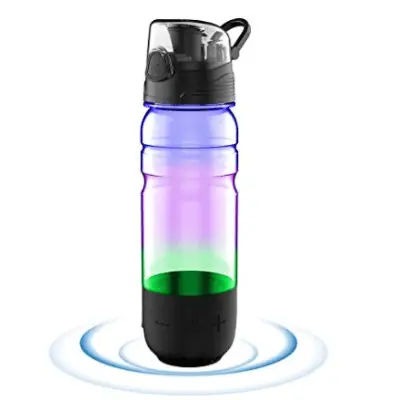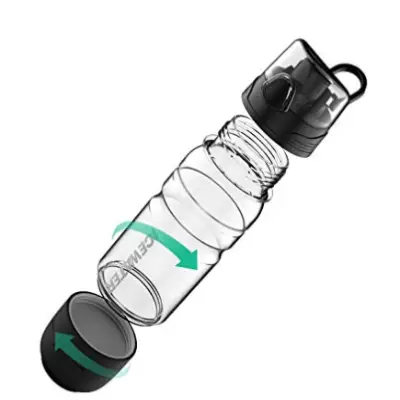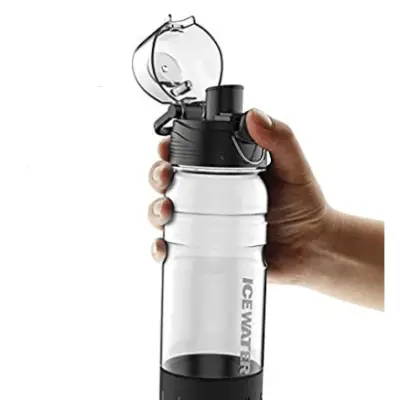 Our next addition is a great option for active lifestyles, especially cyclists. The Icebreaker comes with a built-in Bluetooth speaker that allows you to listen to music on the go without packing an extra accessory. The bottle lights up every hour to remind you to hydrate.
Read more
Smart Features
This option is less "smart" than some of our others. It does not feature any screens or tell you the internal temperature of the beverage. However, it does light up with fun colors every hour to remind you to take a drink. One downside is the fact that you can not change the frequency of the reminder.
Materials
The Icewater is made from BPA-free plastic. It is not insulated and will not maintain the temperature of the liquids.
Advanced Features
Here is where things get exciting. This product has built-in lights, a speaker, and Bluetooth. You can set the lights to function with the beat of the music or you can turn them off altogether. The speaker system makes this a great option for cyclists or anyone who is engaging in exercise.
Capacity
The capacity of the Icewater is 16.9-ounces.
Battery Life
Using the included USB charger, you just plug it in to charge it. There is an audible low battery signal. The more that you use the speaker, the faster the product dies. There have been some complaints about the battery life being too short.
Overall
Available in five different colors, this is a great option for men, women, children, and adults. The exciting lights give you an hourly reminder to drink and the speaker can keep you entertained for hours.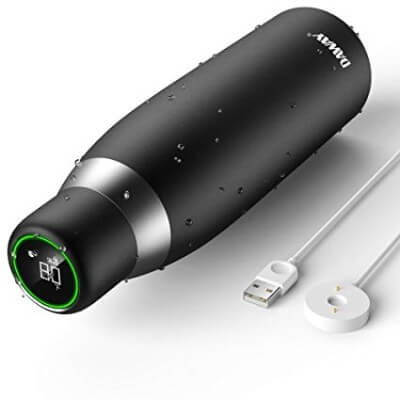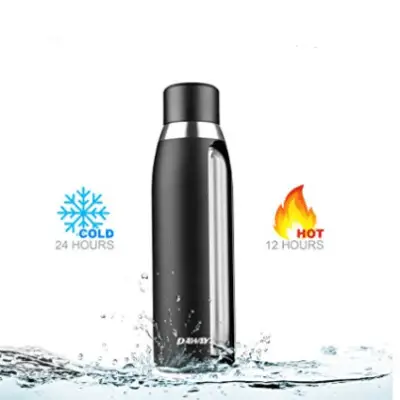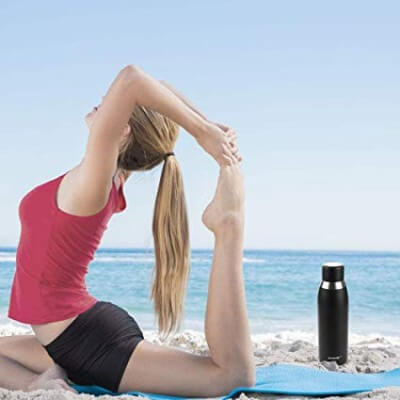 The Daway is a simple, yet impressive option. All of the settings are present in the touchscreen lid. Here, you can control the hydration reminders, see the temperature of the contents, and set alarms. We would appreciate a bit more customization but we still think this is a great option.
Read more
Smart Features
There is no app needed with this model. All of the features and settings can be found in the lid. The touchscreen displays several conditions, such as battery life, water temperature, and when the liquid inside should be changed. When desired, you can turn on the setting that reminds you to drink water every two hours. This setting can not be changed to custom intervals.
Materials
The Daway is made from G3 vacuum-insulated stainless steel. No matter what beverage you have inside, it will not affect the exterior temperature and will maintain the temperature of the beverage for twelve to twenty-four hours. The bottom of the product has a silica gel that prevents it from sliding. There is also a small bag that comes with the bottle which makes it more portable.
Advanced Features
As mentioned, there is no app that goes along with this product. All of the settings are controlled from the lid. You can also use the lid to set an alarm.
Capacity
The Daway can hold up to seventeen ounces of liquid. The liquid can be whatever you choose- water, coffee, beer, lemonade, anything you want.
Battery Life
The magnetic charger that is included can fully charge the lid within an hour and a half. A full charge will last you for about one month.
Overall
While more customizable settings would be nice, we still think this is a great choice. It is fairly simple to use and it is reliable. Perhaps in the future, we will see an app and more color choices that correspond with this item.

Subscribe to our Newsletter