Best Thermos Mugs
In a Hurry? Editors choice: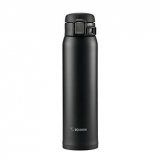 Test Winner: Zojirushi SM-SA60-BA

When it comes to truly necessary items for the outdoors or for sports enthusiasts, a quality thermos bottle just might top the list.  Whether you want to keep your coffee piping hot for your morning commute to the stream for getting breakfast or make sure your water stays cold even on the hottest summer day, thermos bottles are designed to keep your beverage, soup or food exactly the way you want it to be. One of the most important things that you can do while enjoying the outdoors or sports activity is to
stay properly hydrated
.  Whether you enjoy hot or cold drinks during your activities, thermos mugs provide a great method for keeping a source of hydration close at hand.
Standout Picks
Criteria Used for Evaluation
Materials
The first criteria that we considered in searching for the top ten thermos bottles were the overall quality of construction and the materials used. We knew that in order to pass our standards, the bottles need to be constructed of high-quality material, have superior workmanship and quality, and also be able to withstand the rigors of your use. Add to that, the materials used also need to be safe. After all, the contents of the bottles are going to be used in the consumption process. The last feature desired was contamination.
Thankfully, and expectantly, every example on our list met these criteria with flying colors. The materials used primarily consisted of food-grade stainless steel or better, BPA-free plastics, and construction styling that made it very difficult for microbes or germs to be spread with proper hygiene and use.
Features
Let's face it; it doesn't matter how spectacularly a thermos mug is constructed if it doesn't get used right? Well, that's why the ease of use was another important factor we considered. In order to determine how easy it was to use, we considered the overall size of the mug, whether or not there was any handle present, if the bottle had a no-slip grip or ergonomic design, and whether or not the spout allowed for easy pouring, drinking, or the addition of materials such as ice cube.
While many of the examples presented met most of the criteria presented, very few, such as the Zojirushi and the Life sky met all our demanding ones. That being said, some like the Camelbak chose to specialize more, meaning that they excel in certain areas more, such as ruggedness and long-term use. Each one, however, was shown to be perfectly adequate for every use by the average person.
Capacity
Of course, another important factor that we considered was the size to capacity ratio of the bottles. In most cases, the volume held by the bottles were pretty close to their overall size. This means that for the most part, a person using these bottles would get the most fluid for their money as it were. Making sure that each bottle can carry a good amount for a beverage whether you are on a run or running errands and that it is enough to keep you hydrated is important. A larger bottle with more capacity can be great for long drives or long drives as you are able to hold a good amount for you. Or if you are only wanting to go on a shorter run it is important to have a mug that only carries a smaller amount so that the bottle can fit nicely in your hand and that it is not too heavy.
Durability
When it comes to the great outdoors and the people that love it, how long a piece of equipment lasts is an important factor to consider. Thermos bottles, of course, are no exception. Thankfully with the standard stainless steel materials used, and the quality construction, pretty much every example on our list is built to last. Another factor that many people don't take into consideration when buying a thermos is whether or not they'll be able to use it properly. If you suffer from arthritis or other joint problems, so thermoses might be too hard to open or use effectively.  Also, if your hands are relatively large or small, some handles might not be so well suited for your grasp.  So make sure you consider all of your options before settling on one particular thermos mug.
Top Ten Thermos Mugs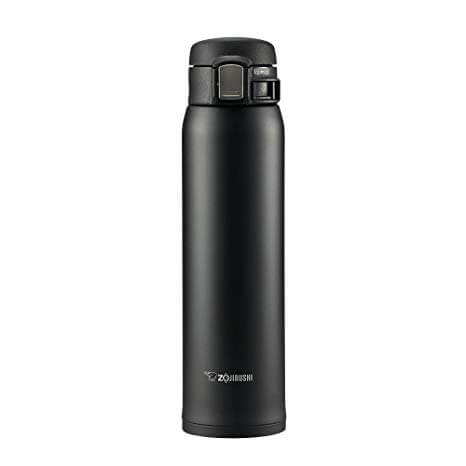 This thermos mug is very well known for its stopper disassembles for thorough cleaning and a 5-year warranty on heat retention. When it comes to the ease of use, durability, and ability to keep your favorite beverage at the temperature you want, you can't go wrong with this entry into the sports mug/thermos arena. It is made of BPA-free plastic and stainless steel which makes it have a long life span and makes it very easy to maintain.
Read more
Materials
This Zojirushi SM-SA60-BA mug is made of BPA-free plastic and stainless steel construction inside and out, as well as the classic double-walled vacuum construction. This Zojirushi SM-SA60-BA mug offers superior thermal insulation keeping your cold beverages refreshing and your hot beverages soothing for hours on end. Add to that the easy to use push button stopper, the extra wide mouth which can handle full-size ice cubes.
Features
Because of Zojirushi SM-SA60-BA solid stainless steel construction, the Zojirushi SM-SA60-BA resists rust and staining, which makes it last for a very long time. As long as it is properly cared for, there is no reason why this thermos could be your favorite for years to come. While not the most inexpensive brand on the market, this thermos mug is reasonably priced for the serious outdoor enthusiast and workday warrior. It has a new pictograph lock that offers extra insulation and keeps beverages hot or cold for hours.
Capacity
This thermos mug has a capacity of 20oz. with 1-1/2" opening. This thermos mug is well-equipped to keep you hydrated on that long hike or handle your coffee demands during a grueling day at work. It has a compact design that takes minimal space while promising maximum capacity.
Durability
Zojirushi is quickly becoming known as a quality provider of thermos mugs to the public and with good reason. Based on their quality construction, no-nonsense design, and common sense features, this one is a great investment when it comes to quenching your thirst. It has a 5-year warranty on heat retention which makes the product extra durable and makes you feel comfortable knowing it offers such a great warranty option.

2

. Hydro Flask Double Wall Vacuum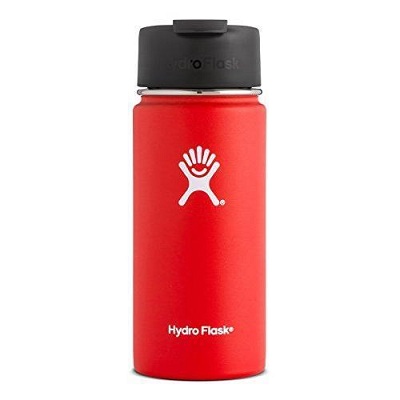 This is one of the most versatile thermos mugs on the list. It offers a medium-sized mug that has a surprising capacity and ease of use, making it a great choice for use in your everyday life.
Read more
Materials
Just like the rest of the Hydro Flask collection, this example features a quality 18/8 stainless steel construction and BPA-free lids and handles. This thermos mug also has a standard 1.81-inch opening which makes pouring from it a breeze. Add to that a powder coat finish on the outside, there is little chance of the mug slipping from your hands.
Features
The slim design of this thermos mug makes it easy to fit just about anywhere, and the small handle at the lid is relatively easy to grip. The brand Hydro Flask is well known in the sporting and outdoor enthusiast communities for its quality construction, fun designs and their commitment to the environment. If you're looking for a middle of the road priced mug that doesn't sacrifice too much quality, this is the one to get.
Capacity
At 21 ounces, this thermos mug is a great size for your daily commute or your morning coffee while camping.
Durability
Designed specifically for use in the outdoors and sports, the Hydro Flask has a rounded design which helps to protect it from the dents and dings that are liable to happen. While the price is a bit more expensive than some of the more budget-friendly choices on the list, it is still reasonably priced based on the quality and the workmanship of the mug. If you're looking for quality, and you're prepared to spend a few extra dollars, this one is a great choice.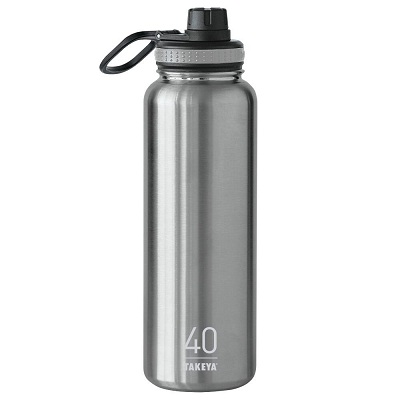 While this brand may not be the most well-known, they offer some serious thermal insulation and convenient features that make it a good all-around choice for those who are always on the go.
Read more
Materials
Featuring the classic double wall construction that allows you to keep beverages hot for 12 hours or cold for 24, this thermo mug also features food-grade stainless steel materials and a spout that combines the versatility of a wide mouth with the easy pour features of a narrower one.
Features
The narrow design makes it easy to fit just about anywhere, and the solid clip near the cap allows you to add on your favorite handle with relative ease. This is probably one of the most economical choices when it comes to thermos mugs on this list. While not the best choice for those who go all out in rugged or inhospitable terrains, the Takeya Originals brand is a fantastic choice for those who want a budget-friendly alternative for those weekend hikes or camping trips with the family.
Capacity
This thermos mug holds approximately 24 ounces of liquid, so it's great for those day-long excursions.
Durability
While the design of this mug is solid and made from quality materials, it is not designed for repeated, and rugged outdoor use. However, with proper care and maintenance, there is no reason why it can't handle what a weekend warrior can throw at it.

4

. Thermos Vacuum Insulated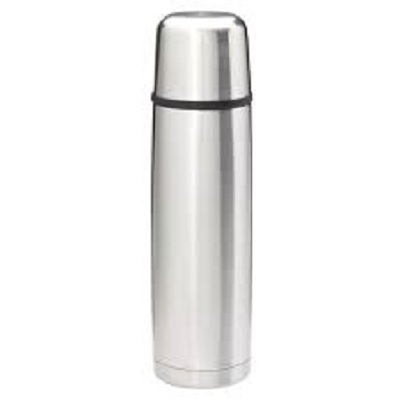 Built to last, and standing on the shoulders of a long-standing reputation, this thermos mug offers solid construction and impressive thermal retention in a convenient size.
Read more
Materials
The double-walled stainless steel construction offers the ability to keep cold drinks refreshing for 24 hours, and hot beverages soothing for nearly 18. The twist and pour stopper lets you control the flow of the liquid, and the built-in cup that doubles as a lid is a convenient way to portion out your servings.
Features
While the design is relatively slim and can fit in most bags or backpacks, the lack of handle or place to attach one makes it necessary to invest in a carrying bag or sling for ease of transport. The price of this thermos mug sits on the higher end of the budget-friendly section, and for the price, you get a very reasonable quality product. The Thermos brand has long been known for its quality products, and this is a great example. While it doesn't have some of the features that make using it more convenient, it is still a solid and respectable product.
Capacity
At 25 ounces, this thermos has great size for daily use.
Durability
Touted to be virtually unbreakable, the solid double wall steel construction has certainly been shown to hold up to normal wear and tear quite well.

5

. Fijoo Stainless Steel Thermos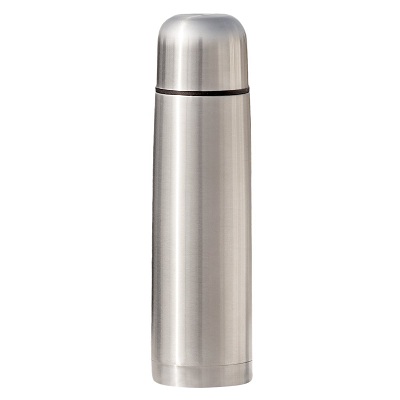 If you're looking for a stylish thermos mug choice that won't cramp your style either in the great outdoors or behind the desk, this one is a great choice.
Read more
Materials
As the name suggests, this thermos mug is constructed of high-grade stainless steel so you won't have to worry about plastic changing the taste of your favorite beverage. The double-walled vacuum offers fantastic thermal insulation and boasts 24 hours for your cold beverages and an impressive 8 hours for your hot ones. Add to that the convenient cup, and slim design, this is a great choice for camping, hiking and all around use.
Features
Because of its slim design, the Fijoo Stainless Steel Thermos mug fits, just about anywhere. That being said, it is missing a convenient handle, so having a carry case or sling is a great addition. Another great feature of this thermos mug is the price. Somehow the people at Fijoo have found a way to provide great quality at a very economical price. If you're looking for a no-nonsense thermos mug that is designed to go anywhere at a budget-friendly price, the Fijoo Stainless Steel Thermos mug is a great choice.
Capacity
This thermos mug actually comes in two different capacities – a small version at 17 ounces, or a larger 32 ounces. Both, however, keep the slim, go-anywhere design.
Durability
Because of its rounded, simple design, and food-grade stainless steel construction, this mug can handle the strain of everyday use, even if your average day includes climbing through the mountains.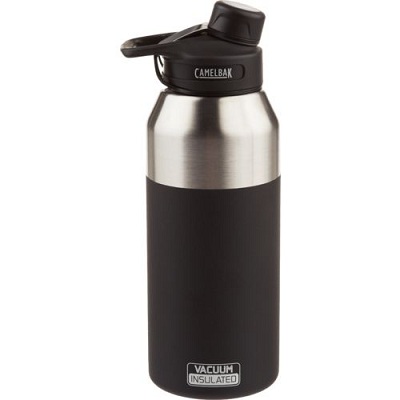 When it comes to quality outdoor hydration, Camelbak is one of the most recognized brands based on their quality and innovation. However, the bulky size and specialized spout make it a little less versatile.
Read more
Materials
The double-walled, stainless steel construction allows you to keep your beverages cold for the entire day, or keep your morning coffee hot until lunchtime. The snap-on angled spout is great for rapid drinking on the go, and the cap also seals tight to prevent leaks
Features
Although most adults can carry this thermos easily with one hand, it is a bit bulky to carry in a bicycle mug cage or a car cup holder. Also, the lack of handle or included carrying case makes storing inside your backpack a necessity.
Capacity
At a 40 oz capacity, this is a great choice for multiple day treks or week-long camping trips.
Durability
When it comes to outdoor equipment, Camelbak boasts one of the best reputations for durability on the market today. Not only does the stainless steel construction resist damage and deterioration, but the relatively straightforward design lends itself to frequent use in the most rugged of terrains. While not the most expensive choice we've come across, this choice does fall on the higher end of the price scale.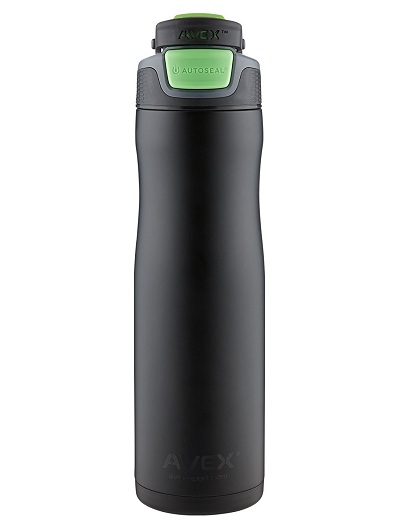 Based on the features alone, this thermos mug by rights should be higher on the list, however, it is designed for only cold beverages, which doesn't make it as versatile as the others featured here.
Read more
Materials
This thermos mug boasts a number of construction features that make it a wonderful choice for camping, hiking, and even scaling in a more treacherous environment. The double vacuumed insulation keeps your beverage ice cold for up to 20 hours, and the auto-seal technology helps to prevent the drips and dribbles that can happen with strenuous movement. Add to that the easy one-handed operation, and this is a great choice at a great price.
Features
The integrated clip on/carry handle makes keeping a hold on this thermos mug second nature. Add to that ergonomic design, and carrying it is no problem at all. Considering all the features included, and the relative ease of use, this mid-priced brand can be considered a bargain. While only designed for keeping beverages cold, this thermos mug packs a lot of features that make it easy to use.
Capacity
At 24 ounces, this thermos mug offers a respectable capacity for those day-long hikes or those meetings at the office that seem to go on forever.
Durability
There is nothing flimsy about this example on the list. Solidly constructed with stainless steel and a protective spout to help keep the cold in where it belongs even on the hottest of days. Also, the lid is top-rack dishwasher safe, which makes cleaning it and keeping it in good shape a breeze.

8

. Hydro Flask Insulated Wide Mouth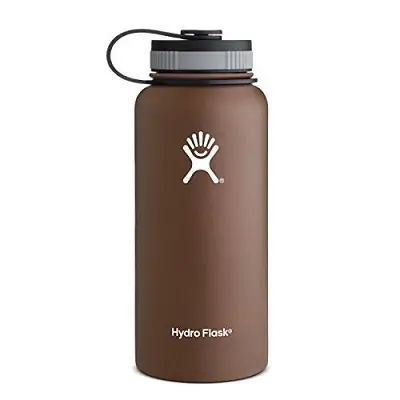 Following close behind the other Hydro Flask on this list, this larger, wider mouth version is a great choice for those longer treks or longer days.
Read more
Materials
Made of premium grade 18/8 stainless steel and BPA-free plastic, along with a powder-coat matte finish, this water mug is a great all-around choice for those long days out on the trail. The double wall construction also helps to keep your beverage cold for the entire day, or your hot chocolate hot for nearly six hours. Add to that the wider mouth which makes adding things a breeze, and the overall lightweight construction makes carrying it around a joy as well.
Features
Although slightly larger than some thermos mugs on this list, this Hydro Flask does still offer the classic slim design that makes it easy to carry one-handed. The lack of a handle or carrying strap, however, is a bit of a deterrent for use.
Capacity
At 32 ounces, this thermos mugs offers a surprisingly large amount of capacity in its deceptively slim design.
Durability
This thermos mug ranges significantly in price and can be a little on the expensive side. However, the quality that you're paying for is well established. If you're looking for a thermos with a slim, easy to hold design that doesn't sacrifice on capacity or thermal insulation, this is a solid choice. Like many of the other thermos mugs in the Hydro Flask collection, this one boasts a fairly straightforward design that is resistant to the everyday dings and dents that an active person gets through life.

9

. Brimma Vacuum insulated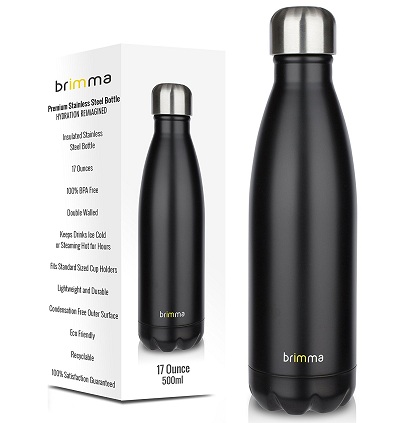 Designed specifically for active individuals, the Brimma Vacuum Insulated Water Mug rounds out our list with a solidly constructed thermos mug that looks remarkably like a mug of soda. It's a great way to disguise a more healthy option!
Read more
Materials
As expected, this thermos mug offers double-walled vacuum construction with stainless steel materials both inside and out. Add to that the spill-resistant screw top lid, and you have a great choice that is both lightweight and durable for those who are always on the move.
Features
The smaller size and ergonomic mug shape make this thermos mug easy to hold and easy to use. While the lack of handle or clip on makes attaching it to a backpack impossible, it's slim design means it can fit just about anywhere.
Capacity
At 17 ounces, this mug offers a convenient size for personal, everyday use.
Durability
Not only is this thermos mug extremely lightweight, but the design stands up easily to normal everyday use. While it probably won't survive an expedition to Mount Everest, it will certainly serve well during a day hike or a simple camping trip. For individual use, this is one of the most budget-friendly options available on the market today. While not ideally suited for outdoor use, the Brimma Vacuum Insulated Water is a good choice for an individual's everyday use.

10

. Lifesky Stainless Steel Sport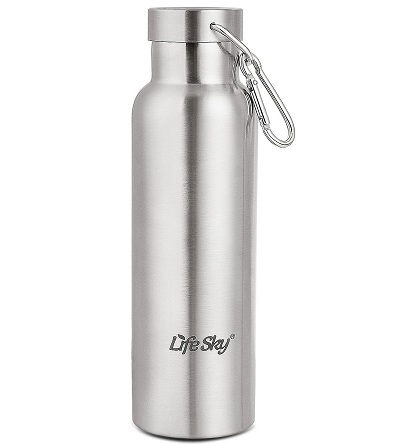 Truth be told, it was a tough call between the Lifesky entry on this list and the winner of the Zojirushi. This thermos mug offers nearly everything you could want, and at a very reasonable price.
Read more
Materials
The Lifesky sports mug offers 18/8 stainless steel construction that is food grade inside and out, so there are no worries about contamination. It also contains no BPA, so that plastic smell and possible health risks simply are not an issue. Plus with proper care, it can keep your beverages hot or cold for up to 12 hours.
Features
The Lifesky Stainless Steel Sports Water Mug offers a simple design that highlights quality construction, ease of use, and great thermal insulation. Save for the problematic carrying carbiner, this is a great choice for everyday use. This mug offers a fairly slim design, making it perfect to carry in a bicycle mug cage or in your car cup holder on your commute. However, the associated carabiner for carrying is not always reliable, so purchasing another carrying handle or bag may be prudent.
Capacity
At 20 oz, this thermos mug is a great size for those short day hikes or for your morning commute.
Durability
Based on its relatively simple design, the Lifesky offers great protection against leaks and will resist most of the damage that is thrown at it. So take it on that long trek or into that hostile environment. Chances are it will take everything that you throw at it. If you're looking for quality at a great price, you really can't go wrong with this choice. The price is very economical, and can easily fit into just about any budget.

Subscribe to our Newsletter