Best Hydration Bladders for the Outdoors
In a
Hurry? Editors choice: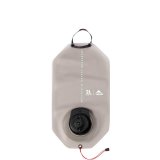 Test Winner: MSR DromeLite Bags

When hiking, running, or performing any activity this summer season you will want to make sure you are properly hydrated to keep you going and having fun. Now, many of us opt to bring a
water bottle
with us to ensure we have water close by in case we need to hydrate but that usually takes up a free hand and can become a pain if holding a water bottle for long periods of time.
Do not worry, as there is a solution that will keep you hydrated while your on the go this summer, and that solution is a hydration bladder. Theseproducts are bladders that you can fill with water and slip into a
hiking backpack
or
dog bag
to ensure that you will have full access to your hands and still be able to get hydrated while on the go.
Standout Picks
Criteria Used for Evaluation
Size
When you're preparing yourself for your next outdoor activity and know you will need to carry water, you'll want to take a moment to consider just how much water you'll really need to achieve your goals. Considering the amount of water you need to carry for your outdoor activities should also help you decide what size of a hydration bladder you require. If you do a wide variety of outdoor activities, and only want to purchase one versatile hydration pack for all that you do, then you'll need to consider the maximum amount of water you'll need to have for your most strenuous activities.
While you might feel like it's better to be "safe than sorry" with water and overprepare rather than underprepared, remember that this is not always the best approach to planning your outdoor adventures, either. Water isn't something that's particularly light to carry if you are hauling around a large amount of it. One liter of water, for example, weighs around two pounds. So, another thing to think about is how much water you really can carry without slowing yourself down, and whether or not you'll have options to refill your water bladder bag along the way.
Another concept to remember when considering what size of hydration reservoir to purchase is knowing you don't need to totally fill your bladder to the top each time you use it. If you are planning an activity you know will be a shorter event requiring less water, then only bring what you know you will need.
So, for those of you wanting to get one pack for all of your outdoor needs, think of the longest trip you might take and the largest amount of water you might need before you purchase your product, and try to match what you anticipate. Then, when you go on your shorter trips, fill the hydration bladder with only the water you need, instead of to the very top.
Ease of Use
Another important factor to consider when purchasing your water bladder bag is its ease of use, especially while you are on-the-go. The best bladders for outdoor enthusiasts are easy to drink from and hands-free so that stopping to hydrate is not required.
The most important feature to analyze when looking for a hydration bladder that's simple to drink from is the mouthpiece. You want to find a hydration bladder that gives you the amount of purified water you need whenever you need it with minimal sucking.
If you find you have to suck too much on the mouthpiece, you might find yourself having difficulty breathing during your activity, and then you'll most likely despise any reservoir bladder that makes you feel like you are short of breath.
Weight
The weight of your hydration bladder is certainly something to think about since you'll want to carry something that will be both convenient for you and that won't obstruct your outdoor activities. Most companies offer lightweight options that are easy to lug around and don't prevent movement. For smaller people, considering a lightweight hydration reservoir should be a necessity. There are many different options for our buying guide. Make sure the weight of the water reservoir matches your journey and fits you comfortably.
Materials
The materials that form your water bladder bag pack should also be a factor in your decision-making process. The quality of your hydration bladder pack will depend immensely on the materials that form the design. Several hydration packs are BPA-free, which helps prevent the water from tasting like plastic or chemicals.
Also, many water bladder use materials in the interior of the bladder, like silver-ion for example, that help destroy both bacteria and mold from building up and creating health issues.
Top Ten Outdoor Hydration Bladders
Subscribe to our Newsletter